Baby showers that are held anywhere before 8 weeks before the due date are generally considered to be to soon. This is because pregnancies can be unpredictable, and it is better to wait until all is going well before having a baby shower.
By waiting until 8 weeks before due date, the mother should still be comfortable enough to be able to enjoy the baby shower and take part. The mother will also have a bump to show off to friends and family too, creating more excitement.
It is better and safer to hold a baby shower later. If it is held after the 8 weeks before due date, the mother may not be physically able to enjoy it due to uncomfortableness and tiredness.
If you wanted to hold a party a bit sooner, and are planning to find out the sex of the baby, you could have a gender reveal party. A gender reveal party is similar to a baby shower but is more about revealing the gender of your baby.
Sometimes people will buy a balloon to pop with colored confetti in to signal whether it is a boy or a girl. Gifts aren't necessarily given at this point, it is more about a family gathering to share some news.
You can invite as many people as you like but it is usually very close family and friends who attend that you want to share this news with, all in one place, with a bit of fun!
As an Amazon Associate, I earn from qualifying purchases. The links below may be affiliate links. Please read my disclosure policy for more information.
How do other people celebrate baby showers?
Different cultures and religions have different ways of celebrating the arrival of a new baby. Some people celebrate when the baby is born and bring gifts for the baby.
The new baby is included in the celebrations. Some people have a naming ceremony where the welcome the baby in their family.
Some cultures and religions also hold rituals in the house to ask for acceptance and protection of their baby. Hindu's have a celebration called a 'god bhari' which translates to 'fill the lap'.
The mothers lap is filled with presents and the celebration is commonly heals on the seventh month of the pregnancy to wish for health and happiness.
Afghan culture have a celebration called Afghani sixth night which is where the baby is celebrated on the sixth night after being born. The celebration has more of a party vibe to it with lots of dancing!
In South Africa. A stork party is traditional.
It is very similar to the American baby shower tradition with food, drinks and games. A cake is also present as a centerpiece.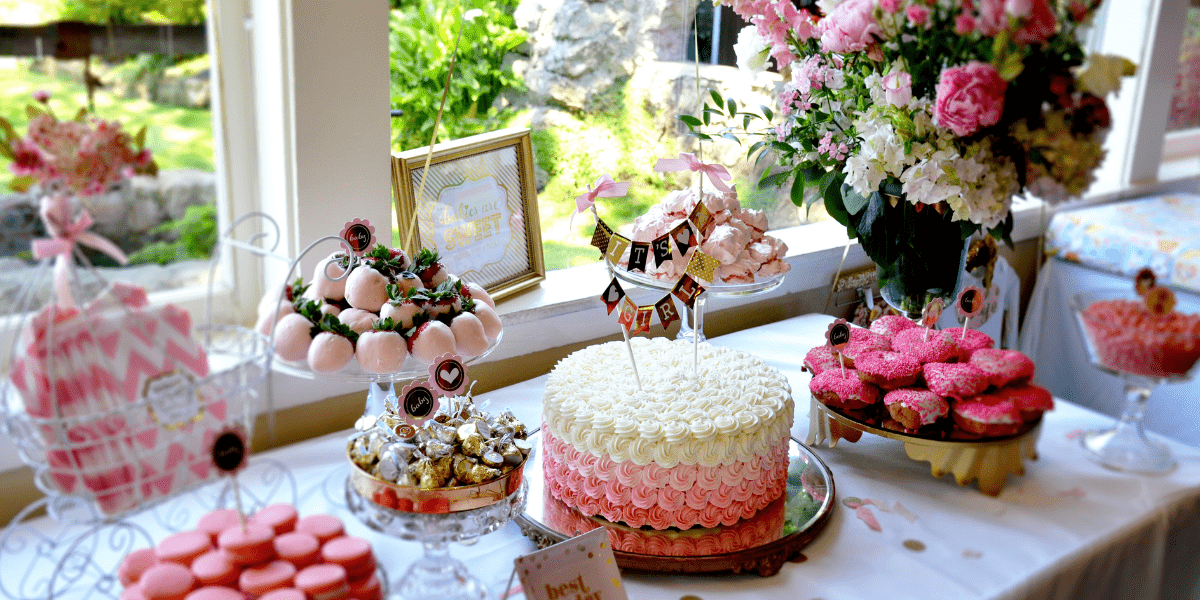 People in the Dominica Republic have an 'evening fiesta' as a baby shower and involves both parents. It is also often kept as a surprise.
Gifts are given and there is more of a party vibe to it like the Afghani sixth night. The evening fiesta will also have food, drinks and dancing and can last until the early hours of the morning.
In Tibet, the Tibetan people hold a Tibetan Pang – Sai wincing translates to cleansing of the baby. It is a ritual and also celebrates naming the baby.
People bring food and clothing for the new baby and the parents. Also in Asia, the Chinese celebrate with a Chinese full moon celebration.
This is a more formal event and is held after the bay is born. In China, it is considered bad luck to have a baby shower before the baby arrives.
This is a very traditional celebration that is heals on the first and second full moon. Red is the color of good fortune in China and parents are given red envelopes with money in it.
Coming round to Europe, in France, the French have a first birthday celebration which is like a baby shower. In France, it is not typical to have a baby shower before or after the baby is born.
The Spanish also hold American style baby showers, similar to South Africans.
Due to the pandemic, this has forced us to think differently about the way we celebrate occasions and with whom. People have still stuck to tradition of having a baby shower, but has been virtual instead.
Virtual baby showers may continue after the pandemic for some people.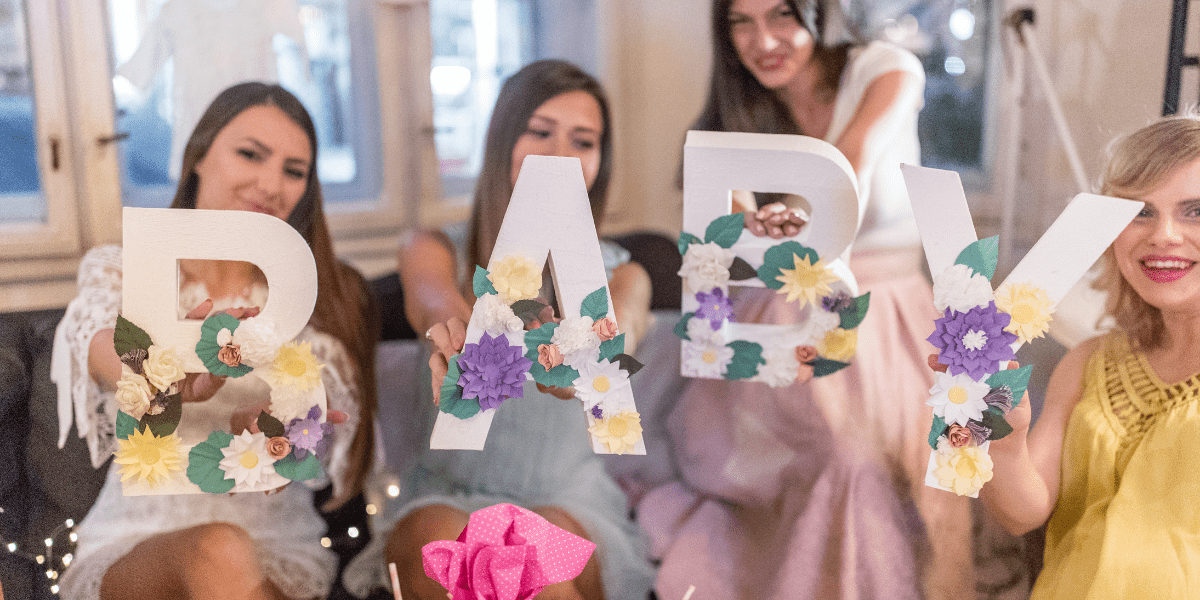 Who should be invited to a baby shower?
The hosts of the baby shower can invite who they choose. Usually, it is close friends and family who are invited to attend.
People who they want to share their babies life with and want them to be a part of their journey. People can also bring their own children to a baby shower, but always check with the host first.
If the mother to be has some close neighbors, they can be invited too. Baby showers are about bringing people together to celebrate the arrival of the new baby.
You don't have to invite as many people as possible either. You can invite how many people you want to attend.
If the baby shower is being held at a hall you may want to invite for people if you are planning a bigger event. If you are holding it in your house, you may decide to invite less people so the house isn't as crowded.
If you want to invite more people, but can't afford a hall to hire, you could also use your garden, if you have one, to allow more people in the property. If you are planning on using your garden as part of the baby shower, you may want to hold it in warmer months.
A baby shower is a very special celebration and most people prefer to invite just their nearest and dearest.
When shall I send baby shower invitations?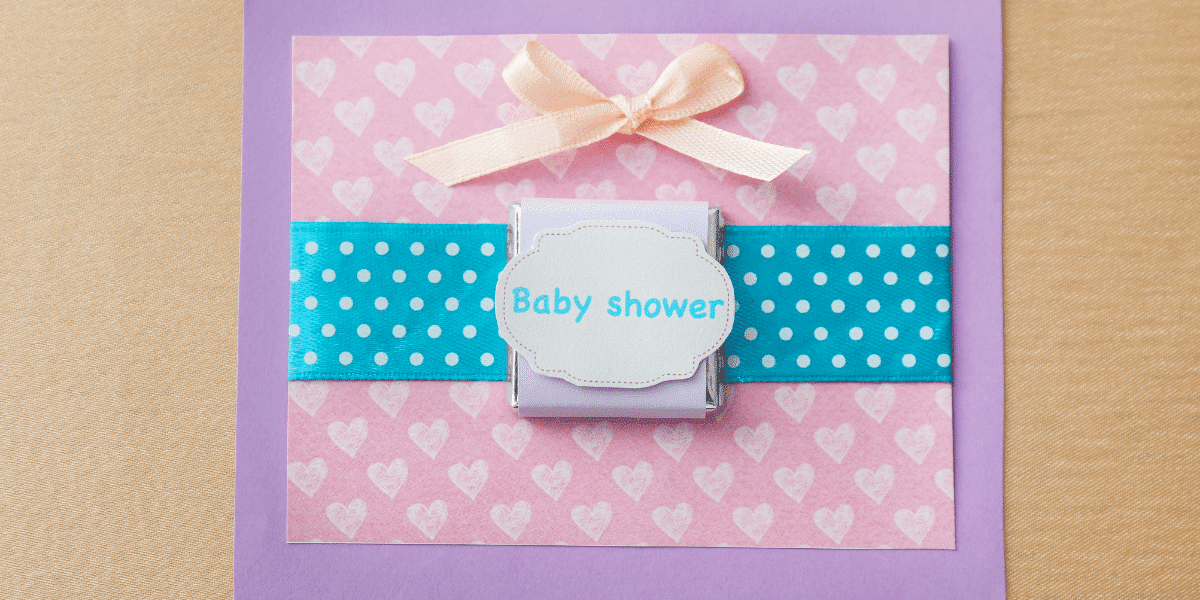 It is a good idea to send invitation 3 to 4 weeks before the baby shower. That way, people have enough time to change plans if needed and enough notice.
You can either send invitations by post, email, or create an event on social media. Set a date that you would like people to reply to you by if they're coming or not so you have enough time to plan for numbers attending.
This is especially helpful if you are planning to provide food, drinks, or play games. Or if you were considering hiring out a hall for your baby shower, you will know whether it will be worth your time.
If you're planning to hold it in your house, you may want a maximum number of people to be invited so it isn't too overcrowded. If you are sending invitations, make sure if there is a theme this is stated on the invite to give people time to prepare.
Also, if you are planning to hold the baby shower virtually, make sure this is stated too, what platform you will be using to hold the celebrations virtually, what time, and if there is anything else people should do to prepare for it.
Is it ok for dads to go to a baby shower?
Dads and other male members of the family are becoming more popular. Baby showers are now more inclusive of males.
Typically, baby showers were the mother to be and female friends and family only. Baby showers where dads attend are also known as 'Co-Ed baby showers' or 'Jack and Jill' baby showers.
'Co-Ed' is short for co-educational. Sometimes the host or hostess will change the games or activities a bit to accommodate the dad too.
Some dads want to be very hands on with their children and the mother of their children and want to be invited too. It is their baby too after all! Co-Ed, or Jack and Jill baby showers are a great way to get everyone together and be all inclusive of your family and friends.
Is a surprise baby shower a good idea?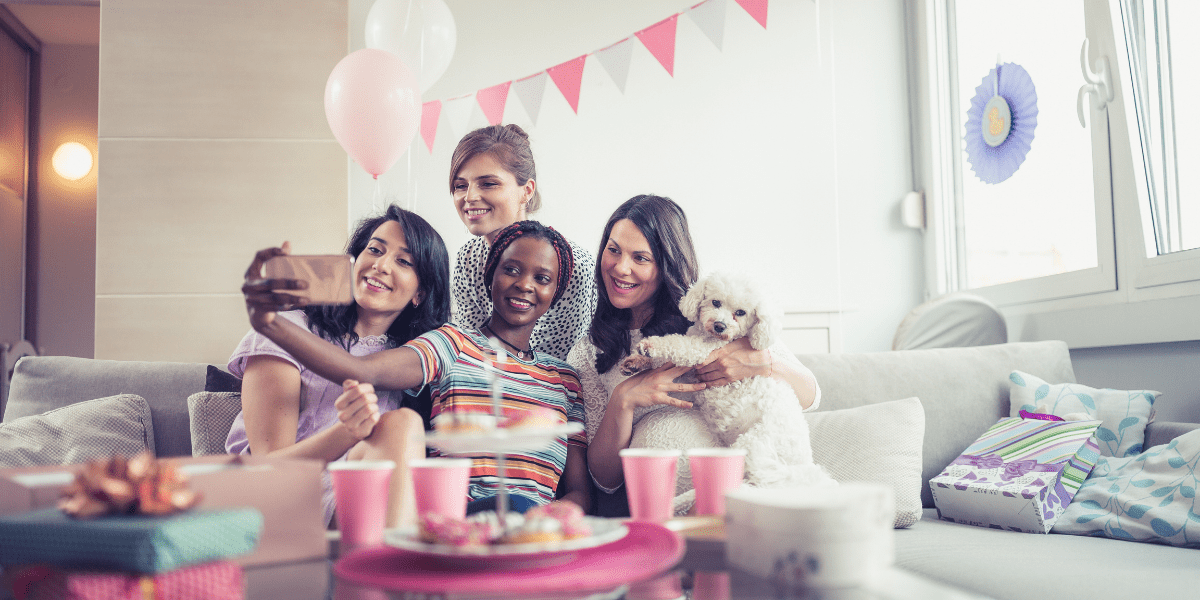 Some people like surprises, and some people don't. This is one you would need to tread carefully around and know the mother to be really well.
If the mother has said she doesn't want a baby shower, and with all good intentions, you plan a surprise one anyway, she may not be happy. If you are planning a surprise baby shower, make sure it isn't going to be held too late in the pregnancy so the mother can't enjoy it as she may not be comfortable or may be tired.
It may be a good idea to try and get some information out of the mother to be to see if she would want a baby shower, without letting her know that is what you're asking! Consult with some of her friends too to see if a surprise baby shower could be a viable idea, or consult with the father to be.
Some people don't like to be put 'on the spot', especially if they are heavily pregnant.
Jack and Jill baby shower game ideas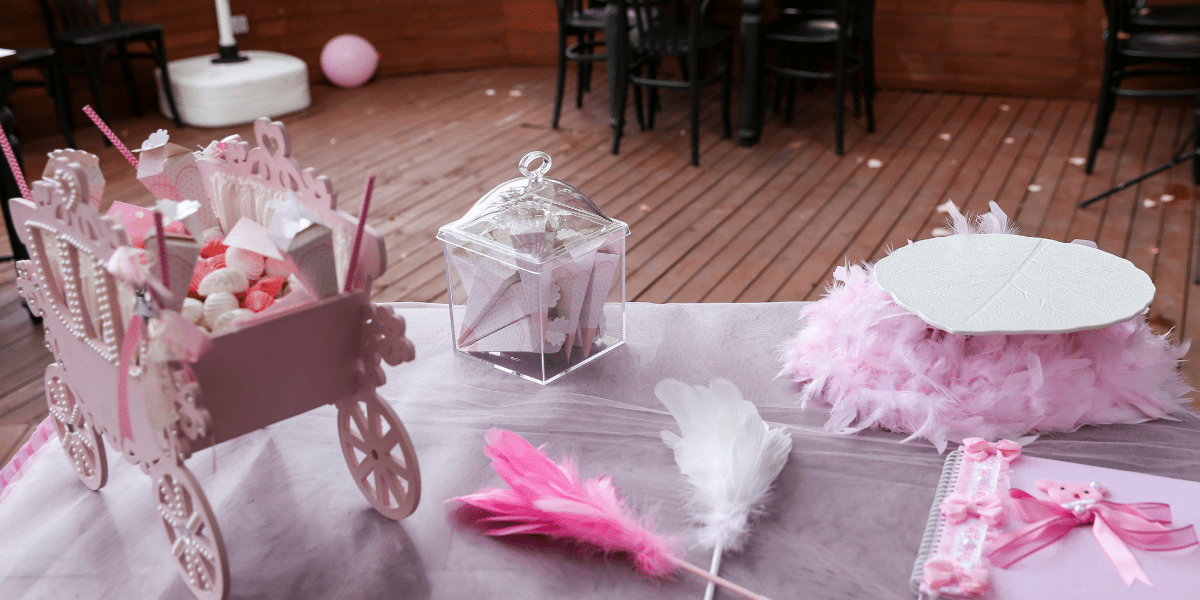 Trivia
Trivia is a good game to start with and can be related to the parents. You could get them to answer questions on each other for example, where did they meet?
Where did they go to school? Where did they get married?
Changing a baby
There are a couple of ways you could do this. You could simply have a race to see how fast someone can change a baby.
You can use a doll for this. Or, you could play a game that measures teamwork by splitting people in to two, and one person can only use their right hand, and the other can only use their left hand.
You could also add clothes to the doll to undress to make it a bit harder and apply shoes where they need to untie a lace.
Name that baby
This is a good one to do where you list animals and have to name what their babies are called. For example, a lion has a cub, an elephant has a calf, a dog has a puppy, a cat has a kitten and so on.
You could even throw some curve balls in there of different animals to make it harder.
Feel the belly
In this game, the father is blindfolded and people will wear fake pregnancy bellies. You can also build them yourself.
The father has to go down the line and guess which is the belly of the mother to be. You could even make teams out of it with males against female, or, have some males wear a belly while the father is blindfolded for an extra bit of fun.
Chug the bottle
You can fill a baby bottle with water, milk, juice, soda or alcohol and people have to drink from the bottle as fast as they can. The first to finish the bottle wins.
Have a place to take photos
You could put a back drop in the house and have it as a photo station where people can pose for photos together to remember to occasion. You could also get some fun props in and use the fake pregnancy bellies.