A baby shower is a beautiful way to celebrate with your loved ones the new life that you are bringing into this world, with games, cake, presents, and story sharing.
But the idea of a baby shower has changed dramatically over the past couple of years, and they have become much more popular.
Traditionally, the event is just for the women, female friends, and female family members of the expectant mother, men have previously not attended the baby showers. However, in recent years more and more couples are having a larger event to celebrate together with all their friends and family. 
As an Amazon Associate, I earn from qualifying purchases. The links below may be affiliate links. Please read my disclosure policy for more information.
Why is it just the women who attend the baby showers?
Looking back at history men were not as involved in raising the child as they are today, they would go to work where women would stay at home to care for the house and children.
They are now much more present, so it is only natural that the baby shower is just for the women's idea to develop alongside it.
Previously, men would 'wet the baby's head' post-birth whereas mums had the baby shower pre-birth.
However, parenting and the process of going through the pregnancy is seen as much more of a team effort! So why shouldn't men be invited to celebrate?
It really is down to the personal choice of the couple if they want to do it together or if they want to do a more traditional baby shower.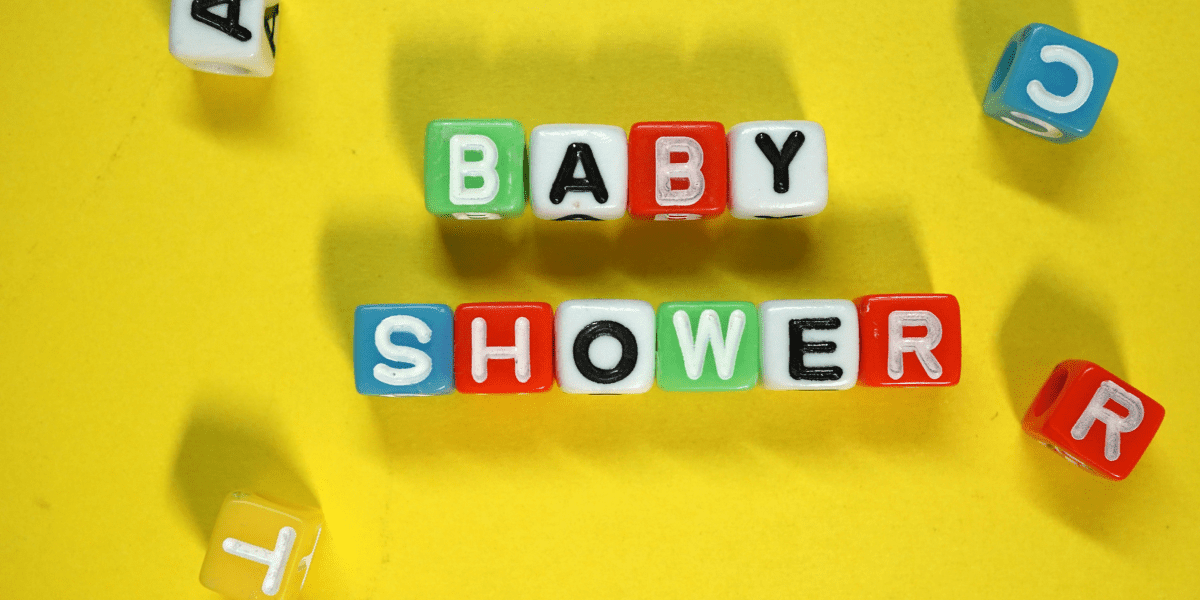 Who arranges the baby shower?
The baby shower was often just friends and family of the expectant mother, often receiving gifts for the mum after the pregnancy.
The name 'baby shower' comes from the idea that you shower the expectant mother with gifts.
The event is often held or organized by a female friend or relative as either a surprise or with direction from the expectant mother. Thus, it is more likely that only females are likely to be invited.
However, as more men are now involved in caring for the babies and children now as well as more present during pregnancy it is much more likely that this event is for both parents.
So often now both men and women are invited to the baby shower to celebrate the upcoming new addition to the family.
Who do you invite to your baby shower?
As previously stated, it has traditionally been women organizing the event and only inviting women but people may choose to invite close male friends and husbands of female friends, making it a larger affair. 
It is good to keep in mind that if your husband or partner is wanting to attend that they are likely to have friends who want to attend, increasing the male invitees.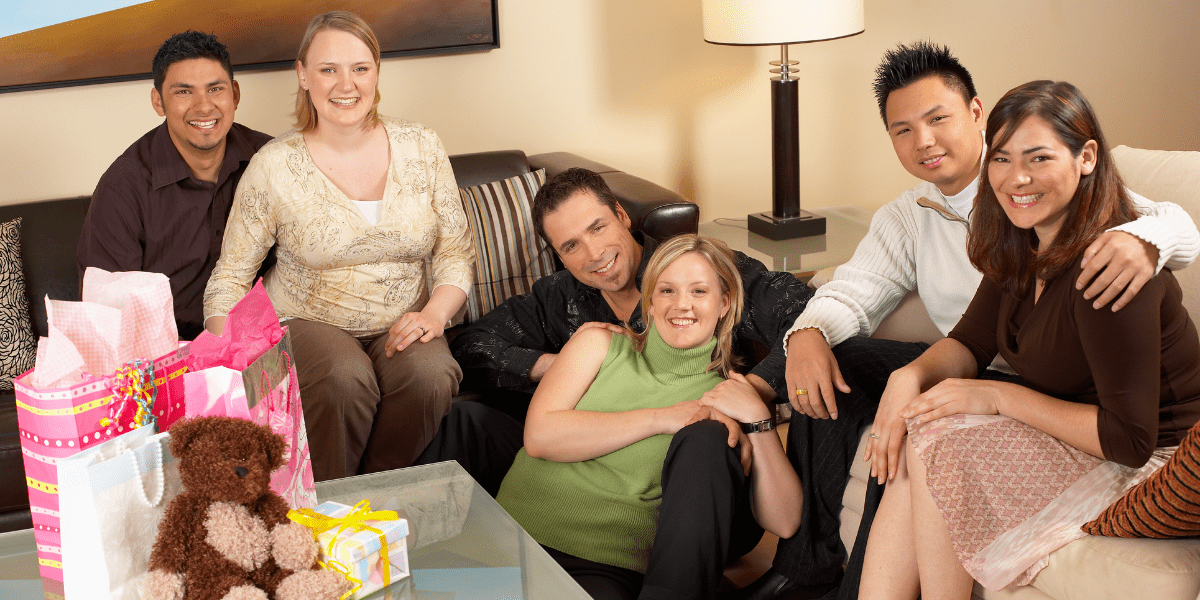 Do people just have one baby shower?
Originally women would have had just one baby shower with just close friends and family organized by someone else. Yet now women tend to have multiple groups.
It is now becoming more and more common to have multiple baby showers from different areas or friendships groups in their life. They might have a friend one, family one and a work one.
This is likely to increase the likelihood that fathers and their friends may be invited. It is most common for them to be invited to the friends one especially if the couple share friends, making these baby showers more inclusive.
These baby showers may even be organized by the mother to be herself.
What about surprise showers?
Surprise baby showers are a lot of fun and are normally organized by a family member or friend. For this type of shower, it is expected to be where both the parents have no idea of the event and are invited by friends to celebrate.
This is likely to involve both the female and male friends and relatives of the couple.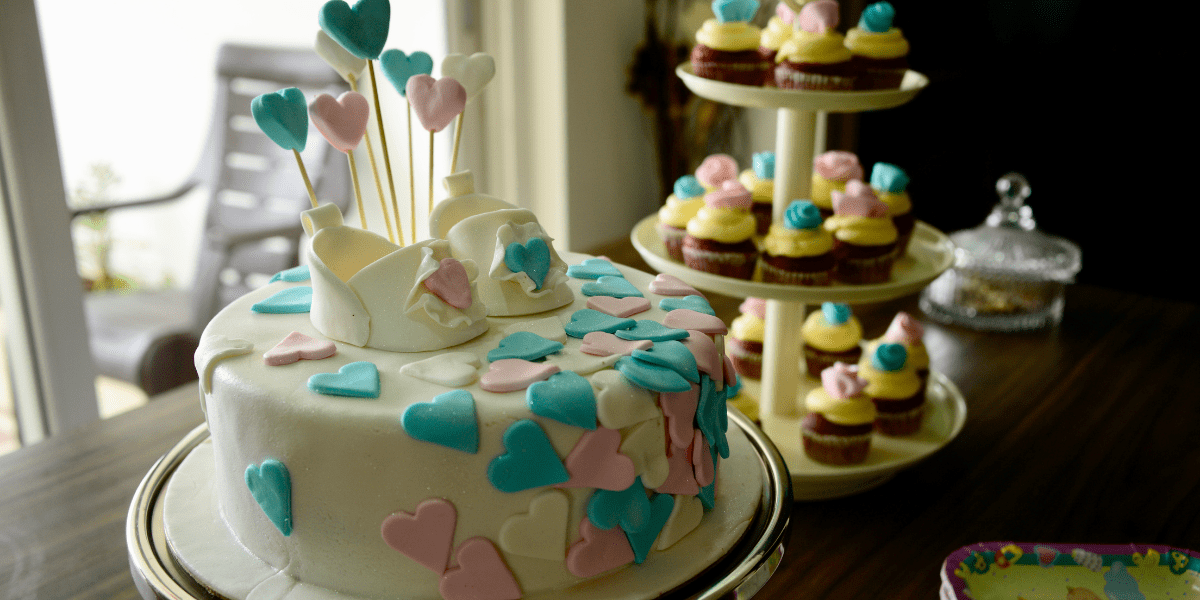 What about come and go baby showers?
This is where guests 'drop in' between a certain time to congratulate the mother and father to be, give them a present, have a drink and some cake, and leave again.
People can stay from thirty minutes to the full two or three hours depending on their personal preference.
It is a social mingling rather than a sit-down formal event.
This may be a better idea for those people wanting to hold a baby shower as a couple and inviting the husband's friends. This type of event opens up the invite to more people, including the husband's friends.
The idea of a come and go baby shower takes away specific sit-down discussions around birthing stories and advice, which may put men off the idea of attending these sorts of events.
This sort of baby shower may also open up the invite to older more traditional male family members as it is more of a social mingling.
Gender reveals
Gender reveals are the new big thing to hit baby showers, with lots of couples keeping the gender a secret until they share the news with family and friends at an event it is important that we mention these.
Thinking about newer aspects of baby showers, such as gender reveals, this is likely to increase male attendees. This is a new thing that has become more popular to do at baby showers, letting all the family and friends know what gender your baby will be.
This is something that is shared with both parents and would be unlikely to just be one or the other. It is very much a new tardyon but has become very popular and has taken over from the traditional baby shower event.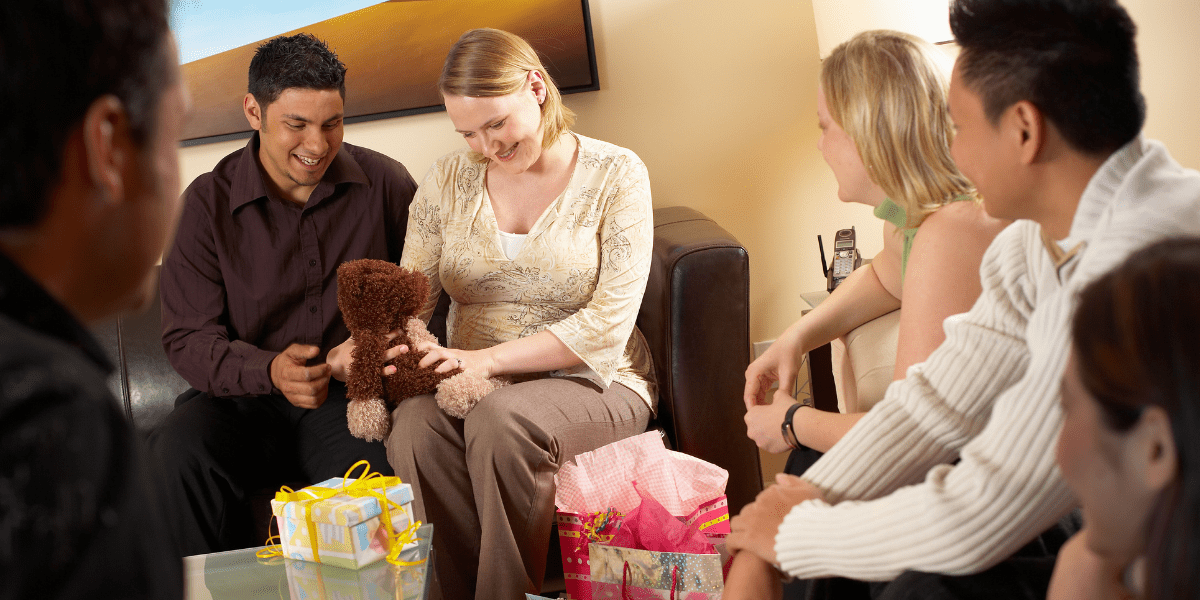 Friends or family?
Baby showers that are organized by friends are more likely to be female-only unless they are couple friends. Family-organized baby showers are likely to be more traditional with men not being invited as it is unlikely that older males of the family are going to want to attend the party.
Baby showers that are organized by the mother-to-be are much more likely to include both friends and family with a mix of genders.
Why have they previously not been allowed to attend the baby shower?
Men have previously not gone to the baby shower due to the topics of conversation, during these showers normally women share birthing stories, details, and tips.
Men have not gone so that they are 'spared the details of childbirth historically men have not even been in the birthing room.
It's a place to share tips, stories, and advice, often seen as a safe space for women to share stories without males present.
Now men are present at the birth and the concept of the shower is more about celebrating than sharing stories so it is more of a welcoming environment.
This is less likely to be a barrier now but some men may feel uncomfortable discussing these topics, this is a point to note when arranging the baby shower.
Depending on how the expectant mother sees the shower depends on if there is an invite, if they see it as their day they may not want their partner there.
However, if they see the day as more about the baby they are more likely to want their partner there to celebrate this step towards parenthood.
It is important that both parties are in agreement with the decision, they should both feel comfortable with either the husband attending or not. And whether this determines if other male attendees coming.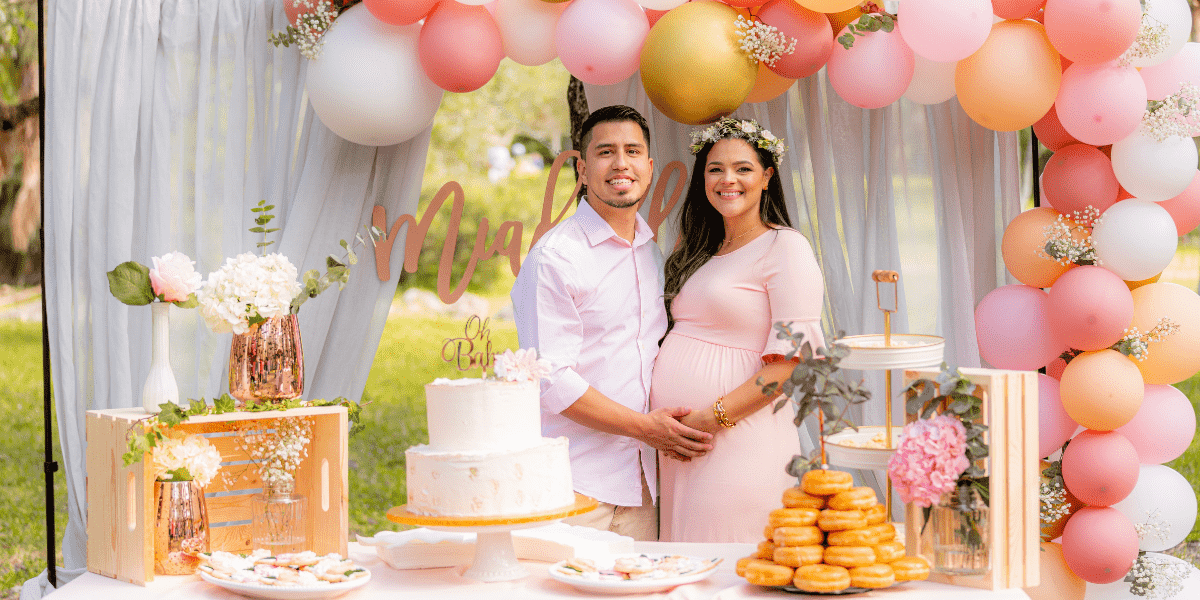 What do guys do during the baby shower?
They do the same as everyone else. Though expectant mothers are likely to receive tips and advice.
Expectant fathers could receive the same but from their male counterparts, talking about what to expect as a new dad.
What about male only baby showers?
Women only showers may be a thing of the past but what about This is a relatively new idea, as we discussed earlier men 'wet the babies' head as group, which can include going to the pub.
But more recently there have been reports of men only baby showers, though these are very limited. It has been compared to a bachelor party, with drinking and games.
Unlike women's only baby shower it has been reported to be held in the pub or a day out and to focus more on drink. As obviously expectant mothers cannot drink.
In summary, it is up to the couple whether the father attends and if this means that his friends will also attend.
It is also dependent on who arranges it, family is likely to just invite family whereas friends are likely to invite other couples.
When it comes down to the invite list, do what you and your partner want, tradition is forever changing as is the role of parents.
Men are more involved, women go back to work quickly and work longer, stay at home dads are more and more common.
Do what you and your partner want, whatever you feel to be the most enjoyable for you and the people you are inviting.
There are lots of options to include the husbands in the baby showers if they want to by opening up the invite, making it less formal, changing the games but it is important to note that this discussion needs to be had with the couple, if the mother to be does not want the husband at the baby shower that is totally fine and nothing to turn your nose up at!!!!