Fall, with its vibrant foliage and illuminating light, ushers in a season of celebration. While we may long for the balmy days of summer, can anything truly replace the joyous revelry that fall brings?
The crisp air, rows of colorful leaves, the smell of pumpkin treats and wrapping up with a good book in a thick cozy knit sweater; it truly is a time full of warmth and comfort.
Be sure not to miss out on the delicious seasonal flavors at your local cafes, coffees delicately spiced with pumpkin, cinnamon, and apple.
Snuggle around a fire with your loved ones, roast marshmallows, or maybe do something a little daring for Halloween.
The months of fall can fly by much too fast, so let's make the most of this time and cross off your fall abucket list with some fun-filled fall activities for the whole family, plan nature walks with your partner or getting creative whilst solo in the kitchen,we have lots if ideas for everyone.
Take advantage of the weather before the cold winter sets in; here's a ultimate fall bucket list to help you entertain yourself and your loved ones this fall.
1. Making Fall Drinks:
Fall drinks are delicious and can be a fun and creative activity to enjoy during the season. One way to get started is by trying different recipes for homemade apple cider, pumpkin spice latte, or other fall-inspired drinks. You can experiment with different spices, flavors, and even types of milk or cream to make the drinks unique and personal.
You can use fall-themed mugs or add a sprinkle of cinnamon or cocoa powder to the drinks for a cozy and inviting touch. If you're feeling adventurous, try making your syrups or whipped cream to add a personal touch.
Fall drinks are a fun activity that can help you enter the season's spirit. Whether making them on your own or enjoying them with friends and family, fall drinks can add a touch of warmth and comfort to the fall season.
2. Make a Fall Wreath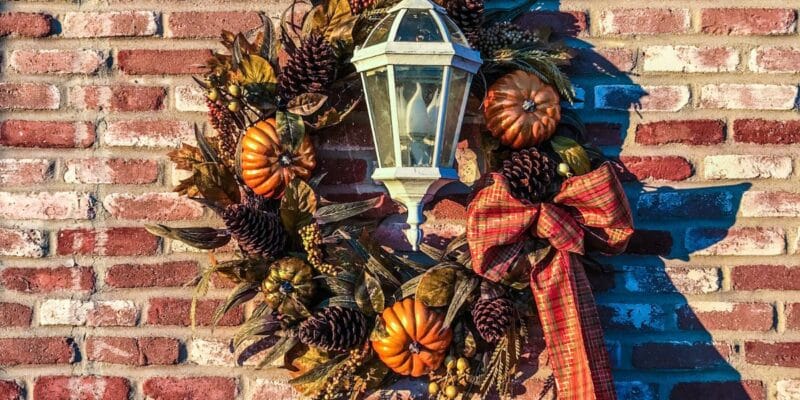 A well-crafted seasonal wreath adds so much personality to a front door. Most wreaths contain small pumpkins, colorful leaves, and burlap, but how about trying something different this year? Here's a list of things you can use to decorate your home this fall:
Autumn leaves – Collect colorful leaves from trees or buy artificial leaves from a craft store.
Pinecones – Gather pinecones from your yard or purchase them from a craft store.
Twigs and branches – Use natural or painted twigs and branches to add texture and dimension to your wreath.
Berries and fruit – Dried berries or faux fruit can add a pop of color to your wreath.
Flowers – Incorporate dried or artificial fall flowers such as sunflowers, chrysanthemums, or dahlias.
Wheat or other grains – Use dried wheat stalks or other grains to add a rustic touch to your wreath.
Acorns – Collect or purchase acorns from your yard from a craft store.
Burlap or ribbon – Use burlap or fall-colored ribbon to tie together and hang your wreath.
These are just a few ideas to get you started. Feel free to mix and match materials to create a wreath that reflects your personal style and the beauty of the autumn season.
3. Build a Fort
Keeping those little ones busy can be daunting, but with this activity, you can keep them occupied for hours! Gather blankets, pillows, and cushions and assemble some chairs and smaller furniture.
Start by placing a mattress or blankets at the base. Make your fort using clothing pins or large clips to help keep it together. Use a thin sheet to create a weightless roof and secure it down the sides. Line the sides with cushions to create walls. Finish off with LED lights or a torch to add that starlight touch. Now turn your room light off and snuggle up!
4. Tell Scary Stories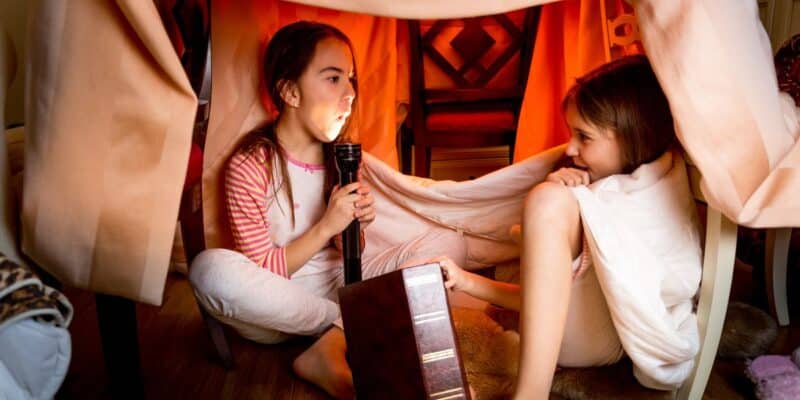 This pairs perfectly with number three; Build a Fort… sit together with the lights off, and each has a turn at making up and telling a scary story. Maybe add a little dress up, and scare your fellow storytellers with an outfit not for the faint hearted. But make sure you don't go overboard! You wouldn't want to scare the kids off completely!
5. Bake a Fall Treat
Whether you want to make a classic pumpkin pie or try something a little different, pumpkin recipes are abundant online. Pumpkins are an excellent nutritional food, adding goodness to your diet. They are a natural immune booster, and the opportunity to cook with one shouldn't be missed! Try out these dreamy fall recipes:
6. Build a Scarecrow
DIY scarecrows are fun to create and add excitement to your fall plans. From cute scarecrows to more classic scary ones, there's always something lying around the house to help you put a unique character together.
Let's not assume your scarecrow needs to be huge; you can create a more miniature replica of the classic frightening fella. Here are a few ideas to get you started on an easy scarecrow:
7. Make Scented Candles
Creating seasonal scented candles can bring all things related to fall to life in your home. Whilst adding warmth and light, you can choose certain aromas which remind you more of fall than others.
Whether you buy a candle kit or purchase your jars, wick, and wax separately, candle-making options are endless online. Not only do candles spice up your home, but they also make a fabulous gift! Try out these festive scents to create the perfect mood this fall:
Cinnamon
Pumpkin
Chai
Apple
Nutmeg
Salted caramel
Ginger
Pecan Pie
8. Plan a Games Night
Whether it's Halloween or a fall-themed party you are planning, there are many games that you can enjoy as a family or with your friends.
Fall-themed games can be super easy to organize. Let's have a look at some easy go-to options to bring fun and laughter to your party:
A Bit Corny: Place a Popsicle stick in your mouth and try and balance 6 candy corn. Start with just the popsicle stick in the mouth and one by one add the candy corn to the stick. First player to get all six on the stick wins!
Mummy Wrap: Best played in pairs. Each pair gets a toilet roll and must wrap their partner in the paper. The paper must cover the player from head to toe, just like a scary mummy!
9. Leaf Crafting
The most beautiful thing about fall is the rainbow of fall leaves patterned across our roads and parks. It's the perfect time to wrap up and gather colored leaves for your autumnal crafting.
Ranging from yellows and browns to reds, nature brings us its very own paint pallet. Crafting with leaves can be just as exciting with children as with friends; alternatively, enjoy solo time bringing your ideas to life. This fall activity is excellent for toddlers and preschoolers.
Leaf Rainbow – Mix different color leaves to some paper to create your own curved rainbow.
Leaf Rubbing or Painting – Whether you use crayons to rub leaf patterns or dip your leaves in paint, you can create an array of art with this method.
Leaf Mobile – Use some sticks to create a hanging mobile, add a string and different leaves to hang from the frame, and create a unique mobile.
Leaf Crown – Measure and cut a strip of card for your head, attach leaves, and make your own leaf crown. Adorn with berries or flowers to create something even more beautiful.
10. Visit an Apple Orchard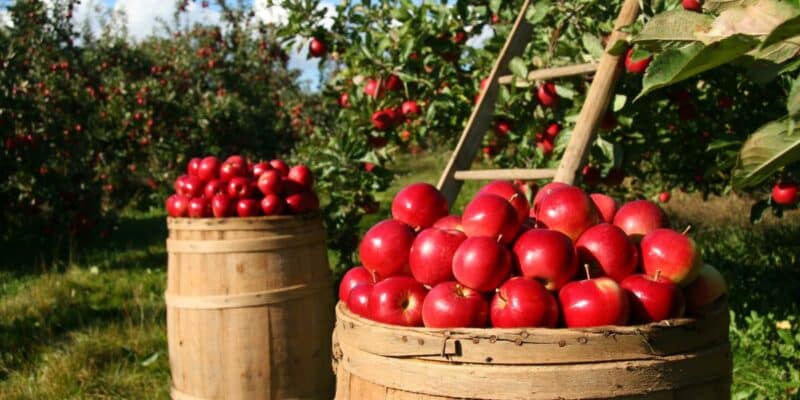 Considering that apples are a traditional autumn fruit, it's a great idea to plan a visit to an orchard and go apple picking this fall. Since most American stores only carry a limited variety of apples, visiting an orchard allows one to pick from a wider selection, including rare types.
In addition, orchards provide a perfect backdrop for a family photo shoot and often offer additional attractions such as animal farms, pony rides, and scrumptious baked goods.
Make sure to check out the offerings at your nearby orchard this season!
11. Make S'mores
Being outdoors on the deck or patio with an open fire pit is a favorite fall activity amongst many. Soaking up the warmth of the flame in the crisp air couldn't be more comforting.
So there's no surprise when marshmallows are involved! Sweet, warm, gooey goodness, all from a little blob of fluff on a stick.
It is that simple and delicious. But how about trying something little different this year by pairing our love of chocolate with our love of a hot gooey toasted marshmallow. Have a go at this delicious and easy-to-make S'mores Brownies recipe!
12. Change your Wardrobe Around
Now is the ideal time to prepare for autumn and winter. Take advantage of this period to switch out your summer wardrobe for cozy, warm outfits and woolen garments. Take your time to carefully organize your wardrobe and keep your favorite pieces easily accessible.
13. Find a Haunted House
Wouldn't it be a spine-chilling and exciting way to spend days leading up to Halloween by organizing a haunted house hunt with your friends? Research the local area for haunted houses, plan, and venture out in the evening.
Pack a torch and a camera so you don't miss any ghostly encounters! You could even turn it into a Halloween party or a fall harvest party for added fun.
14. Make Trail Mix
Trail mix is a fantastic lightweight, crispy snack. Most recipes are easy to assemble and can keep well if stored properly. A classic fall trail mix comprises of nuts, dried fruits and spices, but let's have a look at something a little less traditional. Just put all the ingredients into a bowl and toss them together!
15. Outdoor Fall Activites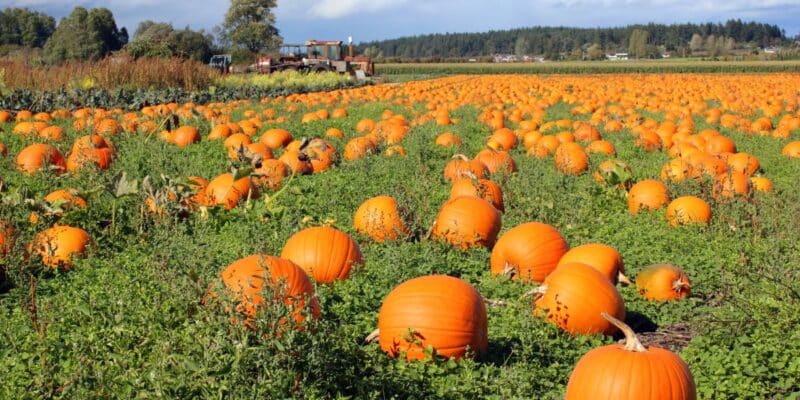 As the weather turns cooler, take part in some exciting outdoor activities. Dust off your comfortable sneakers and plan a bike or horseback ride with your loved ones to enjoy the beautiful autumn scenery.
Visiting a pumpkin patch or attending a fall festival is another great way to experience the seasonal festivities. For sports enthusiasts, watching a local football game or taking a scenic train ride through the colorful landscapes is a must.
Indulging in local harvest festivals, petting zoos, and going on fall scavenger hunts are also great ways to make the most of the autumn season. So, get out there and explore the outdoors!
16. Camp in your Backyard
We don't always need to go somewhere to enjoy the season. How about taking out that tent from your summer camping trip? Setup in your backyard, and cushion it well with blankets and pillows.
Spend time reading in the candlelight, grab a pumpkin-spiced latte, or sleep under the stars with your little ones. Whatever you decide, you will soon be addicted to enjoying your backyard in this unique way.
17. Read by the Fire
There's little more comforting than a good book by the fire. Snuggle up in your favorite blanket and wooly socks and read and turn your crisp pages.
You can read by the fire in your home or take your book outside and snuggle on the porch. Before you know it, you'll be far into your book and ready for your next read.
18. Donate to a Food Bank
Being the season of change and transition, we often value and are thankful for what we have. So how about giving back this fall?
Use this time to do a pantry clear-out, find things you could donate, or purchase a few easy-to-find staples and head down to your nearest food bank.
Doing a little to help less fortunate families around you can, in itself, be a heartwarming feeling.
19. Do a Random Act of Kindness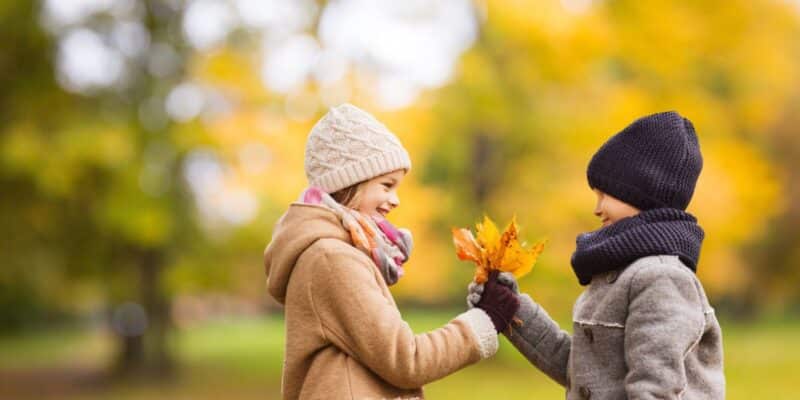 As stated earlier, acts of kindness can profoundly impact both the recipient and the giver. It doesn't always require a material donation to make a difference in our lives. You can make a positive impact by performing a random act of kindness for someone.
For instance, you could assist someone in carrying their grocery bags or offer to volunteer at a local charity store. These simple gestures can brighten someone's day and make a real difference in their lives. So, consider spreading joy and warmth this fall by practicing kindness towards others.
20. Put Together a 'Thankful For' List
As November approaches and Thanksgiving draws near, it's the perfect time to take a moment and reflect on the things we're grateful for. Writing a 'Thankful for' list or keeping a daily 'Grateful' journal can be a humbling experience.
You can include fall-related things, such as savoring hot cocoa with your loved ones, or be more specific and list things like good health and the love of your children. Whatever you feel grateful for, reading your list back to yourself can help strengthen your spirit and remind you of the abundance you have in your life.
As the vibrant autumn season approaches, there is no shortage of exciting activities. From the stunning colors of the changing leaves to the abundance of pumpkins and spooky Halloween fun, there are plenty of ways to immerse yourself in all that fall has to offer. Our overflowing fall bucket list is packed with various ideas to inspire you. Embrace this magical time of year and allow yourself to appreciate the season's beauty entirely.