You're in for a treat if you've never had a Philly cheesesteak. This sandwich is all about the ingredients and how they create a mouth-watering flavor experience. The thinly sliced beef is typically cooked on a griddle and sliced onions until tender and juicy.
Then, it's all piled onto a soft roll slathered with a layer of melted cheese. The cheese is what makes this sandwich so irresistible, with classic options like Cheez Whiz, provolone, and American cheese being popular choices.
One of the great things about the Philly cheese steak is how versatile it is. While the classic recipe is delicious, there are so many ways to mix it up and make it your own.
Making Philly cheese steak at home is also surprisingly easy. It only takes a few ingredients and some cooking know-how to create a sandwich that tastes just as good (if not better) than what you'd get at a restaurant.
Plus, it's an excellent meal for a crowd, or a party, since you can quickly cook up a big batch of meat and toppings and let everyone build their sandwich.
So, whether you're a lifelong Philly cheese steak fan or trying it for the first time, I hope you'll try this recipe. It's a delicious and satisfying sandwich that's perfect for any occasion.
Ingredients: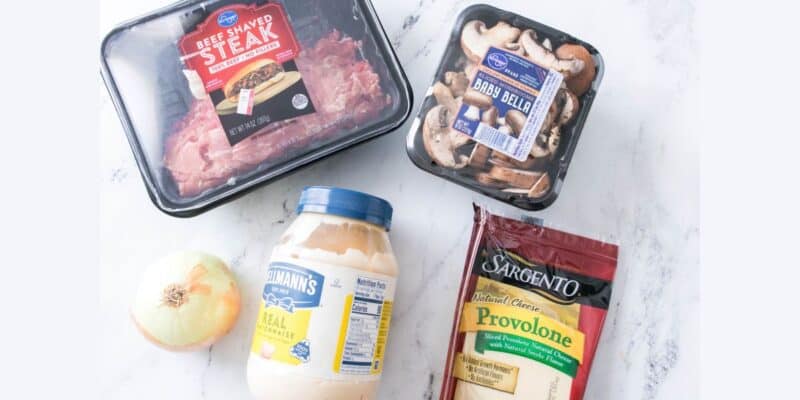 14 oz. Shaved Steak
1 onion sliced
8 oz baby bella Mushrooms sliced
8 slices Provolone Cheese
Mayonnaise
Method:
In a large skillet, heat olive oil with onions. You want to sautee them on medium-low heat until they become soft and translucent. I choose to do sliced onion, but you can also dice them up!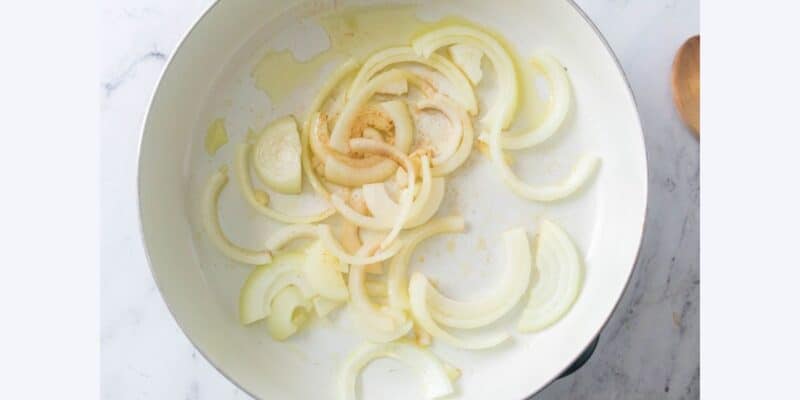 Once the onions have sauteed, add in the mushrooms. Be sure to season both the onions and mushrooms with salt. This helps to bring the moisture out of them and become soft. Not to mention, they need the flavor.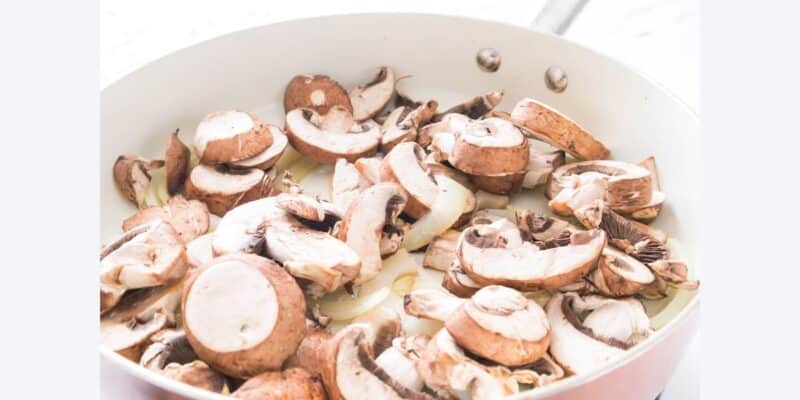 Once the mushrooms have broken down and are soft (they will turn a darker color), add the shaved steak and 2-3 tablespoons of your favorite steak seasoning. I've been obsessed with our local butcher's steak seasoning (we try to support local as much as possible!)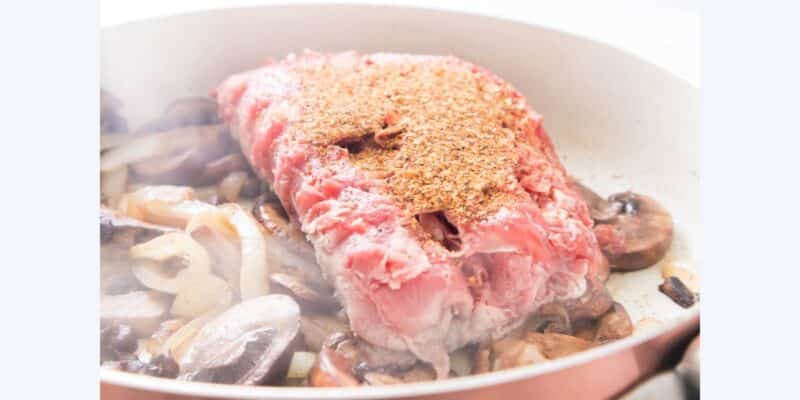 Cook the steak until it's cooked through, about 8-10 minutes. Make sure to toss the steak around in the onions and mushrooms.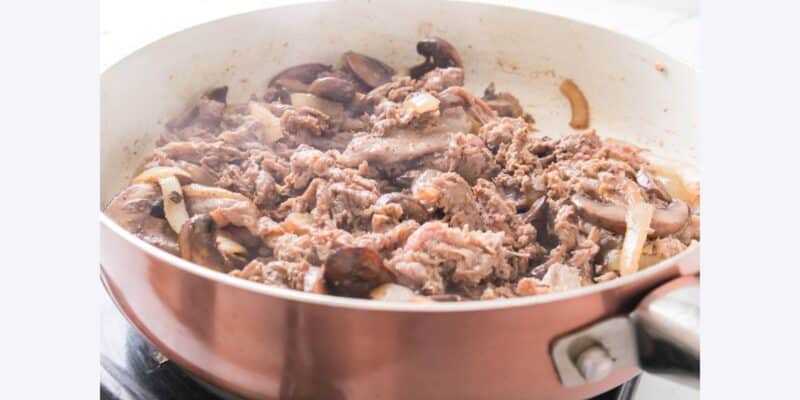 Grab your hoagie buns and place mayo on both sides of the bread. Put as much or as little on as you'd like. You can also try light mayo if you prefer. Place the provolone cheese on the top side.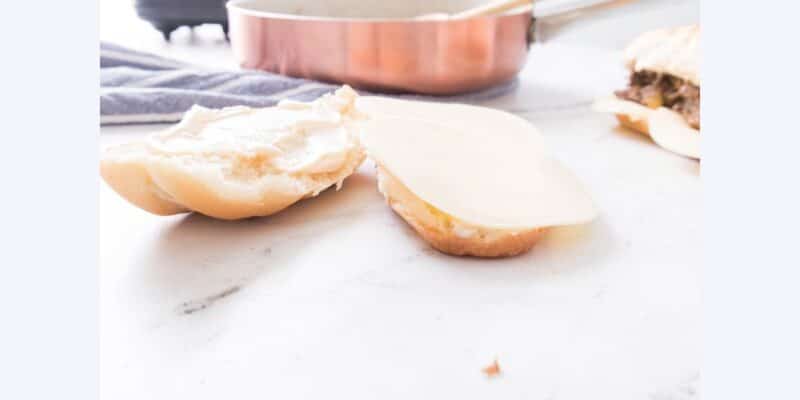 Place steak on top of the bottom roll.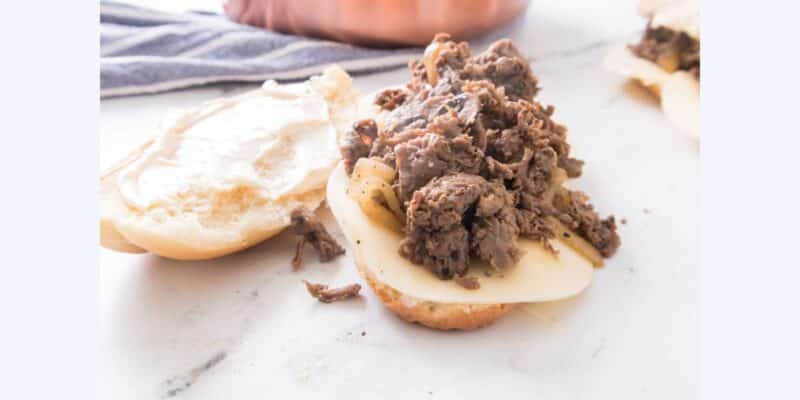 Place in an air fryer at 350° (or the oven) to toast the bread and melt the cheese. In the air fryer, it's about 1-2 minutes, and for the oven, expect 5-8 minutes.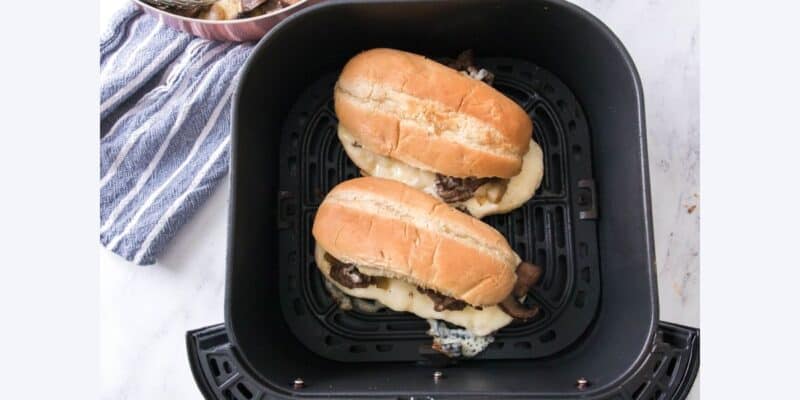 Serve with homemade french fries, and chips, or if on a keto or low-carb diet, serve over a bed of lettuce!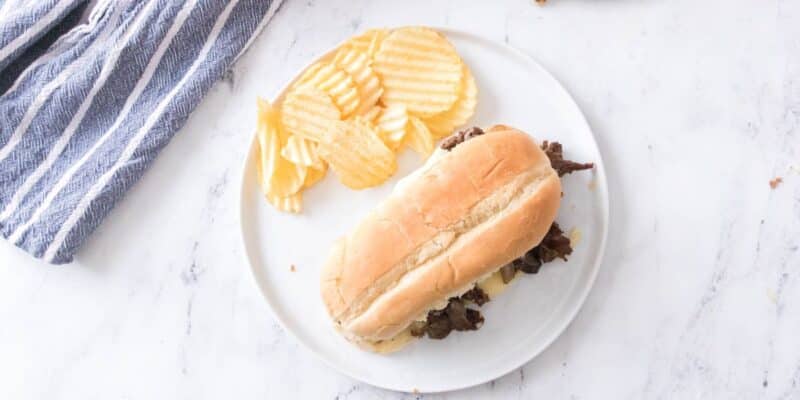 Tips:
There are many ways to make Philly cheesesteak more exciting and add your unique twist to this classic sandwich. Here are a few ideas:
Switch up the meat: Instead of using traditional beefsteak, try using other types of meat, such as chicken, or even tofu, for a vegetarian option.
Add some spice: Add different spices and seasonings to your meat, such as paprika, cumin, or chili powder, to give your Philly cheesesteak a little extra kick.
Change up the cheese: While Cheez Whiz, provolone, and American cheese are classic choices for Philly cheesesteak, you can also try using other types of cheese, such as pepper jack or blue cheese, to give your sandwich a unique flavor.
Add some veggies: In addition to the traditional onions, try adding other vegetables to your Philly cheesesteak, such as, spinach or roasted red peppers.
Experiment with the bread: While a classic hoagie roll is typically used for Philly cheesesteak, you can also try using other types of bread, such as ciabatta, sourdough, or even a tortilla for a Philly cheesesteak wrap.
By trying out these different variations, you can make your Philly cheesesteak more interesting and add your personal touch to this beloved sandwich.