Are you looking for an activity table for your baby?
Is your baby driving you absolutely crazy opening drawers and rummaging through your kitchen cupboards?
Are they no longer being occupied by the sheer number of rattles, blocks and books you have accumulated?
Trust me when I say I've been there 5 times! The best and cleanest (I hate blocks for this very reason) is buying an activity table.
In my opinion these are the best baby activity tables on the market.
With so much choice available it can be overwhelming to decide which child activity toy is the best.
With my experience of having 5 kids I thought I would give you a breakdown of the best baby activity toys that might make it easier for you to decide. 
Best Overall Baby Activity Table
(MamaOfFive #1 Choice)
 5/5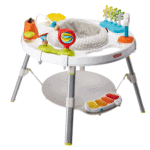 Great Quality
Easy to Use Toys
360° Rotating Seat
Grows with Baby
Activity desks for toddlers are a great way of keeping your toddler engaged and satiating their curiosity (and away from your kitchen cupboards), while keeping them safe.
It not only keeps your toddler occupied, but as they play, they develop essential cognitive skills, fine motor skills and aid the development of your child's brain.
There are so many interesting ways to use baby activity tables to keep your baby's brain active.
When the baby's attention is on their activity desk, it means you are able to take 10 mins to stack the dishwasher without the toddler climbing on it, unload the washing without it ending up all over the floor or just relax with a nice cup of coffee. 
I have bought an activity table for every one of my 5 children. They are an absolute must in my opinion, they grow with your child. As they develop you can see the way they use the table develop too. 
There are different kinds of activity desks for toddlers that are available on the market, each one is designed to meet the varying needs of the child. 
Shopping for one can be an overwhelming process. Luckily for you, I have compiled a list of the best toddler activity desks that are available on the market.
 The buying guide will help you to narrow down your choices.
Table: Top 10 Best Baby Activity Table

We ♥ honesty! Mama of Five earns a commission through the following hand-picked links at no extra cost to you. Read the disclaimer here.
Best Baby Activity Table – 10 Products Reviewed
#1. Skip Hop 3 Stage Interactive Activity Center
The first runner up on our list is the Skip Hop 3 Stage baby learning table. It's manufactured and designed by Skip Hop in collaboration with a pediatrician. This modern interactive play table engages the toddler from head to toe, providing your little one with a whole-body experience. The suitable age for this bouncer is four months to toddler age.
Pros
360-degree rotating seat
Easy to assemble
Toy-attachment system clips
Cons
The white activity table features a comfortable white and gray-colored seat that allows your little one to rotate a full 360 degrees, the chair also has some elastic properties to it, making it great for your little one to bounce up and down in it.
The Skip Hop 3 stage interactive table, as the name suggests, has three stages.
The first one being for babies that are just beginning to sit up, which usually are ages four months and up. At their feet, there's a light-up piano that they can see through a little window, and as your little one steps on it, it lights up. |
The piano can also be lifted to fit the window so your baby can play with it with their hands, make sure to give it a good wiping beforehand though as kids often put their hands on their mouths.
It is one of the best 3-stage interactive activity center. It also features
360-degree rotating seat and unique discovery window. It comes with multicolor options so you can choose your preference one.
The second of this product is a cruise and interact play table, which can easily transition from the first stage. All you need to do is take out the seat and install the foot platform, and the activity center now becomes a baby play table that they can cruise around.
The third stage of this activity center is a stand and play table. It's for times when your toddler doesn't enjoy the same toys anymore, and you remove them, and it becomes a play table. And you don't need any tools for any of those things, especially on installation as the pieces easily snap together quickly.
It's no wonder that this product is the first one on our list, as it's such a versatile product. From being an infant activity table to a stand and play table for toddlers, it grows with your little one to meet their playing needs.
A few parents reported that the Skip Hop 3-stage activity center is a bit unstable.
#2. Bright Starts 3 In 1 Activity Center
The Bright Starts 3 In 1 Activity Center doubles as a baby table toy and a walker. You'll be delighted to see and watch your baby take their first steps around the perimeter with the Bright Starts activity center. This product comes with fifteen different toys and various activities that would keep your little one engaged and happy.
Pros
Moves around easily
Durable & comfortable seating
It requires 2C batteries
Cons
It delivers a comfortable seat and a walker that can rotate a good 360 degrees, allowing your baby to reach and grab for any toys that he/she finds interesting. The walker and entertainer work hand in hand to encourage better leg movement by encouraging your child to walk around.
The Bright Starts also has a music section where your child can play with various piano keys that makes sounds, as well as an eating area, which can detach for easier cleaning. If you want to add extra toys, you can do so easily with the link loop.
The Bright Starts also has a music section where your child can play with various piano keys that makes sounds, as well as an eating area, which can detach for easier cleaning. If you want to add extra toys, you can do so easily with the link loop.
Different and wide variety of excellent hued toys are the extraordinary features that additionally offers 15 exercises alongside music and senseless sounds.
Once your kid starts to walk on his/her own and has outgrown the walker, the Bright Starts activity center can easily transition into an activity play table by removing the seat completely.
This award-winning item is a choice among many parents all over the world, and it's no surprise as it offers tons of value in a single item. The flexibility of this item makes it so you won't have to purchase a new one as your baby grows, so if you're thinking about getting an infant play table, then this should be your first choice.
#3. Fisher-Price 2 in 1 Sit To Stand Activity Center
This product is a sit to stand activity center, which means that it can adapt to your ever-growing child. The Fisher-Price activity center is a safari-themed activity play table and center, equipped with a comfortable fabric seat, and a platform that's filled to the brim with interactive toys.
Pros
Adjustable & car ramp
Low volume
Comfortable design
Cons
It offers exciting activities that would keep your toddler engaged while also encouraging their growth and mental development; it's the perfect equipment for your child to play and learn. It's a fun time all around with the rotating seat, allowing your little one to spin around a full 360 degrees.
This product encourages your baby's motor skills throughout the three different stages of this product. From sitting and interacting with the toys, to standing and cruising around the perimeter of the table and reaching to play with the toys.
This product encourages your baby's motor skills throughout the three different stages of this product, from sitting and interacting with the toys, up to standing and cruising around the perimeter of the table to reach and play with toys.
Fisher-Price comes with 2 different ways to play; Sit and turn stationary performer for infant and baby activity table
As for sensory development, the bright colors, the various textures, and the different interactive toys that make sounds, will help stimulate your baby's three essential senses; the visual, auditory, and tactile senses.
As your child continues to play and explore with the various activities and toys that are in the activity center, they're introduced and develop to cause and effect, which is an essential thing to teach your child.
As your child grows, this product grows with them. With three different height settings, you can easily adjust the activity table to be at the optimal height for your child to reach and play with their toys.
#4. Manhattan Toy Tree Top Adventure Activity Center
Manufactured and designed by Manhattan Toy, they have been around the industry of crafting high-quality toys since 1979. Their goal from the start is to provide your little ones with the best interactive toy, all designed to inspire imaginative play and encourage development.
Pros
Wide variety of activities
Non-toxic finish
Perfect Size
Cons
Their latest addition is the Manhattan Toy tree top adventure activity center. It's a wooden activity table that's designed to be colorful and full of interactive toys to capture and captivate your little one's curiosity.
Your child will learn and have fun by moving around various shapes, figures, and sizes on wood blocks with guided tracks and slots. It offers all of the Treetop Adventures multiple games and activities. This is all in a single toy which is perfect for providing your little one with a fun and learning experience.
This Manhattan toy tree top activity center does come with a sturdy construction and elegant tree theme makes this perfect outfit for activity or nursery room
This toy introduces the concept of color, shapes, or animals to your child. And because it's all made with wood, you won't need any batteries, but the drawback of it is that there's no light or sounds for your baby to enjoy.
The wooden activity center has four quadrants formed like a tree. Each quadrant has different activities for your baby, and all along those four quadrants are tracks with animal-themed gliders and six colorful beads.
This toy isn't great for kids that are yet beginning to stand up; instead, it's an activity center for one year old and above.
This Baby Relax Swivel Glider Recliner is not suitable for babies under 12 months
#5. Alex Discover Sound and Play Busy Table
This activity play table is a product from ALEX Jr, which is designed specifically for your baby's first year. Their toys introduce your child to the wonders of colors, shapes, sizes, sounds, and graphics to stimulate their visual, auditory, and tactile senses. This play table is equipped with wooden toys, musical instruments, and building blocks to promote and enhance their hand-eye coordination, as well as promote creativity.
Pros
Beautifully designed
Improves creativity
Great quality product
Cons
What's great about this toy is that one or two kids can play at the same time. Also, all the toys and activities can face in any direction, so even if your child shares this play table with their playmates, he/she wouldn't run out of something to do and play. The overall design of this play table encourages your child to be creative and imaginative with every single piece as they manipulate and play with it.
Alex Discover Sound and Play Busy Table can entertain many children at the same time. It also includes 6 fun activities to help your child grow up become more easier.
It doesn't have many sounds or directional elements to it, but it's an excellent toy for periodic play. You can introduce your child to various colors, decorations, figures, and even letters to start practicing and aiding your child's development.
One thing that you need to be aware of is that the height is awkward for kids that are just starting to stand up and walk, and would prefer doing so rather than sitting down. Your kids can play while they're practising standing unaided.
When standing up, it can be quite tricky for a child to play with the table and in some cases, your child may stand up or sit on top of it and may cause some injuries, so it's advised to supervise your child while playing.
Some parents complained that the Alex discover activity table is somewhat unstable and it doesn't have any electronic sounds.
#6. LeapFrog Learn and Groove Musical Table
Now we're onto our sixth product on our list, and it's the LeapFrog Learn and Groove musical table. It's an interactive toy that introduces your child to the wonders of the musical world. It has various colorful instruments and buttons that produce songs, sounds, and different learning responses.
Pros
70-plus song and tunes
Sturdy construction
Builds coordination
Cons
This product has two modes in which you can choose from, first would be the learning, and the other is the musical mode. You can switch modes by turning the center book. The learning model covers a wide array of things for your toddlers to learn, such as colors, numbers, phrases, and letters. And then there's music mode where the musical table plays nursery rhymes, tunes, sounds, and more.
As far as height goes, there are two options. From stand up toy table to a sit-down toy table, by just simply removing the legs of the table. This baby music table will surely give your child hours upon hours of enjoyment and fun, and that's because each item on this music table produces different sounds. For example, the piano teaches the child colors, the trombone is for numbers, while the spinning maraca plays the alphabet, and many more.
The LeapFrog Learn and groove musical table offers different tunes which has excess of 70 songs and tunes from instruments; the drum makes it a perfect alternative for little childrens matured a half year to
3 years.
You also can control the volume of this toy whenever it starts to get to you. And if you want to start early in teaching your child another language, you can do so, because this toy is bilingual. One flick of a button and everything from the letters, numbers, phrases, and more become French.
The bright coloration of the toy attracts the little one's senses, and even if they don't opt to press the buttons themselves, by them simply banging on the table and hitting any one of those toys would create a sound, and even though they still can't comprehend it, it'll teach them cause and effect.
The lights may distract from music.
#7. VTECH Sit to Stand Learn and Discover Table
The VTECH magic star learning table is a versatile toy that grows old with your child. It can merely transform from being a floor toy, into a two-way learning table. It's a great toy to keep your child engaged and encourage them to learn through play.
Pros
Easy to use
Six Play Stations
Two Ways to Play
Cons
There are two ways on how to play with the VTECH activity table, seven different stations in which your child can play with, and can create thirteen different melodies and sing-along songs.. The seven different stations have various toys that your child can interact with, such as a phone, clock, steering wheel, buttons, interactive book, and more.
Every single one of them has different functions, the phone teaches numbers, the book teaches letters and shapes, and the buttons creates sounds. All of which will aid the development of your baby.
Fun light shapes and sound effects reward your child's interest and enhance expression. It contains thirteen playful songs and melodies.
This product comes with two different language options, English and Spanish. So if you want to give your little one a head start in learning a second language, then this product would be a good foundation for it.
One thing that you need to look out for is that this table is supported by three legs, and is 15 inches tall. If your child is still just learning to stand up, then it's best to remove the legs and make it a floor toy. It's also crucial that you avoid letting your child sit or stand on the table. Otherwise, it might topple over. Other than that, this product is an excellent kid activity desk and would make for a unique toy for your child.
VTech Sit-To-Stand table is a lightweight construction. So that your baby can fall over if she/he leans too much.
#8. Baby Einstein Discovering Music Activity Table
One of Baby Einstein's goals with their products is to engage children in various activities that'll encourage them to satisfy their curiosity, explore, and learn from all those experiences, and one way of doing that is through the help of their product, the Baby Einstein discovering music activity table.
Pros
Supports floor-play
Very durable
Easy to access
Cons
Your children can play with the various sections, either standing or sitting in front of the activity table as it's not part of any seat. If your baby is learning how to stand up and walk, they can play with this toy directly from the ground.
There are various instruments and toys that your children can play with, each has a specific function when pressed, like the piano, it teaches your kids about the different numbers and colors. There are also other instruments that your child can play with, such as the drums, guitar, and the french horn.
In a nutshell, we recommend this einstein discovery music activity table for kids who want to start a head in the music world.
This product has three different configurations that you might like. In regards to language, this toy is multilingual, allowing you to choose from English, French, and Spanish. As for the modes, this toy has two, music and discovery mode.
In discovery mode, your child discovers the different kinds of colors and numbers, and in music mode, your child has the freedom to create music through the mashing of buttons. And if it gets too loud for you, the Baby Einstein has two different volume settings.
Since this product only has three legs, it's prone to toppling, and babies love climbing on top of things, so it's best to keep an eye out and make sure that your child never tries to stand or sit on top of the activity table.
Flap fingers used to switch from numbers to music can sometimes get stuck.
#9. HOMOFY BABY TOYS MUSICAL LEARNING TABLE

We have another product from HOMOFY, and this time, it's the Toys Musical Learning Table. It boasts 6 activities that can either be in English or Spanish, which encourages your child to give in to their curiosity, to explore, and learn.
Pros
6 fun learning activities
Light up Music Buttons
Removeable Legs
Cons
The six different sections of this learning table help develop the different areas that a baby needs. The turning of the wheel drives the bear around the activity table, which promotes motor skills. If your child flips the book page, nursery rhymes would play, which would develop their auditory senses. There are also light-up music buttons that would play music about the different colors when pressed.
This activity table has 6 fun activities in spanish and english that encourages your child to learn and explore.
There are also gears in which your child can play with to further enhance their motor skills, as well as a telephone that creates sounds when its buttons pressed, which encourages role-playing.
If you're a child still has trouble reaching for their stand up toys, you can remove the legs and convert it into a floor toy. But be advised that the learning table's length when equipped with the legs is about 15 inches tall, which would prove problematic if your toddler wants to sit or stand on top of things as it has the risk of toppling over.
A few parents were unimpressed by the quality of the plastic and durability of the product design.
#10. Fisher-Price Learning Table
With the Fisher-Price learning table, there are four available sections for your child to play with, the puppy's home, the zoo, the market, and the farm. With this, there are lots of things to discover, experience, and learn for your baby.
Pros
Detachable legs
Easy to set up
No batteries needed
Cons
Be it opening and closing the door, dialing a number, or pressing a button, all of them will provide feedback to your child, whether it be a song, tune, or phrases about the different kinds of animals, colors, numbers, and shapes.
This product starts as a great floor play toy, and as your baby grows, you can easily install legs on the learning table to go from sitting to standing up and cruising.
This product has a feature and design called Smart Stages Technology; it has three different stages to be able to match with your ever-growing baby.
This Fischer-Price learning table comes with three various playing levels (explore, support, and imagine) and particularly the manner in which it shows kids expressions and essential English vocabulary.
The first level is meant for children age six months and up and is all about hands-on activities like pushing a button, the opening and closing of doors, and the twisting of various toys, all while teaching your child the basics about fruits, colors, numbers, and shapes.
The second level would be for children aging 12 months and up, and the play becomes finding the different shapes, sizes, colors, etc. And if they succeed in doing so, the play table provides them with positive reinforcement.
And as for the third level, it's all about playing pretend. It usually recommends it for children age 18 months and up. The learning table provides your child with a scenario and makes them believe that they are going to the market, play with the puppy, etc.
This Alex Discover Sound and Play Busy Table is unsatisfactory for children below one year old
Buying Guide: How to choose the Best Baby Activity Table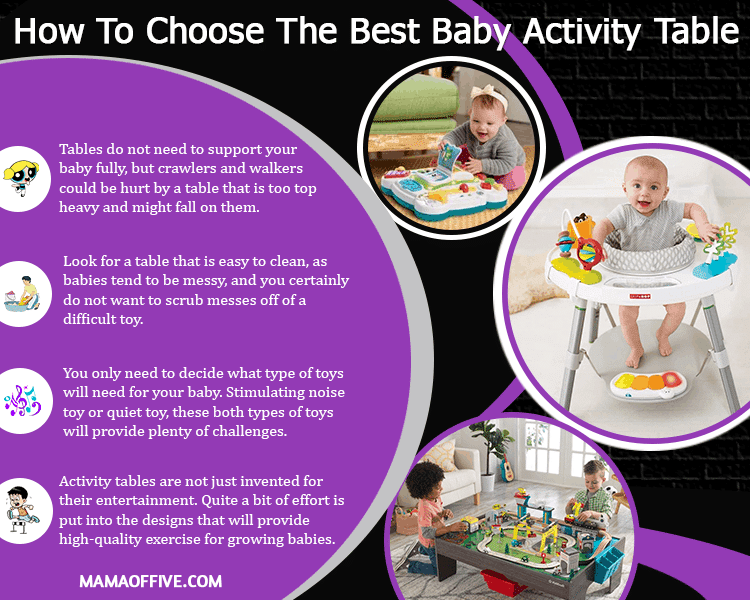 The information provided above may be too much for you, especially when you don't know what to look for in a toddler's activity table. But with this buyer's guide, we might be able to narrow your choices down to help you decide which one is the best for you and your baby.
Child's Age
Some products on this list may be beautiful to look at, but the product design may be too old for your child's age. If you want to support your child's development at an early stage, you should get started with a floor toy.
If you get a 2 in 1 activity center that can double as a baby stand up toy, the better. With a 2 in 1 activity table, you can install legs on the toy to convert it into a stand-up activity center.
Features
As you browse through the different activity tables that are available in the market and on this list, you'll notice that every one of those products has different toys like different bells, whistles, pianos, etc. While most play tables are vibrantly colored, have lots of shapes, and sounds, other activity tables that go above and beyond the expectations of parents.
When it comes to baby activity tables, there's no such thing as over the top, provided that it's easy enough for your child to manipulate and play. The over the top features will not only keep them engaged and amuse them now, but will continue to do so even when they're growing up, continuing to improve their motor skills, cognitive abilities, enhance their senses, and encourage imagination.
Quality
When shopping around for an activity table for your toddler, you might think that buying the most expensive activity table for your little one means that you're getting the best quality, but no, that's not always the case.
If you want to get the best quality, buy from trusted brands, and check the reviews of each product that you come by. And if you're reading this, then the list that we've provided is a great way to start.
Never sacrifice the quality of your toddler's activity table because you want to save money because there are a lot of flimsy activity tables that are in the market right now. Also, the baby tends to put their weight on the table whenever they try to stand up, and if they do and it topples, your little one might injure him/herself.
Size
As you browse around our top 10 list, you can notice that it all comes in different shapes, sizes, and materials. Think about what your baby likes and how he/she will be using the said product and choose accordingly.
If your child still hasn't mastered standing up, then get a floor toy. Do they prefer to use their toys while sitting down? Then get them a sit-down toy. And if your little one has playmates, you can get an activity table that's shaped and designed to allow two or more babies to play simultaneously.
Types of Materials
Wood
Some activity tables are made out of solid wood, while some who want to save on costs use pressed wood. And other brands utilize both wood and plastic. If you're concerned about the overall longevity of the product, then get one made out of solid wood.
The processing of creating a wooden activity table doesn't involve releasing harmful emissions and toxic substances into the environment as well, making it an eco-friendly product.
Plastic
If you want to go the plastic route, make sure to choose one made out of toxin-free plastic. Most products in the market are made out of polymer, which makes the product sturdy, durable, and will last throughout the different stages of your baby. Since both plastic and wood materials work for a long time, choosing between both will depend on your preference.
With or Without Legs
It has already been stated above, but it doesn't hurt to remind you again. There are activity tables that don't have legs, great for babies that are crawlers, and also makes for a great car activity table to keep your little one distracted while traveling. Once they start walking, then an activity table with legs that can cruise around would be a much ideal choice. Or you can get a product that does both for maximum value.
Color
If you're picky about the color of an activity table and want a gender-specific one, there are boys and girls activity tables that are available in the market. There are also activity tables available that have gender-neutral colors. Overall, this doesn't affect much to the enjoyment of your child; instead, it is more of your preference.
Budget
One thing that you should do before even shopping around for an activity table for your toddler is to set a budget. Doing so will help you narrow your choices down, and will make shopping around a bit easier.
Some of the best toddler's activity tables that you can get are in the mid-range price. As for the high price range, you don't get much other than a few added features, more toys, or a different language setting. And if you have a low budget, worry not, as they are budget-friendly activity tables that are available in the market that are still high quality and have excellent features, but it can be quite hard to look for them.
Infographics: Best Baby Activity Table

Final Words
An activity table is a great toy to play with babies to help your child develop their essential skills, while also satisfying their curiosity from a young age. They can have fun while learning all about the different concepts, while also keeping them away from danger. Whether you purchase a musical activity table, a wooden one, or something that has a lot of features, one thing is for sure, through it, your child will develop, build, and learn skills while engaging in play.
We hope that this article has been informative to you, and we hope that you'll find the best toddler activity table that will meet you and your baby's needs.
Disclaimer: If you purchase any products in this post, we may receive a small commission. We promote only the products which we test and recommend. Read our affiliate disclaimer here.