If you've decided to host a baby shower, either at home, or a hired hall or a table at a restaurant, the pressing question in your mind right now will be – what decorations will I need?
After all, you want to make the baby shower is an event to remember for the parents to be and all the guests attending. Decorations make all the difference to a setting, and you wouldn't want to get that wrong!
But don't fret – this article will go through unique decoration ideas you can incorporate into the baby shower to add a 'wow factor' to your celebrations. You'll have plenty to consider from lighting options, tableware and wall decor to ideas on how you can bring the space to life.
As an Amazon Associate, I earn from qualifying purchases. The links below may be affiliate links. Please read my disclosure policy for more information.
Do You Need Decorations?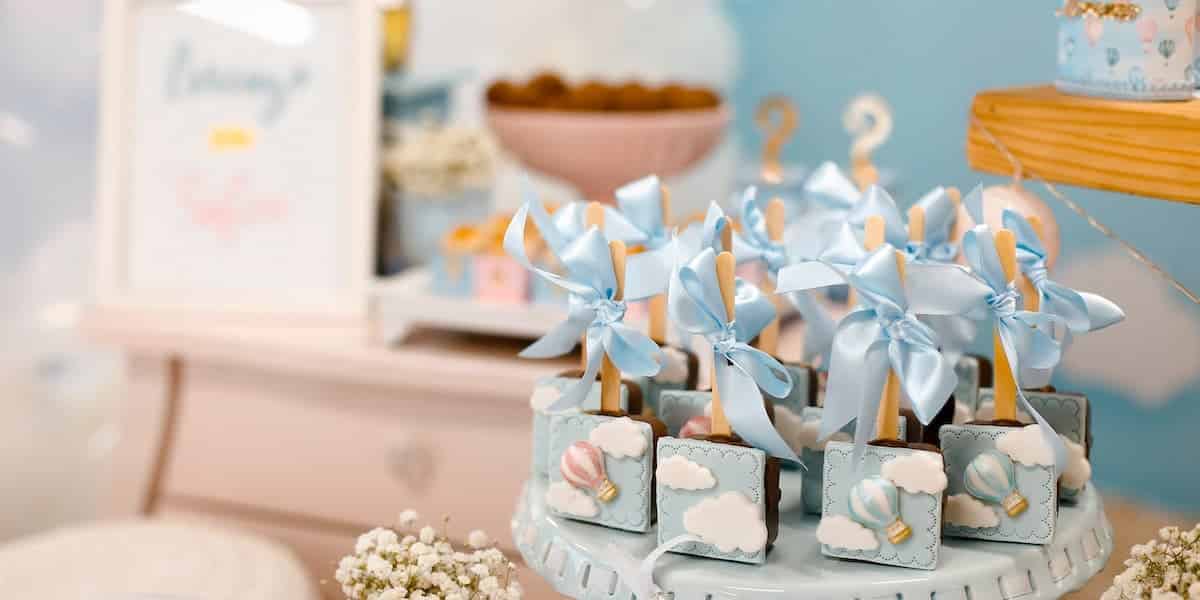 Choosing decorations depends entirely on what tone you want to set for the event and most importantly, what the theme at your baby shower will be. It will also depend on your venue, as you may need not to invest heavily in decoration at all.
For example you won't be take with you heavy decorative items to a cafe at a Garden Center or a Tea Room at a Museum. A public outdoor place such as a country park or beach won't allow much opportunity for decorations to be part of the celebration either.
Once you have the venue and theme finalized, the decorations will be easier to pick out.
However, as the host, you'll also be responsible for arranging the food, the baby shower favors, and which games/ activities you'll want the guests to get involved in.
There's a lot of planning to get through so lets get started!
Decor Must Haves
If you've hired out a hall for the baby shower, whether it's a banquet hall, a space at a country club, a community center or even if it's someone's living room – you'll need to be investing generously in decor. After all, an half empty space will not set the tone you're trying to achieve for the day's celebrations.
Balloons
Balloon decoration is the most anticipated and versatile decor at a baby shower. You can choose from centerpiece balloons, floor balloon column kits, or balloon arcs and garlands, which have recently become more and more popular.
Not only do they provide a visual focal point for the party – which is important in any interior setting – but they also add elegance to the space. If you're doing a gender reveal at your baby shower then keeping neutral muted tones is the way to go, otherwise you can find very cute blue or pink balloon garlands.
To make it unique you can place a balloon garland around something quirky or personal to the parents to be, like a picture board or a digital projector screen showing the baby scans or the parents' baby pictures. Alternatively, you can have a food cart under the balloon decor, offering food the mum to be was craving through out her pregnancy!
If you can find unique balloons, that will only add more spark to the decor!
Flowers
There are many versatile ways in which you can use flowers to decorate your venue. Whether you choose fresh flowers or artificial ones, it depends entirely on your preference and resources.
Have you considered using flowers as a backdrop – maybe hanging a flower wall behind the gifts receiving table? Or maybe you could use garland flowers to decorate guest chairs?
You could decide to keep small bouquets in a vase on each table as a centerpiece or you could use flowers to decorate the entrance door of the baby shower.
You could also do something different and stick single flowers with messages from the guests across the wall. Or you could undertake some DIY and decorate hula hoops with flowers and hang them up on the wall or have them dropping from the ceiling.
Streamers/Tissue DIscs
These can be used in a similar way to garland flowers, as a backdrop. To add a twist, you can stick streamers onto the entrance, covering the doorway – offering a little mystery to the guests before they enter in.
Tissue discs or streamers can also be used as a backdrop for the cake or gifts table. Don't these raindrop garlands look adorable?
Alternatively, if you don't want a garland type backdrop then you can use tissue pom poms or paper flowers to decorate the walls or chairs with.
Tissue Paper Pom Poms
Depending on how practical it would be to do this, if the ceiling is low then add a bit of vitality to it by sticking some drop down tissue paper pom poms. You can have them hanging across the ceiling over the head table where the parents are sitting to make it easier for guests to spot them or you could hang them over where the buffet is being served.
You could even have them bunched up together in one spot, dropping down at different heights to have a visual effect and have the guests being guided to this spot. You could keep the baby shower signing book on a small table under it or turn it into a fun station for guests to write a name suggestion on a post it and stick it onto a pom pom.
If you want to personalize the decor, you can do some DIY and make them yourself at home. All you'll need is tissue paper, floral wire, scissors and a ruler!
Vinyl Records
To add some character to the decor, depending on your theme, you could also hang up coloring vinyl records, either on a string or stuck to the wall. This can be used as a backdrop for some photo opportunities or to indicate the baby shower games section in the venue.
Bunting
There are various different types of buntings you can hang up depending on your theme, such as vintage, retro, safari, gender specific and so forth. You could personalize the text for the bunting or buy a standard one online.
Buntings are usually bought for a visual backdrop or to provide a focal point for the guests. You can add a unique twist to it by crafting your own at home.
Maybe put up a clothes line with a collage of photos from the baby moon and pregnancy. Alternatively, to make it even more special, ask guests to write up wishes for the parents and their unborn baby on the day and then hang them up with pegs!
Baby Blocks Mosaic Stand
Looking for a focal point or a show stopping peice of decor? Purchasing letter boxes (typically filled with balloons) with the letters B-A-B-Y will add spark to any decor.
If the parents to be have decided on a name, then do something unconventional and reveal the unborn baby's name on the blocks! What's more you can even use them after the event for the baby's nursery for some sensory play!
Round Chinese Paper Lanterns
Add a pop of color and radiance to your celebration by stringing together paper lanterns.
These are great for outdoors as well as indoors, and with some LED lights placed inside, will brighten up any space! What's even better – after you've finished with them they fold up and can be put away for the next party!
Lighting
Want to create some ambiance in a small intimate setting? Or want to liven up the Photo Booth Frame section at the venue?
Inexpensive string lights can prove to be quite versatile and can be used in many ways to set a mood to your event. You can control your mode of setting and colors using a remote.
A large neon sign for the wall is a safe and popular option, if you're looking to add some energy to the space. You can also place either mini round LED balls or battery operated fairy lights in glass gars, cover it with some colored mesh and ribbon then leave it scattered alongside the walls and corners of the space to add some oomph!
Depending on which baby shower theme you decide to go for, you can look for decorative lights to match the theme.
Some LED tea light candles placed inside lanterns and situated around the room will exhibit a nice rustic effect. Or for a Hawaii beach theme, some turtle and shell themed lights that would look great on a table, chair or even hanging.
Recently I came across LED balloons and just couldn't get over what they can do for a space! There are so many options out there you can choose from, mixed colors or clear light up helium balloons.
Tableware
Food catering is one of the key elements of a baby shower and deciding on food options will require some tough decision making skills. However, the easier part is decorating the table decor!
So what will you need? You can usually buy inexpensive tableware with matching disposable plates, cups, napkins, cutlery, straws, banners and tablecloths online.
Chalkboard food signs are popular accessories at any given party together with some baby shower confetti scattered across the table which can help bring the tablecloth to life!
If you'd like to do something a little different, you could use marbled disposable plates with foiled borders – they'll surely add some elegance to your party. You can also go for baby grow shaped plates and napkins.
A drinks dispenser with some personalized DIY using glass markers could add some uniqueness to your food table. You could leave markers on the table for guests to write suggested names for the unborn baby every time they go for a drink!
What about centerpieces? You can really add some creativity to the event by making your own.
What about building a cube from white cardboard and then sticking baby scans from the pregnancy around the cube? How about a giant nappy cake tied together with ribbons? Or make things confusing and commission an actual baby shower cake made to look like a nappy cake!
You could also fill some balloons with helium, wrap them in colored mesh, tie them with colored ribbons to large painted pebbles and set them on the table.
Alternatively, you could save some time and purchase online. An unexpected item like this alive in the wonderland cake stand will surely get some guests talking or how about an elegant macaroon tower with colored macaroons to match the theme?
Another popular idea is keeping a light box at the table – it's multipurpose so you can write a message for your guests or simply use it for labeling.
Eco-Friendly Decor
When deciding how to decorate your venue, it might be worthwhile considering compostable and biodegradable items.
Materials such as sugarcane, bamboo, palm leaf, beeswax and compostable paper are just some of the eco friendly options out there. You could set an example to your guests by going for some eco friendly tableware or recycled napkins.
Although not always possible, we should be looking to avoid paper and plastic wastage where possible. After all, the event is to celebrate the arrival of the unborn baby and we want to leave the planet in a good state for the next generations to come!
Conclusion
There are plenty of ideas listed in this article, that should hopefully help you turn your celebration into a roaring success. But bear in mind – what colors and items you choose for your decor will depend entirely on your baby shower theme.
Furthermore, which decorations you'll need and won't need depends on where you plan to host the party, how much space you have available and who your guests will be. For example glass decor where small children are also in attendance might not prove to be a relaxing event for the parents accompanying them!
Most of the decoration suggestions in this article would be practical for indoor spaces or your back garden. It would also work for a country park where you could use the public picnic tables for tableware decoration.
All you need in some creativity and imagination to bring the baby shower to life!