New parents are often under a great deal of stress when it comes to their baby shower.
It is difficult enough having a baby, whether you are carrying it yourself, using a surrogate, or adopting a child: but baby showers, although stressful, are a great way for new parents to gather resources to raise their child as well as bond with friends and family in a time when they are often very busy.
Parents often say that baby showers let you know who will be there to help out when the baby is here. All to say: how should you theme your baby shower?
One question that often comes up is whether your baby shower has to match your nursery in terms of color, decoration, and theme. This can be a stressful question for parents who want everything to be just right for their new arrival.
The answer is not necessarily. This is entirely up to the new parents, and there is no right or wrong approach. When planning your baby shower, it is natural to match it to the theme of your nursery because when decorating, it seems that the nursery embodies the personality of your new child. But baby showers are not just about the baby: they are about the parents too and helping them feel celebrated and supported as they step into a new part of their life.
As a parent, there are no hard and fast rules about what you have to do for your baby shower. This is your day, and it should be catered to your interests and the day you want.
Having a themed baby shower after the nursery helps in that you may already have an idea of color palettes, and you might have a few decorations to use as well. If you so desire, however you can decorate and theme your baby shower however you wish!
As an Amazon Associate, I earn from qualifying purchases. The links below may be affiliate links. Please read my disclosure policy for more information.
Does the baby shower have to be about the new baby?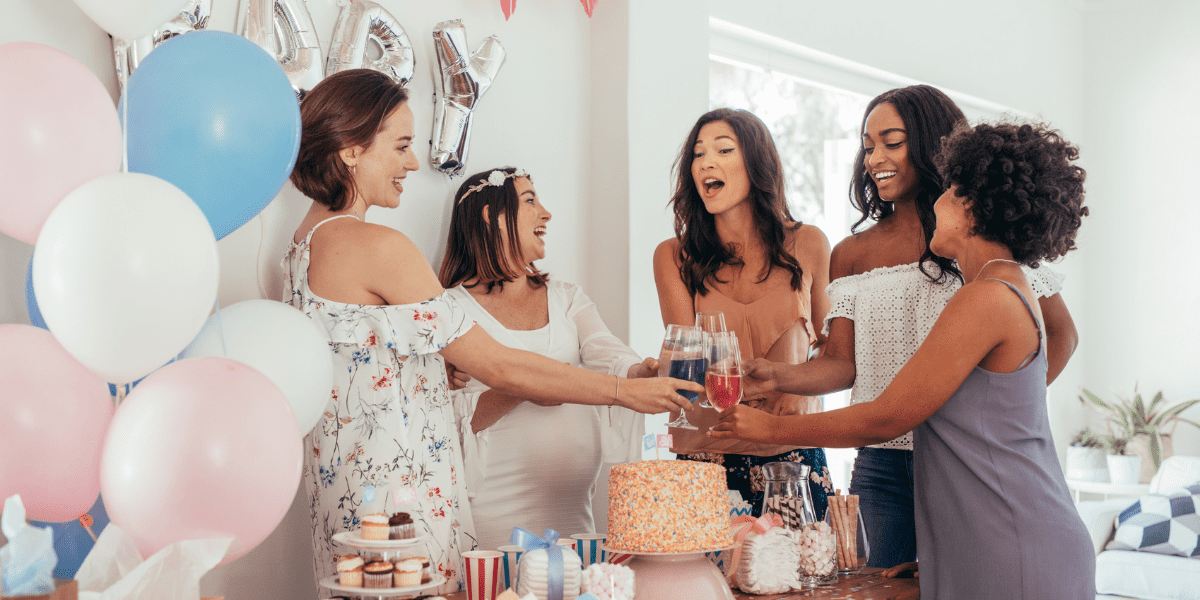 This is a common misconception. Baby showers are commonly oriented towards the new parents: this is why baby showers are only held for new parents, with other diaper showers being held for people who have already raised a child before.
In the way that baby showers are oriented towards new parents, they are also oriented towards equipping new parents to get through a new part of their life. This means new furniture and equipment, like cribs, baby changing facilities, strollers and perambulators, and more.
People who have already raised a child have these resources, and generally do not need them again.
Baby showers are not just about resources though. They are also about supporting new parents.
This is a part of why the theme of your baby shower does not need to match the theme of the nursery for your child, as well. Baby showers are partially about new parents, and many parents likewise theme the baby showers around the interests of the parents.
This can range from sports to music, to favorite holidays such as Halloween or Christmas. They also form a great event to show your children when they are older.
New parents should decorate baby showers how they want, and also appreciate a small get-together that is just for them as parents. Playing fun and even silly games, eating good food, and socializing with others is a big part of ensuring that new parents are happy, healthy, and ready to proceed into parenthood.
Knowing that you have friends behind you who have helped you before is key for many parents in early parenthood.
It is also a rare occasion for many new parents to spend time with friends without their baby. Playing games and doing activities together is considered by some to be savoring the last of their time pre-parenthood.
With newborns especially, free time is often spent feeding and changing them as they require 24-hour feeding and changing for the first few months, with few breaks in-between and many restless nights for the baby's caretakers.
By holding a party before the arrival of the baby, parents can also appreciate some much-needed free time before a busier period in their life.
What theme should my baby shower be?
One of the first things many parents think about when they take steps toward becoming a parent is the theme of the baby shower. It is an exciting event that involves not just new parents and families, but friends and coworkers as well.
It can be a big and fun social event, and it is also a day all about the parent and their baby. As a parent, this can be however they like, from games to food, to decorations, invitations, and balloons.
You can also center the design of the event around your interests. This can range from knitting, lifting at the gym, watching football, or animals you like. If you are struggling to build a story around your interests, ask friends and families for help.
It can also help to look at Pinterest boards for inspiration, as well as Facebook pages and groups as well as blogs to see what other people are doing.
How to decorate and theme your baby shower on a budget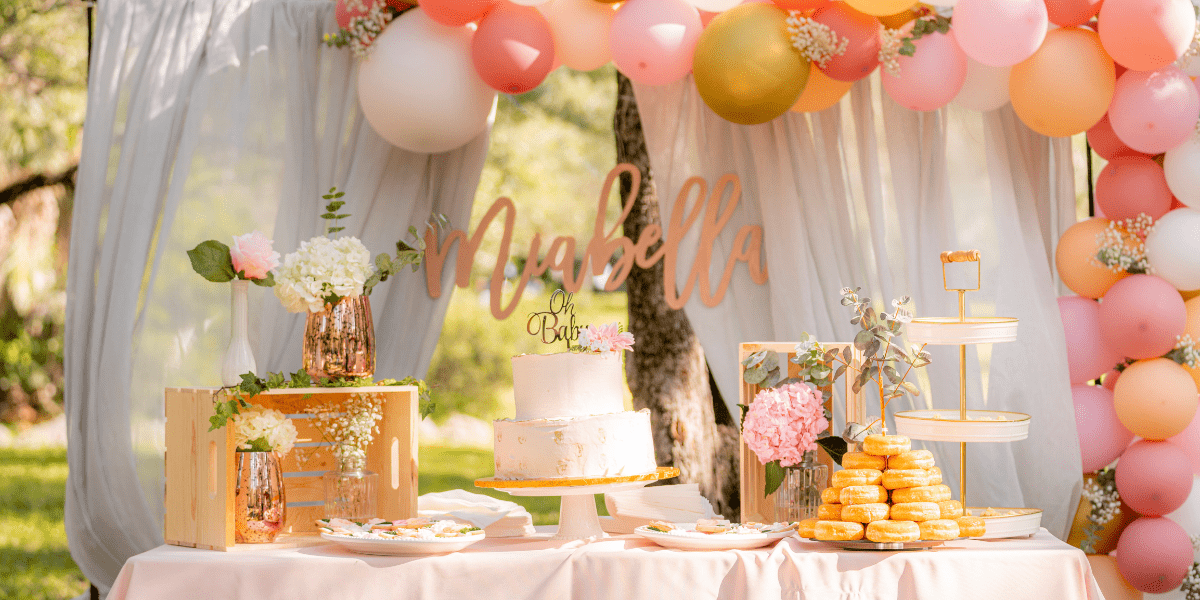 Deciding on a budget for your baby shower is important to make sure you get what you need, and that everything is affordable come the baby shower itself.
When budgeting, the constraints of your baby shower may become clearer and you may understand with better acuity how much you can do. Theming your baby shower allows you to conserve money on design and make your first steps towards organizing it and pulling it together.
If you feel you cannot spend much on your baby shower, consider asking friends and family if they can contribute to the event. You can put a small amount of recommended donation money and a polite request on the letters you send out for attendees to RSVP so that you can ask everybody in a direct but honest way.
Remember that this is a special occasion designed to celebrate the parents-to-be, and if that is you, focus on creating an event you can enjoy.
Just ensure you are budgeting properly from the start. It is better to scale back your baby shower plans than to overspend, as you may find your money distributed unevenly if you cannot afford the final touches to the event.
What color scheme should I use for my baby shower?
There are many ways to incorporate color palettes into the décor of a baby shower. The colors you choose for your baby shower can set the tone for the event in general, so consider the colors you are interested in using and create a palette you can incorporate into the invitations, pictures, decorations, and food.
More gender-neutral color schemes are a popular choice for baby showers and are often a more inclusive choice. If you do decide on a gender-neutral color scheme, then be mindful of the theme of your shower.
If you are not interested in theming the baby shower, colors can be used instead as a stand-in. This palette and color scheme can be incorporated into the food, flowers, and even the music.
If you are having trouble choosing a palette, consider coordinating colors with the season your shower is in, or the season your baby is expected in. Light pastel tones can create a light airy theme if you are holding your shower in spring, as well as cold crisp blues, whites, greys, and even golds for a winter shower.
Summer showers can be decorated with vivacious greens and blues, and fall showers can be decorated with warm reds, golds, and earth tones. How far you extend these palettes can create an entire theme for the special event.
How to come up with ideas for my baby shower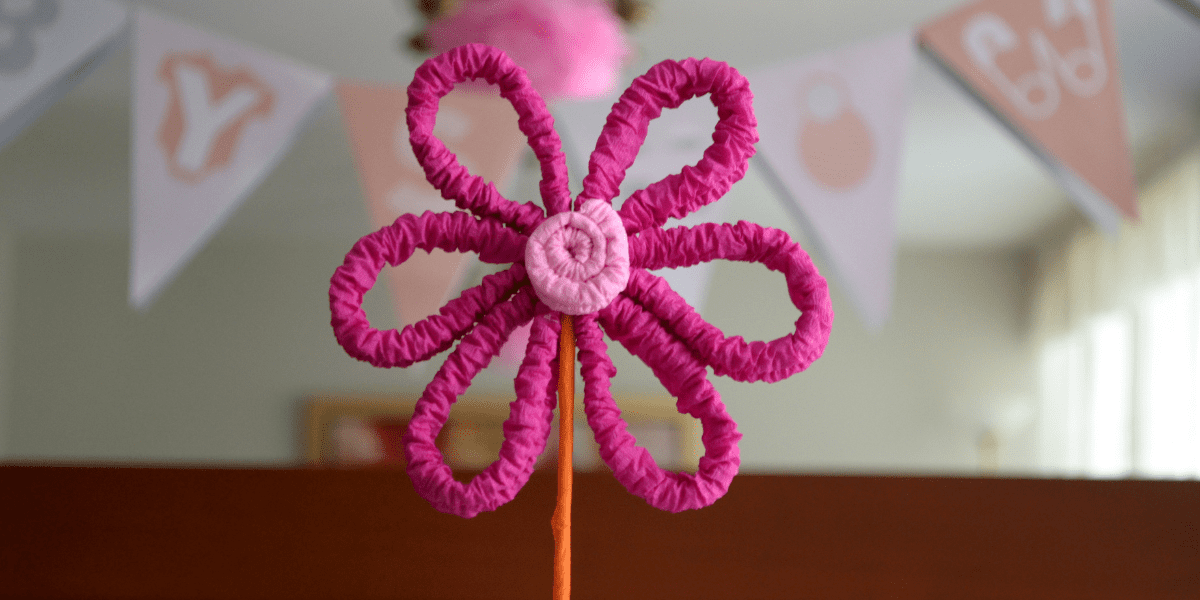 A simple way to come up with ideas for a baby shower is to focus on something unusual and specific. For example, if you like a certain type of music, look up some songs based on that genre.
Cover songs performed by a band or singer you like can have the added appeal of being interesting to the attendees while also bringing some of your personality to an event.
If the baby shower is centered around a specific holiday as well, such as Halloween, Christmas, or Easter, the decorations can incorporate unique parts of this holiday into the design. This can include green and red colors for a Christmas baby shower, or Biblical additions to the design for a Holy shower if you follow the teachings of a Bible.
It may extend to even a Halloween baby shower, where you attendees dress up in costume. Either way, it offers an opportunity for you to inject theme and personality into the event.
Even unconventional ideas like rock climbing or bowling, if they are passions of yours, can help make the event distinctive and focused on you as a new parent. Before you start shopping for items, food, and games, think about your interests, from games to colors, to favorite times of year and seasons.
These can all help you decide in what direction to take your baby shower.
It is important to remember as well that when it comes to organizing the shower, baby showers do not have to be themed. The most important thing is for the parents to enjoy the celebration.
New parents are the focus of these events and should be able to create a day they enjoy with the people they care about.
If you are hosting a baby shower as a parent-to-be and struggling to come up with an idea, think about activities, colors, and concepts you enjoy and consider how to incorporate them into the decorations. Searching whether people have done that exact thing before will help you as well.
Remember that theming does not have to be overly complex. If you have a favorite film, book, or color, the theme can follow that.
The name of the child is a common theme as well. Explore Pinterest boards, Facebook groups, and blogs for ideas, and keep a note of them yourself, either in a Word document or your own Pinterest board.
If you struggle to find a theme for your baby shower, remember that baby showers are about the parents. The theme is not the most important part: baby showers are first and foremost about celebrating parenthood and about celebrating your baby.
How expensive should my baby shower be?
This depends on the parents, as well as the people organizing it. Some baby showers are funded and organized by friends and family of the parents-to-be, whereas others are organized by the parents themselves.
Some people also ask for donations towards their baby showers, though this is less common, as there is also gift-giving from the guests at these events.
If you are funding the event yourself, the expense of the baby shower is a personal choice that comes down to you and your partner if you have one.
If you cannot afford a big baby shower, it is not uncommon to host a smaller event. You can ask for gifts to be given straight to you with no event at all if you cannot afford to put anything together, or you can talk to your friends and see if you can organize donations toward a small get-together.
However, while baby showers are becoming a lot more extravagant, they do not have to be. It is common and normal to host a small, home-based baby shower with a few friends and family members.