Having a baby is a big responsibility for both parents.

Ensuring that you have everything that your baby will need can be an extremely daunting task. 

Even shopping for my 5th baby was hard work.
Shopping for all the baby products at one go can be very expensive and time-consuming. 
With my first child buying the pushchair was the hardest decision and had this service been available it would have saved hours of walking around stores and lots of arguments!
You might be preoccupied with your work or other commitments and may not be able to purchase all the products.
This is where a baby registry comes into the picture.
By creating a baby registry, you can list down the baby products that you need.
Others can view the list and purchase it according to their budget. This also saves you from the overwhelming cost of shopping.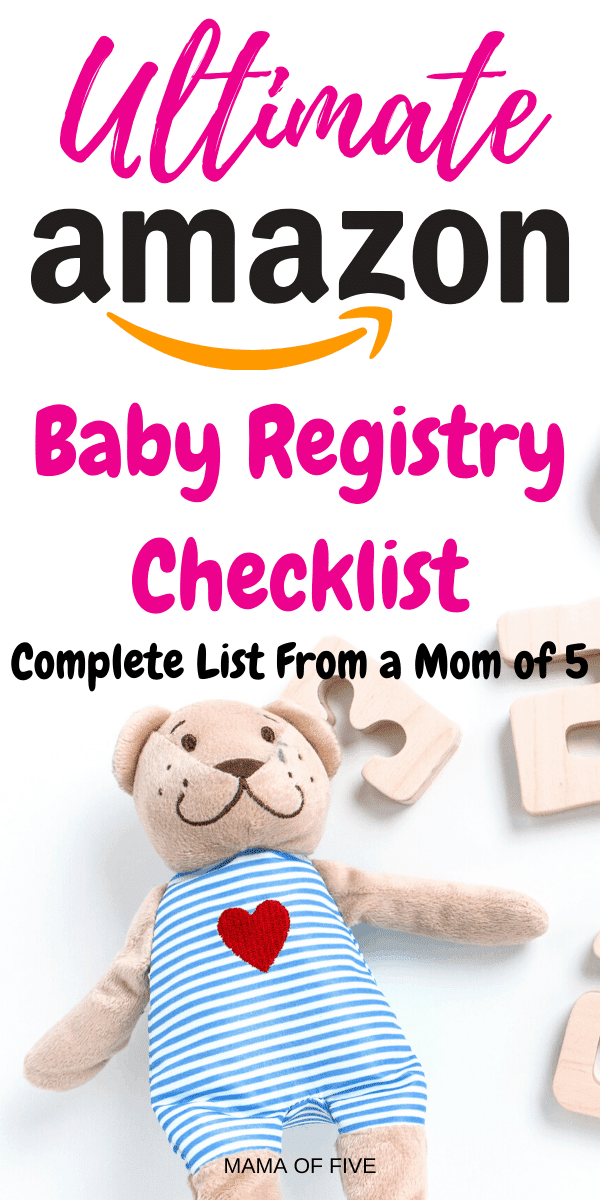 As an Amazon Associate I earn from qualifying purchases. The links below may be affiliate links. Please read my disclosure policy for more information. 
WHAT IS A BABY REGISTRY?
A baby registry is an online or offline registry maintained by expectant parents that contain the list of products they require for their baby.
This registry is shared with your friends and family so that they can gift the items mentioned in the registry.
You can start preparing the baby registry at any time during the pregnancy.
Your friends and family can select the color and design of the baby product according to your preference.
I knew the gender of my 5th child yet I opted for greens and yellows. I was sick to death of seeing Pink or Blue.
If you are too excited about the good news, then you can start preparing the registry early.
You can also set the registry setting to private until you are ready to share it.
Once you are ready to share the good news with others, you can make it public.
WHAT ARE THE TIPS FOR MAINTAINING A BABY REGISTRY?
You should prepare a list both online and offline.
This is because all items may not be available online. Also, everyone may not be comfortable purchasing baby gifts online. 
Choose items that fall in different budget ranges.
You should include a small pacifier as well as a baby swing in your registry.
This way people can purchase things according to their budget.
Baby's grow fast.
Therefore, include things that you require during the first one year of the baby.
This can even include seasonal items like a snowsuit, or summer hat.
If this is your first baby, you should do thorough research before preparing a registry.
You can even visit a baby store to get to know all the available baby products.
Are you are planning another baby shortly?
In that case, you should definitely add good quality and long lasting products in the registry so that you can use for both babies.
Register on a non-baby site like Amazon.
This is because Amazon has a lot of varieties and even have products for mothers.
WHAT ARE THE PRODUCTS TO INCLUDE IN YOUR BABY REGISTRY?
As mentioned earlier, the baby registry should have products of the different price range.
You can include a baby stroller, car seat, crib, mattress, dress, feeding bottle, diaper, bathtub, toiletries, thermometer and safety gadgets.

1. Travel System: Baby Trend Expedition Jogger 
2. Umbrella Stroller: Kolcraft Cloud Plus Lightweight Easy Fold Compact Travel Stroller  
3. Stroller Muff: JJ Cole JJ Cole Original Bundleme
4. Stroller Organizer: Ethan & Emma Baby Stroller Organizer with Cup Holders
5. Infant Car Seat: Graco SnugRide SnugLock 35 Elite 
6. Convertible car seat: Graco 4Ever DLX 4 in 1 Car Seat
7. Baby Sling: Boba Wrap Baby Carrier, Stretchy Sling
8. Structured Baby Carrier: Baby Tula Explore Baby Carrier

1. Nursery Glider: Babyletto Kiwi Electronic Power Recliner and Swivel Glider (Read my review here)
2. Bassinet for Breastfeeding: Arm's Reach Concepts Cambria Co-Sleeper (Read my review here)
3. Non Toxic Crib Mattress: Newton Baby Crib Mattress and Toddler Bed (Read my review here)
4. Mattress Protector: Organic Cotton Crib Mattress Pad Protector – Waterproof Cover
5. Sleep Sack: Halo Sleepsack 100% Cotton Wearable Blanket
6. Swaddle Blankets: Aden by aden + anais Receiving Blanket, Muslin Blankets

1. Breast Pump: Medela Pump in Style Advanced 
2. Breastmilk Bags: Lansinoh Breastmilk Storage Bags
3. Manual Pump: Award Winning Haakaa Silicone Breast Pump & Silicone Cap
4. Nursing Pillow: Boppy Original Newborn Lounger
5. Nursing Cover: Nursing Cover with Sewn in Burp Cloth for Breastfeeding Infants
6. Baby Bottles: Philips Avent Natural Glass Bottle Set
7. Bottle Dryer: Munchkin High Capacity Drying Rack
8. Bottle Sterilizer: Philips Avent 3-in-1 Electric Steam Sterilizer
9. Booster Seat: SmartClean Toddler Booster Seat (Read my review here)
10. Food Storage: Reusable Glass Baby Food Containers Set of 12
11. High Chair: OXO Tot Sprout Chair with Tray Cover

1. Bouncer: BABYBJORN Bouncer Balance Soft
2. Travel Crib: BABYBJORN Travel Crib
3. Baby swing: Fisher-Price Sweet Snugapuppy Dreams Cradle 'n Swing
4. Baby Playmat: Non Toxic Extra Large, Waterproof Oudoor or Indoor use
5. Activity Gym: Fisher-Price Rainforest Music & Lights Deluxe Gym

1. Diapers: Pampers Swaddlers Disposable Baby Diapers, Super Pack
2. Eco Diapers: The Honest Company Box 
3. Cloth Diapers: ALVABABY Pocket Newborn Cloth Diapers
4. Changing Pad: Summer 4-Sided Changing Pad
5. Baby Wipes: Huggies Nourish & Care Baby Wipes
6. Diaper Pail: UBBI Steel Odor Locking, No Special Bag Required.

1. Baby Bath: Angelcare Baby Bath Support
2. Towels & Washcloths: 23-Piece Essential Baby Bath Set, Newborn Boy or Girl.
3. Baby Hair Brush and Comb Set: Natural Wooden Hairbrush with Soft Goat Bristles
4. Shampoo + Body Wash: Lavender Shampoo, Body Wash & Lotion  Bundle. Naturally Derived Ingredients Sulfate & Paraben Free

1. Thermometer: Smile Digital Forehead and Ear Thermometer
2. Baby Movement Monitor: Sense-U Baby Monitor with Breathing Rollover Movement Body Temperature Sensors
3. Video Baby Monitor: Infant Optics DXR-8 Video Baby Monitor with Interchangeable Optical Lens
4. Baby Camera: Nest Camera, Keep an Eye On What Matters to You for Indoor Use 
5. Nasal Aspirator: NoseFrida the Snotsucker with 20 Extra Hygiene Filters
HOW DOES AMAZON BABY REGISTRY WORK?
Amazon baby registry works like any other registry.
You can browse thousands of baby products from different categories and add them to your registry.
Once done, you can share your registry link with your friends and family.
Your friends can browse the registry and purchase any of the product depending on their budget.
Once purchased, they can mark the product as 'purchased' so that there is no duplicate purchase of the item.
How to Find Baby Registry on Amazon?
Finding a baby registry in Amazon is easy.
Go to the baby registry search page and enter the registrant's name or email id.
You should also enter details of the city, state, baby's arrival month and year and then click the search button.
It will then display the particular person's baby registry.
But keep in mind that the baby registry will be displayed only if the registries are set as public.
How to Create a Baby Registry on Amazon?
Creating a baby registry in Amazon is simple.
First, go to the baby registry home page and click "get started." To go from the home page, click the 'Accounts and list' on the top right side and select baby registry.
You will then be prompted to log in to Amazon.
Once logged in you can start creating the registry.
Enter all the details as mentioned in the registry like the name and email id of the registrant and the expected arrival date of the baby.
You can also add a co-registrant so that he/she can also add products to the registry.
You should also provide your address details for sending the products in the registry.
The registry can be made private or public as per your wish.
Alternatively, you can also make it shared so that people with the link of the registry can view it.
Once all these details are entered you can click the create button.
HOW TO CREATE THE BABY REGISTRY CHECKLIST?
Once you have created the baby registry, you can start adding products to it.
You can browse the individual categories and click "Add to baby registry" option under the add to cart button.
Alternatively, you can also click on the 'registry checklist' in the home page of your baby registry.
Once done, you will be taken to the checklist page with eight categories –
1 .Out & About
2. Nursery
3. Feeding
4. Diapering
5. Bath time,
6. Health & Safety
7. Play & Learn
8. Clothing.
You can click on any of the categories and add the products to your registry.
Amazon also provides an option to view the most popular registry items.
With this, you can select items that are frequently purchased and with excellent reviews.
To view this, go to the baby registry home page and click 'get inspired.'
Once you have created the checklist, you can also edit or delete the items as per your choice.
You can even add comments for your friends and family in the edit tab.
WHAT IS THE DIAPER FUND IN AMAZON BABY REGISTRY?
Baby diapers can eat a large chunk of your savings very quickly, especially if you are blessed with twins.
A diaper fund is created so that others can contribute to the fund. With this fund, you can purchase the diaper of your choice.
To enable the diaper fund option click "Add to Registry" under the diaper fund option in the home page of the baby registry.
Alternatively, you can also go to the registry setting under your registry and check the diaper funding option.
The diaper fund is set to a maximum of $550.
What is Group Gifting in the Baby Registry?
For purchasing high-value items like crib and stroller, you can seek contribution from family and friends.
This is done by setting up a group gifting facility. Once done, your friends can contribute any amount for gifting.
Amazon will credit the amount so paid in the form of gift cards.
To enable this option, go to the baby registry home page and click your registry on the left side.
You can view the registry settings.
In the gift options, you can check the 'allow group gifting' option and specify the price of products for which this option is applicable.
Once this is done, you can view the contribution amount next to the high-value items.
For example. If you have set the group gifting option for products above $200, then you can view the contribution details next to all the products above $200.
You can then click the redeem button to redeem the contributions.
The registry owner will get a notification once a contribution is made to the group gifting fund.
This way, you can plan your purchase.
What is in the Amazon Baby Registry Welcome Box?
Amazon welcome box is a free welcome box given to select customers that contain items for the baby and the parent.
This welcome box is provided to customers with an active prime account and who have completed a $10 purchase from the registry either by themselves or others.
The welcome box is given only to the primary owner of the registry and is shipped only within the USA.
Welcome box mainly contains baby products like wipes, bottles, teething toy, baby lotion, and diapers.
Through the welcome box, you can familiarize yourself with the various brands of baby products and make an informed purchase decision. Plus who doesn't love a freebie!
How to Find Out Who Bought What on Amazon Baby Registry?
When you receive a gift via Amazon you can easily find out who the gift was from.
In the Amazon baby registry, it is possible to find out the name of the person who purchased a product.
Once an item is purchased from your baby registry. a thank you list is automatically created.
By checking the list, you will be able to know who bought what on the baby registry.
Some people like to remain anonymous and may not share their address in the registry.
You will not be able to see the details of such people.
The same applies if you have purchased any product from the registry, then the same will also not be shown in the registry.
How to Return Products in Amazon Baby Registry?
Sometimes the actual product in hand may not be the same as the one displayed on the website. Or you arent entirely happy.
If this is the case you can return the product within 90 days of purchase.
For that, go to the baby registry and click on the thank you and return list.
Find the item that you want to return and click the return button. This will prompt a return transaction.
What Are the Advantages of Maintaining an Amazon Baby Registry?
The baby registry is not a new concept. Maintaining an amazon baby registry provides you with the following benefits;
Amazon has a large selection of baby products. This enables you to add almost all the baby products in your registry.
You can manage your baby registry via phone or laptop using the Amazon app.
If you are not satisfied with any of the products, you can return it within 90 days of purchase.
Amazon also gives you a completion discount of 10%. Which is great!
Amazon provides a universal registry option.
If for any reason the product you want is not available on Amazon there is an option to add products from other sites as well.
Amazon's welcome box is full of samples.
The box enables you to sample products from a vast array of brands before actually purchasing.
What Are the Drawbacks of Amazon Baby Registry?
To get the maximum benefits from the baby registry, you should sign up as a prime member.
Though the welcome box is promoted as a free box, it is not so. You should make a $10 purchase from the registry to qualify for the welcome box.
Only a maximum amount of $550 is allowed in diaper fund. This may not be to your advantage if you have twins.
What is Completion Discount in Amazon Baby Registry?
Once you register with Amazon, you get a gift for the same which is called the "completion discount"
Moreover, the completion discount is 10% off on a one-time purchase (15% off in case of prime members).
Furthermore, this discount will be provided 60 days before the due date and is valid up to 180 days after the due date.
With the completion discount, you can purchase expensive items like crib and stroller as you get a good amount as a discount.
The completion discount is available only for one-time purchase up to $5000.
If you purchase for less than $5000, you will get a discount only for the amount you have purchased.
Amazon Baby Registry is amazing for first-time parents who have no idea about the products that they require for their baby.
It's also fantastic for those who have big gaps in between kids. Like me you may have to buy things again from scratch
The registry lets you familiarize and plan your purchase so that you get the best deal.
You can prepare registries even for your second and third child as this is one way you get to try out new products in the market.
If you can try and include your partner and other children while preparing the registry. It really helps you in bonding and planning for your new bundle of joy.
You could also use this opportunity to put onto the registry things you may need for the first trimester, second trimester, third trimester and even things for your hospital bag.
YOU MAY ALSO WANT TO PREPARE FOR YOUR NEW BABY BY TAKING THE ONLINE BIRTHING CLASS AND THE BEST BREASTFEEDING CLASS.