Setting the theme for the baby shower is a big decision, after all your subsequent decisions will depend on the theme. What kind of food you'll arrange, the party decor, the color theme and the baby shower games will need to link to the theme of your event.
The first place to start is confirming the venue – once you have that sorted you'll be able to decide which theme will be appropriate for your space. You will then be able to research into decorations and food options that match the theme.
Read on for some ideas on various different popular baby shower themes out there.
As an Amazon Associate, I earn from qualifying purchases. The links below may be affiliate links. Please read my disclosure policy for more information.
Let's Get Started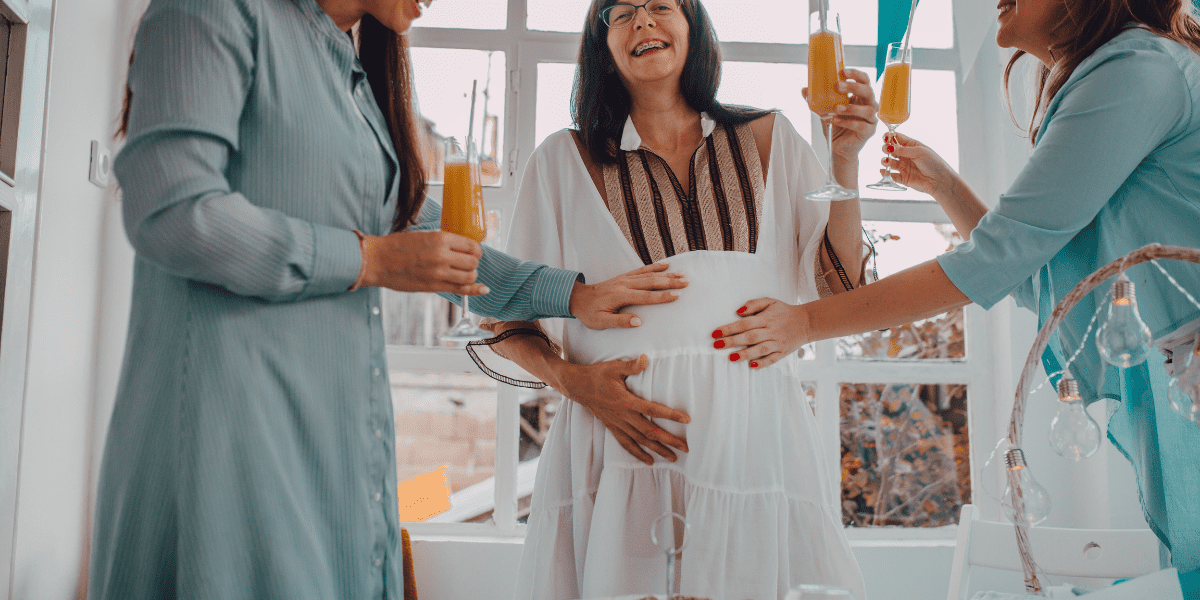 The principle idea behind holding a baby shower is that the parents to be are given the opportunity to celebrate this special milestone in their lives with all their loved ones. It's all about building memories and reminding the parents that they have a reliable and loving 'village' to depend on.
Bearing this in mind, you will need to consider what tone do you want to set for the baby shower. Do you want a calm, soothing and relaxing ambience or are you looking for an active vibrant vibe?
Once you have your answer, it will then be easier to decide the theme for the baby shower.
Baby Shower Themes
Safari
This is one of the most popular baby shower themes out there – who doesn't like a jungle theme? Food and decor is easy to source as is party favors and baby shower games.
If you're preparing snacks yourself then you can make pretzel sticks coated in orange chocolate and drizzled with dark chocolate strips for the tiger.
Or you could make black and white macaroons for the zebra/pandas. Animal crackers will a fun addition to the party as will safari themed cupcake toppers.
There is a vast variety of animal tableware you can choose from and decorations. Get some tall indoor plants or purchase artificial palm leaves to scatter around the venue. You can also get some green tissue tassels to hang across the ceiling, along with vine leaf garlands.
It'll be even more fun if you decide to hold the baby shower in an actual safari park! But if you can't, don't worry, just hire out a life size giraffe – guests will be talking about the baby shower for a long time to come!
Woodland/Forest
This theme will give you an easy opportunity to use eco friendly and sustainable items for decor and tableware – no one will find your bamboo plates out of place! Woodland creatures such has foxes, owls, bears, mice can be used as cupcake toppers.
You could make it into a Gruffalo woodland themed event with a live size cut out of the Gruffalo on the corner of your venue. You could also put up muted shades of green, brown and beige balloons.
Mom To Bee
A bee themed baby shower with a play on the words 'mom-to-bee' is becoming increasingly popular. Honey and bee themed decorations online are also readily available, as are bee themed baby shower games.
Food can be everything honey – from honey chicken pasta, honey garlic salmon fillets, bee hive shaped orange meringue, honey flavoured cupcakes, and the list can go on! You can purchase some inexpensive hexagon cutters and make sandwiches, cookies, homemade chicken nuggets.
If it's a girl's only baby shower then you can plan a spa day at home offering your guests a honey facial, a honey ginger tea station and even a honey sugar face scrub as party favors. Honeycomb party favors inside glass jars are also a great idea and look extremely unique.
High Tea
Want to have an afternoon tea for your baby shower but still want the comfort of your home surrounded by your loved ones? Arrange for a high tea themed baby shower by getting the china, vintage floral colored decor and cake stands!
Some rose gold balloons, with tea party decorations will bring your afternoon tea to life. Include jam and scones, finger sandwiches and different types of teas as well as cakes and pastries.
Spa Day
This can be an opportunity to pamper the mum and her friends! Buy these cute bow headbands and a pair of silk robes for the get-together – something the guests can take away with them once the day is over.
You can create a spa party theme by using take a few simple steps to set a relaxing tone. Soft LED changing bulbs, an aromatherapy diffuser with essential oils and LED tealight candles placed around the venue should sure do the trick.
You can also purchase spa party tableware and decoration items online such as balloons, cupcake wrappers and banners. You can offer some DIY treatments, such as a manicure and pedicure station, a facial station, a waxing station – and if you can hire a molbile hairstylist/masseuse for the day then even better!
Alternatively, you could also just decide to hold the baby shower at a day spa, having afternoon tea post treatment would make it memorable for the mum to be. For party favors the ideas are endless, from silk eye masks, to bath bombs, to eco friendly lip balms!
Little Cutie Is On The Way!
This is a creative theme for a baby shower based around clementines – or cuties as they are sometimes called! It's also a great theme if you do not know the gender of your baby and want to keep the color scheme neutral.
There are many items that can be purchased for the theme, with banners/balloons and cupcake toppers all in different shades of orange. Since the theme is literally based on a food item, the citrus flavored food will add an element of fun to the event!
How about an orange cream cake for the baby shower? Or orange colored chicken nibbles on a skewer (don't forget to use orange food color liberally!).
There are plenty of ways you can bring the citrus flavor to the table! For the party favor, cute key rings will be a useful gift and a great reminder of the event!
Circus
Honor the circus that parenthood really is with a befitting baby shower theme! A festive carnival theme can turn your event into a success with the correct planning!
You can decorate the food table like an entrance to a circus show, surrounded by large cut outs of the ringmaster, circus animals and a blown up inflatable clown! You can do some DIY and use a large hoop as a pretend ring of fire, using red, orange and yellow streamers wrapped around it hanging at the entrance of your venue.
You may be able to rent or purchase life size animals to add some more effect to your theme – a towering elephant maybe? How about using transparent cubed boxes spelling 'circus' as a focal point for your party – filled with some yellow, red and white balloons?
For the invitations you can design classical carnival style pamphlets with a harlequin pattern. For the color theme you can go for red and white, with the classic circus tent as the backdrop for photos!
You could even go a step further and hire a candy cart for the event and incorporate the fun parts of a circus to your day. Don't forget the pop corn bags!
Moon And Stars
A celebration with all things moon and star will surely bring plenty of twinkle to the baby shower! A balloon arc over the food table with moon and star balloons will look stunning in any setting.
To add some dazzle, you can purchase an inexpensive starlight projector which has an impressive space effect on the room. Garlands with clouds, stars and moons are also readily available online, giving your venue more of an effect.
A 'Twinkle Twinkle Little Star' themed cake or cupcakes shaped as moons and stars are also easy to make or buy. A backdrop reading 'We Are Over The Moon' will also add a sentimental touch to the event.
Little Pumpkin
A beautiful theme for the fall, with the color theme to get the guests into the right festive mood! Food options can include pumpkin cupcakes or pumpkin pie?
You can purchase a bunting reading 'A Little Pumpkin On Its Way' for behind the food station and decorate the walls with yellow, orange and purple tissue pom poms. You could also get some rustic artificial decorative foam pumpkins to place around the venue.
Books For Baby
This theme, centered around book characters, encourages guests to use their imagination and escape reality! Ask your guests to dress up as any popular book character and bring a copy of the signed book with them, which they will gift to the unborn baby.
Check out the 'Once upon a time' backdrop, which will surely give the guests the perfect opportunity to click memorable pictures. To decorate the venue, you can put up inspirational quotes from storybooks as well as a bunting reading 'The beginning of a new chapter.' How apt!
Book themed food ideas are countless! What about all the fruits eaten by the very hungry caterpillar on a skewer? Or Paddington Bears' famous marmalade sandwiches for snack? You can also get hold of book themed cupcakes with 3D book covers motifs placed on top.
Taco
Get ready for a fiesta! This is a vibrant and jovial theme to get the guests into a celebratory spirit!
You can use colorful reds, yellows, greens, and oranges to liven up your space – with tissue pom poms, discs and streamers. You can buy some cactuses to place around the venue or buy balloon or cut out cardboard ones.
Baby shower game ideas are endless – how about decorating some wooden maracas' for a prize? Mexican nibbles and tacos for lunch will surely appease the appetites.
Beach
Who doesn't love the beach? Humid salty air, waves crashes against the shore and warm sand beneath your feet. But if you are unable to get to an actual beach for the baby shower, don't fret, because with the right planning you can create the perfect beach ambience at an indoor venue.
A white noise machine (which can be used in the baby's nursery post delivery) can provide the seaside/waves sounds in the background. Instead of a tablecloth, you can use a fish net and have seashell garlands and sea animals hanging from the ceiling and walls.
Don't forget the surfboard cupcake toppers, miniature sailboats holding the food signs and an under the sea back drop. Moreover, anchor shaped bottle openers as party favors will make thoughtful gifts.
Baby-Q
That's right – good ol' BBQ with friends and family to celebrate the new arrival. With such adorable tableware options and a straight forward food catering option – who wouldn't want to pick this theme?
If you have a nice back yard and dry warm weather, this would be an ideal theme. With a red, black and white color theme it will also be suitable for a co-ed celebration.
Don't forget to bring a couple of different BBQ grills for the day, so that vegetarians and Vegans can have their BBQ's cooked separately. To end the event, you can set up a fire pit and roast some smores.
Diaper
Yup you read that right – a diaper themed baby shower. You'll have plenty of games matching this theme! With a giant diaper cake as your centerpiece, and banners hanging with diapers on the line – you'll set the tone just right!
Ask the guests to bring diaper related gifts, such as wipes, muslins, cotton wool, rash creams and lots of diapers for the diaper raffles! A baby shower kit with neutral colors will match the diaper theme just right.
Candy-land
This will be a popular theme especially for guests bringing children along! Arrange for some retro candy stalls or food carts placed at various different spots in the venue.
The color theme will be your vibrant and fun candy colors: pink, yellow, red, blue, green. A balloon arch with lollipop balloons and candy bottles as the party favors, will surely be a hit!
What's more you can also purchase special baby shower packaged candies like a candy pacifier, or pillow mint. You can also hang these cupcake lanterns from the ceiling near the food table.
Final Thoughts
You might want to pick a theme that matches the baby's nursery theme. But even if that's not the case – there will be plenty of decor from the baby shower that can be moved into the nursery and recycled!
This article has given you enough ideas to get you started on your theme. Once you have a theme set then, looking for decorations, deciding on baby shower games and finalizing the food options won't take long to do.
But bear in mind, when deciding on a theme, you'll want to take into consideration the parents to be and their interests as well as what your guests will appreciate.