To avoid the problem of trying to keep an eye on your baby while driving, we take a look at the best baby car monitors to make thetas easier. We take a look at car monitor systems and features and give you a rundown of what you should be looking at when you purchase this product if you are expecting a baby.
A guide to the features to look out for when purchasing a baby car monitor
When you are out on the road in your car you want your baby to be as safe as possible. This means that, in addition to a good baby car seat, you should look to invest in a car baby monitor.
A car baby monitor will help allow you to keep a watch on your child without having to turn around and take your eyes off the road. As babies and young children need to be in a rear-facing car seat it is difficult to see their faces, which can be a worry.
As an Amazon Associate, I earn from qualifying purchases. The links below may be affiliate links. Please read my disclosure policy for more information.
What are Car Monitors?
Car baby monitors work in a similar way to your home baby monitor with a monitor situated in easy view of the parent and the camera viewing the baby. The screen can be located near the driver so that you can carefully keep an eye on the road and quickly glance at your baby to make sure they are safe and happy.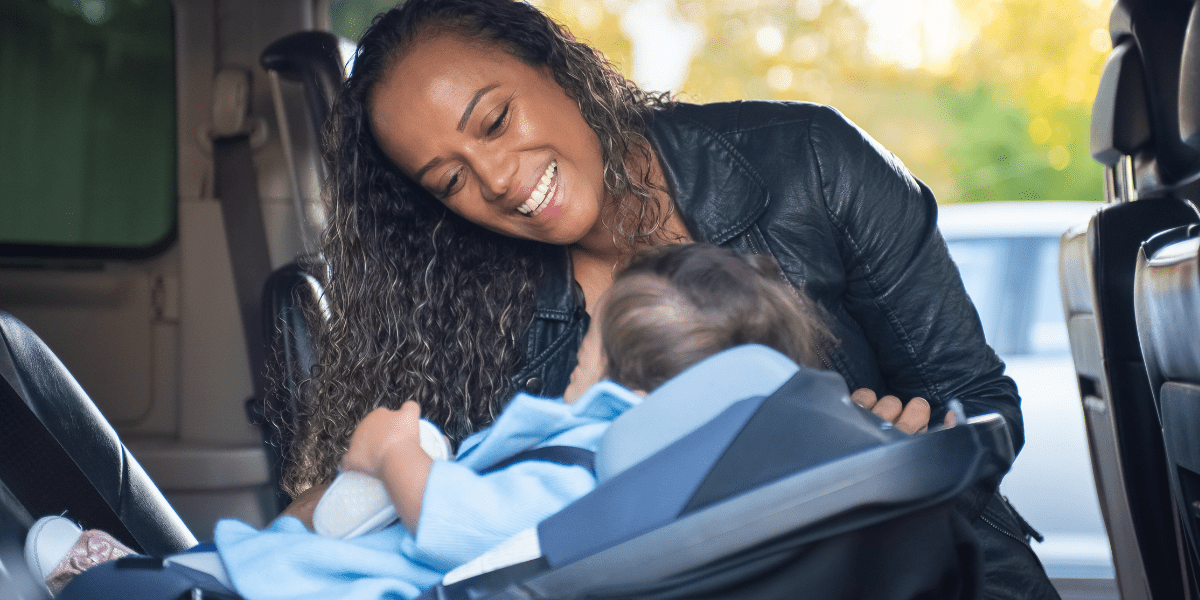 Features
Many baby car monitors use a camera that straps the back of the seat in front of the baby car seat. The monitor is then positioned at the front of the car in the center of the windshield, in a similar position to a GPS tracker.
You can buy wireless monitors which are very convenient but there is still some older model that has wired connections. As soon as you get in the car you just need to switch the camera and the monitor on and you are good to go.
You can get cameras that work both in the day and at night so you can keep a close check on your baby during long drives.
Camera
Every baby monitor will have a camera, but the quality will depend on what brand and model you choose. Generally, the more expensive the baby monitor the more clarity you will get from the camera.
You should also look for an anti-glare feature that will give you the best quality while driving.
Monitor
The majority of baby car monitors will use a small screen (with the average being 4 inches similar to a GPS screen or slightly larger). Most monitors will have various features, such as zoom, volume, and camera angle, which can be altered using buttons on the top or the side of the monitor.
For larger families, some brands have multiple lens options so you can keep an eye on more than one baby at a time.
Night Vision Feature
If you do a lot of driving at night you should look for a brand that has a model with good night vision. Night vision features will give you a clear view of what your baby is doing while you are driving in the dark.
Power source
Several baby car monitors will need to be plugged into an electricity source that uses a cable and others will be battery operated. Battery-operated monitors are the most convenient but may not be within your budget or available.
You will usually get a notification when your battery is running low and it is a good idea to charge on a regular basis, for example when you are heading home for the last time of an evening.
Installation
Every car monitor will be set up differently but the majority have straightforward installation instructions. You usually attach a suction cup to the back of the monitor and position the camera to the back of the rear car seat so that it faces your baby.
The whole process should only take a few minutes but do take care to read the instruction manual of your product to ensure it is safe for you and your baby.
Safety
There is no requirement by law to have a baby car monitor but it is recommended, especially if you are planning a long car ride. As long as they are installed as per the manufacturer's guidelines there should be no issue with safety.
In times gone by people used mirrors to get a view of their baby in the back of the car and the camera option is much more reliable.
We take a look at the top 5 baby car monitors to help you make a decision on what to buy.
The Vava baby monitor is super quick to set up with easy-to-follow instructions. This model does not have Wifi but works very effectively and has great clarity.
You can enjoy temperature and two-way talk features that your older baby will benefit from and the camera has the ability to tilt to suit your requirements. The battery life is over 24 hours which is very impressive as you can simply charge every few days as long as you are not going on regular long car rides.
This is a system that you can rely on and, while a little more expensive than some models, is good value for money.
Pros
High-quality 5 inch display
Two-way talk system
A good range to suit larger cars
8 adjustable volume settings
900 ft range
Premium privacy
Cons
Unable to charge via USB
No movement alert option
If camera quality is what you are looking for most when it comes to car baby monitors then the Miku Pro is an excellent choice. This is an expensive baby monitor but the clarity that you get when looking at your baby is worth it.
The overall performance of this model is impressive to us as you can view each tiny movement and can even hear your baby's breath when there is background noise from the road. The monitor is able to link up to your smartphone and you can set it so that you get alerts of any changes in temperature or your baby's breathing as well as motion alerts.
You can check out the stats that the system records so that you know of optimum settings for your baby.
Pros
Excellent video performance with good motion and sound features
Good for monitoring sleeping patterns
Compatible with smartphones
Easy to install
Cons
Another brand and model with smart design features and an excellent camera. The Yada Baby boasts a 4.3" color screen that with additional night vision features for peace of mind when driving in the dark.
If you prefer a cable connection as opposed to Wifi (which some parents do not like) then this is a great choice of car monitor for your family. This model is very easy to set up with a nifty strap that sits on the headrest of your car seat.
Pros
Large screen
Excellent clarity
The ability to change viewing angles
300 ft range
Suitable for Sudan and SUVs
Easy to install
Cons
The night vision option is not as clear as the day camera
Expensive compared to some baby monitors
A little different than a traditional baby car monitor but it has a sleek design and is a popular choice due to its 4.4 inch 1080 pixel monitor. This model of car monitor impresses us with its strong wireless connection, which can be a frustration for some drivers.
The LeeKooLuu is powered by the lighter in the car and has a 100 ft range. The night vision on this camera is better than some night vision cameras we tested and overall this is good value for money.
Pros
Superb camera quality – Ultra-HD quality,
4 different lenses can be attached so great for twins
100ft range
Multiple video channels
Secure and stable signal
Cons
Difficult to install
Lots of attachments
Thus baby car monitor is by far the cutest on our list thanks to the fact that the camera is built into a cuddly animal toy. The fun design feature means that your baby can enjoy looking at something that they like while you make use of the wide-angle view that the camera gives.
The good camera angles give you a full view of the back seat and you can spot any warning signs that your baby may be in distress. With 5-hour battery life, you can enjoy several car rides but you may need to recharge for longer journeys.
Pros
A fun design feature that your baby will love
300ft range
Good size display
No internet required
Easy to install
Good value for money
Cons
The unit can become disconnected easily
Older babies may want to grab and play with the toy