Potty training can be a challenging time for both parents and children. Sometimes children can't or won't tell you when it's "time to go" and then you have a "whoopsie" to clean up.
If kids are at school, they don't want to bring attention to themselves for fear of ridicule from their classmates. That means that there is the possibility of "accidents" happening during the school day.
Potty watches are a god-send as they provide a means of reminding your child that it's "time". That makes life simpler for everyone.
They also make your toddler feel a little "grown up" as they get to wear a watch now!
However, don't think that a watch is an excuse to let down your supervisory guard. When your child goes to use the potty, make sure that you are available to help.
As an Amazon Associate, I earn from qualifying purchases. The links below may be affiliate links. Please read my disclosure policy for more information.
Sometimes your wee one can become distracted and forget that it's "time to go". This watch can be set to remind them with settings from 30 minutes to 3 hours.
The flashing lights and music add an air of fun to make the trip to the potty enjoyable.
A rechargeable battery with 3 days standby time and a waterproof exterior makes this watch a pleasure to use and wear.
This watch has been approved for children as young as 18 months, an age when some children are ready for potty training.
The timer can be set for 30, 60, or 90 minutes and it automatically resets itself which saves you the hassle of having to manually set the watch.
3 included songs will have your wee one happily singing along as they make their way to the potty.
A watch that makes your little one feel all grown up. The timer button is easy to use for adults and kid-proof, which gives you peace of mind as the watch automatically counts down to that special moment.
The colorful design will have your toddler longing to wear it and the secure strap ensures that the watch stays comfortably on the wrist.
When it comes to washing hands, there is no need to fret about the watch being damaged thanks to it being water-resistant.
Let your wee one take that next proud moment in their life journey with this watch.
A potty training watch that actually looks like a watch!
It's waterproof up to 100ft but isn't to be used in saltwater. Nor can it handle hot water.
Unlike other potty training watches, this one beeps rather than plays a tune. The beeping lasts for 15 seconds, so you may have to teach your little one how to listen to the sound.
The timer needs to be set every morning and can be programmed to repeat up to 24 times each day.
The watch can fit wrist sizes 115 – 165mm (4.5" – 6.5") and has a battery life of up to 12 months.
A new redesign means that this watch has a longer battery life and an easy-to-see LED screen, so you can stealthily look at the watch without having to disturb your wee one.
The timer can be set for 30, 60, 90, 120, and 180 minutes and the watch automatically resets itself for the next count.
If you're tired of buying batteries, this watch is rechargeable via USB so that means that the money you save can be used to buy your wee one special treats.
Available in either pink or blue.
Designed by a mother-father team, this watch was inspired by their struggles at teaching their wee one how to use the potty.
It has the option to set the timer for 15 minutes which is one of the lowest times for a watch on this list.
You have the choice of using the alarm or switching to vibration mode providing more discretion when your child doesn't want to bring attention to themself.
As well as a potty training watch, this functions as a standard watch with scratch-resistant glass. That allows your kid to go out and play whilst still having notification of when it's time to go and answer nature's call.
There are 4 different colors to choose from, so it's a question of which color your toddler loves the most.
You get a story ebook with this watch. The book is a fun way of learning what happens during potty training.
The clasp is buckle style so that the watch stays firmly on your wee one's wrist.
Being tamper-proof lets your toddler touch and play with the watch without you worrying about an accidental switching off of the reminders.
Available in the traditional baby colors of pink or blue.
16 alarms on this watch make it the one with the most options for reminding your child that it's "that time". You also don't have to fret over setting the alarms every day. Just do it once and then you're good to go.
If you are concerned that your toddler may inadvertently change the settings as they play with the watch, a password protection system keeps everything safe.
The color of the digits on the LED screen can be changed. There are 7 different hues to select from.
A clever little watch for little wrists.
This looks more like a wristband than a watch, so if you want to be a bit more stylish with your kid then this may be a great choice.
The time can be set to either 12 or 24-hour mode with the auto-repeating reminders can be set from anywhere between 1 minute to 3 hours.
You can get 5-10 continuous days of use from the watch before it's time to plug it into a USB cord for charging.
Such a discreet-looking potty watch.
This is the cutest watch on the list.
The silicone strap keeps the watch firmly on your child as they play. Easy-to-read figures make telling the time an enjoyable experience for any toddler.
There are only 3 timer settings: 30. 60 and 90 minutes which is a bit restrictive, yet the timer resets itself so if your child isn't ready to go to the potty when the alarm goes, there is no need to panic.
You have two colors to choose from: blue for boys and pink for girls
Becoming independent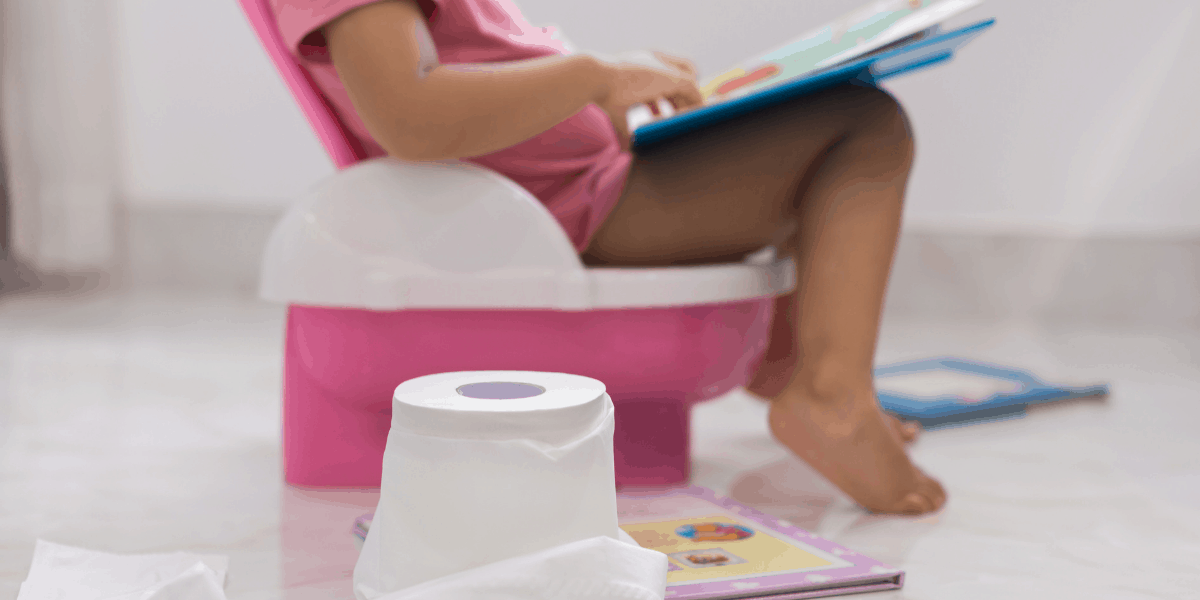 Potty time is an exciting time in a child's development. It's like the next step toward childhood up after learning how to walk.
The watches on our list have similar functions and vary slightly in some aspects. Choose one that will fit securely around your toddler's wrist.
Heck, show the different watches on this list to your wee one and see which one they love the most. Now, you have a winner!
Soon you will experience that proud moment when your child goes to the potty without you having to ask if they "need to go". Kids grow up so fast, don't they…