As parents, you will always have a more hectic schedule than most people. You both have work, errands, and a home to maintain. Surprisingly, your teamwork may still lead to you being shorthanded. You also realize that one of you can't always stay at home while having your partner run out for errands for your baby's needs. 
Most families now have both parents working. The on-the-go lifestyle may be burdensome, especially when you're alone and have to bring your child with you. Let alone driving and traveling because your baby's safety is your top priority as a parent. 
Best Overall Infant Car Seat for Small Cars
(MamaOfFive #1 Choice)
 5/5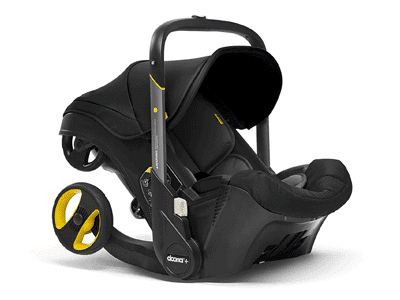 2 in 1 car seat
Easy to transport
Cushioned seat
Lightweight
The inability to leave your child at home would now require you to buy the best thing you can use on car rides that can effectively protect your baby—car seats. Some places even call them baby capsules. These seats are designed as a shield because car accidents may happen, and airbags can be too harsh on a baby's body. 

Having a small car is also another thing to consider when getting a car seat. Most new parents still drive sedans, sports cars, or even convertibles so selecting the type of seat. Before choosing any product, you should know the answers for few questions like How do you know that you chose right seat? How to keep your baby safe in car seats? How long to use car seats? When is seat replacement necessary?
In this article, we have helped you answering all of your questions and clear your doubts about seleciting the right car seats for infants. There are many different available brands on the market, so we made sure to find the best narrow car seat you can buy in the market. We have our top 10. 
Table: Top 10 Best Infant Car Seat for Small Cars
Best Infant Car Seat – 10 Products Reviewed
#1. Doona Infant Car Seat
The Best 2-in-1 Car Seat
Car seats usually come alone, but you can opt for extra adapters to make installation easier, saving you time. You can also pay extra for a travel system, a special stroller adaptor where you can transfer the entire seat, snap it into place for a smoother transfer.  
The Doona Infant Car Seat saves you both time and money because you wouldn't have to set up a stroller for the transfer. In one click of a button, the whole carrier converts into a stroller, making its built-in travel system.  
Pros
Easily converts into a stroller
Ideal for city residents
Convenient to carry
Cons
Among all the car seats in this list, this is the only one with this feature, making it an all-around and easy to use convertible seat. It may be a little bit heavier than most seats but is understandable as it has wheels and extra parts that other convertible seats don't. 
Technical Specs
Dimensions- 28.2 x 21.2 x 18.5 inches
Item Weight- 35.1lbs 
It offers a lot of great features for you. One of the notable features is you can easily convert the seat into the stroller with a click of a button.
Why we recommend it
Babies are usually fussy, and disturbing their sleep can be a nightmare. Imagine having to remove your child from the seat to calm him/her down. And this happens in the middle of a trip to the supermarket? What if you woke your child up in the middle of transferring him/her to the stroller? What do you do? 
Just imagine a hassle-free transport from house to the car and vice-versa. The Doona Infant Car Seat is perfect for you. It has built-in wheels that effortlessly convert your car seat into a stroller making transport very smooth, thus giving your baby undisturbed, peaceful sleep. 
It is the best one of our list however it has some drawbacks. You cannot use the stroller once your baby outgrows the seat. The weight of this seat is too heavy.
Previous
Next
#2.Chicco Fit2 Infant and Toddler Car Seat
The best rear-facing only convertible seat uses only the best Italian fabrics which are machine washable. The Chicco Fit2 Infant and Toddler Car Seat have an easy one-hand adjustment feature for the carry handle, harness adjustments, and even the headrest. You can attach the head and body support for newborns and infants. All these features in just one car seat. It is the best value for your money. 
Pros
Extremely small size
Two bubble levels
Protect and comfort
Cons
Technical Specs
Dimensions- 28 x 17 x 16 inches
Item Weight-20.5lbs 
Weight Capacity- 4-35lbs 
Completely rear-facing car seat making it safer than most convertibles. The parents also like this seat because of the easy installation and its compact size.
Why We Recommend It
It has a 2-stage base that converts it from infant position to toddler position while providing more room for the baby. You can also easily adjust the seat for toddlers without being too bulky, which makes it somewhat of a narrow toddler car seat. Aside from having an easy to convert base. It also is compatible with Chicco strollers if you ever want a travel system. 

You may have a harder time with toddlers because it cannot face front and they might find it uncomfortable 
Previous
Next
#3. CYBEX Aton 2 Infant Car Seat
Best Safety Features
It has an energy-absorbing shell that uses heavy-duty EPS Foam protection. The Side Impact Protection forces the energy of the impact from your baby and pushes it towards the shell. The CYBEX Aton 2 also has a height-adjustable load leg. This loading leg distributes the energy to the vehicle floor, thus significantly reducing the impact on your child. It also prevents the seat from rotating forward. 
Pros
Energy-absorbing shell
Uv protective canopy
Five-point harness
Cons
Some reviews say it has poor ventilation
Technical Specs
Dimensions- 18 x 17 x 26.25 inches
Item Weight- 9 lbs
Weight Capacity- 4-35lbs 
It is one of the best smallest car seats which is available on today's market. By simple push-on connectors, you can easily install this seat. And it is very safe to use.
Why we recommend it
This small convertible car seat came highly recommended because it has a different kind of tensioning system that helps you install the Cybex Aton 2 faster. It has a metal chassis within the base that provides added strength and durability, unlike the other carriers. It also has an indicator whether you attached the seat to the base correctly. 
As compared to most 17″ wide car seats, this one has a unique 3-position handle that can be used for different functions like carrying, riding, and for storage. Comfort is also considered by its extra paddings which include shoulder and buckle pads to ensure 100% comfort while your baby is in the Aton 2. 
Lastly, the German-engineered car seat has a newborn inlay which helps put small babies in the proper position. The Cybex Aton 2 has a better harness fit for smaller babies and opens up at the torso angle. The harness helps enable better breathing and digestion. 

The major disadvantage of this Cybex Aton 2 infant car seat is its price. The price of this seat is little high for some users, but it offers enough features for its price
Previous
Next
#4. Maxi-Cosi Mico Max Plus Infant Car Seat
Best Low Profile Car Seat
Ever wanted a simple low-key designed car seat for small cars? This simple but durable baby capsule brings all-around comfort for you and your baby. Wicking fabric keeps the sweat away from your baby's skin. You can also purchase this brand with a travel system, making it smoother to transport your baby from the house to the car. 
Pros
Additional stability features
Padded handle
Moisture-wicking car seats
Cons
It is too sung for large babies
Technical Specs
Dimensions- 16 x 18 x 33 inches
Item Weight-20lbs
Weight Capacity- 4-30lbs
Anti-rotation stability leg 
It attached with extra-comfortable LATCH which is very compatible with your baby. Its patented air technology adds superior side impact, which helps to protect your baby's head.
Why we recommend it
We always base our recommendations on the many reviews we get. We collect all comments and choose the best one depending on what you want based on what you need. The Maxi Cosi Mico Max Infant Car Seat is easy to install. It's easy to understand, and a seat base makes it all the more stress-free for you and your baby. An anti-rotation leg is also there to keep the seat from rotating in case of an accident. 
It also fits most stroller frames because of its narrow design, thus making it easier for you to have a travel system. Travel systems are necessary if you want undisturbed sleep for your child. This 16-inch wide convertible car seat can be used from infancy to 2 years (or until baby reaches 30lbs). 
The narrow, simple design may mean that babies might outgrow this car seat fast 
Previous
Next
#5. Britax B-Safe Ultra Infant Car Seat
Best Narrow Convertible Car Seat 
This car seat is narrow enough for small cars and yet provides you with the best features. Your baby can now ride in the first-class comfort with the Cool Flow technology, a mesh fabric made to improve the airflow inside the car seat. Two layers of side impact protective foam, quick-adjust protection, a steel frame, and an impact-absorbing base are the safety features the Britax B-Safe Ultra has to offer.  
Pros
Easy to attach to the base
Perfect for small cars
Energy-absorbing foam
Cons
You can also use this on multiple vehicles. No base? No problem. Ridesharing is now more comfortable because you can attach this carrier to another car (though not as fast) without a base. We would still advise on buying a base because of the quick installation, which may cost a bit extra, but this will save you a lot of time.  
Technical Specs
Dimensions- 26.5 x 17.8 x 25 inches
Item Weight-11lbs
Weight Capacity- 4-35lbs 
This sturdy design seat comes with energy-absorbing foam on the sides which help to keep baby safe. So you don't have to worry about the safety issues.
Why we recommend it 
Better than other carriers because of its adjustable base which allows baby to either lie flat down or to elevate the head a little bit. Most reviews are of it being extremely reliable and durable, which are key features to take note of when selecting the perfect narrow rear or narrow forward-facing car seat in the market. 
The major issue of this seat is it is very complicated to assembly without the base so you can only use it on one car.
Previous
Next
#6. Chicco KeyFit 30 Infant Car Seat
Best All-around Car Seat
When selecting a compact toddler car seat or even an infant seat, ease of installation is necessary. Always ask, "Is this the best car brand to buy in terms of installation?" The Chicco KeyFit 30 says yes to that. It has level indicators for you to see whether you attached it correctly to the base immediately. 
Pros
Smooth transport
Built-in easy to understand
Machine washable covers
Cons
It has a cinch tightener which ensures that the seat will stay in place even in the event of a crash without you exerting much effort into it. It's now stress-free for you and stress-free for the baby. 
Technical Specs
Dimensions- 27.5 x 17 x 24 inches
Item Weight- 20lbs
Weight Capacity- 4-30lbs 
This seat is built-in easy to understand the level that indicates when the seat is installed correctly installed by you.
Why we recommend it
Reports say that the KeyFit 30 is one of the most accessible baby seats to use, with all the easily adjustable straps and base. It has a newborn positioner which makes it easier to put your infant at a proper, comfortable position inside the seat. Unlike other brands, the visor does not get in the way of the handle when carrying your car seat. 
The fabric used in the interior is not that much breathable. And it also creates sweat for your baby, especially on hotter days.
Previous
Next
#7. Britax B-Safe 35 Infant Car Seat
Smart Designed Seat
Unlike other seats the Britax B-Safe 35 Infant car seat has a design which made its shell small and contoured which means that it takes up very little space in your vehicle while at the same time minimizing the side-to-side movement which can hurt your baby. After all, the car seat should be entirely safe for the baby. 
Pros
Smart designed
Safe and easy installation
Energy-absorbing foam
Cons
Technical Specs
Dimensions- 26.5 x 17.8 x 25 inches 
Item Weight- 12lbs
Weight Capacity- 4-35lbs 
The large canopy gives plenty of sun protection to your baby. And it also comes with impact-resistant foam which helps to protect your baby.
Why we recommend it
We recommend it because most moms say that of all the car seats they got, this one has no issues. Suitable for a car seat. It is also very safe, complete with all the safety features. The best part about the Britax B-Safe 35 is the fabric. It is effortless to clean, unlike other infant car seats.  
Easy-to-wipe fabrics are an excellent plus because babies can be very messy and you wouldn't want a car seat that has material that absorbs dirt and smells terrible, fast. To check out the quality of fabric would be a good standard in car seats as not all parts can be thrown in the wash.  
The weight of this seat is a bit heavy when compared to the other competitors on our list. So it is slightly hard to carry anywhere.
Previous
Next
#8. Baby Trend EZ Flex Loc Infant Car Seat
Cheapest Infant Car Seat
Of all the infant car seats in the list, the Baby Trend EZ Flex Loc has the lowest price. Buy this brand if you want excellent features that can match your budget. It has an energy-absorbing foam to reduce the impact in case of a collision, and you can even adjust the safety harness.
Pros
Energy-absorbing foam
Adjustable safety harness
Smooth carrying handle
Cons
Doesn't have an extra leg
When you're alone, it is still manageable because of the one-hand seat release and smooth carrying handle. This baby seat is worth every cent as the features match some of those more expensive infant seats and yet they made a way to make a version that won't break the bank. Say hi to more savings and being able to afford a good brand that can protect your baby with its great features.
Technical Specs
Dimensions- 16.2 x 14.7 x 26 inches
Item Weight- 16.87lbs
Weight Capacity- 5-30lbs 
It attached with five-point safety harness system which helps to protect your baby. Then the sturdy safety belt helps to prevent the child from fell.
Why we recommend it
Most moms review the Baby Trend Infant Carrier, saying that it lasts them for ages. They usually buy the same brand and model right after. Most people who purchase these carriers say that it has lasted them approximately 2-4 years before replacing it. Maximize your cash by buying this and add more to savings! 
Other reviews are focused on comfort⁠— saying that their newborn seemed very comfortable, that their baby rarely cried while in the seat. So an overall affordable infant seat carrier, with excellent safety features plus the awesome design. It is, therefore, a worthy investment to buy one.  
It is tough to buckle and the handles also hard to move. You have to more energy to move the handle. Then the weight of this seat even too heavy.
#9. Graco SnugRide SnugLock 35 Infant Car Seat
Thoroughly Tested Infant Car Seat
You would always want the best for your baby. Anything from food to clothes, you make sure to give the best. The Graco SnugRide SnugLock 35 assures you of just the best. They researched and had this infant car seat crash tested multiple times, perfecting the design just for you. 
Pros
SnugLock Technology
Adjustable base
Rotating canopy
Cons
Unlike other seats, people who have weak wrists, dexterity issues or people with arthritis can use the Graco SnugRide. It is because the technology to install it does not require much force at all. This very inclusive brand is a perfect choice.
Technical Specs
Dimensions- 27.7 x 18.1 x 16 inches
Item Weight- 14.70lbs 
Weight Capacity- 4-35lbs 
It is one of the best affordable car seats which is available in the market. It ideally fits in every small car, and it allows you to adjust the recline feature.
Why we recommend it 
Most studies say that this is the perfect seat for first-time parents as it is not that complicated to use and easy to attach. It has a very three-step installation. And in just one click and a quick check at the easy to read level, and you will know that you installed it correctly. Easy to install seats are a must, especially when you find yourself going out alone with your baby because it saves you time and energy. 
In terms of comfort, we recommend this because it has four different recline positions to fit it properly inside your car. It has a rotating canopy that provides shade and shields your infant from the harmful UV rays from the sun. For cushioning, you can either keep or remove the head and body support foams.  
On the safety features of car seats, we recommend this brand because of its 5-point harness and heavily crash-tested structure. Its sides are also definitely impact tested and proven to protect your baby. Make sure that the seat you buy always meets global standards and are thoroughly tested. You would only want the safest option for your child. 
Some parents are complaining about the infant insert, which doesn't give enough support for baby's head. And its one-click base attaches may unreliable.
Previous
Next
#10. Evenflo Nurture DLX Infant Car Seat
Best Lightweight Car Seat
This infant-only car seat is the best to purchase because it is easy to install, with or without the base. The best part about this stroller is that it is lightweight and would make it easier for you to carry your baby around. Don't worry as the reduced weight doesn't mean decreasing specs; it only means it's easier for you as a parent to transport your newborn inside and outside the car.
Pros
Lightest car seat
Auto belt guides
Machine washable pads
Cons
Especially for petite parents, having a large seat often makes things more difficult for them. It can also cause a lot of strain on the back muscles. For mothers that newly gave birth, this can be the best carrier as it is only under 7lbs. The lightest in all the car seats we chose for you.  
Technical Specs
Dimensions- 11 x 18 x 28 inches
Item Weight- 6.5lbs
Weight Capacity- 5-22lbs 
It is very lightest car seat which is available on today's market. You can easily carry out this car seat anywhere. So you don't have to worry about the weight of this car seat.
Why we recommend it
This smallest rear-facing car seat has an advantage over most car seats on this list, the reduced weight helps avoid back strain and makes it easier to install, clip on and off the base when going out with the baby. 
Reviews are also favorable because they say that it is easy to maintain, and its padding is easy to wash. Factors like these are essential because as parents time saved is the time you will most likely use to rest.
This car seat is the most affordable, meets all the safety standards of an infant car seat. It means that it was also slowly crash-tested before released. You get all the necessary features at an affordable price. 
Here is a minimalist car seat because we would recommend this to people who want a car seat but are on a budget and doesn't mind the lack of all the fancy add-ons.  
The main drawback of this it doesn't support a baby above 22 pounds and also it doesn't have a reclining seat. So it makes some uncomforted to your baby. Has a low weight capacity which means you will have to change seats faster because your child will outgrow this seat very fast. 
Types of Car Seats 
Infant car seats 
Infant seats are only made to be rear-facing. They are also for smaller sizes and have a low weight capacity. If you're looking for tiny car seats most likely, you will get this type. Some infant car seats may double as a stroller as well, while most fit an adapter for different stroller frames.
Convertible Car Seats
A convertible car seat can be a narrow rear-facing car seat that can be used by your baby when he/she is tiny, and it can also be switched to front-facing later on when your child is much more significant. Some are still for older kids bust still faces the rear. These seats are often bigger and bulkier. You can buy these seats if you want to save on money. In regards to space-saving, most modern convertible seat designs are narrower and more compact.
Belt-positioning Booster Seats 
You use this type of seat when your toddler gets too big for the convertible car seat. You can now use the regular car shoulder belts to secure your child while sitting on the booster seat. There are backless booster seats but make sure that your car gives ample head and back support before buying this type of car seat. 
What do I buy? An Infant Car Seat or a Convertible Seat?
If you have a small car, you most likely will end up buying an infant car seat because most convertibles are too bulky. Lucky for you, most of the seats in the list are convertibles, and we only chose the ones with outstanding specs. We would want you to find either the best infant seat or even the best convertible car seat for small cars. You can get any small toddler car seat, doesn't matter what brand, as long as the safety features are excellent and up to global standards. 
What to Check to find the Best Infant Car Seat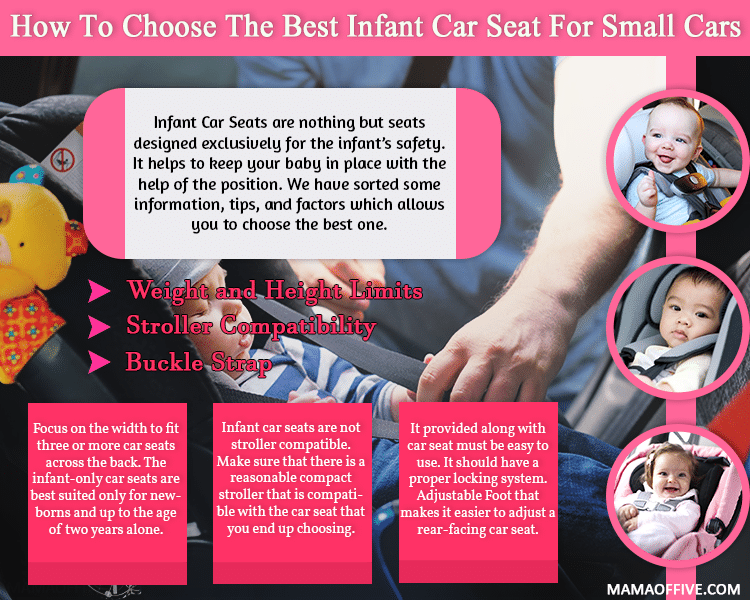 Check if it fits your car
Consider the type of car you're using before buying your car seat. Some car seats are too bulky, and you may have a hard time getting it inside and outside the vehicle. The commotion can disturb your baby's sleep when transporting. A great solution would be choosing a more compact car seat instead. 
Some car seats also have solutions to fit their seat in different cars—an adjustable positioning system. Some others don't. It would be best to check out the exact measurement of the seat before the purchase. You wouldn't want to spend money on something that won't fit your car. After that, there are just a few more factors to consider before finally getting your much-needed car seat.  
Check if it's easy to install
Hard-to-install car seats should be an old issue. Most new models have a seat base which you invest in your car. You have to clip the car seat on and off. Now you're ready to bring your baby on any trip. Installations features often have an indicator or a level which shows whether you installed the car seat correctly. The indicator will help avoid the car seat from suddenly detaching from the seat base.
 Some seats can also be used without the base although mothers do not recommend it because you will need more time and effort to install it. As a parent, time and energy are on an extreme low due to the lack of sleep, among other things. So you need to be very efficient in managing things. It may cost a bit more, but it will be of help for both of you. 
Check the extra safety features of your seat
Even lightweight, space-saving car seats, have additional features for your baby. Check for the materials used, additional padding, and shock-absorbing panels. Check if the seat is crash tested, and has a symbol that it passed the quality control and the global standards before releasing it for sale. 
Additional features would also be a rod or cinch that would prevent the seat from rotating upon impact. The steadiness of the seat is essential because your baby's body is very fragile, and it is necessary that in case of an accident, the seat wouldn't move around exposing your child to danger. Thus the saying it's better to be safe than sorry.  
Check if it is compatible with your stroller
Your baby's sleep is of utmost importance, and most parents know that it is quite challenging to put a baby to sleep. Is your compact infant car seat compatible with your stroller? Most infant car seats have an option for you to buy an adapter for your stroller. It is called a travel system. 
Travel systems make transport from a stroller to car easy, and it lowers the chances of you disturbing your child's sleep when moving him/her to and from both places. Some car seats are convertible into a stroller which makes it a lot easier because it technically has its built-in travel system. A travel system will save you a lot of time and will also lower the chances of you disturbing your baby's sleep.  
Choosing the perfect match is not always that simple. Worry no more, our list only has the best brands for you and especially for your baby. We understand that finding the best car seat for your baby can be very tricky and stressful. With the help of our recommendations and infant car seat safety tips, you'll surely find the best brand that suits you and your car.
Disclaimer: If you purchase any products in this post, we may receive a small commission. We promote only the products which we test and recommend. Read our affiliate disclaimer here.