Time at the beach is a great way for the family to bond while having a great time in the ocean as well as exploring the beach and rock pools.
Yet, there is so much more one can do other than swim. When it's time to have some time out of the water, toys are an excellent way to still have fun either by oneself or with other family members.
On our list, we have some of the more traditional beach toys for kids as well as some options that are great for adults, too.
As an Amazon Associate, I earn from qualifying purchases. The links below may be affiliate links. Please read my disclosure policy for more information.
Sandcastles. What day at the beach with the kids doesn't involve building castles and then surrounding them with a moat consisting of seawater?
These buckets allow you to build 7″ castles that are ready to decorate with shells, seaweed, and other bits of sea debris. The plastic will be able to withstand countless hours of playing in the sand.
When it's ready to head home, just give the buckets a rinse in the ocean and stack them away until your next breach trip.
If your child has a hankering for aquatic and sea life, then this portable aquarium will definitely win them over.
Dip the toy into the ocean or a good-sized rock pool and capture the creatures that live in and near the sea. The see-through sides and lid allow your budding marine biologist to watch and study the sea life within.
When it's time to release the animals, take off the lid and let them swim or crawl back into their natural home.
These dudes are amazing.
Click them together and then toss them into the waves. Don't worry they will right themselves as they catch a wave and surf back to you.
There's no need for batteries, nor is there the hassle of having to wind up the toy. It is designed to run by the energy of the waves. It's such a clever idea!
Suitable for children 6 years and up.
Sharks are usually scary at the beach, but not these ones!
Made from quality plastic and fade-resistant material, this game can handle anything the sun throws at it. Talking about throwing, there are 2 balls included that you can toss either by yourself or with a friend.
Melissa & Doug include play ideas for inspiration.
It's time for a shark attack (of the good kind!)
Your kid will have hours of creative fun with these toys!
Why build a simple sandcastle when you have everything you need to build a mini sand city! The bucket, monster truck, rake, shovel, and molds allow for young imaginations to run amok.
That doesn't mean that you can't get involved in the action as your child constructs their masterpiece.
The toys are made with little hands in mind and are easy for kids to grab and hold. The durable plastic can withstand a rough day of construction.
When it's time to call it a day, simply pack up everything into the handy storage bag and wave bye-bye to the creation as it lies for the inevitable tide to come and wash it away.
Go long!
Whether at the beach, pool, or lake this football will have everyone wanting to play. The exterior is made so that it's easy to grip and throw.
A perfect way to have your child develop hand-eye coordination as they toss and catch the ball. The 9.25″ size means that it isn't ideal for smaller toddlers to play with one-handed but they can still have a go at catching with both hands.
That's a cute moment worth capturing on video.
Beach balls are fun, but they don't skip across the water like these awesome balls do.
Now you have another excuse as to why it's time to hit the waves as you play catch, fetch, and whatever other game your imagination can conjure up.
There is no need to be concerned that this ball is going to sink to the sandy depths of the ocean because it floats! It's also made with sturdy material so you can have endless days of summer fun at the beach and pool.
A great beach companion for kids aged 7 and up as well as adults. It's not just a ball, it's an object that allows for family bonding as you play together!
When it's time to have a rest from swimming, you can play with your jazzminton set.
The paddles and accessories allow you to choose whether you want to play badminton, tennis, and more. That makes this such a versatile toy to give you some relaxing time in the sand or on the turf while still getting a killer tan!
Everything is made of hardy material that can handle the beating sun or rain (if the weather suddenly turns).
A great way to get the children (and yourself) outdoors more often.
These rings are suitable for both kids (aged at least 3 years old) and adults. They are specifically designed so that tiny hands can easily catch them and then fly straight when your kid tries to throw them at you.
Yet why just catch them with your hand? Try snagging one with your foot! That encourages the development of dexterity and coordination in your children.
Each ring (you get two) weighs a mere 33g. That's light!
Families that play together stay together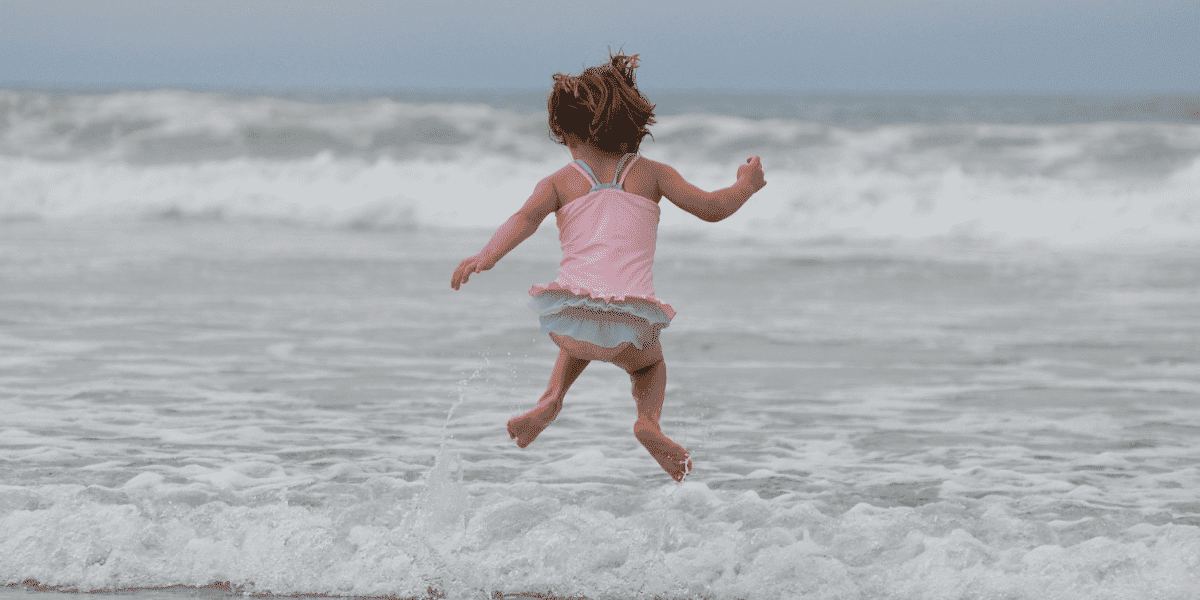 A day at the beach offers everyone a chance just to relax and unwind. Making it a great family day will ensure that your children will fondly look back on such experiences.
Whether it's building sandcastles, tossing a ball around, or frolicking among the waves, its all about building a tight family unit full of love and fun.
Have a great time!