When you go to the beach, you often want to relax and have fun with your family and loved ones. But going to the beach would mean that you would be bringing lots of baggage, especially if you're going with your family. And having to juggle chairs, towels, coolers, umbrellas, and children's toys is far from relaxing, and instead is annoying.
Best Overall Beach Wagon for Soft Sand
(MamaOfFive #1 Choice)
 5/5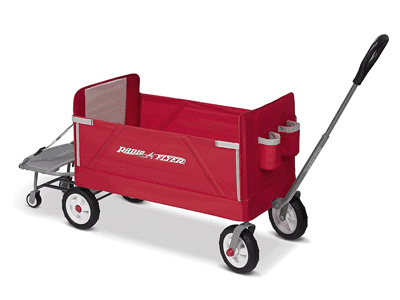 Large compartment
Comes with seat belt
Easy to fold
Strong construction
Our family has done it for quite a while now. Before you could even relax, you had to make several trips going back and forth, transporting the essentials before you could even start to relax. Until one day, we came across an innovative product that would get rid of that problem in its entirety. It allows you to bring all your baggage and essentials in a single trip, and that is the beach wagon.
A beach wagon allows you to haul all your baggage and essentials in a single trip, minus the hassle and backache. Building a beach wagon on customized design and size is also great choice but if you have no time for DIY works, there are various beach carts and wagons in the market right now that are available for your choosing, and that would be another tedious process in itself. 
So what we did is we've scoured the market for the best beach wagons that are available in the market right now, and reviewed them one by one. We'll also be providing you with a buyer's guide on how to choose the best beach wagon, so you can choose the one that fits your needs the most.
Table: Top 10 Best Beach Wagons for Soft Sand
We ♥ honesty! Mama of Five earns a commission through the following hand-picked links at no extra cost to you. Read the disclaimer here.
Best Beach Wagon for Soft Sand- 10 Products Reviewed
#1. Radio Flyer 3 in 1 Tailgater Wagon
The first runner up on our list is the Radio Flyer 3 in 1 Tailgater Wagon. They've been in the industry for over 100 years now, and they are still producing high-quality products such as this one on our list.
Pros
Lightweight
Easy to fold
Sturdy and soft
Cons
The Radio Flyer 3 in 1 Tailgater Wagon is a folding beach wagon that has a 150 pounds weight limit. It can effortlessly carry your chairs, coolers, toys, etc., and it's all thanks to its sturdy and stable frame. 
Aside from transporting your baggage and essentials, you can also let your kids ride. This foldable beach wagon is designed to have two padded seats and seatbelts in which you can safely strap your kids as you haul them from place to place.
Radio Flyer 3-in-1 EZ Folding Wagon with Canopy highlights DuraCleanTM texture that is tough enough for long haul use and can be cleaned effectively.
The adjustable telescopic makes it easier for you to adjust the product to your preferred setting, providing you more maneuverability. And after you've unloaded all your baggage and essentials, this product can be easily converted into a bench, so it wouldn't just be sitting in a random corner.
But what happens if you don't need to use this wagon anymore? That wouldn't be a problem for you at all, as the Radio Flyer's collapsible design allows you to store this item quickly. So if you're looking for a reliable, flexible, and high-quality beach cooler cart that can effectively haul your baggage, this is the one.
#2. Timber Ridge Folding Camping Wagon
The second item on our list is from Timber Ridge. They are a professional outdoor brand that is devoted to providing you with the best outdoor experience, be it on the beach or the wilderness. They manufacture different kinds of products, which all go through various rigorous testing to ensure quality and durability.
Pros
Large weight capacity
Easy to set-up
Large wheel
Cons
Complaint for short handle
The Timber Ridge folding camping wagon is the perfect utility tool to bring along with you on your outdoor adventures. It can support weights of up to 150 pounds on any hard surface and 110 pounds on the beach or sandy areas. Its overly large wheels are 8 inches in diameter, designed with rubber tape to make it a lot easier for you to use on any terrain. 
It doesn't matter what terrain you bring this wagon to; it'll keep your baggage and essentials secure. The dimensions of this product in inches are as follows, 35.5 Length, 18.4 Width, and 12 Height. And what's great about this product is that you can easily fold it when not in use, so it consumes less space.
Timber ridge folding camping wagon is perfect for the beach, this generally useful cart is likewise ideal for taking on family trips, outdoors, tailgating, and shopping. And it Comes in four attractive colors.
In regards to setting this wagon up, it's a relatively straightforward process. You need to push the bottom of the utility wagon, and it's now ready for use. No need to stress yourself in assembling this product whenever you need it, that's thanks to its folding mechanism. In which it doesn't require you to tear it apart when storing it.
The fabric may have some wrinkles after having been stored for quite a while, but the moment you put some loan on it, the material will straighten itself. As for the wheels, the two front wheels can rotate while the two hind wheels have fixed. The telescoping handle makes it a lot easier for you to control and maneuver this wagon, making it a perfect for bringing with you on strolls, a day on the beach, or camping.
If you're looking for a beach wagon with big wheels, or for any outdoor activities, the Timber Ridge folding camping wagon is the right choice.
#3. Mac Sports Heavy Duty Collapsible Folding Wagon
If you're looking for a heavy-duty beach wagon cart, the heavy-duty collapsible folding wagon by Mac Sports may be the one for you. Every component of this product is made using high-quality materials, from the wheels to its frames.
Pros
No need to assemble
Easy to use
Fold conveniently
Cons
It can handle a considerable amount of weight, specifically 150 pounds. And has the following dimensions; 36.2 x 21.4 x 24.6 inches. As for setting up, it'll only take a few seconds, and a minute, tops, as it doesn't require any assembly. 
How this product handles all that load, is thanks to its heavy-duty frame, as well as the fabric that's keeping them all together, the 600D. The fabric can also be easily cleaned if needed and has UV and mildew resistant properties to it. The frames may be heavy-duty, but it's surprisingly lightweight, and flexible. Thus, allowing you to fold this product up for more accessible storage.
The wagon includes a heavy-duty frame intended to help 150lbs. Likewise, it contains a solid 600D fabric that makes it simple to clean. The flexible handle is another in addition to that improves easy rolling.
Once folded up, you can safely store this product inside on a carrying case that comes with your purchase, to keep it all from getting dusted up.
They equipped this product with extra-large wheels that make your job hauling baggage, gear, and essentials to the beach, or any outdoor activities for the matter easier. Compared to other wagons or carts that are available in the market, this one doesn't allow you to transport your children.
#4. Wheelez Heavy Duty Beach Cart
So far in this list, the Wheelez heavy duty beach cart is the most uniquely designed out of the four. It doesn't look like your typical beach cart; instead, it's more like a wheelbarrow. Despite its awkward design, this product can carry up to 220 pounds of weight, while allowing you to push this beach cart around on any terrain effortlessly.
Pros
Move smoothly in all terrain
Lightweight cart
Can carry heavy loads
Cons
With the Wheelez Heavy duty beach cart, Not only can you use this on the beach. You can also take this product with you during camping, hunting, and fishing. I even read some reviews stating that they were using said product for gardening.
One of the most agreeable heavy duty beach carts; that can hold up to 165 pounds effectively. It is a durable and user-friendly cart that accompanies a rounded steel outline that offers additional protection.
The Wheelez Heavy Duty beach cart also features balloon wheels. The balloon wheels prevent the cart from sinking into the sand, no matter how heavy the load is. Whenever it's time to store or transport this product, the collapsible design allows you to fold this cart, saving more space.
To top it all off Wheelez's heavy-duty beach cart is made using Marine grade anodized aluminum. So you are guaranteed a sturdy and durable item that can stand the test of time. This product is truly the ultimate beach wagon cart.
This beach cart offers a lot of features; however, it has a drawback. It comes with a handle is not stable enough.
#5. Mac Sports Heavy Duty Collapsible Cart
Mac Sports heavy duty cart, as its name implies, is a heavy-duty cart equipped with a table, and a more substantial capacity compared to other beach carts. The more significant than the usual capacity of this product will allow you to transport all your baggage and essentials, all in one go. The heavy-duty frame can accommodate weights of up to 150 pounds.
Pros
Heavy duty
Compact storage
Provide Side Table
Cons
This folding beach cart lets you save an ample amount of storage space, as you can collapse it down until it's about 10 inches thick. A great feature to have, especially if your car has a small trunk. As for the fabric, it is a 600D fabric that can easily be cleaned by merely blasting water through it.
There is no doubt that MacSports is one of the best Wagon beach carts that you can find in this list. It is a high-quality cart that can be an ideal choice for hauling a significant number of gears.
This foldable wagon has two built-in cup holders, as well as a mobile phone holder. It's a great place to store any snacks that you might want to take with you to the beach. But not so much for mobile phones, especially when you leave it unattended most of the time. 
As for operating this equipment, it doesn't require much effort. Thanks to the adjustable, telescoping handle, you can adjust it to whatever configuration you're comfortable. 
If you're in the market for a heavy-duty beach wagon with big wheels and a side table, this product is the obvious choice.
The weight of this cart is 22 pounds which is one of the highest beach wagon carts on our list. So you have to put more energy for moving this cart from one place to another.
#6. Little Tikes Deluxe Ride and Relax Wagon
The Little Tikes ride and relax wagon is a fun little beach wagon for kids. This product is primarily a beach cooler cart, then, a bench that's has an umbrella, but can also function is a cart in which your children can ride around the beach or park.
Pros
Versatile Design
Included Seatbelts and Drink holder
Attached umberlla
Cons
Difficult to assemble the cart
After hauling your baggage and essentials to your spot, it's time to rest. You can do so with this product by converting it into a bench, by merely removing the sides. It also has back support for maximum comfort. And the umbrella is a useful addition to keep your kids out of the sun, while the attached cooler is great for keeping snacks and drinks cold. It also comes with a drain, so you don't have to tip it when cleaning.
This Little Tikes Deluxe Wagon offers seatbelts and drink holders, as well as a secured storage area that gives you a chance to take essentials along for the day.
There is also a covered storage compartment that you could use to store some essentials to take with you for the day when going to the park. The QuietRide wheels ensure a peaceful stroll at the park, and the seatbelts keep your child safe and secured. 
When not in use, you can flip the handle underneath the wagon so minimize space consumption, for better storage and transportation. 
If you're looking for a value purchase, then the Little Tikes ride and relax wagon is a contender. It's a perfect product for both adults and kids, due to the amount of convenience and comfort that it provides.
A few parents complained that the wagon was hard to assemble because of unclear directions.
#7. Tommy Bahama All Terrain Beach Cart
A day on the beach needs a lot of preparation and a lot of baggage. If that's the case, you're better off bringing a handy beach cart with you. And if you don't have one, then we have just the right product for you.
Pros
Lightweight
High storage capacity
Durable
Cons
Introducing the Tommy Bahama all-terrain beach cart, it's a cart that's known for its excellent quality and versatility. This product is equipped with two extra-large wheels, making this the best beach cart for sandy terrains.
If you're struggling for storage space, this product may not be the best choice at first glance. You can rest easy, as you can fold this product enough that it can fit the trunk of your car. It's as portable as it can be.
This Tommy Bahama beach cart is perfect to use on a wide range of terrain from the garden to the beach. It is simple to move it around over the sand.
This product has enough space to fit and carry up to 100 pounds of beach essentials and baggage. It can fit four beach chairs, an umbrella, and more beach essentials in it, saving you more time. Unlike the standard beach wagon or cart design, this product is designed to be like a stroller.
As mentioned above, it has two extra-large wheels and two small front wheels, both measuring at 10 inches. As for the storage compartment, it' has a measurement of fifteen cubic feet, and also has an umbrella holder for your convenience.
If you're in the market for a flexible, reliable, and convenient beach cart, Tommy Bahama's All Terrain Beach Cart would be a perfect choice.
It is an umbrella holder; It has a storage Compartment of 15 cubic feet. So you do not need to worry about its safety.
#8. Creative Outdoor Distributor All-Terrain Folding Wagon
Candidate number 8 on our list is a product from Creative Outdoor Distributor. They are an independently owned company that specializes in customizable and beautiful home tools. The company is hands-on throughout the process, from conceptualizing up to the production. That ensures that all the products that they're producing are of high quality.
Pros
Removable Fabric
Large wheel
Included many pockets
Cons
One of their popular products is the All-Terrain folding wagon. It's a multi-functional and multipurpose push and pull wagon, that makes for a piece of a convenient tool for trips at the beach, park, camping, and more.
This product has enough room that you can fit your children and pet to go out for a ride. It's a convenient tool to bring with you anywhere you go, by merely collapsing it and storing at the trunk of your car.
It is best to go around the storage wagon to carry a variety of accessories. There will be space for people to store cell phones, essential drinks, and other items that can be placed in pockets attached to this utility wagon.
With the All-Terrain Folding Wagon, you have endless options on how you use it. The product's flexibility is unrivaled compared to others that are available in the market. You can fill it to the brim with your supplies, let your child take a ride, and it can even act as a sports cart. The product's all-terrain design allows you to bring this equipment with you and your supplies to any outdoor and indoor event.
This product made of flexible and durable material to implement its foldable design. All while not compromising the quality and durability of the product. It can easily collapse into portable and compact equipment, which allows you to store said product easily. You can fold this product without the need to use any tools.
The wagon is not precisely designed to make it to the beach, as users complain of problems with the wheels, and have said that it is a little harder to maneuver on soft ground and sand.
#9. Challenger Mobility Folding Beach Cart
Enjoy your day at the beach with the help of the Challenger Mobility folding beach cart. This product is a beach cart with balloon wheels, which makes it significantly simple for you to push and pull this product through the sand. The design of this product is more like a beach dolly rather than a beach cart, but its functionality and reliability is still high.
Pros
East to Set-up
Adjustable handle
Large tires
Cons
The foldable aspect of this product permits you to store this item easily in your trunk. It is also super lightweight, weighing in at only 18 pounds. But for such a lightweight thing, you'll be surprised to know that this product is capable of hauling weights of up to 165 pounds. This beach cart can easily carry all your beach gear and essentials without a fuss.
Some products usually have a handlebar that's either too short or too long, but not with this one. You can easily adjust the handlebars at your preferred height through its adjustable telescopic. Letting you turn the tedious task of hauling your beach gear and essentials into a simpler one.
There is minimal assembly, and you only need a pair of pliers and a Philips head screwdriver. The wheel is attached with cotter pins, so you can easily remove them if needed.
As far as durability goes, this product has it on lockdown. The materials used in creating this product are high-quality, long-lasting, and weather-resistant tubular steel. The product can withstand extreme environmental and weather conditions, without any problems at all. 
The versatility of this product turns hauling baggage and equipment a bit more enjoyable. So if you're looking for a portable beach cart or dolly, then you need to get this product.
This challenger mobility beach cart is not fully portable; It is a little heavy for small children or women (18 lbs.).
#10. BEAU JARDIN Folding Push Wagon
The BEAU Jardin folding push wagon has a capacity of 150 pounds and is collapsible when times that this product is not in need. The company equipped the product with four oversized wheels that can power through any terrains.
Pros
360 Degrees wheels
Multipurpose
Adjustable handle
Cons
Low weight carrying capacity
All four wheels have a diameter of 7 inches, and a width of 4 inches. Made out of hard rubber, it provides the wheel stronger traction on the different kinds of terrain, providing more stability compared to other wagons in the market.
This wagon is designed to have two different handles; one is meant for pulling and the other for pushing. You can set the push handle to any angle while the pull handle provides a little bit of support when it's overloaded.
In a nutshell, the cart is made using the famous 600D polyester to resist ultraviolet rays and wear and tear.
BEAU JARDIN is using a 600D polyester fabric to promote simpler cleaning. You can either power wash it, or remove it altogether to hand wash the fabric. This wagon is an all-around item. From being a sports wagon, beach wagon, and outdoor wagon, this product will deliver.
As for setting up, you only need a few seconds to do so with this product, and wouldn't require you to use any tool. It comes ready to use, straight out of the box.
This folding wagon is the perfect item to bring, other than your supplies, on any outdoor activities.
This Folding Push Wagon Cart is for gear only; because the manufacturer makes it clear that it is not for carrying children.
Buying Guide: How to choose the Best Beach Wagon for Soft Sand 
Are you a frequent beachgoer? If yes, then you need a beach cart. But what beach cart do you get? Choosing one can be a tedious and overwhelming process, especially if you don't have any idea regarding the product. In selecting the best beach cart or wagon, several factors you need to take into account. Those factors are the following: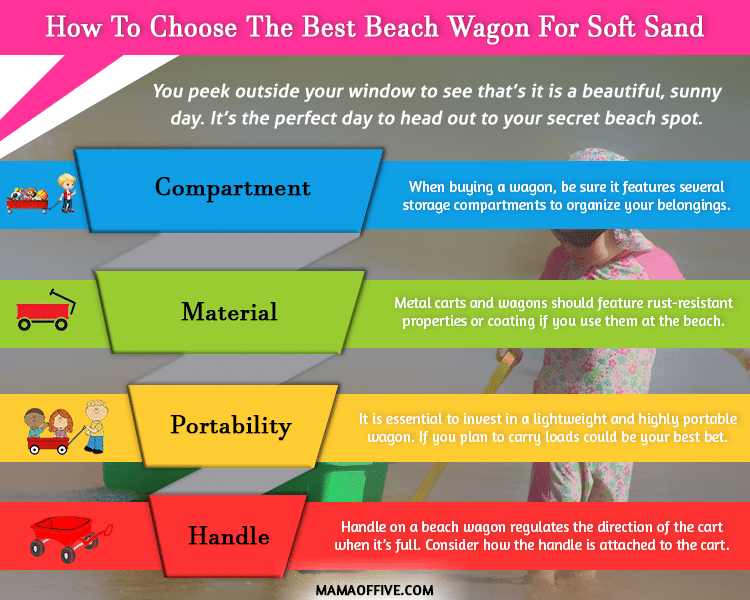 Compact 
An owner of a beach cart that has lots of space to accommodate their baggage, especially bulky items, loves the convenience that it gives. Especially if your cart can fold itself up to a fraction of its original size, which makes storing the beach cart easier when not in use, a great folding beach wagon only takes up a minimal amount of space until you need to use it again. Some companies even provide a protective cover when purchasing a foldable beach cart. 
Where Are You Using the Cart 
When you shop around for the best beach cart, you want to be sure as to where and what you're going to use the cart. Do you need one to transport bulky items, i.e., chairs and coolers, or are you looking to carry small items only? 
You also need to determine whether you're going to use it only on the beach or not. Some beach cart owners have come up with their creative ways on how to use it. Some have claimed to use it as a shopping cart, while others said to have used it in their gardening. Consider buying a universal car that can handle a different kind of terrain as not to limit yourself with your purchase. 
Wheels 
Wheels are critical components for beach carts. You should make it a point to the wheels of any beach cart that you consider buying. By only looking at the wheels, you get an idea of how stable that beach cart is. One thing that you should look for is, the bigger and broader the wheels, the more durable it gets. 
You also need to consider the material used by the manufacturers in creating the wheels. The most popular ones made out of Polyurethane, and the close second made out of plastic. For beach carts, knobby wheels are a much better option as they move through sand easily, compared to wheels with spokes. 
Wagon Style Carts 
There are many styles of carts that are available in the market, one of it being a wagon-styled cart. They are designed to have a wagon-like shape, similar to that of a children's toy. A wagon-style cart has four wheels, and the space available is parallel to the ground. 
There are several types of wagon-styled carts that are available in the market. And the most popular type is the heavy-duty collapsible wagon, which can hold bulkier and heavier items, while not comprising its ability to be collapsed into a smaller item. 
Dolly-Style Carts 
A dolly-styled cart is slowly becoming the more favored option for beachgoers nowadays, and it's all because of its ability to move through sand easily. What allows a dolly-styled cart to do that are its two wheels. 
Just like a regular dolly, you can either push or drag it behind you through the sand. What makes a dolly-styled cart better over a wagon-styled cart is the amount of control and stability it provides. 
Dollies allow you to pack more things in it by stacking each item carefully on top of each other. It's also such a great carrier in transporting beach umbrellas, surfboards, and mats to the beach. 
Upright-Style Carts 
If a dolly and wagon styled cart had a baby, the result would be the upright-style cart. An upright-style cart is usually designed to have four wheels like a wagon, and is elongated, just like a dolly. You can easily distinguish an upright-style cart by looking at its front wheels. If the two front wheels are significantly bigger than the back wheels, then it's an upright-style cart. 
By adding two front wheels, its stability is significantly improved, and would also see improvements in its maneuverability. The four-wheel design of an upright-style car is also implemented by the design that allows you to either push or pull it. When shopping for an upright-style cart, be sure to consider its height, because unlike dollies, they can't tilt. 
Handle 
Check how comfortable the handles of the carts are – it doesn't matter what type of cart you'll get, in the end, it's you who'll push and drag it around. That's why your cart needs to have comfortable handles and offers maximum grip.
Look for carts that have ergonomic handles, as it's the easiest one to use. Countless items are in the market right now that has an ergonomic grip; some are even adjustable. Other than being comfortable, you also want a handle to be durable, so it doesn't break while you're using them. 
Frame Construction 
You want your cart to be sturdy and durable, and the only way for that to happen is for the frame to be constructed and designed correctly by the manufacturer. In choosing a beach cart, look for ones that have metal frames instead of plastic, it'll be pricier compared to a plastic beach cart, but it'll pay for itself by lasting for a long time. 
You'll want to look for aluminum beach carts or ones that made out of stainless steel. And since you're bringing it to the beach, you need to look for one that has anti-rust components to it. You'll also need to rinse it with water before storing to wash any saltwater. 
Weight Capacity 
As stated above, you need to determine what and how you're using the cart, and with that information, you can determine how much weight you need the cart to hold. By simply knowing the weight limit of the cart, you can decide whether or not it'll meet your needs or not. 
All carts will have a weight limit, and you can locate that information in the product's description. 
Weight 
With a beach cart, you're already moving so many things from point a to point b. And when it's already heavy while empty, you may want to look for a much lighter one. A great beach cart will easily allow you to load and unload it on your vehicle with ease. 
The average weight of a metal beach cart is somewhere between 15 to 25 pounds, with no load. As for plastics, that is significantly lighter but isn't recommended for reasons stated above. If you're having trouble lifting things, you can get yourself a dolly, as they weigh significantly lighter at 10 pounds. 
Number of Compartments 
Most shoppers for beach carts don't take the prospect of having additional compartments seriously. And only roll with that it has. What is the reason you decided to get a beach cart in the first place? It was for convenience, right? There's nothing that makes a beach cart more convenient other than additional compartments. 
Some manufacturers have designed their beach carts to have a split in the middle, and some have adjustable compartments, which is an excellent thing for flexibility. Choose a beach cart that would accommodate many items. That way, you can bring everything in a single trip. 
Maneuverability 
The cartwheels play an essential role in determining its maneuverability. When purchasing a beach cart, choose one that isn't limited to sandy terrains, can round the corners easily, and go uphill without the need to exert more energy. 
Check and see the wheels of the beach cart, as well as the mechanism used to attach it. You'll want something that can pivot easily, as well as a comfortable handle, so it moves with you as you turn. 
Final Words 
Beach carts and wagons are convenient, but not when you've chosen the wrong type to use. If you are good at DIY works, you can design your beach wagon based on your requirements. 
With this article, we hope to have provided you with valuable knowledge that would help you in selecting the best beach wagon or cart for your needs. 
Disclaimer: If you purchase any products in this post, we may receive a small commission. We promote only the products which we test and recommend. Read our affiliate disclaimer here.