Packing your hospital bag is an exciting part of being a mom-to-be as it is one step closer to you giving your birth. While there are lots of easy-to-remember items, such as diapers and baby clothes, you may become overwhelmed at the thought of forgetting something important.
When it comes to packing your hospital bag your thoughts may be with your baby and the items you need can be easily forgotten.
As well as personal items such as sanitary pads you will need to pack clothes that are comfortable for you after you give birth.
We take a look at all of the clothes that you need during your hospital stay in this handy postpartum guide.
As an Amazon Associate, I earn from qualifying purchases. The links below may be affiliate links. Please read my disclosure policy for more information.
Hospital Bag Checklist
First of all, here is a brief rundown of everything that most moms will need in their hospital bag:
For Mom
Medical notes
Medication
Birth plan documents
Clothing for labor (a loose-fitting nightdress with buttons is ideal)
Socks
Nightwear/loungewear for after the birth
Toiletry bag (with shower gel, shampoo, deodorant, toothpaste, and toothbrush)
Moisturizer 
Lip balm 
Phone/Tablet including chargers
Towels
Maternity/sanitary pads
Hair bobbles/hair bands
Book/Kindle/magazines for the earlier stages of labor and for after giving birth
Clothes for going home in 
Cash for hospital store/trolley
Camera
For Baby
Newborn diapers (between 10 and 20)
Wipes/cotton pads
Clothes (rompers and vests)
Bibs/muslin cloths
Blanket
Hat (for indoor use)
Car set for going home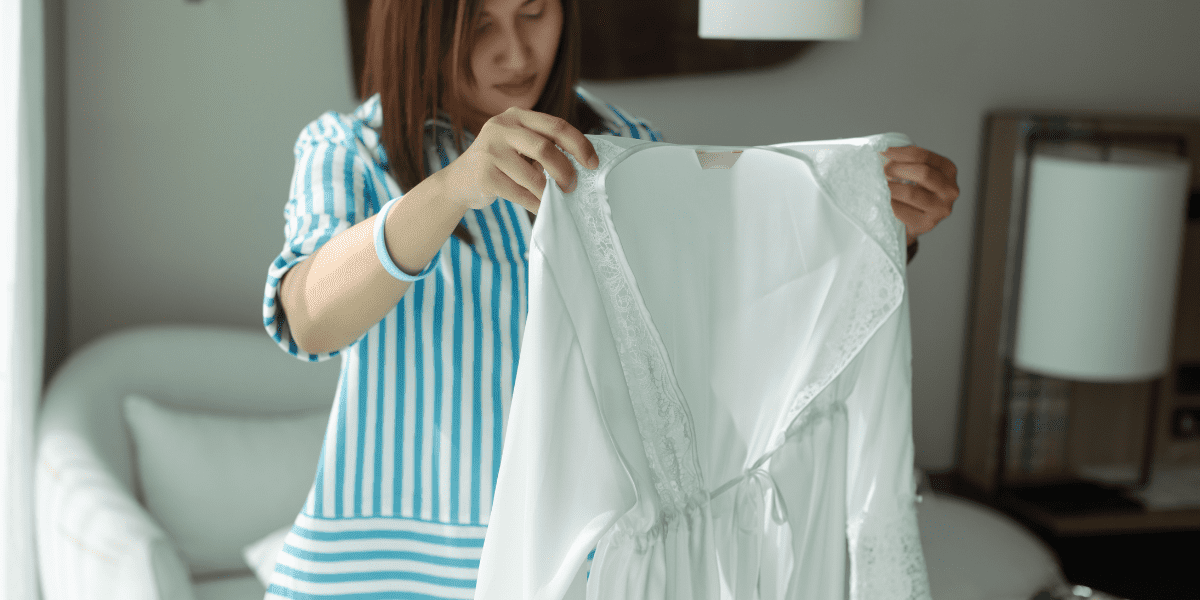 Clothes to wear after giving birth in a hospital
When it comes to the best clothing to wear after giving birth you will be looking for those that offer comfort, ease of use, and versatility. You are likely to give birth in a loose-fitting shirt or nightdress or you may be completely naked.
After giving birth and getting cleaned up you will want to be as comfortable as possible.
You may want to wear the following:
Postpartum pajamas—pajamas made of natural materials will feel kind against your skin and will give you the comfort you need to relax in bed after giving birth.
You can size up if you feel that you need extra room in the pajama bottoms for your bloated stomach. If you are breastfeeding make sure you buy button-down pajamas or wear a tank underneath to keep you warm when lifting your top to feed your baby.
Robe—you will be in and out of bed and back and forward to the bathroom so a robe is essential for when you are moving around.
Leggings/Comfortable Pants—if you want to have a change from your pajamas during the day you can buy elasticated pants such as leggings, joggers, or loungewear which will feel comfortable around your stomach and allow for the flexibility that you will need as you move around. 
Sweater—you will want to wear a sweater or a hoodie for when you get cold during the day. Something that is easy to slip on and off will be best as your temperature may fluctuate while in the hospital.
Many of these items will be what you have at home already but if you are buying a bigger size make sure you don't spend too much money as you may only use it a few times.
These items can be used for a few weeks after birth until the swelling in your stomach and breasts subsides.
Clothes for breastfeeding
We mentioned that the clothes that you wear after giving birth need to be versatile and this is especially the case if you are breastfeeding.
As mentioned, if you are buying pajamas make sure the top buttons are down or are easy to lift up so that you can easily feed your baby.
If you are wearing a shirt instead of pajamas then you can look for buttons or a wrap-style top for ease of access.
Breastfeeding tanks are great for wearing under any of your shirts as they offer built-in breast support and will keep you warm if you are opening or lifting your shirt to feed your baby.
For women who feel self-conscious feeding in public, a tank offers some privacy as it keeps the stomach area covered.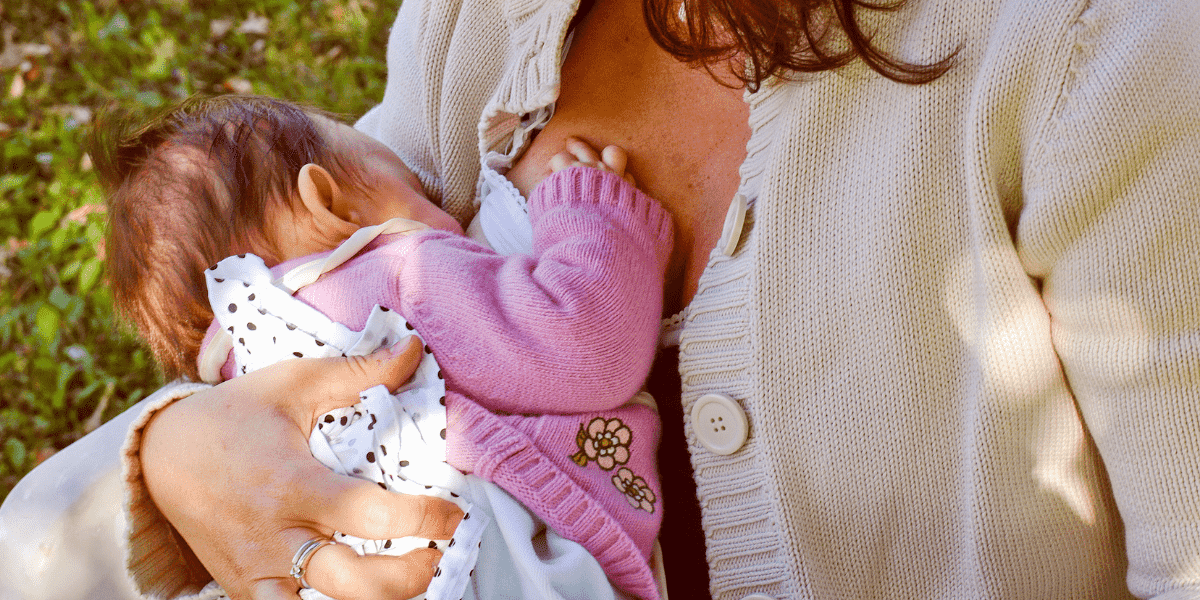 Accessories
In addition to choosing the best clothes for wearing once you have given birth you will need to pack a few accessories to make life easier for you.
Common accessories include:
Hairbands—keeping your hair out of your eyes when you are in labor is a must. If you have watched people in labor on TV you may have seen glamorous hairstyles and stylish nightwear but the reality is very different.
Bras —when you are actually giving birth you are not likely to wear a bra, especially when you are in active labor. After you have given birth your breasts will be tender and your milk will come in, which means that you will require a bra.
A good quality breastfeeding-friendly bra will provide comfort and will allow for easy access when you need to feed your baby. Don't forget to pack breast pads to collect the milk that will leak when your breast are engorged.
Underwear—your stomach will feel tender after giving birth, especially if you have a C-section, so you will want comfy underwear.
Buying a few pairs of pants in a bigger size will help you whilst you are feeling sore and bloated. Bigger pants also make it easier to wear maternity pads.
Socks—even during warmer months hospitals can feel cold and when you are tired after giving birth your feet may feel the chill.
Popping a pair of comfy socks in your bag will help you stay cozy and if you get a pair with a grip you can walk around your hospital room.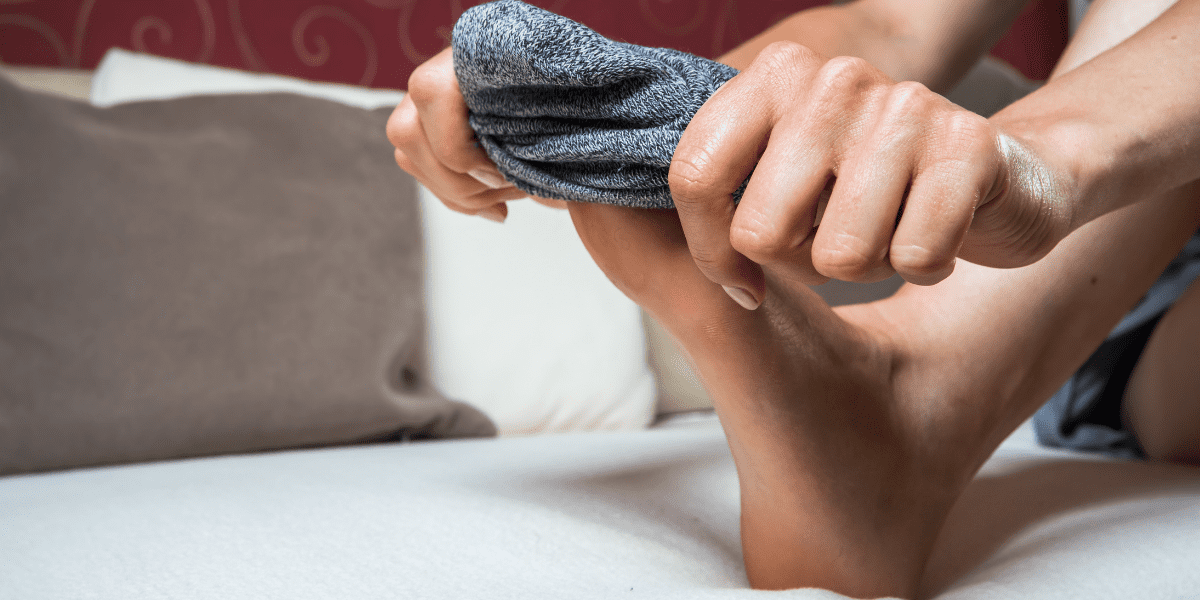 Clothes for returning home
As well as being comfortable in hospital you will need to think about your journey home once you are discharged. The comfortable leggings that you wear around the hospital will also be ideal for going home in and you will want to stick to comfortable underwear.
Depending on the weather, you will need a relaxed T-shirt or a sweater with a tank underneath so that if you need to stop to feed your baby it is easy to do so.
Don't forget your coat and shoes too—it is easy to forget them in the excitement of leaving for the hospital.
You may feel that you need to have nice hair and make-up as you leave the hospital, which is a personal choice.
If you do feel that you would like to do this make sure you add all necessary items in your toiletry and make-up bag.
Postpartum clothing checklist
To summarize, if you are planning your hospital clothes bag and don't want to forget the essentials that will be both practical and comfortable you will need the following:
Comfy underwear (brings a few pairs as you may lose a lot of blood and discharge in the early days after giving birth.
Loose-fitting pants/leggings
Breastfeeding tank
Nursing bra
Basic T-shirt
Pajamas
Robe
Socks
Slippers
Hairbands and hair bobbles
Sweater/hoodie
Coat or a jacket for going home
Packing your hospital bag
Packing your hospital bag is one of the last things that you will do as you prepare for the birth of your baby. For some people, being prepared early on helps them to relax safe in the knowledge that they are fully prepared and there is no last-minute running around.
For others, however, leaving packing a hospital bag until a few weeks before ensures that there is more time to research what to put in their bag and nothing is forgotten.
Whether you are an early packer or a late packer it is important to do a quick check just ahead of your due date to make sure you have what you need.
It is likely, that however organized you are when packing a hospital bag, you will overpack.
Overpacking is understandable, especially if it is your first baby as you don't want to be caught out while in hospital—just remember that it is ok if you don't have time to use that expensive moisturizer that you bought for your stay.
When you start thinking of packing your hospital bag write a list of everything you think you need and you can check as you go along.
When packing, some women like to pack one big bag to make it easier to manage and others will take a bag for the baby and a bag for mom.
It is important not to worry too much about missing something for your hospital bag as the hospital will have a stock of essentials for you to use or a family member can always drop your things off to you.