There's no question about it, it takes a lot of money to raise kids. Take diapers for example, according to the National Diaper Bank Network, diaper expenses can go up to $900 annually, and that's per baby!
Whew! That is a lot of money! Not to mention the other baby essentials that you have to buy or spend for. A very practical way to lessen the cost is to look for ways to buy the cheapest ones in the market.
Cheap does not necessarily mean low quality. You can still buy your favorite brands; you just need to know where to get them.
Struggling with your budget and need a few tips on how to save money on diapers? We got you.
Below is a list of ways on how you can get the cheapest diapers in the market so you can save a few bucks, as well as what stores sells the cheapest diapers.
As an Amazon Associate I earn from qualifying purchases. The links below may be affiliate links. Please read my disclosure policy for more information.
Where to Find the Cheapest Diapers
Amazon – a great place to look for affordable diapers. You can even compare prices between sellers so you can get the biggest deals.
Why you should choose Amazon:
• Low prices and you can even compare seller prices so you can see the lowest rates
• Fast delivery time – two—day shipping for Amazon Mom members
• 365 days return – Unused diapers may be returned at no cost; this is a great offer especially that babies grow really fast! You can return diapers that will no longer fit your baby
• Coupons – Availability of coupons that allows you to purchase items at a lower cost. Click coupon box to see them.
Related: 10 of the Best Baby Night Lights
How to save money when buying diapers on Amazon?
Buy bulk during sales– You do need to be quick about it though. You don't want them to get sold out on you. Because they are sold at such low prices during sales (like clearance, black Friday sales), they sell like hotcakes.
Get Amazon Prime – Aside from getting these items for cheap, you can even save more money by becoming a Prime Member. With your membership, you can get free shipping on many products.
Diaper Subscription – Get more savings by subscribing to get diapers delivered to your doorsteps regularly. Additional advantage? You'll never be out of diapers for your baby.
Amazon Family program – One of the coolest benefits you can get from getting Amazon Family is the 15% off the top discount for all diaper purchases. First month is free and comes with free 2-day shipping,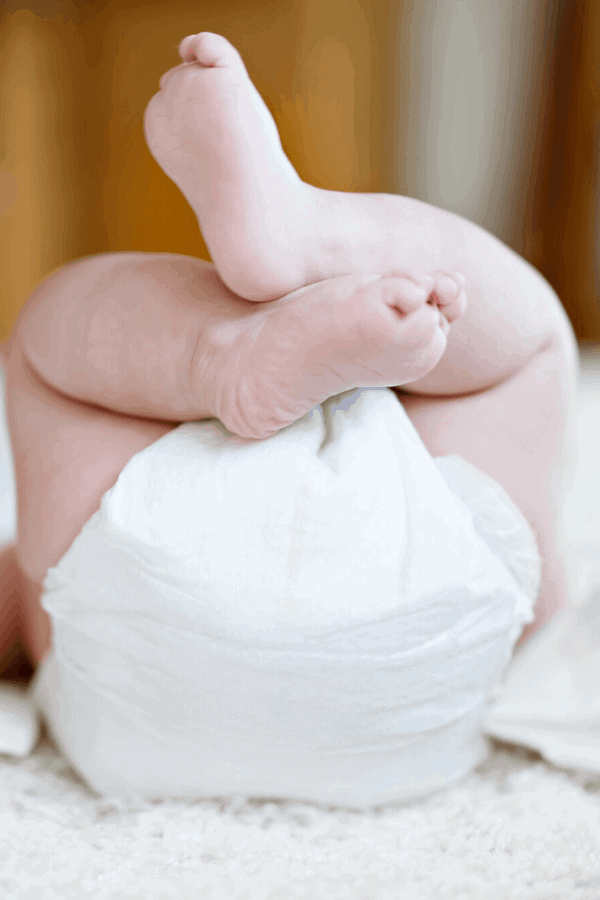 Cheapest Diapers on Amazon
Below is a list of some the cheapest diapers on Amazon:
Pampers Pure Protection Disposable Baby Diapers – This one is Hypoallergenic, unscented, has a wetness indicator.
Cuties Complete Care Baby Diapers – has up to 12 hours o leakage protection, absorbent, and comfy
Pampers Splashers Disposable Swim Pant – great for pool and beach use as it has a double leak guard. Stays fit even when wet since it does not swell in water.
Comfees Premium Diapers – High absorbency and has wetness indicator
Luvs Ultra Leak Guards Disposable Baby Diapers – super soft, snug fit and has wetness indicator.
The Honest Company Super Soft Liner – The Honest Company diaper features cloud-like liner for the ultimate comfort while keeping moisture away. Hypoallergenic and ultra-absorbent.
Huggies Special Delivery Hypoallergenic Diapers – Save money by choosing Huggies Special Delivery. Contains plant-based materials with no harsh ingredients.
Related: 13 of the Best Cloth Diapers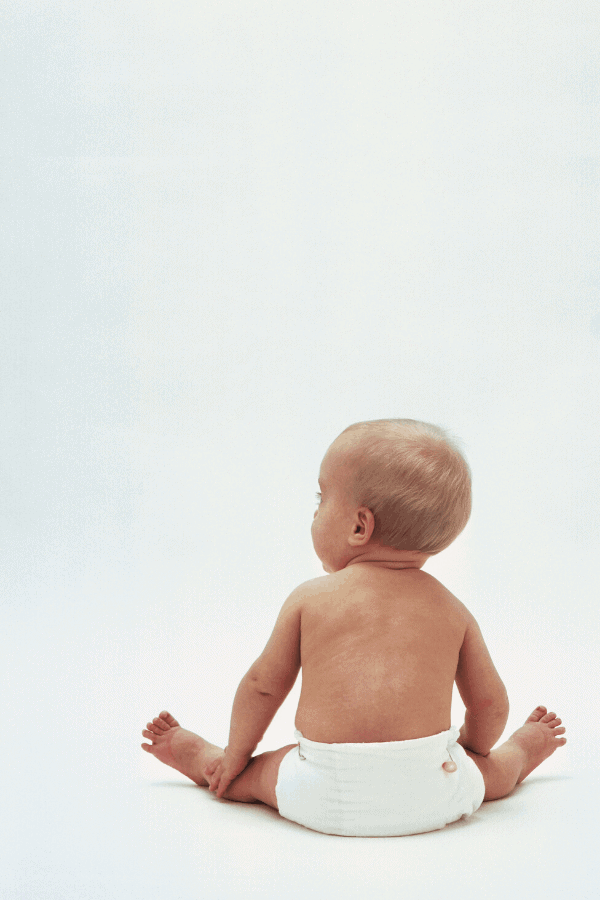 Buy Cheapest Diapers in Bulk
Although you can still get baby diapers at low prices when you buy smaller packs, you can get bigger discounts and save more money by buying in bulk. Here is a list of the cheapest diapers in bulk (highly rated!) on Amazon:
Diapers Newborn – Pampers Swaddlers Disposable Baby Diapers, Enormous Pack – for 8-14 lbs, pulls moisture away and has air channels that keeps our baby's skin dry, and features a wetness indicator so you know when it's time to change your baby's diaper.
Luvs Ultra Leakguards Disposable Baby Diapers, 252 Count – a one-month supply of super soft diapers for your baby. With night lock technology that keeps moisture away from your baby's skin for up to 12 hours. Also has a wetness indicator.
Bambo Nature Eco Friendly Premium Baby Diapers for Sensitive Skin, 162 Count – Has breathable sheets to help prevent skin irritations and rashes. Also has a wetness indicator.
Huggies Little Snugglers Baby Diapers, 96 Count – Has GentleAbsorb Liner that pulls moisture away from baby's skin and has a lock system that prevents leaks for up to 12 hours. Hypoallergenic and fragrance-free.
Seventh Generation Baby Diapers for Sensitive Skin, Animal Prints – This free and clear baby diapers are ultra-absorbent and is hypoallergenic and does not contain harmful chemicals. Eco-friendly as wood pulp in the diaper's cores are ethically and sustainably sourced.
Related: Best Tummy Time Activities for Newborns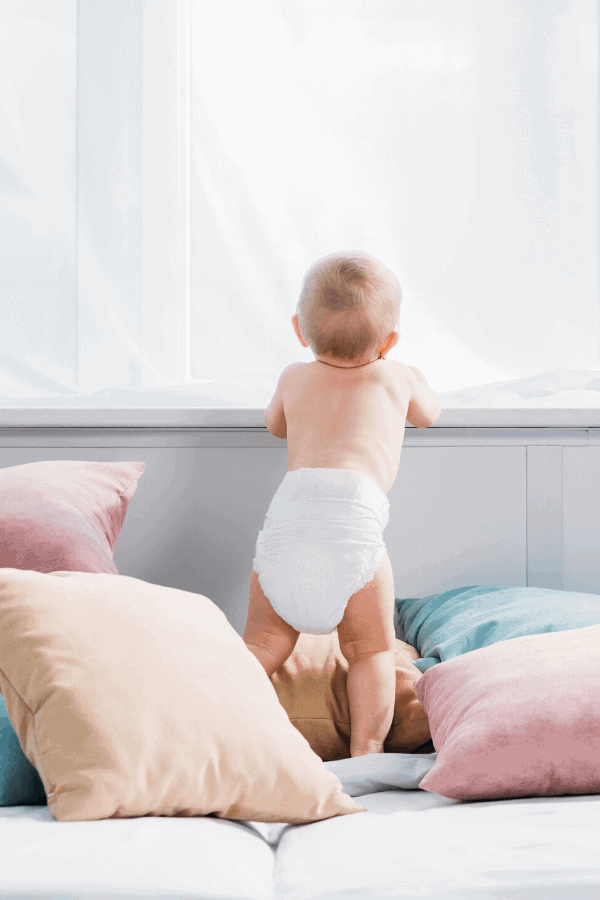 Where Else to Get Cheap Baby Diapers?
Aside from Amazon, here are other great options where you can get baby diapers at super low prices. They also have their own promotions and membership advantages, so check them out, too!
Walmart.com – This is another option if you are looking for the cheapest diapers for your baby. Deals are almost the same online and in the physical store, so it really is up to you to decide how you wish to get your stocks. Spend over $35 bucks and you can take advantage of their 2-day free shipping.
Target – Similar to Amazon, you can also take advantage of Target's diaper subscription. By doing so, you get 5% off on your purchases. Plus, if you are a REDcard holder, this entitles you to another 5$ off. Not only that, Target is known for giving away gift cards to those who spend an X amount on baby essentials/supplies, you can then use the gift card on your next purchase.
BuyBuyBaby.com- Known to have a wide selection of cheap and affordable baby diapers. Take advantage of free shipping for orders $50 and up. No subscription needed.
DiaperBuys.com – Also offers a wide selection of the cheapest diapers in the market. Free shipping available except for Alaska and Hawaii.
Boxed.com – Similar to BuyBuyBaby, Boxed does not require subscription to enjoy their super low rates. You get free shipping on your initial order and for succeeding orders amounting to $49 and up. They also give cashback rewards for every purchase made.
Related: Natural Ways to Treat and Prevent Diaper Rash
Why you should shop online for diapers?
Gone are the days when you literally have to drag yourself (and sometimes with kids in tow!) to the supermarket. Thank God for online stores, mom life has gotten more convenient these days.
Aside from the fact that online shopping frees up a lot of your time, you don't need to put up with hungry, crying, and whinny kids while pushing your cart at the store. We've all been there!
Also, this means you save money on gas! All you have to do is place your order online and your baby's diapers (and other stuff) will be delivered to your doorsteps. How cool is that?
Most importantly, you can get more savings by shopping online since the sites that I mentioned above regularly come up with great deals and promotions that will help moms stick to their budget and save money. If you haven't tried shopping for your kids' diapers online, try it! It's a total game changer.
Related: Best Space Saver High Chairs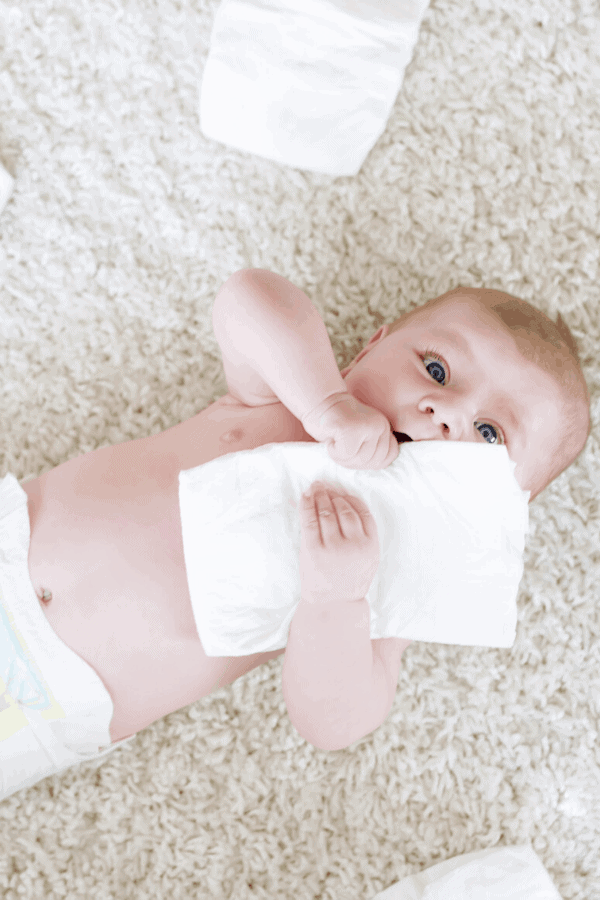 Additional Tips on How to Save Money on Diapers
Aside from being on the lookout for the best promotions online, here are a few tips on how you can save money on diapers:
Stockpile – Whenever you see huge discounts being offered, grab the opportunity to stock up. Clearance sales and the likes allows you to by diapers at a fraction of their original cost.
Get more diaper mileage– You can do this by making sure you put the diaper on your baby properly. Most diapers these days have leak protection so make sure you the placements are correct, and diapers are secured properly to avoid leaks and unnecessary diaper changes.
Don't be in a rush to move to the next bigger size– smaller diapers cost lower compared to the bigger sizes so as long as the diaper is snug and comfy, there is no need to switch to a bigger size or really follow the recommended size on the packaging
Use coupons especially when buying in-store – there's no shame in the couponing game. Some might give you a raised eyebrow but wait till they see how you saved on the register; they might start using coupons in the future too.
Go commando – It's great to let baby's skin breathe once in a while so let them go commando sometimes. You can do this especially after they have just finished pooping just to make sure there won't be accidents in the living room or kitchen because nobody wants that.
There might be no way around spending money on our growing baby, but it doesn't mean we just mindlessly shell money out right away. There are many ways to keep the budget down. With a little research and maybe get some recommendations from other experienced mommy friends, you just might be able to stumble upon some cool ways to save money.