The anticipation and joy of waiting for your new baby cannot be compared to anything else you will ever experience in your life.

Making adequate preparations whether it's your first or your fifth child means that the experience should be a little less rocky.
Everyone wants a smooth sailing and trouble-free birth.

A birth that is super straight forward, and you are in and out of hospital within hours.

Unfortunately for the vast majority of us this hasn't or won't be the case.

Being prepared for any situation is the one thing that gets us through.
After having 5 natural births I can tell you hand on heart that every single birth has been completely different.

This is why it is vital that you go in prepared.
Here is my honest review of BIRTH IT UP. Which I believe to be the best online birthing course.
Are birthing classes necessary?
The fact that you are thinking of taking a childbirth class means that you want to arm yourself with as much knowledge as you can about birth.

Trust me that's a good thing!
When to take a birthing class
Most birthing classes take place during the third trimester.

Normally in the 7th month so that the information is fresh in your mind just before you give birth.

The courses are either intensive one day or weekly over 6 weeks.
These courses are normally geared towards first-time moms.

Moms like me who have had a bad experience and want to go to a childbirth class just to get some confidence can feel a little uncomfortable.
Imagine….
A class where all your birthing tips and plans were all organized for you in one place?

Imagine you just needed to access one place when you needed clarification of something or if you had forgotten something?

If this is something you want then BIRTH IT UP! Is the prenatal course for you.
This is not your average face to face birthing class. BIRTH IT UP is an online birthing class accessible from your phone or tablet and taken at your own pace.

All you need is an internet connection and some dedicated time to go through the lessons.
I believe that preparation for childbirth is what makes it easier and I would much rather know about all of the pain relief options and all the things that could go wrong to give me the control over my labor and delivery.
Taking an online birthing course can do wonders for your confidence.

This is a fantastic course for anyone who has a real fear of labor as I did

Empowering you to have the birth that you ultimately want.
Why should I consider this online childbirth class?
There is so much information online that it could lead to confusion.

In this course, the lessons are set out neatly, in a specific order and give you just enough information not too much and not too little.
When online it is difficult to tell where the information is coming from.

The course here is taught by a labor and delivery nurse for over 4 years.

She has also helped thousands of moms actually go through labor and birth and doesn't just give advice based on her own labor experience.
Who is the online birthing course for?
If like me you had a terrible experience with your first labor and delivery and need to do an online course just to restore your faith in not only yourself but the medical field then this is definitely the course for you.
If your partner would also like to be part of your class but you are both finding it difficult to arrange something to suit you, then this is an excellent way of doing the course at a perfect time for both of you. It is a great prenatal course for couples.
Im looking for an Online Prenatal class for couples
If your partner is queasy and the thought of birthing scares them then this is an ideal class for them.

There are no graphic images of women giving birth or pictures that may frighten either one of you.

Liesel describes how things work eloquently and helps rid fear out of labor.
If you have other children who you struggle to find childcare for, an online birthing course is wonderful.

Related: THE BEST ONLINE BIRTHING CLASSES COMPARED
When to take a birthing class during pregnancy

You can take the childbirth class wherever and whenever you want.

Because it is taken on teachable you can even take it on a tablet or mobile phone.
You had an epidural with your last delivery and really want to try and do it without it then this is also covered in this course
Having a large gap between your children and feel like you are giving birth for the first time.
If you had your last baby via Caesarean and want to try for a vaginal delivery then everything you need to know is discussed.
You live in a remote place and the nearest birthing class is far then an online class is ideal.
This online natural childbirth class can be taken at your own pace and if like me you struggle when you are pregnant to retain information then you can cover this course in small manageable chunks.
You will be given an ultimate guide to labor and delivery which has lots of checklists such as what you need in your hospital bag, postpartum essentials, how to induce labor and so so much more.
Related: The Hyperemesis Gravidarum diet that got me through my fifth pregnancy
How is the antenatal class taught
The course is taught through a platform called teachable.
The course has 3 hours of video and 30 lessons.
The lessons are broken down into small chunks so they can be watched as a whole course or as their own entity.
Who teaches the Online birthing class?
The course is taught by Liesel Teen; a labor and delivery nurse for over 4 years.

She has helped thousands of women through the birthing process and now wants to share what she has learnt with you.

She is also a mom so having actually been through the process herself means she knows exactly how moms feel!
Liesel talks openly about her own birth story which makes her so much more relatable.
It's one thing learning from someone who has supported women through the birthing process, but something different when they have actually been through the processes and pain of childbirth themselves.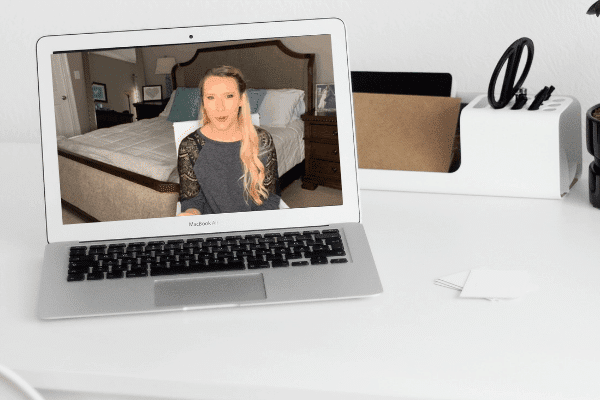 Access to the Private Facebook group
The course also provides access to an exclusive member-only Facebook group. This is where you can ask questions and share birthing experiences.
This is priceless, having a place where you can find support with like-minded moms is what keeps you going through the whole process.

Just throw a question into the group and you will get an answer really quickly.
The best thing about the group is that Liesel is very active and answers on most if not all of the posts.
Receive an extra manual and many important checklists
*Hospital bag checklist
*How to induce labour
*Birth plan guidelines
*Baby registry checklist
*Postpartum essentials
Non-judgmental tone to pain relief
Although this course is heavily geared towards having a natural labor, pain relief options are all discussed.

In Liesel's opinion, it is better to be prepared for any eventuality and that includes epidurals!
Which hospital will you give birth in?
Liesel talks about how to research hospitals when you are planning to give birth and what questions to ask your healthcare provider.

This is such an important thing to do as early on in your pregnancy as possible.

Unlike courses that you attend late in your third trimester.

The benefit of doing an online prenatal course early gives you enough time to research hospitals and change if you need to.
You wil be taught how to push
The most important one for me was how to push as I had no idea with my first.

I like the way Liesel talks you through this vital step of childbirth.
This online course will go through your BIRTH PLAN
Liesel goes into detail about how important the birth plan is?
What needs to go into your birth plan? And what is important to you?
Birthing tips for your partner
One segment of the course focuses on tips for your partner.

I would suggest that if you can get them to watch any part of this class then this is the most important for them.

It is a great birthing course for couples.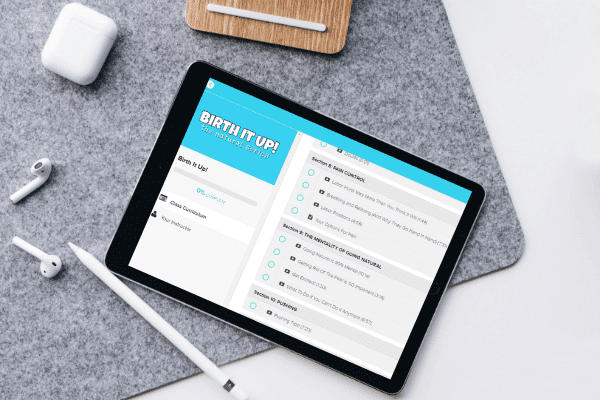 Postpartum care
Liesel talks in-depth about after delivery and postpartum care which in my opinion is just as important as giving birth.
Special circumstances
The course outlines some special circumstances that you could potentially be faced with.

I would encourage you not to skip this section as it is good to be prepared for any eventuality;
*Preterm Babies
*Multiple Births
*Breech births
*VBACS
Liesel also discusses things that even I, as a mom of five was unaware of such as; the role of magnesium and having a breech birth.

It is so nice to have all the information available in one easily accessible place.
It is an affordable prenatal online course
This course is one of the most comprehensive and affordable online courses available and with our coupon code MAMAOF5 you can save 10% making it a great investment.

Once you have paid for the course it's yours for life which is brilliant especially if you plan to have more kids.
If for any reason (which I doubt) you are unsatisfied with the course you can get your money back within 30 days.
Pros of the online prenatal course
*Lifetime access
*The course instructor is personable and relatable
*You don't need to travel far to attend a course
*Affordable price, this course is one of the lowest priced birthing courses that I have seen online.

Most courses with similar content cost at least 3 times as much.

It is an excellent, thorough and comprehensive course which you will have lifetime access.

In my opinion, this course is a great investment; especially if you are planning other children.

With our code of MAMAOF5 you can get a further 10% off the course.
If you are on your 2nd,3rd or 4th child there is something for everyone to learn and a refresher is always good
*The course is accessible via your mobile
*All the information is in one place
*You and your partner can take the course at a time that suits both of you.
*A private Facebook group where you can share experiences and ask questions
*You can even access the course while you are IN LABOR!
*You will also get the ultimate labor and delivery manual which is an excellent resource
*The course covers postpartum care which some face to face courses don't discuss in detail.
*30-day money back guarantee.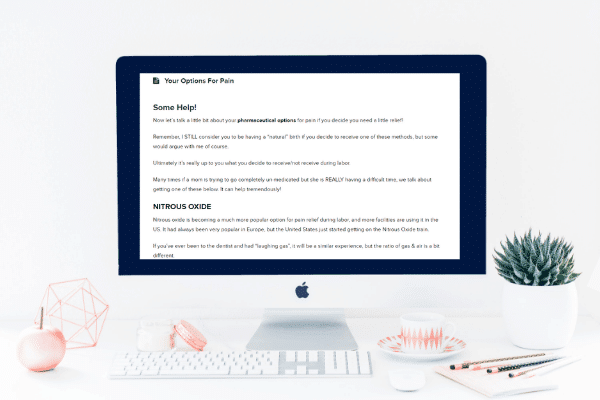 Cons of the birth class online
*You won't meet anyone face to face
*You will be looking at the screen so it's not interactive
If you have had previous children you may find some areas repetitive.
*Some lessons may not be applicable if you are a resident outside of the United States
*You won't be able to learn hands-on things such as massage during labor, changing nappies or swaddling.
My thoughts on the online birthing course
I found Liesel to be personable and relatable and she came across as someone who knew exactly what she was talking about.

She gives lots of examples of things she has seen and you can tell she is a well-experienced labor and delivery nurse.

She also discusses her own experience of labor and can relate to how painful labor is.
I love the fact that this course is broken down into easily manageable chunks.

I love the fact it can be used by first time moms and moms who have 6 kids. There is something for everyone to learn.
This is by far one of the most in-depth online birthing classes I have come across. Not only that at a cost of $39 it is one of the most affordable online bithing course.
All in all, a comprehensive course that I wish was available for me to take when I desperately needed some support after the birth of my first child.

If you are anxious about giving birth naturally this course really will give you the confidence to Birth it up and get you pumped for pushing!
I can say that this is the best online birthing class online
HERE'S THE LINK ONCE MORE JUST IN CASE YOU MISSED IT DON'T FORGET TO USE MAMAOF5 FOR 10% OFF!