Are you looking to read a Milkology class Review online?
Are you looking for a breastfeeding class near you?
Are you searching for lactation classes? Or even a lactation class online but have had minimal luck?
Then what you need is the Milkology Online Breast Feeding course
Here is my honest and hopefully detailed review of the Milkology online breastfeeding class as a mom who has breastfed 5 kids.
Disclaimer: If you purchase any classes in this post, we may receive a small commission. We promote only the products which we test and recommend. Read our affiliate disclaimer here.
Why you need a Breastfeeding class?
Before the birth of my first child, my husband and I made a decision that I would try and breastfeed for as long as possible.

I spent so much money on books that I thought would be able to prepare me for what I believed would be a smooth sailing breastfeeding experience.
When my baby was born we had immediate skin to skin.
He latched on straight away and the breastfeeding consultants all said the latch was perfect

I thought to myself this is so easy!
Little did I know that things would take a turn for the worst.

I believed my son was latched on and drinking but by day 9 my son had become lethargic and unresponsive. He was admitted into the hospital as he looked so unwell.
His weight had dropped significantly and he needed formula as he was so undernourished.

I pumped at the hospital to keep my milk supply up and would feed him the pumped milk in a bottle.
Unfortunately, when we got home, he refused to latch on.

So, I continued to pump up until my baby latched on at about 4 months old.

I then continued to pump to keep my milk supply up and also in case of any relapses of what had already occurred.
With my second child, it seemed a little better he also latched on almost immediately but was slow to gain weight.

I was under constant pressure to top up with formula from doctors and health professionals.

Cracked, bleeding nipples, sleepless nights and trying to heal postpartum meant that breastfeeding was so difficult. I was losing all confidence in my ability to breastfeed.
That topped with a 1-year-old made this experience even more difficult.

So when I found out I was pregnant with baby no 3, I decided that I would take an online breastfeeding class as free online breastfeeding classes, YouTube videos of breastfeeding moms and books hadn't given me the knowledge and confidence that I was looking for.
I've written a few breastfeeding posts outlining my journey:
After my difficult experience with my first child and a not so great breastfeeding experience with my second, I decided to take an online breastfeeding course.

My Search for a breastfeeding class near me was well and truly over and I was going digital! I had finally found the MILKOLOGY BREASTFEEDING CLASS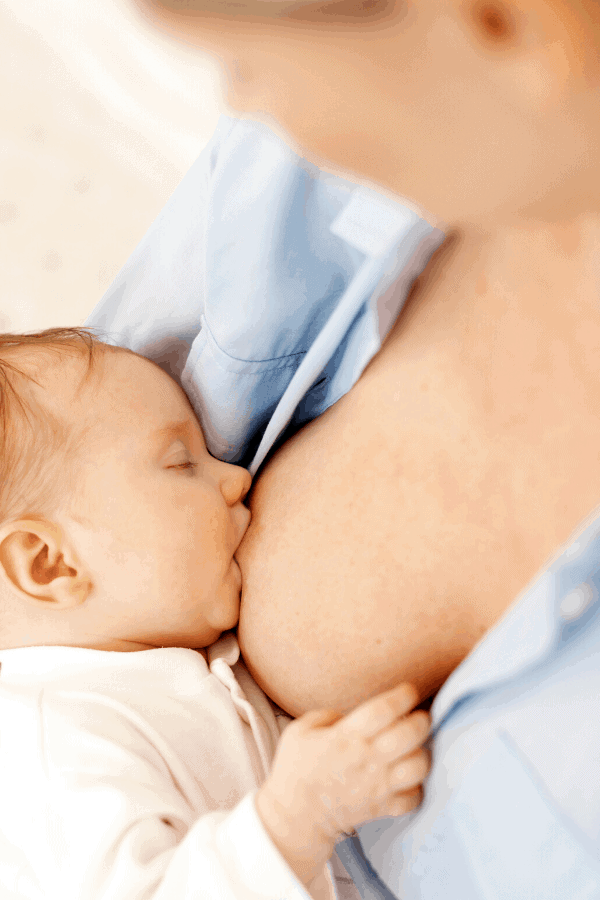 Who is the Milkology breastfeeding course for?
The Milkology breastfeeding class is not just for moms who have found themselves in a pickle with breastfeeding. This course can be taken by:
Pregnant moms preparing for breastfeeding
New moms who are struggling to breastfeed

Moms who haven't breastfed before and would love to prepare themselves by taking an online breastfeeding class

Seasoned moms like me who had bad experiences of breastfeeding in the past, and want to rebuild their confidence by taking an online breastfeeding course.

Doulas who want an online breastfeeding class to gain some more knowledge on breastfeeding.

Nurses who want lactation training online
Related: Best Bassinet for Breastfeeding
Why is it so important to take a breastfeeding class?
For me, I struggled with low milk supply issues for my first two breastfeeding journeys.
I was adamant that I wanted to breastfeed my baby for its wonderful benefits such as the nutrients and the antibodies it provides against some common diseases and ailments.

I wanted my baby to benefit from having all the benefits of breastmilk.
Traditionally breastfeeding was an art passed down from generation to generation.

Grandmothers would get involved showing new moms how to latch a baby on and giving support with cooking nutritious food to aid breastmilk production and supply.
However, there seems to now be a re-emergence in the number of women who are and want to breastfeed.
The introduction of the breast is best and the WHO supporting exclusive breastfeeding until 6 months.

Hospitals are not providing samples of formula when you leave the hospital is a way of encouraging women to breastfeed.

There also seems to be a generation gap where breastfeeding declined in the 1980s, therefore, the support wasn't available.

My own mother was unable to support me as she formula fed all of my siblings.
I also found a lack of support in the medical community.

This was especially the case when they realized that I wasn't a first-time mom.

The hospital seemed to assume that I 'knew' what I was doing which certainly wasn't the case.

In fact, I think I needed more support breastfeeding due to my previous experience.

however, there was not enough staff to help me or to advise.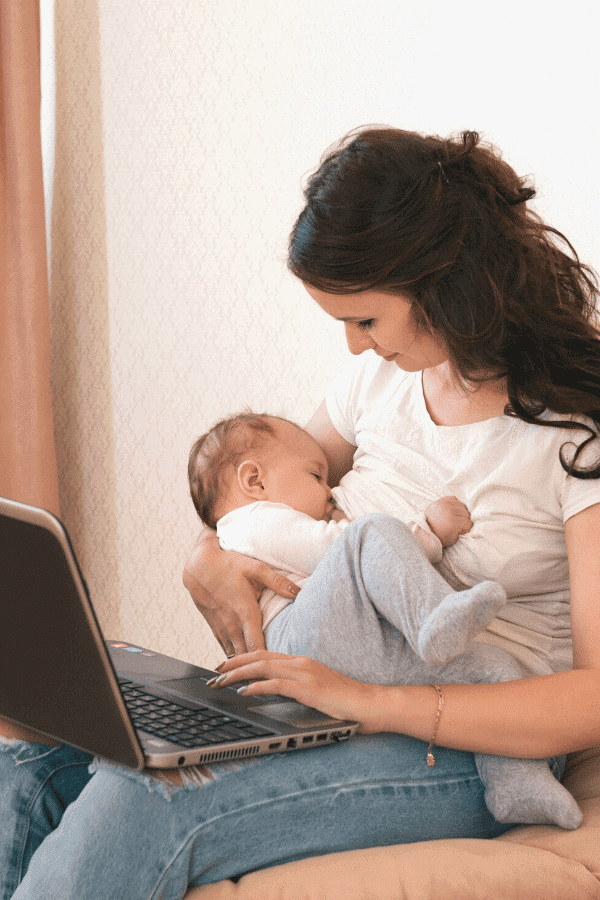 Why a Breastfeeding class is so Important
I would wholeheartedly encourage you to arm yourself with as much knowledge as possible before you give birth.
Some hospitals may not have adequate staff and like me, you may be sent home literally hours after delivering your baby.

You may feel you have got the 'technical' side of breastfeeding but what about all those questions that lie in between?
If you are set on wanting to give breastfeeding your best shot then this is the online breastfeeding course for you.
The Ultimate Breastfeeding Class is written by Stacey Stewart who is a qualified lactation educator and mom of 3.

I found the course covered literally EVERYTHING I needed to know about breastfeeding.
When I was breastfeeding I found that having a glider helped my posture and h helped me nurse my baby correctly. The glider also stopped me from slouching and getting a back ache.
Milkology Ultimate Breastfeeding class summary:
#How you can tell your baby is getting enough milk
#Lots of tips on latching
#Common breastfeeding mistakes that can sabotage breastfeeding
#How to increase milk production
#Tips on breastfeeding in public
And much more….you even get to see what breastmilk looks like under a microscope!
How the course is taught
The lessons are hosted on a learning portal called teachable.

Once you have purchased the online breastfeeding course you will receive all the information you need on how to log in and access the course.
It is a combination of breastfeeding class videos, images, printables, and exclusive discounts.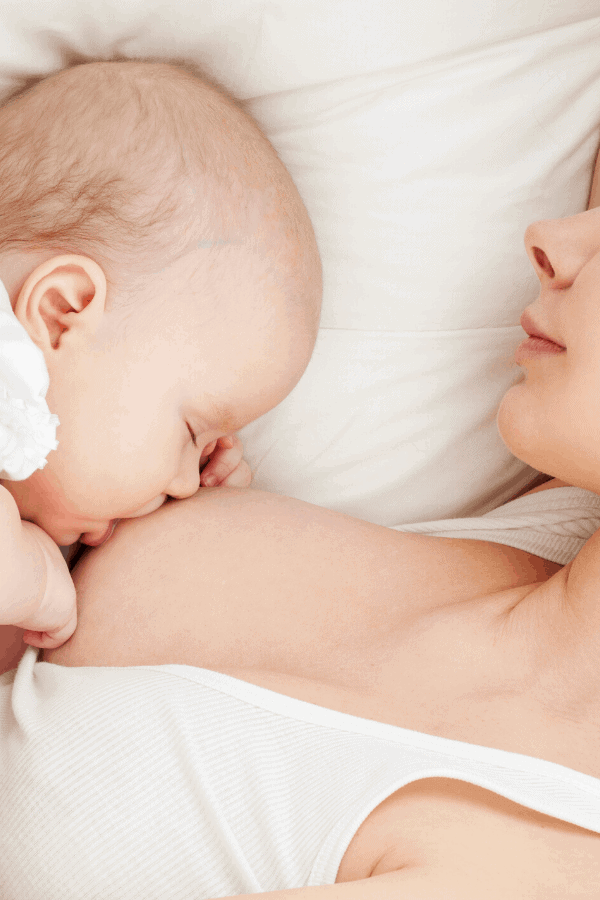 The course gets straight to the point
There is no beating around the bush and the breastfeeding class gets straight to the nitty gritty!
Stacey also covers the 'why' element of breastfeeding. She goes through why breast is best.

This is essential in understanding why you are breastfeeding.

Like I have mentioned above although natural breastfeeding is not easy in fact, I would say that I found it incredibly difficult with my first two children.

There will be days where you feel like an absolute failure or may even feel like packing it all in.

But in this course, Stacey explains why breastfeeding will benefit both you and the baby, not only in the short term but well into the child's future.
The Milkology breastfeeding course is self-paced
Hands down the best thing about an online class is that you can take the course whenever or wherever you feel comfortable.

While the kids are in bed, or on your phone in your pajamas with a cup of tea.

It is totally up to you! For me, the most important thing was being able to watch and learn at a quiet time.

Being able to go back and repeat bits if I needed to as I have major concentration issues was a blessing.
I couldn't attend a class due to having 2 kids and being heavily pregnant.

My husband was also working out of state so it would have been near enough impossible for me to go to a Lactation class.

The online element of the course meant that it was accessible for someone like me.
If you live far from a class, have a disability which means you can't attend a class or if you are introverted then this is going to really help support you without you physically attending a class.
The Milkology online lactation course is set out in a way that you can refer back to it once the baby is born.

A refresher as many times as you like and there are also printables that act as a quick reference manual.
RELATED: 18 OF THE BEST BIRTHING CLASSES COMPARED
The Milkology Breastfeeding class is affordable
This is one of the most reasonably priced courses I have seen online.

The course costs less than a takeaway and has lifetime access.

If you are planning to have other kids it's well worth the investment.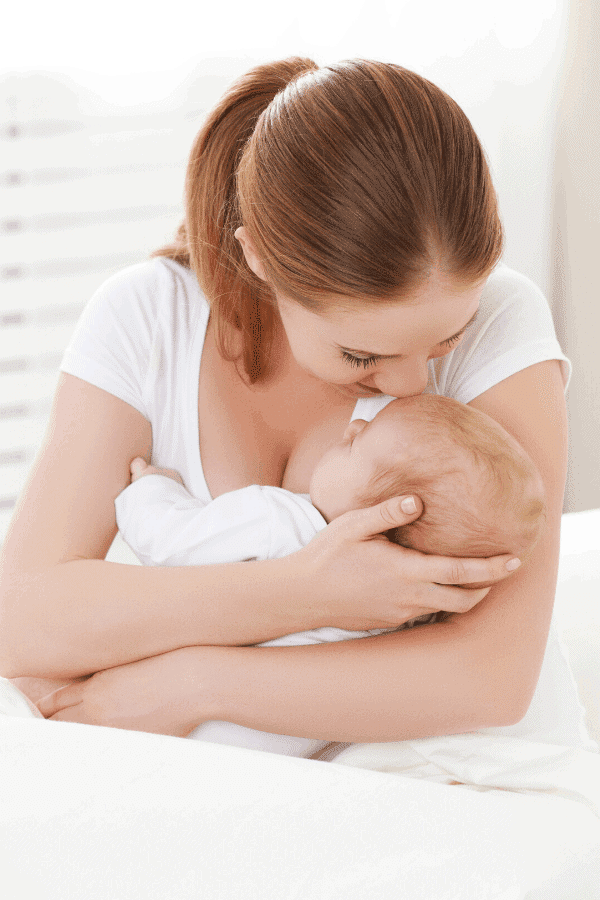 BREASTFEEDING ISN'T CHEAP.
If anyone tells you that breastfeeding is free and it's cheaper than formula feeding, I would beg to differ.

I spent money on books, supplements, tea, lactation cookies, numerous bottles and teats that I didn't use.

I also Rented a hospital grade pump, heat pads for the let-down and ice packs for engorgement.
Paying for a private lactation consultant to come over on Christmas Eve to check I was latching the baby on correctly which was not cheap.

If I had taken this course then many of these problems could have been rectified without expensive interventions.

This online breastfeeding class would have given me the confidence to believe in myself and not have had to rely on an expensive lactation consultant. This was an investment that really paid off!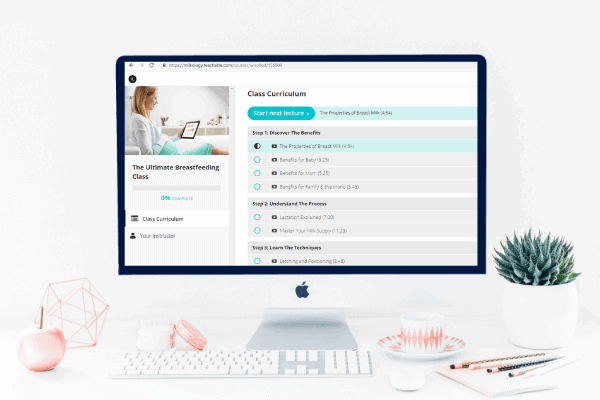 Step by step guidance
Stacey holds your hand through all the steps of breastfeeding.

She talks you through the entire process of breastfeeding. From how to prepare for breastfeeding, getting through the tough first weeks of breastfeeding, maintaining your supply and weaning your child off the breast.

How to make breastfeeding a success
The Ultimate Breastfeeding Class talks through tips and tricks to improve the chances of success.

Stacey goes through the best ways to latch baby on, lactogenic diets and how to read hunger cues in a baby.
Breastfeeding Problems
One of the most important sections of the course is the problems that could arise while you are nursing your baby.

Problems with latching the baby, low milk supply, mastitis, and nipple pain can be incredibly painful. Combined with a sleep-deprived mom can absolutely ruin your breastfeeding experience.
On paper, these problems seem small but in reality, could ultimately cause you to give up breastfeeding altogether.

Stacey goes through all the red flags to look for and how to prevent problems with breastfeeding from ruining your breastfeeding journey.

Stacey talks about breastfeeding basics, breastfeeding hurdles and is a wonderful prenatal lactation class.
Please do not skip this segment of the course as it is one of the most important.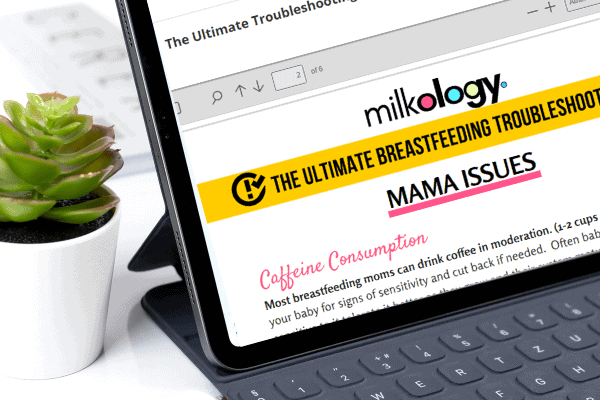 Milkology also has Pumping and Expressing Milk Courses
The course also covers the basics of expressing and pumping breast milk. Stacey discusses the differences between manual, electric and hospital grade pumps.

She also gives advice on what to look for in a pump and how to pump efficiently.

Stacey also talks about the importance of storing milk properly and what the guidelines you should be following.
If you are like me and a stay at home mom or a mom that works from home then this should be sufficient.

However, if you are thinking of returning to work then I would highly recommend that you take The Ultimate Back to Work Pumping Class.
LEARN HOW TO PUMP LIKE A PRO IN JUST 90MINS
PROS OF THE COURSE
*You can take it in the comfort of your own home
*You can share it with your partner who may have not felt comfortable attending a breastfeeding course.
*If you have issues with childcare as I did then this is an ideal way of learning
*Whether this is your first baby or your fifth there is something new to learn for everyone.
*The teachable aspect means that it's accessible on any device such as your phone or tablet
*Note sheets and summaries meant that I had a summary to refer to
*You will have lifetime access to the course, this is brilliant if you intend to have more kids
*You receive extra bonuses
*30 day Money back guarantee if you find the course unhelpful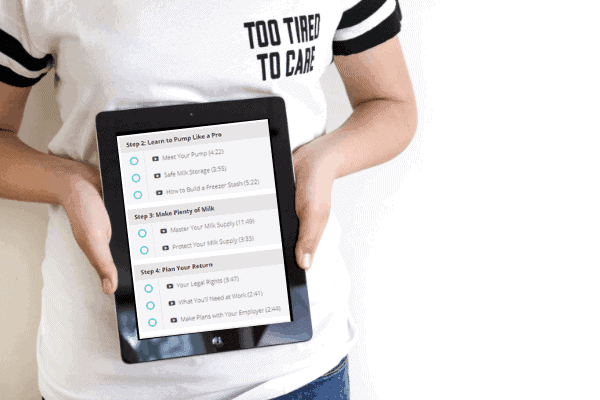 CONS OF THE COURSE
*You will not meet anyone as it is an online breastfeeding course.
*It is a video series so some concentration is needed.
*A few more positions would have been good to see
*The course is very much on the side of 'breast is best.' So please don't take offense if you have given formula to your baby.
My Thoughts
I wished that I had taken this online lactation course when I was pregnant with my first child.

Even after breastfeeding 2 babies I went on to learn so much. There is a wealth of information combined in one place and only took 90mins.

I felt less confused then if I spent hours watching YouTube videos. I knew the information I was receiving was from someone qualified to give it.

If there is one thing that you should do during your pregnancy its sign up to this class. It's what I would call an investment to ensure an easier breastfeeding journey.

For all you pregnant mamas you are truly one step ahead of the game if you take this as a prenatal breastfeeding class.
Milkology Breastfeeding class is for UK moms too!
I have had so many messages from UK moms (or mums) who have emailed me asking about the Milkology online breastfeeding class. I have asked Sara a mom of 2 to give us her thoughts on the course.

Sara a mom of 2 from London took the course after having trouble breastfeeding her first child.

I took the Milkology breastfeeding class after a failed breastfeeding experience with my first child. I felt as though I had literally no support when it came to breastfeeding in the UK.
When my Son was born the Midwife checked the latch and said everything was ok.
I went home and continued to breastfeed him. I was bleeding, sore and had cracked nipples.
I contacted the midwife to told me to attend a breastfeeding cafe. I really couldn't bring myself to attend.
I had just given birth and did not have the confidence to take my tiny baby out and then breastfeed in front of a group of other mums.
I spent £160 on 2 visits from a lactation consultant who told me the baby did not have a tongue tie and I should continue putting him on the breast.
There was something not right, I really tried my best as I am a huge advocate of breastfeeding so with a heavy heart I gave up.
I have recently given birth to my second child and before I did I made sure I found an online breastfeeding course.
There are no online antenatal breastfeeding courses in the UK so when I found the Milkology series of breastfeeding classes I was over the moon.
For less then £20 it gave me the back my confidence and helped me get rid of the feelings of failure that I had with my first child.
I then went back to buy the Back to work pumping class, which was amazing.
We don't have a big pumping culture here in the UK and it was refreshing to see that you can in fact exclusively pump successfully with the right support.
If I do go on to have another child exclusive pumping is something that I would seriously consider now.
So if you are a UK mum in two minds about taking the Milkology online breastfeeding class I would unequivocally say go for it!