Carrying your baby in your arms all day long whether you are at home or out and about can be strenuous and tiring. There are tons of options in the market for baby products where you could put your baby down and not have to worry about their safety. When you're outside a stroller can easily suffice the tiring activity of holding your baby in your arms. When you're at home, you can opt for a baby bouncer or swing to keep you hands-free and go about on your household chores.
Best Overall Front-Facing Baby Carrier
(MamaOfFive #1 Choice)
 5/5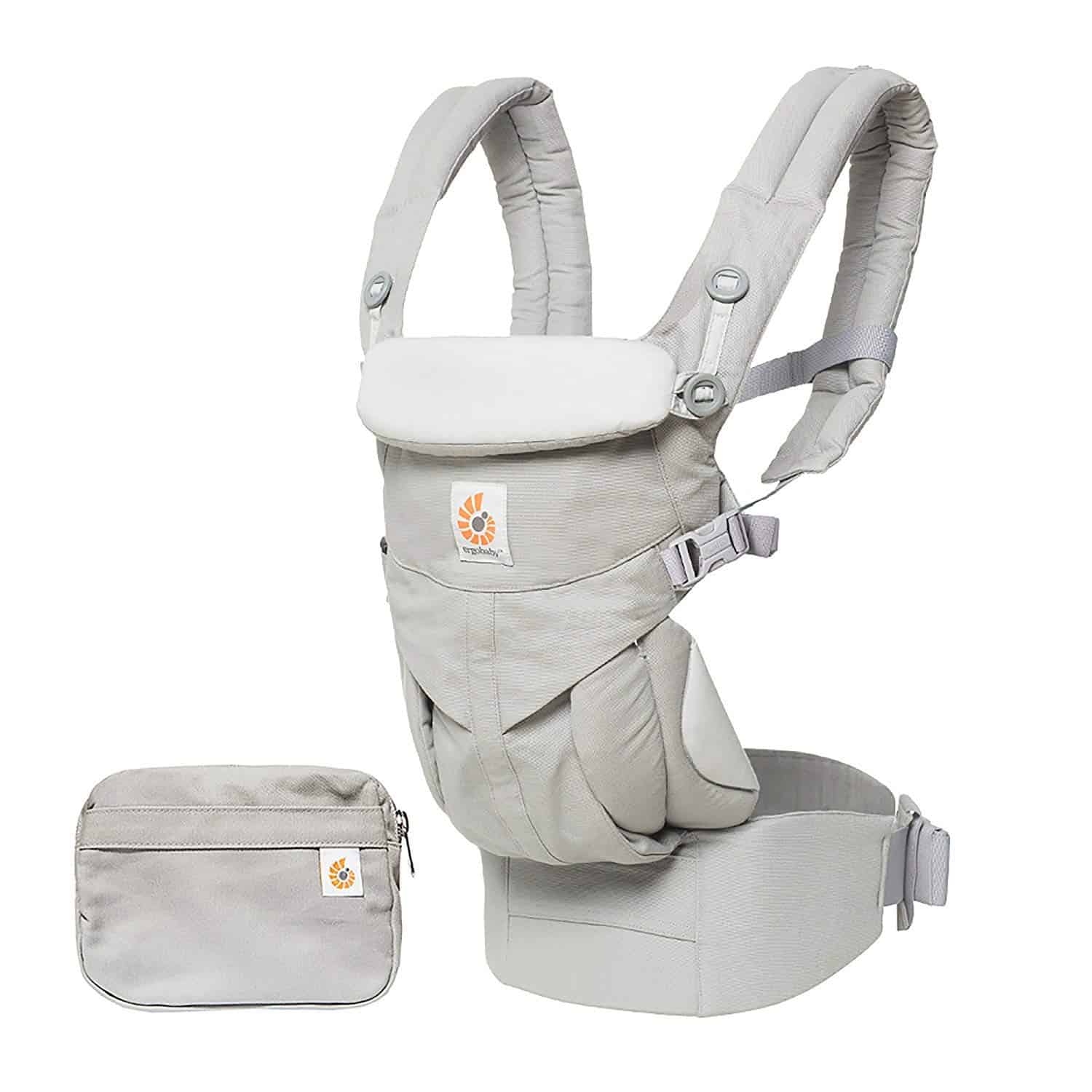 Flexible design
Easy to adjust
Fit for all stage
Easy for Parent & child
Here's another option as well – a baby carrier, specifically a front-facing baby carrier to elevate your movement and capacity to do certain things. In this article, we will tackle the best front-facing baby carriers that might make you go to the nearest store or order online to buy one for yourself and your baby.
Advantages of a Baby Carrier
Give you a little rest
It will give your arms a short break because carrying your baby is truly an exhausting task.
Hands-free
This will give you the convenience of having a lot more movement and be hands-free. Having both hands will allow you to have more things done and move about freely, especially when you are outside.
Promotes bonding & peace of mind
Unlike a stroller or a baby bouncer, you will have your baby as close to you as possible giving you a lot of cuddle time with your little one and assurance that you will be able to keep an eye on your little one and also reach out to them as close as possible.
Promotes Physical Wellness
When your baby is in the upright position during carrying, and it will help with better digestion and prevent physical abnormalities, especially when they are lying down.

Types of Carriers
Front carrier
This offers your baby a closer distance to your chest and attached in front of you that will allow you to have the option of positioning them either inward frontal where they are facing you or outward frontal where they meet their surroundings. Both facing in and facing out baby carriers are comfortable if you know how to use them.
Wraps
A long piece of fabric either woven or knit, that usually 'wrap' around your body and will create a carrier that adjusts well to your baby's body
Slings
Goes around your body over one shoulder and crossing to your torso. They can either come in padded or no padding and might also come with rings for you to adjust it.
Now that we gave you the advantages of having a baby carrier let's explore more on the forward-facing position that this article will dive in.
The front-facing position is famous, but it is controversial as well because of the adverse claims that these are bad for your baby. But fret not, if you want a forward baby carrier, we will discuss the advantages and give tons of tips on how to prevent the issues a front-facing carrier could have.
Upfront, experts recommend that babies that are five months older and able to support their head and neck should be able to handle front-facing carriers better. So to be safe and probably the best for parents to take note of this to prevent any complications.
Table: Top 10 Best front facing baby carriers
Best front facing baby carriers – 10 Products Reviewed
#1.ERGOBABY CARRIER OMNI 360
Popular Choice
The ErgoBaby Carrier Omni360 offers the best forward-facing carrier out in the market. This newer model that is essentially an ErgoBaby 360 and Ergobaby Adapt emerged into one with additional features and more exceptional performance. Not only that, it has four carrying positions that you can easily adjust your baby in The design also caters to accommodate the different fit of the wearers from petite to larger frames.
Pros
Machine washable
Massive storage pouch
Designed to easy breastfeeding
Cons
The structured bucket seat is ergonomically designed for your baby to sit in the most comfortable position. It is perfect as a baby carrier facing out as the seat on this keeps your baby's hip safe and still holds the "M position" which is the best shape that your baby should be in when facing outwards.
Why We Recommend
Four Carrying Positions
Four convenient carrying positions will provide you ergonomically designed seats whether you decide to lug your baby on your back, on your hip, facing inwards or facing outwards
Will also be happy to know that switching to inward and outward positions to accommodate you and your baby is as easy as it can be, just by turning the buttons for the seat adjustments you will be able to change into the position you need your baby to be in
Lumbar Support and Great Comfort
The waistband on this has additional lumbar support that fits your body and has adjusters that you can quickly tighten to your comfort. The broad dimensions of the waistband also allow distributing the weight of your baby evenly.
Hood

Carrier also has UPF5+ hood that will provide your baby sunshade and give protection against the wind as well. The shade will also give you a little privacy when you breastfeed your infant.
Crossable Straps
Can easily strap this into an X across your back that will fit you perfectly and provide a lot more support for your backside.
Detachable Storage Pouch
Don't have to worry about fishing through your bag with the essentials you will need throughout the day. You can easily store your phone, keys, wallet and even your baby's necessary things such as diapers and wipes in the storage pouch that this carrier provides.
The fantastic feature of this baby carrier is its neck pillow. It gives enough support for your baby. You can adjust each side of the pillow by using the button.
Some Things We Did Not Like
Bulky and Not Compact
You are going to store this away or want to carry it in a bag, this does not fold as easily
Can be Warm
It has thicker padding and cushioning; this can get a little hot, especially on warm days. If you are also under the hot sun all day, this can get a bit uncomfortable for you and your baby.
The main issue that we've found on this baby carrier is it is difficult to attach by yourself, particularly backpack style position. If you are using this carrier outside on hotter days, it will create blistering because of its thick cushioning.
Previous
Next
#2. ERGOBABY ALL CARRY POSITIONS 360
The ErgoBaby All Carry Positions 360 is a just little step back from the Ergo Omni 360 with honestly minor differences. The ErgoBaby All Carry Positions offers almost the same excellent benefits and features as the Ergo Omni 360, and it is a lot cheaper than the latter.
The ErgoBaby All Carry is still a great alternative to an ErgoBaby Omni 360 that will undoubtedly provide great convenience and functionality to parents who need a carrier. The carrier also allows maximum comfort for, however, your baby is facing, especially when they are outward-facing. The seat – designed to combat hip dysplasia as it is ergonomically made to fit your baby in their healthiest and most secure position.
Pros
Machine washable
Lower back support
Simple to handle
Cons
Doesn't have more positions
Why We Recommend
All Four Carry Positions
Four Positions offers flexible positioning from the hip and back carry as well as front-inward and front-outward facing positions that you can easily adjust depending on either you or your baby's activity accordingly.
Baby Hood
Hood will keep your baby's head supported while they are sleeping and keep secured under it to protect them from the sun and the wind.
Adjustability
Waistband, seat width and back panel and as well as the padded shoulder straps are adjustable according to your comfortability.
Great Support and Maximum Comfort
Is also built-in lumbar support along with a broad strap that will distribute weight on your hips nicely. The waist and shoulder straps are comfortably padded to keep your carrying task comfortable as well.
It is one of the best comfortable baby carriers it helps to distribute the baby's weight evenly. So you can carry the baby for a long time without any issues. It also designed with safety features, so you don't have to worry about the safety problems.
Some Things We Did Not Like
No Pocket or Pouch
The ErgoBaby Omni 360, this does not provide you with a pocket or a pouch that you can place your necessities inside. The unavailability of a pocket can be a little troubling to search for your essentials.
No Infant Insert
Is no infant insert provided which you will have to purchase separately as smaller babies around 7-12 lbs need a head insert to support their head and neck properly.
Noisy Velcro
You are particular about loud noises around you and your baby, the Velcro is loud when you pull it off, which can be a little inconvenient for your sleeping baby.

This baby carrier doesn't have that much of cons. It is slightly challenging to get on without anyone's help. The price of this carrier is a bit expensive for some users.
Previous
Next
#3. TULA FREE-TO-GROW BABY CARRIER
Unlike the first two on our list, the Tula Free-To-Grow Baby Carrier does not offer a four carrying position feature and is only limited to two positions, the inward-facing place and on your backside. Nonetheless, this still has note-worthy features, especially if you are a petite parent.
It is soft, lightweight, and sleek that will provide you enough comfort for you and your baby.
Pros
Adorable carrier
Comfy waist strap
Ideal for plus sized parents
Cons
Why We Recommend
Infant Ready
Don't need to have an infant insert for your newborn with this one, as the carrier can handle 7lbs to 45lbs of weight
Adjustable Body Panel
Three width setting options, you can easily adjust it according to your baby's size as well as when they grow a little bigger
Front and back straps, as well as the shoulders straps, are easy to adjust
Hidden Pocket
Pocket in the waistband will allow you to store small essentials, and you can use it for your hand to rest and snuggle in as well.
It is very comfortable to wear, and its long leg padding keeps your baby cool even at hotter days. It evenly distributes the baby's weight. It is the best choice for long term use.
Some Thing's We Don't Like
Two Carry Positions
You want your baby to face outward or carry them in your hip; the Tula Free-To-Grow won't be able to offer you those options
Not Compact
Won't be able to put this in your diaper bag neatly

The price of this carrier is high and hard to handle. If you are carrying your baby on this carrier, then you need to someone's help to adjust anything.
Previous
Next
#4. ERGOBABY ADAPT
Another baby carrier on the ErgoBaby line is the ErgoBaby Adapt – this precedes ErgoBaby 360. Unlike its predecessor, for newborn babies, you won't need to purchase the infant insert head separately in the Adapt.
This carrier is also user-friendly compared to the ErgoBaby 360 as the buckles are more comfortable to reach for you to be able to adjust it on the go. The hood is another excellent safety feature to shield your baby from the sun and any natural elements when you are out.
Pros
Comfy 3 positions
Adjustable Velcro
Prevent from dysplasia
Cons
Can't put the child on forward-facing position
Why We Recommend
Long-Wearing Comfort
Design is for maximum comfort, both baby and parent.
Shoulders straps are snug with its cushy pads with an option to cross the straps on your back for more back support.
Is also lumbar support that is extremely coveted and can be adjusted by two adjustable tightness to fit your comfortability.
Hip Healthy
Bucket seat provides the healthy and perfect "M" position for your baby at every stage they grow.
You can easily buckle this carrier, and it offers user-friendly adjustments. Without delay, you can make any adjustments. And it is machine washable, so you don't have to worry about the cleaning process.
Some Things We Didn't Like
No Pockets
It is no pocket for you to keep your phone, keys, or wallet for your convenience.
Three Carry Positions
This does not offer a front-facing position for your baby.
Smaller Hood
The hood is of great use, but if your baby has a larger head size, this might not fit and will be unable to utilize it the way you want it.
It is not a perfect choice for newborn babies (3 weeks). You don't use this carrier for newborns. Then the size of this carrier is also too large.
Previous
Next
#5. BOBA CLASSIC 4GS BABY CARRIER
This streamlined and sleek carrier offers a lot of benefits that will satisfy your baby carrying needs. The three carry positions are ergonomically designed as well, allowing your baby to be in a healthy and comfortable shape of a natural frog-leg seated position that will let your baby's hip be in a natural state.
Instead of adjustable seats, this has an "adaptive" feature that will quickly adapt to a newborn baby with an infant's head insert and as they grow with the booster cushion. It also comes with a removable hood to ensure that your baby will be protected from the sun.
Pros
Well made carrier
Reliable and durable
Comes with infant insert
Cons
Why We Recommend
Long-lasting
The carrier can last you from your baby's birth up until they are four years old, making it functional for the years to come. If you ever decide to have another baby, you can easily reuse this as well.
Purse Strap & Three Storage Pockets
It is a tab on the shoulder area where you can easily keep a purse or a small bag so you could be hands-free.
This has multiple pockets that you can easily use for the storage of your essential items.
It made of 100 percent cotton, so you don't have to worry about the quality and safety of the carrier. It doesn't create any skin problems to your baby.
Some Things We Don't Like
Offers Only Three Positions
This Boba Baby Carrier does not provide the front-facing position if you want that specific position for you baby.
This carrier is not the perfect choice for the petite parents. It is very bulky and you cannot tight it. So your baby feels uncomfortable.
Previous
Next
#6. LILLEBABY COMPLETE AIRFLOW 360
The Lillebaby Complete Airflow is one of the best carriers out there and one of the unique features. They put comfort and safety into the design of this carrier.
Ergonomically designed bucket seats that put the baby in the proper "M position" and place their hips entirely are one of the great things on the Lillebaby Complete Airflow. The adjustable seat settings allow maximum comfort for any position and conform to your baby's age and growth.
There is also a removable sleeping hood provided that will again, protect you from the sun and wind and also give you privacy.
Pros
Versatile carrier
Great neck support
Broad shoulder straps
Cons
Not an ideal choice for newborns
Why We Recommend
6 Different Carrying Positions
Carrier doesn't just offer your standard front-inward position and back carry, but it also has fetal, and infant position perfect for your newborn as well as front-facing and hip support. Versatile enough for you and your baby so you can adjust whichever position you both are comfortable in.
Regulation of Temperature
panels on this carrier is convenient with breathable mesh fabric that is suitable for any weather.
Comfort
The wide waist belt helps in distributing your baby's weight to counter backaches. This carrier also has lumbar support that will also maximize convenience for you as well.
You can use this carrier at six different positions that are the fetal frontal, infant frontal, toddler facing in and facing out, hip seat carry, and backpack carries. It offers comprehensive support for both parent and baby.
Some Things We Don't Like
Bulkier
padding is excellent in this and will give you a lot of ease for your fit, but it can make the carrier bulky
Difficult Buckles
This is a little more significant carrier, and you may have trouble reaching the buckle when there are no other adults around.
This carrier also has some drawbacks. The weight of this carrier is 2.25 pounds which are quite bulky for some parents. And its leg area is not well padded that create irritation to the baby sometimes.
Previous
Next
#7.BABYBJORN BABY CARRIER ORIGINAL
Babyjorn manufactures the best baby products out there. The Babybjorn Original follows suit to the extensive line that the Babybjorn has.
With its smooth and simple design, the Babybjorn has its features emphasized on comfort and functionality. This carrier has sturdy head support that is essential for the first five months of muscle developing to keep your baby's head upright.
Pros
Perfect neck and back support
Safety tested and certified
Small and lightweight
Cons
Why We Recommend
Comfort Plus Support
Neck support on this carrier is firmly padded, and the criss-cross straps provide extra help as they distribute your baby's weight evenly for more comfortable carrying. The distribution will also ensure that the carrier is not weighing you down.
Sleeping Comfort
A panel that your baby is in can be easily disconnected and will let you transfer them to their crib as smoothly as you can while they sleep.
It is one of the best classic soft structured baby carriers. It designed by pediatrician's recommendation to keep the baby's spine, hip, and neck safe.
Some Things We Didn't Like
Two Carrying Positions
A carrier cannot be used as a backpack type carrier and also does not provide a hip position option.
Not Good For Older Babies
Has excellent features and comfort for infants, but the Babybjorn is a little lacking for older babies, and it is only recommended up until a 1-year old.
This carrier doesn't correctly fit on your back. It doesn't evenly distribute the weight of the baby. And if your baby weight is over 25 pounds, then it is not suitable for them.
Previous
Next
#8. BEBAMOUR NEW STYLe BABY
CARRIER

If you want a great looking baby carrier for you and your baby, the Bebamour New Style Designer Sling and Baby Carrier gives you just that and more.
This carrier is one of the cheaper options and mid-range quality, but it still offers good enough features if ever you are in a budget. Pediatric approved and ensured the safety of your baby would put your mind at ease when using this carrier — recommended for parents who are in warmer climates.
What makes it different among others is that the baby's support is not from above, but instead, it has a foam seat that supports your baby's bottom. With that, it puts a little weight on parents or the wearer's shoulders to relieve them from joint or back pain.
Pros
Easy to use
Skin friendly
Evenly distribute the weight
Cons
Why We Recommend
6 Different Positions
A 2-in-1 you can use this as a baby carrier as well as a single seat. You can face in and out your baby as well as back carry when used as a baby carrier while you can also do facing-in, facing-out and horizontal positions when used as a single seat.
Breathable Material
Material has vacuum holes that provide adequate air circulation and a headcover that meshes perfect for warmer days, so your baby does not get as hot.
This lightweight carrier is breathable and ideal for a mid and large-sized toddler. It keeps your baby as comfortable even on hotter days.
Some Things We Didn't Like
Not Breastfeeding-Friendly
The carrier has no coverage for when you need to breastfeed your baby, and you might need to have additional cover to be able to it.
Hip Seat
The hip seat gives excellent comfort for your baby, and it can be a little bulky around your waist.
It made of the thin frame which doesn't give coverage for breastfeeding. It is the major drawback of this baby carrier.
Previous
Next
#9. BRIGHTER BABY CARRIER WITH HIP SEAT
Safety and comfort are the strengths of the Brighter Elements Ergonomic Baby Carrier with Hip Seat. It also offers multiple uses as a single seat and a carrier.
This carrier is suitable for your 6-month baby up to 3-years of making it versatile as your baby grows with it through the years. You also will be refrained from being tired as this carrier has lumbar support that will do wonders for the comfort for your back and also, the waist belt has soft-padding that is comfortable for you as well.
Pros
Easy to clean
Unique design
Decrease shoulder pain
Cons
Why We Recommend
Five Different Positions
Carrier offers five different positions, namely the front-facing position, back carry position, two hip positions, and a kangaroo position.
Hip Seat
Brighter Elements Ergonomic Baby Carrier and hip seat carrier provides you an easy detaching of the hip seat and use it separately from the carrier.
You can also use this carrier as a kangaroo position or a baby backpack. It is a premium quality ergonomic carrier which is ideally suits for toddler and plus-sized parents.
Some Things We Didn't Like
Accessible Pocket
Only reason we didn't like about the pocket is how easy for your baby to reach it.
Not for Plus-Size
The leg holes and the waistband are relatively designed for smaller frames. Babies with chubbier legs won't be able to fit into the leg holes while more prominent parents may not be able to provide as well.
Some parent is complaining about the waist of the carrier, which is not comfortable for the child. It is not adjustable and comes with only one size.
Previous
Next
#10. INFANTINO FLIP FRONT 2 BACK CARRIER

Last on our list is the Infantino Flip Front 2 Back Carrier and this is another popular choice amongst parents because of the ease of use and comfort that it provides.
For a reasonable choice, the Infantino Flip Front Carrier will provide the necessities a carrier will need, and if you are willing to sacrifice a bit of comfortability to stick with your budget, this will not be as bad for short-term use.
The sides are detachable so you could quickly transfer your baby into their bed or stroller when they fall asleep without worrying about disturbing them.
Pros
Safe to use
Gives plenty of airflow
Three different positions
Cons
Why We Recommend
Airy BreatheMesh
The material of this carrier will provide excellent ventilation for your baby and will keep your baby cool during hotter days.
Removable WonderBib
Assured that this carrier will be a little mess-free as they provide a cover bib to shield your carrier as well as your clothes.
The shoulder-padded straps give enough comfort to you. Then the padded waistband provides excellent lumbar support and helps to decrease the back pain so you can carry your baby for a long time without any issues.
Some Things We Didn't Like
Short-Term Use
Carrier lacks a bit on its ergonomic design, making it a little harder and may weigh you down a bit more.
Limited Carry Positions
The carry positions that this carrier offers are high; it can be limiting compared to others out there. The positions have your typical facing-inwards, facing-outwards, and backpack carry positions.
Now that you have taken note of the products that you can choose from here are essential things you need to take note of and help you select a carrier that will suit you and your baby.
It is challenging to adjust by yourself while you are carrying the baby. You have to need someone's help to correct the carrier.
Previous
Next
So why should you still consider facing out your baby?
Well, first, it is all about your baby's preference and personality. Some babies, especially curious ones, really do enjoy being faced outward-this allows them to see what's around them and be familiar with their surroundings.
There's a possibility that your baby will get fussy when they are facing in and may probably want to see and are curious about what is happening around them.
For a better experience with a front-facing carrier here are things you should be wary of and be reminded of when you decide to carry your baby in the outward position:
Things you need to take note when your baby is facing outward:
Head Control
As mentioned earlier, the front-facing position is best for older babies that can support their head and neck. Baby's who still have poor head control can be uncomfortable in this position.
Personality
You know your baby best if your baby is naturally curious and more social than they will surely enjoy carried face-front, but if your baby is a little more temperamental and shy you might need to keep them faced towards you to keep them from getting fussy
Overstimulation
Always be aware of your baby and pay attention to their needs, the front-facing position can be overstimulating to a baby, and they will not be able to turn away or bury their heads on your chest once they do grow tired of the abundance of things happening around them.
Sleeping
Don't let your baby sleep when they are in this position as this will not give them enough head support and might be straining to their neck. Falling asleep can also be a coping mechanism for your baby and let you know that they are overstimulated.
Not for Long Hours
For parents and wearers, since the position of your baby is forward you may have to counterbalance it by arching your back causing pressure to your lower back. So take note that it will be better to carry your baby outwards only for short periods to prevent backaches.
Now that you are in the know with baby carriers and the front-facing position, we have rounded up the top 10 best carriers as well as options that will allow you to carry your baby facing out and reviewed them to its full extent to give you options that will match your and your baby's preferences:
Features To Look For The Best Front-facing Baby Carrier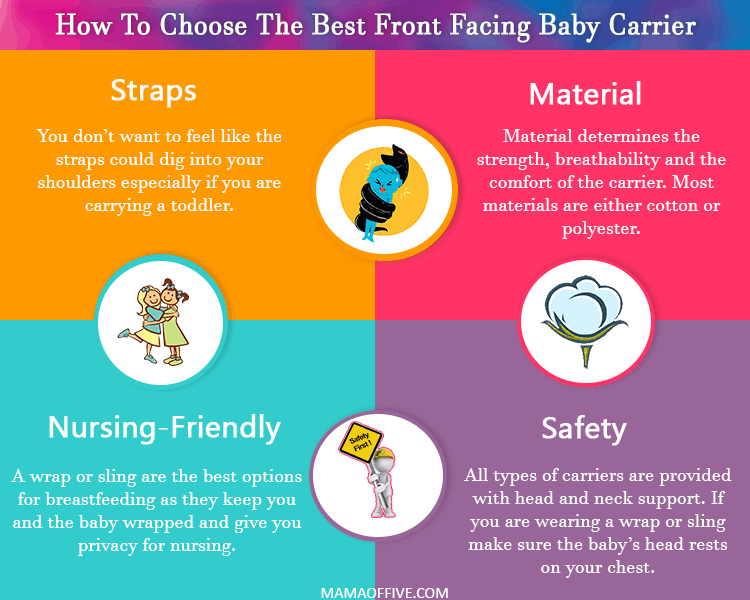 Safety & support
It is vital to choose carriers that will provide not just yourself but also your baby's security and comfort. A carrier should have a higher back panel and a deep ergonomic seat that will be comfortable for infants up until their toddler times. Make sure that you read the safety manual that the product will provide.
Comfort
If you are going to spend a lot of time using a carrier with your baby, it is essential that the carrier will provide luxury at its maximum so that you would not be as tired. Its good to look for a design that has lumbar support as this will go a long way in regards to the comfort of your back. A wide waistbelt will also contribute to a better distribution of your baby's weight.
Size
Make sure that the carrier will have a snug fit for your baby and you as well. It is better to have adjustable shoulder straps and a waist belt that will benefit you.
Versatility
Carriers that will offer a variety of carrying positions will be your best bet to purchasing a carrier as you will have options on how you will take your baby. If you get tired of a specific position, you can easily adjust your next preference. The versatility will also provide different ways for your baby, so they would not feel as constrained to limited positions.
Final Thoughts
Since you are opting for the outward-facing position, it is essential to practice the safety guidelines to prevent the negative impacts that it can have. Although it is controversial, there are a lot of ways to combat the strain that it may put on you and your baby. Also, the front-facing position is not as taboo anymore as on this list there are tons of products that offer maximum support and comfort that will allow a forward-facing not only to be possible but also comfortable, without its disadvantages.
Ultimately, it will be your baby's preference when it comes down to everything. If it makes your baby happy to be facing their surroundings, go on and let them have their fun as long as you keep in mind the tips and measures need to be done for it to be a comfortable and enjoyable experience for you and your little one.
Disclaimer: If you purchase any products in this post, we may receive a small commission. We promote only the products which we test and recommend. Read our affiliate disclaimer here.