A high chair is one of the must-buys when rearing a child. It is a support system for a child's development. Babies and toddlers are not capable of sitting by themselves. They can't manage to lie on a straight back.
The primary role of a high chair is to be the partner of the baby during meals. Your child is safe even if you don't hold him. Playing with their food is one of the children's habits, so it gets messy. You don't need to keep on wiping during mealtime. With a tray on the high chair, you can get rid of leftover pieces after meals. 
Best Overall Space Saver High Chair
(MamaOfFive #1 Choice)
 5/5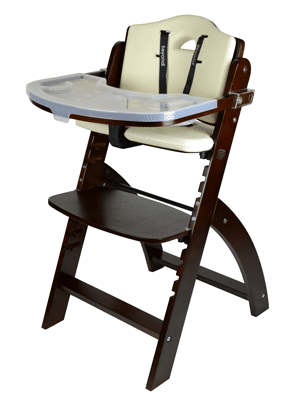 Traditional Look
Flexible & convertible
Easy to clean
Fit all stage kids
Eating in a high chair brings a lot of benefits. It can teach your child independence as he has his dining chair and he can do things by himself. Since the adjustable high chair is typical, your baby can be on the same seating level with adults. 
It can be a medium of time-saving too. Your child can stay in the chair with some toys while you do chores. Babies are clingy, and they like to be in your arms. This case will stop parents from doing housework. Instead of carrying him, the chair will do the job for you. 

Boys and girls high chair can be similar to neutral gender designs applied. The designers focus on safety protection and comfort that every child needs.
Table: Top 10 Best Space Saver High Chairs
Best Space Saver High Chairs – 10 Products Reviewed
#1. ABIIE BEYOND WOODEN HIGH CHAIR
This sleek wooden baby high chair is in two shades of mahogany or natural beech. You may pick the color of the cushion from the color options that are cream, olive, blueberry, raspberry, and black pearl. All of these materials don't contain BPA or phthalates.
Pros
Easy to clean
Ideal for all ages
Dual Restraint System
Cons
It went through anti-microbial sterilization that uses heat. This process provides pure comfort for the user. It is easy to clean high chair because the cushion is spill-proof, and you can remove when you need to clean the surface. There's no trouble cleaning this one as you only need a damp cloth. The wooden part is not prone to scratch.
 You can put the plastic cover on the wooden tray. It's easy to wipe and dishwasher safe. Your child will be in total comfort based on the adequate size of seat and footrest. Cleaning up for just a brief moment would help busy parents manage time.
Assembling this high chair will only take a few minutes. There's a felt attached to its feet for the sturdy position. It is an essential feature because kids often like to move a lot.
You can easily clean this high chair and easily remove the safety straps without any effort. So you don't have to worry about the cleaning process.
Its EZ seat system is the highlight of this number one high chair. It can be converted quickly for just twenty seconds. Adjustments of height are made possible by a quick push on the release button. The 3 to 5-point harness can protect your children as young as six months until they grow older as this can also hold an adult.
Having kids around limit your time to do things inside the house. This compact high chair will not only save space, but it's a way to limit the clutter. With its modern appearance, it will shine like the other furniture inside your house, but it doesn't include wheels.
This high chair is a little more substantial when compared to the other wooden chairs. So it is slightly hard to move from one place to another.
Previous
Next
#2. KEEKAROO HEIGHT RIGHT HIGH CHAIR
It is the ideal baby eating chair. It gives parents peace of mind during meals because this chair is considered a safe zone. Eating time is also playtime for babies, so a lot of movements take place. Once the child is on this seat with straps, he won't be able to stand.
Pros
JPMA certified
Adjustable seat plate
Convenient to feed
Cons
The base colors are in natural, mahogany and espresso. It is reliable because of its ergonomic seating and backrest that allow your baby to be in good posture while eating. The seat, along with the footplate is adjustable to correspond with your child's height. Adjustment is something inevitable as the child grows.
 Its seating angle is 1.5 degrees, and it's not likely to tip because of the solid foundation. The materials give the needed comfort together with its sturdy frame. It has a 3-point harness system with a pelvic belt which is removable and adjustable at the same time. Children can be messy eaters, so this is the basis of all the designs of this space saver high chair.
It is a chic-looking comfortable high chair for your child. Its seat and footplates are highly adjustable, which allows you to adjust the height and depth of the chair as per your child's convenience.
Since it's basically for feeding time, it has an infant tray that can be removed and placed whenever needed. It's not sensitive to dishwasher soap. It doesn't include fiber materials so a quick wipe can clean it. The overall parts are safe. It doesn't have the presence of latex, and your baby is protected from harmful microbes.
It can fit the usual dining table when you push it in. It will appear like one of the dining chairs that are made of wood too. It will not be out of place, and it won't create disorder from your arrangement.
The setup nature of this high chair takes more time than the others because of difficulty despite the provided instruction. It doesn't have any wheels but lifting this won't make you sweat too.

This high chair offers a lot of excellent features; however, it has some drawbacks. It is hard to assemble and made of plywood which is very hard to clean. You have to put some effort for the cleaning process.
Previous
Next
#3. GRACO DUODINER THREE-N-ONE CONVERTIBLE HIGH CHAIR
The primary use of a baby feeding chair is not only to avoid hassle during meals. Parents should know that sitting posture is a part of the child's eating habits. This chair has three functions to support that knowledge. The recline of phase 1 is for infants who are being fed milk. Phase 2 has six height positions and three for footrest position. This one is for the ones who can eat solid food. And phase 3 is called booster seat for young toddlers or kids.
Pros
Safe and comfortable
Convertible harness system
Designed to easy breast feeding
Cons
There are front wheels so you can move it around your house. It's not a good idea when the baby is on board and eating. It is composed of metal that is wrapped by nylon, and the seat is made of fabric. You can avail this in different colors of Teigen, Metropolis, Groove, and Tangerine.
You can finish assembling this one in just a little time. It can also assist parents when changing the baby's nappy. It does recline, and the harness comes to 3 and 5 point harness to accommodate babies and older ones up to 6 years old. But still, the chair will be stable on its feet. All the adjustments are made in just a push of a button.
Its ergonomic design and sturdy construction help to prevent your baby from the tipping move. So you don't have to worry about the child safety problem.
The tray is significantly large, but it's removable by a single hand. There's also a space for drinks. It is dishwasher-safe. It can be cleaned easily as well as the other parts, including the strap and seat even though it's made of fabric.
It is the best high chair because it understands well the need for the right posture when the child eats. There's a chance of choking when the baby doesn't sit upright.
The rear feet of this high chair is hard plastic so it can scratch your wooden or tiled floor. You can fold this, but it can still take some space. The tray is too large for the sink. You have to clean it in another part of your house.

The major disadvantage of this high chair is its cleaning process. The seat strap is tough to clean; you have to spend more time cleaning.
Previous
Next
#4. CHICCO POLY HIGHCHAIR (ORION)
It is the infant high chair that would assist you in feeding and developing your baby's appetite. You can also form adjustments for older kids. The color options are latte, Lilla, Orion, and Nottingham.
Pros
Portable
7 height settings
Designed with safety
Cons
It was formed for the comfort of a growing child. Parents have the alternatives from 7 height positions to 3 recline positions, and its harness is adjustable up to 5-point. Shoulder pads are additional parts for feeding comfort.
The available height positions are not only for infants since its primary role is to accommodate older kids. It's fine to continue using this one as your baby increases in size. This high chair is not only for one-time use, but it grows with your child.
The 3-recline positions make way for adjusting the backrest. You can use one hand in changing the position, and the other one can hold your baby's bottle. These positions will also answer to the comfort your baby needs while being fed.
This high chair constructed with 5- point harness innovation that allows you to give the comfortable position to the baby and also lock your baby securely.
Parents would love the slim built when it's folded. The big-sized tray is easily snapped to the armrest by one hand when it's time to feed the baby. When it's the moment to put it aside, you let it slide through its rear legs. This folding high chair is great for saving space when you don't have a spacious dining room.
The reasonably large tray is for the possible spills. Parents would be relieved from such a mess. The seat is with a soft fabric that is stain resistant like vinyl. Wiping only needs to be carried out for the seat pads to maintain cleanliness. The armrests can be folded when desired.
This is not only a space saver chair, but it can be moved with ease from one corner to another. The four swivel wheels are composed of the caster. It can be locked when you want it to stay immovable. 
The backside of the seat is very more profound when compared to the front side. So the food may get stuck in that, and you cannot wipe out that.
Previous
Next
#5. JOOVY NOOK HIGH CHAIR
If you're looking for something that won't take a lot of space from your house or apartment, this is the best high chair for small spaces. It's compact and portable, so it's convenient to take it to outdoor events. A carry handle was added for this intention. Your baby doesn't want to be exempted from social gatherings outside, mainly when it includes feasts.
Pros
Easy to fold
Removable tray
Dishwasher safe insert
Cons
You can choose from black, charcoal, turquoise or red for your color preference. You can assemble this sophisticated looking chair by yourself. There are non-scratch pads stuck to its feet to avoid flawing your floor.
Getting a high chair is for baby's eating time. This one is significantly dedicated to facilitating this purpose by making special features on its tray. It's almost like a table high chair — the tray functions with depth and position adjustments. There are 4 positions to place your child near the tray.
Using one hand to remove the pivoting tray is one of the nice characteristics of this chair. Its nook chair also requires little effort to take your baby away from the chair. All you have to do is to swing open the tray and unfasten the belt.
Its seat pad made of a leatherette material which gives comfort to your child and it makes your cleaning process as simple. It built-in 5-point safety harness, which ensures your baby's safety.
The seat offers comfort with its leatherette and padded seat. It can be machine-washed, and it's free from any harmful substance like lead and BPA. The mentioned features are equipped for your baby's safety while you do your chores quickly. Another good thing is the 5-point harness security which can take children up to 5 years of age.
The significant role of this chair is that you can take it with you everywhere. But cleaning is not as simple as just wiping it. Food pieces can get into the chair's nook. It doesn't recline as you want it to be and the height can't be adjusted. It doesn't have wheels too, so you have to carry or drag it.
The primary issue of this high chair that we've found is its seat. The seat of this high chair is not adjustable, and you can't recline the seat.
Previous
Next
#6. INGLESINA FAST TABLE CHAIR
You don't need to have a high table chair if you have one of this. It is a portable, fast high chair that attaches to the table. It allows the opportunity for the baby to join the adults in the dining table. The baby won't feel left out during meals and will get accustomed to dining.
Pros
Safe to use
Removable fabric
High quality high chair
Cons
It can also tour with the family as it can be attached to any kinds of table. It leaves the table clean and smooth as it is. It has a coupling that needs to be twisted and tightened to have a secure grip on the table. It also has firm rubberized arms, and there's extra fabric with a zipper around it for the total security.
It is light, and you can fold it, so it's ideal for transport. It includes a carry bag so you won't be bothered by packing it up when taking this on a trip. The bag has tight stitches, so this is ready-made for travel. It would stay intact, and you won't fear that it might loosen up.
Some parents take toys, snacks, wipes, or other small necessities when traveling. The storage pocket of this chair has space for that little stuff. It's located on the rear part of the chair.
This high chair is very portable to carry on everywhere. So wherever you go, you can easily take this high chair. And hook the seat on the table which helps to save more space.
The seat is from polyester material. The materials used for this thing are washable or can be air-dried. It can be kept clean, and you can continue to apply for an extended time. Its quality remains as it can endure daily wear and tear.
It matches most tables, but parents should be aware that it can't stick to certain surfaces such as glass, flimsy type, or a pedestal table. Some pieces of food may fall on the child's lap because of the gap. The carry bag is better with a padded strap rather than just a string. 
It only comes with a waist belt and doesn't have the shoulder straps. Some parents prefer these straps for the baby's safety. Other than it is one of our best lists.
Previous
Next
#7. FISHER PRICE SPACE SAVER HIGH CHAIR
This compact modern high chair is for parents who want to save space. You can't underestimate this based on its small look and lack of legs. It will work like the usual size high chair. Not to mention that it can cater to both infants and grown kids. The appearance is patterned to gender-neutral.
Pros
Simple to wash
Easy to convert
Five point harness system
Cons
Back handle is unnecessary
Strapping it to any dining chair and lining up the height to any of the three adjustments will put your child in a comfortable position during meals. The rest of the possible modifications also come in three. When your child still needs to be supervised in moving in and out of the chair, use the restraint system.
It can be reclined in three positions and can go into three modes. The first mode is similar to a newborn cradle. The second is the infant booster which necessitates the use of the tray. The third mode is the booster seat for toddlers. The harness can be shifted to 3-point and 5-point.
The tray remains even in any kinds of height adjustment and how the seatback is reclined. You have the option whether to use it or not. There's a cup holder that is built-in to compliment a useful eating tray. All you need is one hand to remove this when it's time to clean. It also has a Fastfinder link for toys, bibs or other baby's things.
It made of nano-tex fabric which is machine washable and water-resistant. You can easily wipe out the stain without any effort, and it ensures the seat is clean and germ-free.
The tray, seat back, and the seat pad is removable when needed. The cute seat pad is washable to keep it tidy. The fabric used for it is Nanotech. This kind of material won't allow dirt or stain to stick. You can get rid of the spill by just wiping.
You need to get a screwdriver when assembling this so you'll expect more time to complete everything. When you don't use the tray, and you just put it near the table, food bits will probably fall. If you want to be more fashionable, you can buy the replacement seat pads separately. 
You can easily convert the high chair into the booster seat as per the baby growth but is only able to hold up to 50 pounds amount weight.
Previous
Next
#8. FISHER PRICE HIGH CHAIR IN MULTICOLOR
The design of this high chair will let your child learn by themselves. It's essential to guide the child's growth. Teaching them independence can also contribute to their development. Parents who live in a limited area will surely be glad to have this. It will let them maximize their living space.
Pros
Convenient eating tray
Multiple adjusting positions
Machine washable pad
Cons
The booster seat sits up high
It is not one of those cheap high chairs even though how affordable it is. The appearance is also quite adorable though the size is only half of the regular one. But there's no difference when it comes to capacity and function. Though legs are missing from this high chair, it makes way for an interaction between the child and the adult who looks after him.
It is easy to clean high chair to start with the tray. It is also like a deep dish so your baby can't just push it. You can put it in a dishwasher. The other parts are to be cleaned by hands.
When talking about how compact this could be, the tray storage behind the seat will be the proof. You can also customize the chair as you can adjust the height into 2 ways and 3 reclining positions. The harness system is the usual 5-point.
The notable feature of this high chair is its food tray. It attached with full-sized food tray which is removable so the cleaning process also easy for you.
With the comfort of drip-dry seat pads, you can put the child into an upright position if he knows to control his upper body. It can be changed to three modes which will start with a cradle-like seat, and the other two are infant booster and toddler booster.
This chair is designed for babies based on its appearance. When they get older, this might be too babyish for them. The chair's size can't accommodate grown-up kids well. 
There are few small spaces available in this high chair which creates chances to stuck your baby's finger. And the food also falls into the holes.
Previous
Next
#9. SUMMER INFANT POP HIGH CHAIR
Parenting doesn't have a specific duty time. You need to be with your baby all the time to provide their needs. This foldable high chair is one of the things that would assist you. It can be a great help wherever you are.
Pros
Hard plastic tray
Three point safety harness
Made of high quality material
Cons
If you like having a party outside, you can surely take this so your child can take a bite too. It's good to have a barbecue or picnic when the weather is good.
 You can open this in just a snap. When it's time to take it away, you can fold it in a small bundle and slid it inside its carry bag. The bag has a strap which enables you to put it on your back. There won't be any sign of weight, so there's no strain in carrying this.
It can withstand weight as much as 40 pounds though it looks flimsy. The chair's base is broad, and it has a leg opening, so your baby is secured and comfortable while sitting. To safeguard more, it has rubber feet. It enables the chair to stand steadily in different kinds of surfaces. The straps can be adjusted into a 3-point harness to keep your child fastened.
Summer infant pop n sit portable high chair is made of high-quality materials which ensure the durability of the chair and allows machine washable.
The tray doesn't have harmful substances, so it's safe for children. The baby is restrained from throwing food and drinks out of the tray. It can be cleaned in no time as the dishwasher can do the cleaning for you. The seat can be easily cleaned and dried with the fabric that was used to make it.
It has a rear pocket that provides storage for baby's stuff. The capacity of this chair is limited, and it's likely to carry a child up to 2 years old. But this is excellent portable stuff to take with you outside.
It is a very cool design, but the straps are sewn, and it is only hold up to 20 pounds amount of weight.
Previous
Next
#10. Summer Infant Deluxe Booster Seat
It is essential for children to have confidence. Learning how to eat by oneself is a way of empowering a kid with spirit. They must also feel secure and loved. A high chair can do this for them as they can sit at eye level with their caregivers. This set up would create a link between people.
Pros
Secure seat
Foldable chair
Three point harness
Cons
It is compact, but it functions like a full-sized one. The adjustment comes two in one. There is two hight level adjustment with three positions feeding tray.  The three-point harness will put the baby into the eye level with the person that takes care of them.
It is convenient for young residents with seat pads. You can separate and clean parts. Let them dry on your dishwasher. Not only is the plate flat, but it is also slightly blank. The dish-like tray will stop your baby from blinking.
It is 2 in 1 design; its food tray is removable. Its three-point safety harness allows the baby to sit without the tray table.
It is a small convertible high chair. It's lightweight, so you won't think twice about taking it with you elsewhere. This does not just apply to your dining chair at home, also to restaurant chairs. An older child can even eat like an adult. They can sit upright and practice.
The folding design of the chair makes it portable by this the user can easily store this chair in a very small place also. It can be easily stowed away from a chair to another. It is the chair that you can use to teach your child to eat independently.
People who occupy a small house or condo would like this one. It can be permanently situated on your dining or kitchen chair. So you use it not only for feeding your baby but as a chair whenever you don't want him to be messing around.
The bottom of this seat is not slip-proof, so the straps are needed to be ultra-tight.
Previous
Next
What should you expect from a high chair's tray?
The tray can be easily cleaned, and it would be much better if you can keep it tidy by damp cloth when it's for everyday use. It should be removable when dirt and leftover bits need to be cast aside. It's a good one when it doesn't have harmful properties. You can check the helpful tips for cleaning space saver high chair here.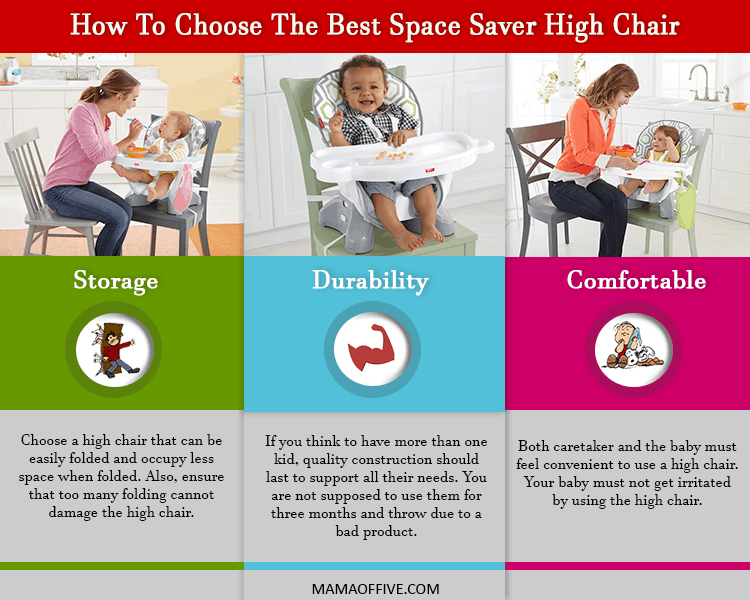 Since it's for feeding, it should be large to limit the mess the baby makes. The chaos would stay within the tray and won't be scattered elsewhere. Cup holder would be a nice add-on.
What is a sturdy high chair?
It's great if the high chair has felt or non slip pad on its feet. It's to avoid the chair from shaking. It's not only about strong legs, but it's also about stability.
How would you know that your baby is safe in a high chair?
The harness system protects the child from falling off from the chair. Some only have a leg opening. The seat back's purpose is to support the infant's back. The presence of the strap is to secure the child on the seat.
What's the ideal seat of the high chair?
The padded seat is an absolute provider of comfort. Aside from that, it can give the appropriate position for the child. Recline position is for infants and babies because they are bottle-fed most of the time. The upright position is good for the grown ones because they can sit straight. It's time for them to practice eating manners even without a tray.
The material or fabric should be stain resistant. Parents would love something easy to clean. Being hygienic is a priority when taking care of young ones. They're not entirely immune from harmful bacteria. It's worth your money when it can survive well the wear and tear of regular use.
A convertible high chair is what every parent sought. This fact also implies that it can continuously support your baby as he grows. The change of height is accommodated on the seat from adjusting it.
Is there a high chair you can take outside?
Absolutely. Compact high chairs or folded ones are usually lightweight. They can be on-the-go for outside activities. You don't have to give up on traveling or eating out because you think that your baby might be out of place.
This kind of high chair comes with a carry bag. It can only carry limited weight, and it is usually for younger ones. A storage package is also useful. You can put necessary small things in it.
What's the right high chair for infants?
Infants duly need support for their back. They should be in a reclined position on a high chair. Getting a high chair with a dependable recline system is advisable.
What high chair suits grown kids?
The high chair has a seat for an upright position suits older kids. You can abandon the use of a tray. You can start to teach them how to eat on a table with the whole family. There's no need for a clip-on high chair. It only needs to be pushed to the table.
You don't only need to get the best baby high chair, and you should also be smart to know some tips like these:
When your child's feet can't reach the footrest, you can fold a towel to fill the gap.
If you want your child to practice to eat tidily, you can get something that can be easily leveled to any tables. There's no need to add the tray.
Don't drag the chair when it doesn't have felt on its feet. It might leave scratches on your floor.
Parents should give utmost importance to the recline position of infants to avoid choking.
A damp cloth is a necessary thing for cleaning a high chair.
When you don't use a tray for your grown kids, put a table napkin on his lap to catch fallen bits.
So, how can a high chair save space? 
It is constructed, so they match any tables, and they don't appear different from the dining chairs or the ones in the restaurant. It's not too bulky like the old-style high chair. The parts can be dismembered for storage. Some of them are folded type.             
The highchairs these days don't only save space but time too. It's easy to clean, and it can lessen the things that a parent needs to do. It's considered one of the new things that provide convenience. 
Disclaimer: If you purchase any products in this post, we may receive a small commission. We promote only the products which we test and recommend. Read our affiliate disclaimer here.