Seeing your child grow is priceless, but is often also associated with other decisions. And one choice that you have to make when your child grows is, what kind of booster seat should I buy, or should I buy one in the first place?
If you value the safety of your child, just like any healthy functioning parents, then the obvious and straightforward answer would be, yes, you should. Your kid will grow to be too big to be situated at the front of your car and thus would require you to get a booster car seat. It would elevate them so you can easily secure them with a seat belt, which is usually for grown-ups.
Best Overall Booster Seat
(MamaOfFive #1 Choice)
 5/5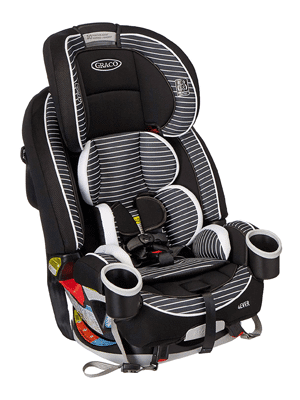 High back booster
Easy maintenance
Adjustable Headrest
Convertible seat
Be it a toddler booster seat or a boy's booster seat; if it comes to car seats, you'll be in it for the long haul. And that's because your little one would be sitting on it for years to come. You must get the best quality, for your toddler's comfort, for your security, and for you to avoid further investments in regards to kid's car seats.

We've already done the sifting and sorting out for you. And all you need to do is to choose from the top 10 best booster car seat that is available in the market right now. We have also reviewed them to make your choice smooth and straightforward. You have to select the seat based on the age and weight to ensure the safety. And if you're a first-time parent and don't know what to look for in a booster car seat, we will provide you with a buyer's guide to help you figure out what you want.
Table: Top 10 Best CHILD BOOSTER SEATS
Best Booster seats – 10 Products Reviewed
#1. Graco 4Ever Convertible Booster Seat
This product, the Graco 4Ever 4 In 1 Convertible Car Seat is made to last from the moment your toddler was born until they won't need it anymore. This convertible booster seat is the most value that you can get out of a car seat as it has four functions in one.
Pros
Easy seat belt installation
Adjustable seat height
Two removable cup holders
Cons
Most car booster seats that are available in the market right now are not flexible and lack the features. A good booster seat is adjustable, just like this product has four different configurations. They've designed it with four different settings, rear and forward-facing car seat, a high back booster seat, and a backless booster seat.
If there's one word to describe this product, it would be flexible. It has ten adjustable headrest positions that you can adjust accordingly to ensure that your little one is comfortable. It has a reclining car seat with six different options, three front-facing, and three forward-facing positions.
The Graco 4 Ever all-in-one is an easy seat to install, it is designed with safe adjust harness system and a 10-position headrest so it's easy to adjust the seat and make your child's comfort.
It's designed to have two cup holders so that your little one can access their snacks and drinks easily while traveling. Something that will be important in the later stages when your child is a bit older and will likely nag you as they are hungry.
In regards to cleaning, you don't need to go and wash the whole seat. Instead, you can remove whatever part is necessary for cleaning. Especially with the booster seat covers. Once done, you can drip dry it, and some parents even claim that it's machine washable, so that's a huge plus.
The Graco 4Ever has various color patterns in which you can choose. And if you add the quality fiber used in making it and the flexibility of this product, it's one of the best car booster seats that you can find in the market.
It doesn't come with canopy to block out the sun, also the forward facing recline positions are limited by child weight. Some user's complaint that their use modes are not good when compared to others.
Previous
Next
#2.Clek Oobr High Back Booster Car Seat
The second product on our list is by Clek. They are a company based in Canada and have been manufacturing award-winning booster seats that combine both safeties with accessibility and ease of use with a twist of modern design. So if you're buying a product from Clek, then you are surely in the right hands.
Pros
Smaller, compact profile
Soft-touch armrests
Sturdy construction
Cons
Seat is heavy in back mode
Their latest addition, the Clek Oobr High Back Booster car seat is a back booster seat. It is designed and built to be identical to that of a backseat of a car, only meant for children. Its design comes with a Rigid-Latch System where it utilizes your vehicle's latch anchorage system. It keeps the booster seat in place to keep it secure and in place whenever there's a collision.
It also has a reclining feature, for times when your little one has fallen asleep. This feature keeps them comfortable and saves during those times. It can recline as much as 12 degrees with the help of the rigid latch system and also the free-pivoting design of the back of the car booster seat.
It has a wide seat that provides comfort even when your child grows and has a removable back so it goes from back to backless. The reclining back seat is always a plus on long rides.
Keep your child comfortable when resting with this product's headrest with side wings. It keeps the movement of children at a minimum, while also improving the protection of the head with the energy-absorbing foam layers during collisions.
And as your child grows, the booster seat's back can also be removed, converting it into a backless big kid car seat. So if you're looking for the safest booster seat that's available in the market, then look no further as the Clek Oobr Booster Car Seat is the one.

The armrests could be little bit difficult to get your child in and out of the seat. The latching mechanism may be hard to do in small vehicles where space will be tight.
Previous
Next
#3. Britax Frontier ClickTight Booster Car Seat
The Britax Frontier is a durable and sturdy booster car seat that grows old with your child. It can easily transition between a harness car seat to a booster car seat. The Frontier Clicktight feature allows the user to easily install this onto their car with just a simple fastening of a seat belt. If a collision happens, the SafeCell impact guard will reduce the forward movement and speed of the seat to ensure the security and safety of your child.
Pros
5-point harness
Two cup holders
Inflatable seat belts
Cons
The Britax Frontier ClickTight features a compact, and the slim booster seat design allows you to comfortably install and fit this product at the backseat of your car. With nine different harness positions, this product is designed to grow with your child, and may still usable for the next one.
You can easily change the location and setting of the harness in a squeeze and lift motion. The front-adjust recline also allows you to comfortably recline this car seat to provide your child with comfort.
The Frontier has multiple positions recline, so that you can adjust the seat to perfect level for your little child and get the good fit for your vehicle seat. It's possible to convert from forward facing car seat to booster.
In regards to price, the Britax Frontier ClickTight isn't one of those cheap booster seats that are available in the market. Instead, it isn't budget-friendly at all, and understandably so, that's because of its safety and comfort features. But if you have the extra funds to purchase one, then do so, as ensuring the safety and security of your child is priceless.

The headrest seat is harder than other brands, some of the customers reported that there is difficulty in tightening harness so it may need replacement.
Previous
Next
#4. Peg Perego Carry Viaggo Flex Child Booster Seat
Made and manufactured by an Italian Company, this booster seat provides elegance and luxurious design that you can bring wherever you go. This compact booster seat can carry a child weighing from 40 to 120 pounds with no problem.
Pros
Rigid Latch attachments
Aluminum backrest
4D total adjust technology
Cons
Hard to remove the rigid latch connectors
The Peg Perego Carry Viaggo Child Booster Seat has a high back which can be adjusted depending on the age of your child. You need not worry about assembling as this product comes ready to use straight out of the box.
The Viaggo Flex has three different configurations when it comes to width, which is broad, medium, and narrow mode. So the amount of flexibility that this provides you makes it worth the investment. How it does this is that the shoulders have various settings, allowing you to open or close it even more, depending on where your child is comfortable. This flexibility, plus the high back design of this product, makes it an excellent booster car seat for any age.
The Peg Perego Flex 120 is a high backed booster seat which can folded compactly, and has a comfortable seating including rigid latch attachment as well as height adjustment.
When you need to save space, the narrow mode is the way to go — measuring in at only 17 inches wide when it's on narrow mode, while the base measures at 14 inches.
It can also recline with a single pull of a lever that even a child aged seven and up can reach. Unlike any other boosters available in the market, this product can comfortably be reclined and adjusted on the fly, making it perfect for road trips or traveling for an extended period.
In addition to that, this product can easily fold and fit into a carrying case, so you can transfer it from vehicle to vehicle during long trips, undoubtedly making this one of the best travel booster seat in the market.
This booster seat is a bit heavy and it can be little hard to remove the rigid latch connectors the first few times, also you can't convert to a backless booster.
Previous
Next
#5. Graco Tranzitions 3-in-1 Harness Booster Seat
If you're all about efficiency and saving space, then the Graco Tranzitions is the way to go. It's a 2-in-1 booster seat, more specifically, a combination of a booster and a harness seat. It's a great way of saving costs and space for baby gears whenever you're on the road.
Pros
8-position headrest
Lightweight
Easily converts between modes
Cons
The Graco Tranzitions Booster Seat is a budget-friendly car seat, but still packed with high-quality features and design that would make your life easier, and your kid, comfortable and secure.
The Simply Safe Adjust Harness System allows you to easily adjust the height of the headrest and harness of the seat in one swift motion to keep your child safe and secured. At only 12.5 pounds, this car seat is undoubtedly a very portable option. If you're always traveling and switching out booster seats, this car seat is the one for you.
These seats are very lightweight also the 5-positions adjustable headrest can easily adapt your growing child. There are two cup holders which help your child to easily access their drinks during the trip.
Installation of this seat will depend on the design of your vehicle seats, as well as belts. It may prove to be a difficult task to install if the seat belt is situated and is anchored at the side or front rather than the back, but not impossible. Instead of using push-on connectors, this product utilizes hook connectors with their lower anchors, so keep this information in mind when purchasing this product as it may affect installation from car to car.
When it comes to energy dispersal in times of any collisions or crashes, most booster seats in the market achieve energy management through the utilization of EPS or the EPP which is a foam under the cover, lining the shell, while Graco utilizes plastic to keep costs down, while also keeping the weight of the seat to a minimum.
The high belt path makes it hard to get a tight installation, sometimes the seat back may detach unexpectedly. You can't install this seat easily in all vehicles.
Previous
Next
#6. Graco Transizions 3 in 1 Booster Seat Kyte
It's another variant of the fifth item on our list. The Graco Transizions 3 in 1 Booster Seat Kyte is designed to be durable and sturdy to grow old with your little one, and be your trusty companion during your adventures and travels.
Pros
Dual cup holders
9 position headrest
Latch compatible
Cons
Not easy to install in all vehicles
This car seat can quickly be converted into a harness booster, which can carry 22 to 65 pounds, to a high back booster, which can handle 30 to 100 pounds, and finally, to a backless booster, where it can handle 40 to a 100 pounds of weight.
The Graco Transizions 3 in 1 Booster Seat Kyte has a simple safe adjust harness system that allows you to adjust the headrest and the harness into eight different positions without the need of re-threading the seat belt.
This product is also designed and equipped with two optional cup holders, and when we say optional, it doesn't mean when purchasing, instead, you can easily remove those two cup holders, depending on if you need it or not.
The Tranzitions is a sleeker, narrower design that works better than other bulky seats for placing multiple car seats in your vehicle. It features a no-threaded harness that adjusts both the headrest and harness.
Cleaning up is easy as well, and that's thanks to the removable and machine washable seat pads, as well as the body insert, and the harness covers.
So if you're a family who's always on the go and needs a portable child car booster seat, then you will surely like this one.
The only downside of this child booster seat is that it has only the basic side impact protection whereas other seats have headwings for additional side impact protection.
Previous
Next
#7. Chicco KidFit 2 in 1 Booster Car Seat
The Chicco KidFit Booster Car Seat is an ideal car seat for kids that are four years old and up. This product is a stylish, yet functional and reliable car seat that will be of great purpose whenever you are traveling with your little one.
Pros
10 position headrest
Duozone protection
Removable armrest
Cons
The Duo Zone feature keeps your child protected and safe from any impact, especially from the head, shoulder, and side impacts. If your kid is slowly outgrowing your car seat, you can easily remove the back to accommodate him/her better. All while the fastener keeps the car seat securely in place, promoting more accessibility in either getting in or out.
Most booster car seat consumers worry that their children wouldn't fit or outgrow their booster seats within a couple of months. But with the Duo Zone feature, not only does it give your children extra protection, but it also allows this product to be flexible and to be able to accommodate your growing child.
It can carry weights of up to 30-110 pounds, and be able to extend from 38 to 57 inches, so there's nothing to worry about your kid outgrowing the Chicco KidFit.
It comes with Duozone head and side impact protection to keep your little one extra safe while seated in a backed booster position. This is a great choice for those who are looking for a limited budget seat.
You can also easily detach the backrest to allow your older children to fit the car seat. And in regards to comfort, the Chicco KidFit has the ErgoBoost feature, which is essentially doubling the padding that's under the seat, providing more comfort and support to your child, the backrest also has two configurations that you can adjust to provide the most comfort to your child.
As for the overall design, the product is from plastic and foam, and lightweight materials, it only weighs 10.2 pounds, which makes it easier for you to carry or transport this car seat to different cars.
This booster seat comes with a widest seat bottom which makes it a poor choice; it's not possible to fit even three kids in a backseat.
Previous
Next
#8. Evenflo Maestro Sport Harness Booster Car Seat
The Evenflo Maestro has been a popular choice for a forward-facing only car seat for a while now. It's well known for its lightweight properties, as well as the easy installation of this car seat, and lately, it has received some upgrades, such as updated cup holders and a much wider belt path, all while retaining its versatility.
Pros
Built in latch and harness
5 point safety harness
Good pillow head rest
Cons
Headrest is not adjustable
The Maestro is an attempt from Evenflo to keep the safe transportation of your children, even cheaper for the parents. It's a 2 in 1 car seat, or as they say, a combination of a forward-facing seat, and a booster seat.
The design isn't something that great, nor does it forward face forever, but one thing is for sure, it'll keep your children strapped in and secured. And that's reason enough for parents to invest in this car seat.
Evenflo Maestro sport looks fantastic; it has a small and sleek design and a good choice for a harnessed car seat and booster seat. You can easily adjust the tightness of the harness using the front button.
When the seat is on booster mode, it can withstand weights of 40 to 110 pounds easily and has a height of 43 to 47 inches. While the maximum seated shoulder height during boosted mode is just around 19 inches, one thing to take note is that children should be seated on booster seats if the seat belt doesn't fit over their shoulders yet.
The fact that it only weighs 10 to 11 pounds, it makes installation a bit easier. And one great thing about this product is that, when in booster mode, you can use latch anchors to secure this booster seat, which prevents this from getting launched off the car seat whenever a collision happens. The Evenflo Maestro is an excellent car seat to bring on the go, or as a back-up, and the fact that it's at only $100, this car seat is a must-have.
The major downside of Evenflo booster seat is the latch is difficult to uninstall, also the seat cover hooks may come loose. The harness must be rethreaded to adjust the height which is not a good option.
Previous
Next
#9. Evenflo Big Kid AMP Booster Car Seat
One reason why you should consider buying the Evenflo Big Kid Amp Booster Car Seat is that it can easily transition from a high back booster to a booster seat with no back. The head and neck rest is also stuffed with padding to ensure that your little one is comfortable. And that you can adjust this booster seat accordingly to your growing child, so there's no outgrowing this car seat.
Pros
Sleek design
High back booster seat
Easy height adjustment
Cons
It' comes with the Evenflo AMP feature which keeps your children safe, secured, and comfortable, thanks to the shock-absorbing foam liner. No more complains from your kid about being hungry as you can put some drinks and snacks on the cup holder to keep your child engaged during the trip.
The car seat can comfortably accommodate children weighing 30 to 110 pounds and has a height of 38 to 57 inches, which is all thanks to the feature in which you can easily convert the car seat from a high-back booster to a no-back booster seat.
This is a high-quality model which is made of strong materials and goes through the comfort of your child. The seat grows with your child by six different height positions to get the best possible fit.
With the adjustable height of the Evenflo AMP in which you can adjust the seat's height up to six times higher, you won't have to worry about your kid overgrowing this product.
Features packed inside a reliable booster car seat that is just under $50. And it is considered to be a steal if you take into account all the features and benefits that it provides you.
It doesn't offer enough head support for younger children and there aren't any lower anchors, it's tough to wash the pad.
Previous
Next
#10. Cosco Topside Booster Car Seat
The Cosco Topside is a lightweight and compact booster car seat which is only significant for short trips, and is only recommended to children six years and up, preferably a child that can stay upright even while sleeping, and that's because this product doesn't offer any back or head support. It also doesn't have any seat belt adjuster, so it's best to use this kind of car seat to a bigger child, at least big enough to fit on seat belts.
Pros
Simple backless booster
Affordable
Easy to move
Cons
The design of the Topside is different from other backless boosters, and that's because the shoulder belt doesn't route back under the armrest. Instead, it goes over it, which can pose a severe problem if the belt is already near a child's neck. But if your vehicle has a seat belt where it's leaning towards the edge of your child's shoulder, then it may help provide a better snug and fit.
This booster seat gives extra height to your child to keep the vehicle's seat belt properly positioned, it is designed to keep your growing child safe.
One advantage that the Cosco Topside has is that it's very portable, thanks to its compact and lightweight design, you can pick this car seat up and transfer it to another car easily. It can hold any child that's weighing around 40 to 100 pounds and has a height of 43 to 57 inches.
We advise that you only use this car seat for short-distance travel, and if you're looking for a more comfortable booster car seat for long-distance travel, then I'd suggest you pick a booster seat with a back.
The Topside child booster seat is different from most backless boosters because the shoulder belt doesn't get routed back under the armrest, so it can cause a problem for shoulder belts that are close to child's neck.
Previous
Next
Buying Guide: How to choose the Best Child Booster Seat
Of all the different things that you purchase for your child, and one thing underappreciated or not given too much importance is a good car seat. The moment that you take your baby home and up until he/she can fit on an adult seat belt, you'll need a boosted car seat. And one scary statistic that I've encountered lately is that parents don't usually buy the suitable car seat, or have installed it the wrong way, basically negating the safety benefits that a car seat provides.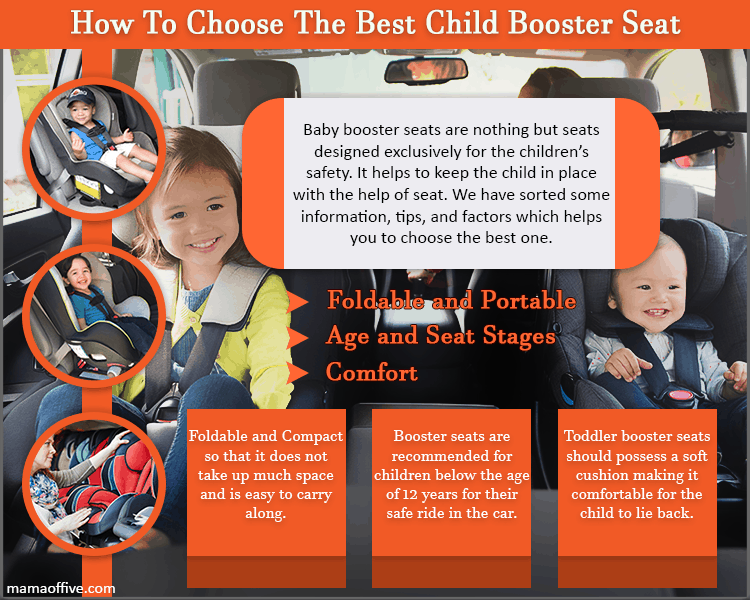 When shopping around for a boosted car seat, price usually doesn't determine whether you'll get the best one or not, and rather, there are many ways to determine what's the best car seat that's available in the market right now. And if you know what to look for, you can find most mid-ranged car seats function better than the pricier ones. Another problem would be the compatibility of the car seat to your car. And that's why we suggest that you plan when shopping around for a car seat.
Hopefully, this buying guide will be able to help you prepare better, and provide you insight on which boosted car seat to choose for your child.
Choosing the Right Model
Your child is bound to overgrow your car seat, but others can be flexible and can adjust to your growing child. We will be explaining the different types of car seats to help you narrow your choices.
Infant Car Seat
This type of seat is mostly for new parents. It can't be installed any other way than rear-facing and also has a removable carrier feature that can easily connect to the base, installed in the car seat. It's ideal for children ages two years and up.
Depending on the model, the infant car seat can weigh from 4 up to 40 pounds, and often, children will reach the height limit first before the weight. One way of knowing that it's time for an upgrade is that the head of your child is only an inch or closer from the top of the car seat.
Convertible Car Seats
This seat is a much more flexible option in terms of functionality. A convertible car seat can as a rear-facing seat used for infants, and as your child grows, you can easily switch it to a forward-facing seat.
If you want to avoid any more investments, you can start with a convertible seat instead of buying an infant seat. It'll all depend on your preference, as either way is a good option.
Booster Seats
If your child has outgrown the front-facing harness seat, then they're ready for a booster seat. A booster seat elevates your child up to a certain height so that they'll be able to use the car's seat belt rather than a harness.
A booster seat makes sure that the vehicle belt would fit your children as it would fit an adult, that is to ensure that your child is safe and secured. It is keeping them secured over the sternum, collarbone, and the upper thighs, in case of any collisions.
There are two different types of booster seats, a high back, and a backless model, and there are booster seats that are convertible and can be both, all you need to do is to remove the backrest.
Toddler Booster Seats
A toddler booster seat is a bit different compared to a standard booster seat. A toddler booster seat can be used whenever your child is ready for a forward-facing seat with a harness, until such time that they can use a standard booster seat without a harness.
A toddler booster seat can house a child weighing anywhere around 20 to 90 pounds during harness mode and a 30 to 120-pound child when on booster mode.
A toddler booster seat can be a great option if you're upgrading from an infant car seat.
All-in-one Car Seats
An all-in-one car seat is just like a convertible car seat, only it has more different options that you can choose from, and will last until your child is ready for a booster seat. This seat offers the most value out of the other types of seats, as they can be used from infancy to the time that your child needs a booster seat.
Factors to Consider When Shopping Around for Boosted Car Seats
Safety
The safest and most efficient booster car seat that you can get is the one designed with Side Impact Protection and equipped with impact absorption and energy distribution foam on both sides of the seat.
Comfort
One thing to keep in mind is that you're not buying the booster seats for yourself, but your kids. So they must love and be comfortable with the booster seat as much as you do. Most booster seats that are available in the market right now are made with premium and high-quality double foam padding to provide your child with a comfortable and safe seat.
To ensure maximum comfort, you can choose a booster seat in which the harness and seat belt can be easily adjusted to fit your child better. You can look for other features as well, such as a cup holder, armrests, and storage compartments, to keep your child occupied when traveling long distances.
Easy to Clean
If you're dealing with a child, then dealing with a mess is inevitable, especially when you're on the road. A good booster car seat will allow you to easily clean any spills that are on any plastic components with minimum water and a bar of mild soap. Some boosted boards have removable pieces that are machine washable.
Age and Booster Seat Stages
Your child is growing and will continue to grow. To avoid buying more boosted seats in the future, consider buying a convertible, or a 2-in-1 booster seat that can easily be adjusted to grow with them.
It's also important to keep track and know your child's size. Keeping track of the age of your children is easy, but their weight and height can change at a very drastic rate in just a few months, and if you don't keep track of that information, you might purchase a booster seat that may be too small for them.
If you bought a booster seat that's too big for them, that doesn't matter too much as you can easily adjust the harness and belt to fit them, and in just a couple of months, they will grow into it.
Infographics: Best Child Booster Seat

Final Words
We hope that this article has provided you with the insight and knowledge, and have helped you in your decision on which booster car seat to get for your children.
Disclaimer: If you purchase any products in this post, we may receive a small commission. We promote only the products which we test and recommend. Read our affiliate disclaimer here.