Look at your baby's face, and pause. Have you ever seen anything more beautiful? Look at your baby's face when asleep. Then there was something, wasn't there? Watching a child sleep is like opening the doors of heaven… The peace, that smile, the little fists… It's like watching your child's own dreams.
A baby who sleeps well is a child who lives well. If you get grumpy, hazy, irritable of you don't get your good night's sleep, imagine how a toddler feels. Good sleep means a good immune system, good mental abilities, good appetite, good mood and even good health.
Every parent wants the best possible health for her or his child. Ant it all starts with good sleep – and a good mattress.
But here's the catch: a crib mattress can actually be a health treat for your child! 
Conventional crib mattresses – what is the problem?
Science – not hearsay – tell us that conventional crib mattresses can be dangerous for your child. Yes, you heard me well.
Studies conducted by the University of Texas, Austin, found out that:
"Crib mattresses release nearly 30 different volatile compounds."
Volatile compounds, or VOCs as scientists call them, are particles that end up in the air you child will breathe, and, as the same study defines them, they are "potentially harmful airborne chemical such as endocrine-disrupting phthalates and fragrance allergens." 
These are substances that can affect your child's development, because, as we know, the endocrine system is made up of the glands that produce hormones and we all know how important hormones are for everybody's growth, let alone a baby's.
What is more, children have a very vulnerable respiratory system, that is why the often catch flu and similar ailments. So, basically, when you put the apple in your eye to bed, a conventional mattress can hit your kid just where your child is weakest.
I can hear your concern; you are thinking, "Is there a solution?"
Thankfully yes…
Organic crib mattresses
The real issue with conventional mattresses is that the materials they are made off are synthetic. And as you know, all synthetic materials turn out to be noxious sooner or later… 
On the other hand, if the mattress on which your child sleeps is made of organic materials, there will be no chemical substances in the air your kid breathes at night. 
This is why organic crib mattresses are becoming more and more popular with conscientious parents all over the world. 
If you buy one, next time you put your baby to bed, you can do it with a light heart, safe in the knowledge that your child's dream will also be healthy, natural and indeed sweet.
Why buy an organic crib mattress?
Why should you buy an organic crib mattress? There are, in fact, many reasons to do so:
First and foremost for your baby's health; a normal mattress can cause allergies and growth problems.
Next, because they are of such good quality nowadays that they also offer a very comfortable sleep. And we cannot underestimate the quality of our sleep, on top of its safety.
From a more "selfish" point of view, those harmful particles that end up in the air – well, they also end up in your lungs, not just your child's.
Last but not least, because you love your child.
You want to give your child the best start in life, and there is no doubt that a healthy kid starts with the right foot.
How important is an organic crib mattress?
It looks like this is important enough to get European countries to ban materials you often find in conventional crib mattresses altogether: flame retardants.
But let's take a step back… As you know, synthetic materials like polyester and the like are flammable. They catch fire quickly and they are a health hazard. So, what did the chemical industry invent to prevent synthetic mattresses, carpets and curtains from going up in flames?
You guessed it: flame retardants, which are just another health hazard. 
A study by the National Institute of Environmental Health Studies found that they "may present cancer hazard to humans," on top of "effects on the brain, and immune and reproductive systems."
The list of health hazards is actually much longer, but these are not the only dangerous materials in a conventional crib mattress…
Conventional crib mattresses are rendered waterproof with polyvinyl chloride, a rather ominous sounding substance which the Environmental Protection Agency classes as a hazardous pollutant and studies show that it causes "cancer of the liver […] brain cancer, lung cancer and some cancers of the blood."
I think these health risks are enough reason to put off any parent from buying a conventional crib mattress.
How about buying a new conventional crib mattress? Will it be safer?
Unfortunately, you would make things worse. New synthetic crib mattresses have been found to give off four times as much volatile compounds as old ones…
What to look for in an organic crib mattress?
I think by now you will have made up your mind… An organic crib mattress is what your child needs for a safe and healthy start in life.
But the question is, what makes an organic crib mattress good?
There are a few things you need to look for in an organic crib mattress:
The quality of the mattress itself is essential; make sure it is firm, that it doesn't sag. Your child's mattress needs to be strong, not just because when your toddlers starts playing on it it will break otherwise, but because your baby's spine needs a good support when sleeping..
Waterproofing materials must be organic too. There is no actual way of fully waterproofing naturally, but it can be done partially and with plant based materials approved by the GOTS (Global Organic Textile Standards). 
How to choose an organic crib mattress?
Don't rush out to buy your baby's organic crib mattress yet – there are still a few things you need to know to make sure you get the best one you can possibly find…
Your child's organic crib mattress should have a layer to divide the wool inside from the surface. Why? Some children can be allergic to the natural oils that wool contains. So, it is better if the baby's skin is not in direct contact with it.
What is more, to make sure that the child has good support during sleep, the crib mattress should have multiple support cores. If there is only one, it will sooner or later sag and that will be really bad for your child.
There are different ways of supporting the mattress: springs are quite good and durable, and, although they have been used for a very long time, they are still a favourite.
On the other hand, lightweight mattresses derive their support from a material that bears the weight of your child. While conventional mattresses tend to use latex (which –surprise, surprise! – is toxic), coconut coir is a popular choice for organic crib mattresses.
Make sure that the mattress can bear at least 20 pounds in weight. Your child will grow and so will the pressure on the crib mattress.
Press the mattress with your hand firmly and check that it resists your pressure and bounces back quickly.
Do this all over the mattress, not in one place only; this will guarantee that the whole mattress is firm and of good quality.
Also pick the corners with your hand and squeeze them. If they are hard to press and bounce back fast, you are looking at a good mattress.
Check how thick the crib mattress is. It should be 5 inches thick, but more would make it more comfortable. Even children can feel the slats or net through the mattress and be annoyed by them, not just adults…
But it from a reliable retailer; there is nothing better than a trusted outlet to buy important items like your baby's organic crib mattress.
Make sure that your organic crib mattress is easy to clean. Babies are not famous for keeping their beds clean, are they?
This means that it should have waterproofing. But remember that even this needs to be fully organic.
Of course, make sure that all the materials are fully natural.
Finally, the price. To be honest the price range of organic crib mattresses does include affordable ones. The cheapest will start at about $50.00, so, they are not rally out of the range of even a limited budget. Of course, in many cases, quality and price  match, but you may be lucky enough and find that amazing occasion you are looking for.
You can now start looking for your baby's organic crib mattress – actually, no… I haven't answered your last question…
How long does an organic crib mattress last?
Well, a lot depends on how lively and "feisty" your child is… But a lot will depend on how well you treat the mattress. Still, you will expect a good organic crib mattress to last long enough to see your baby outgrow it. 
In fact, about 3 years is the average you may expect from an organic crib mattress. This means that you won't have to replace it any time soon.
For a happy and healthy child – a good night's sleep on an organic crib mattress
Are you ready to see your child's face beam up with a radiant smile every morning? Then the solution is a healthy, natural sleep filled with dreams of butterflies and flowers…
An organic crib mattress will not only give your child the best chances of a healthy life, but will also set your hear at peace; when you next put your baby to bed, you can do it without worries on an organic crib mattress, the best companion for sweet dreams to your loving lullaby…
Best Overall Organic Crib Mattress
(MamaOfFive #1 Choice)
 5/5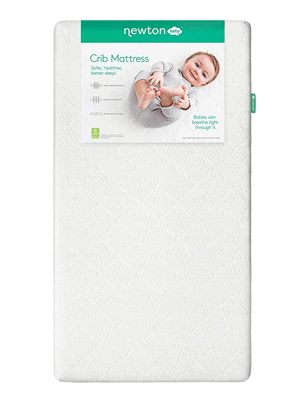 Breathable
Comfortable
Lightweight
Free of harmful chemicals
Table: Top 10 BEST ORGANIC CRIB MATTRESS
BEST ORGANIC CRIB MATTRESS – 10 Products Reviewed
#1. NEWTON BABY CRIB MATTRESS
Most parents are willing to pay more for something that can guarantee the comfort of their children. This one is a bit pricey. Check the characteristics of this mattress so you can see for yourself if the hefty price tag is worthy of taking the first spot on the list of the best organic baby mattress.
Pros
Doesn't need a crib sheet
Extremely breathable
Completely washable
Cons
It's breathable mattress as the inside is composed of Wovenaire. This material made from food-grade polymer with water. It creates a cushion that has 90% air and just 10% of the organic material. 3-D polyester wraps the core. With this kind of cover and cushion, it's undoubtedly the breathable mattress!
 Your baby will surely sleep well in the comfort of a breathable mattress. There's no spring in it, but it's springy with the right amount of firmness. Breathability ceases excessive sweating.
 Parents won't be bothered by the thought that the baby is in the massive risk of suffocation. It's also essential to put the baby in the right sleeping position. Both parents and the baby will be in Dreamland then.
The notable feature of this crib mattress is its 3D space cover. It is a highly breathable fabric, so your baby gets a comfortable feel. It comes with proper holes which give enough breath to your baby.
This mattress is safe for babies, even though it's not organic. It's void of allergen substance, latex, glue, foam, and spring. There's no need to fret about allergy or irritation.
 It also has the claim of being recyclable. It won't shrink as low-quality ones do. With its high price, it can stand the test of time even your baby has outgrown it. You can use for another baby or kid.
Though the quality is reliable, another concern about a baby mattress is the washing pattern. It must be handled with care so the durability won't be affected. You can wash the hypoallergenic polyester cover by hand or machine. The inside can be soaked and rinsed in plain water then let it dry.
It's non-toxic, but there's an odor when you first have it. It's recommended to use another sheet to cover it. 
The one major disadvantage that we've found in this mattress is its price. The price of this crib mattress is a little high for some parents, but it offers enough features for its price.
Previous
Next
#2. LIFEKIND CERTIFIED ORGANIC BASSINET MATTRESS
Many people are attracted to what organic things can do. Parents recognize this knowledge to influence their preference of getting an organic baby mattress. Baby's skin is sensitive to some components that are not found in organic and natural products
Pros
Great for allergy suffers
Good quality and design
No chemical flame retardants
Cons
This oval-shaped organic crib mattress can give your children a good and healthy sleep that is essential for their growth. The materials used for this mattress have been carefully picked to meet some standards of a renowned organization like the Global Organic Latex Standard. The approved rubber latex fills its core. It surrounded by organic wool and cotton.
It has probably the best crib mattress cover. The wool in the mattress cover acts as a flame barrier. Despite this ability, there are no harmful chemicals on the material. It had tested, and it received a Greenguard Gold certificate. This mattress stays wholesome to answer the safety demands of the users.
The weight of this mattress is only 5 pounds which is very lightweight so you can easily handle this matress. Then this mattress is GOTS, GOLS, and GreenGuard Gold certified.
It's long-lasting as the durability is based on its production process. It didn't pass through any machines. It's naturally made because this is handmade. Manual labor is dependable, as each detail is checked meticulously.
Your child will surely sleep soundly on the entire surface of this mattress. It has a measure of 29 x 23 x 2.4 inches. Its weight of five pounds makes it more appealing. It can be transferred from room to room without taking much time and energy. There are times that you want your baby to be near you so this mattress can surely leave the nursery.
When you order this one, you have to wait for five days. It is handmade as mentioned, so it needs adequate time. What are five days in exchange for a durable mattress with excellent materials? If you receive and unpack this, you can smell a barn-like odor, but the off-gassing chemical is worse than it.

This mattress offers a lot of features; however, it has a drawback. It comes with a round shape which is doesn't fits all bassinets. 
Previous
Next
#3.Colgate Eco Classica III Dual Firmness Crib Mattress
This mattress goes with the saying, 'What you see is what you get." You'll appreciate its looks the moment you see this. The well-made appearance promises comfort for a good night's sleep.
Pros
Lightweight Organic Cotton
Has correct amount of bounce
Easy to clean and setup
Cons
It has a smart design for an organic crib mattress. It features dual firmness. One side is the firm part for infants, and the other side is for toddlers who love to feel the softness of a bed. It's great to have this as a part of your baby's growth and childhood. There's a label that would show you which is which.
The filling is a certified organic cotton fabric, and it makes the mattress waterproof. One hundred and fifty coils innerspring are added for durability. This mattress offers snug fit from its size of 51.63" long, 27.25" wide and 6" thick.
The edges are square that would likely fit cribs in the standard size. It won't give parents a hard time to adjust or to settle for another crib. It can be used right away as it will be delivered to you in frustration-free packaging. Even if your kid rolls on it, he won't slip from it.
It comes with 150 coil support and also offers a firm side for infants and the infant side for a toddler. It gives comfy and safe sleep for your baby.
This organic cotton crib mattress is free of any harmful chemicals and toxins. The baby's sleeping area must be safe for the relief of the parents. It is water-resistant so that it can be cleaned by damp cloth even with wipes.
It is a high-end mattress, so it's costly. It's fine as you can get your money's worth with all of the benefits you can get from it. It would accompany your child as he grows.
The mattress can create sound when someone moves on top of it. Some people may find discomfort from it, but it's no big deal. You may also want to buy sheets for it. 

The weight of this mattress is 20 pounds which is one of the highest weight mattress on our list. So you have to put more energy for moving this mattress from one place to another.
Previous
Next
#4. EMILY CRIB MATTRESS
When talking about the safest baby mattress, this mattress can be the best choice. It is marked as Greenguard certified because the materials are not just organic but eco-friendly too. This fact can quickly gain parents' trust.
Pros
Completly organic
Naturally resists fire & water
Certified organic cotton
Cons
Not completely waterproof
The materials for the filling are purely organic. There are coconut pads which are breathable so your baby won't be sweating a lot. There's also a portion of natural organic latex added for even distribution of weight. A part of it made of organic cotton for comfort that can make the baby sleep well.
There's a heavy-duty 150 coil innerspring in it to solidify durability. The quilted cover made of wool to resist mildew, mold, and dust mites. Therefore, it can protect your child from things that cause skin irritation. The wool is like protection from flame, but it doesn't carry harmful chemicals.
The wool can impress parents and put the baby into a haven of comfort. It has moisture-wicking properties that warm your baby when it's cold, and it will cool him when it's warm. Temperature can be one of the causes of sleep disturbance, so this is a great function.
This mattress is a firm mattress which is naturally flame-resistant, and it made of 100 percent organic material. So you don't have to worry about the quality and safety of the mattress.
It is double-sided, and both sides have the same materials. When a drink spills, you can flip the other side. It won't interrupt you from something that you need to do. This feature serves to enforce longer life too. Rest assured, you can count on its ten years of guarantee against manufacturer's defects.
You can expect that this organic wool crib mattress fits snugly to the regular cribs. It can probably have a gap as thick as two adult fingers. Somehow, it's not a big concern, and it's manageable. Overall, it's a green mattress. It's not exactly the color but the natural materials used for making this organic crib mattress.
This crib mattress is not fully waterproof, but the side of the mattress gives equal firmness. And it is also not the cheapest option.
Previous
Next
#5. LULLABY EARTH BREEZE CRIB MATTRESS
Breathability is one of the factors that parents look for when getting a crib mattress. This mattress is proud of how it can provide comfort because it's remarkably breathable. Babies also tend to roll over and face down on their sleep, so this ability is essential to avoid choking. It claims that it's the safest mattress among others.
Pros
Recyclable
Easy to change sheets
Less expensive
Cons
The core is six inches of high-quality foam that won't disappoint you of any shrinking tendencies. It also featured two sides. The soft side is for toddlers, and the firm one is for infants.
The outer cover mattress provides 360 degrees airflow. This breathable capacity is for the needed comfort of sleeping babies. The 3-D mesh surface boosts this feature. It won't yield into a liquid substance, so it's waterproof because of the outer shell of honeycomb. The underside part is with food-grade polyethylene that is capable of keeping the mattress dry.
Using these materials has established the impression of being a natural crib mattress. The seamless design is also structured to eliminate any harmful microbes and bacteria. Babies are not only sensitive to those microscopic organisms, but it can damage the inner part of the mattress.
This breathable mattress comes with a smart oven design which helps to provide extra airflow. It ensures the integrity of the mattress so that it will last for a long day.
It's also certified as a non-toxic and green eco mattress by Greenguard. You're assured that PU foam, vinyl or flame retardants are non-existent in this mattress.
It has edge support that gives way to an excellent fit. It can also keep the baby away from getting hurt. If the mattress doesn't fit, it might trap the baby's limb when he is learning to stand by himself inside the crib. So this is quite a vital edge support for both comfort and protection.
Parents may need to pay for another mattress protector to block stains. However, the breathability is compromised. You can opt for other ways as you can't deny the benefits of its breathable capacity and excellent edge support.
The primary issue of this mattress is its size. It doesn't fit all crib, so you have to check the size of this mattress. Then its cover also rough so it may feel uncomfortable for your baby.
Previous
Next
#6. BABYLETTO PURE CORE NON-TOXIC CRIB MATTRESS
Aside from comfort and organic materials, special and unique features also attract parents when buying stuff for their children. This mattress has distinctive parts, so some parents find this as the best non-toxic crib mattress. Another thing that is likable about this mattress is the not so high price. Buying this one is getting something valuable and beneficial without taking out a lot of money from your account.
Pros
Hypoallergenic
Washable core
Lightweight
Cons
Each part is designed with great thought on its purpose and functionality. The core is compact with polyester which is non-toxic, definitely vegan and recyclable. Of course, polyester has an innate capacity of being breathable.
The polyester makes this mattress lightweight. It somewhat weighs around 9 pounds. It's nice when weight won't bother you as you may want to flip it on the other side. The two sides have a different purpose. The firm side is for infants, while the other soft side is for toddlers.
The outer cover is a quilt of cotton. It's vinyl-free and waterproof, so the mattress is not prone to any stain or spot. Keeping it clean is a piece of cake. You can remove the cover by just zipping it from the mattress, and you can wash it by machine. It makes quick changes even in the middle of the night simple.
It is a dual-sided mattress; It has a nice firm for newborns and the soft side used for a toddler. It is also hypoallergenic and dust mite and allergen resistant. So you don't have to worry about safety.
Parents see to it everything their child use is immaculate. This mattress is hypoallergenic, which resists dust mites. You don't have to worry about allergies as well as the chemical of flame retardants. The materials don't carry toxins.
The square corner, together with its inverted seam gives way to the right fit. It won't be a struggle to match it with your crib. The right fit is vital to avoid any body parts from getting hurt.
Getting a premium and safe mattress for your baby is not costly in all cases. This mattress proves it. 
The primary issue of this mattress is its size. It doesn't fit all crib, so you have to check the size of this mattress. Then its cover also rough so it may feel uncomfortable for your baby.
Previous
Next
#7. MOONLIGHT SLUMBER LITTLE DREAMER MATTRESS
We can't avoid splatter of liquid or any solid pieces that may leave the stain on some surfaces. Observance on cleanliness is a delicate matter when it comes to taking care of a baby. Busy parents will be happy if there's something that can assist them with their childcare without consuming a lot of time. This mattress doesn't accumulate much dirt so it can be the best organic crib mattress protector you can find in the market. It saves time out of so many parental responsibilities.
Pros
Lightweight
Great comfort
Fits cribs snugly
Cons
The interior is naturally infused of polyurethane foam. It would work best for infants and toddlers as it received a certificate from CertiPUR. The side for infants is high density and extra firm for muscle development. The side for toddlers is firm but soft to create a comfortable sleeping area.
A textile with a fire-resistant layer is wrapped around the foam. It's a densely woven fabric that can naturally stop fire to spread on the mattress. Another tight-knit fabric covers this layer. It is added so the mattress can be wiped easily for any dirt. The baby is always protected from any unwanted bacteria because it's hypoallergenic.
It is a hypoallergenic mattress which helps to protect your baby from micro germs and its cover also waterproof so you can easily clean this cover by using a damp cloth.
An airflow ribbon closes the entire mattress to keep your child cool. The discomfort of heat may wake your baby up. The seam is made of dual stitching, and it won't scratch baby's skin. It has square edges to ensure that there's no gap when this is placed in a crib.
This mattress is purposely made to save parents from spending a lot of time cleaning up. But it can't promise the breathable capacity though it has airflow ribbon. The seam that is with dual stitching makes removing the cover a meticulous job. 
It is not 100 percent organic, but it made of eco-friendly materials so you can use this mattress and it is perfect for our environment.
Previous
Next
#8. Colgate zenBaby 2-Stage Crib Mattress
Money is out of the question when you purchase something with good quality and value. As a parent, it's okay with you to spend more for the sake of your child. With so many references you can check, you might get something that would only disappoint you. But this mattress will not fail in giving your money's worth.

Pros
Fits standard cribs
Odorless
Affordable
Cons
Toddler side doesn't have cover
The inside is an eco foam that is infused of plant oil, and it is tagged as safe by Greenguard Gold. It meets all the requirements for safety standard, so it's hypoallergenic. It doesn't contain unacceptable substances, so this foam has received the certification of being safe and having high quality from CertiPur. It is to attest that it was manufactured without the inclusion of lead, mercury, and other kinds of heavy metal.
 An organic cotton cover lays around it. This cotton plays a role of being a flammability barrier. It has dual firmness which gives comfort to an infant out of its orthopedic style. It can still accommodate the child that has grown into a toddler. It is also waterproof, but it doesn't have that plastic kind that can make some squeaky sound.
It is the GREENGUARD Children & Schools certified mattress so you no need to worry about the safety problems. And its cover also 100 percent organic which is  ensures the comfy sleep to your baby.
The dimension of this mattress fits all the standard crib mattress. It intends to be compatible with the crib with not more than the length of two fingers. It won't create an opening that can cause entrapment or suffocation.
The edge support is quite excellent as it will hardly sink when you put pressure on it like when you sit on it. Some parents may worry about the side design as it's not squared. 
It is not 100 percent organic, but its cover made of 100 percent natural. And some parents are complaining about the stitching of this mattress.
Previous
Next
#9. BABYLETTO PURE CORE CRIB MATTRESS
Healthy sleep has a lot of benefits for babies. It contributes to their growth, and it will also put them in a good mood. No more grumpy babies because of this non-toxic crib mattress. This mattress is from Pure collection of Babyletto that assures parents of non-toxic materials for safety concerns. The unique characteristic of this among the other bed in line is that it's non-vegan.
Pros
Non-crinkly
Waterproof cover
Dual-side mattress
Cons
This non-vegan mattress is free of undesirable components like vinyl, flame retardant, synthetic latex, and off-gassing material. To further describe its core, it consists of non-toxic polyester. It has two sides, and each of them has its purpose. The firm side is for infants, while the cushier comfort is intended for toddlers.
Cotton is the material for the cover of the innermost part. The outer cover is removable, and you can wash by machine using lukewarm water. It's dryer safe too.
The overall thickness of this rectangular mattress is five inches. It's not advisable to bend this mattress neither wash this in the machine. It will manage to stay clean as it is allergen and dust mite resistant. All the parts can be dismantled and recycled.
It made of purest material to provide safe and healthy sleep for your baby. It comes with only 9 pounds which makes your carrying option easy.
The waterproof cover has the feel of the fabric on it, and it doesn't wrinkle easily. You can clean it easily when you accidentally throw water or milk on it. Though it's not flammable, it's not treated by using any harmful chemicals.
Like the pure core with hybrid cover, this is just soft waterproof. It's not entirely water repellant so it can't stand much amount of water. Prioritizing your child's safety and comfort when they sleep is a natural impulse. This mattress will give you peace of mind without paying a lot. 
It also has some drawbacks. This mattress doesn't fit all crib so you should consider your crib and mattress size before you going to make a purchase.
Previous
Next
#10. DREAM ON ME TWO IN ONE 6-INCH MATTRESS
The two in one function of this mattress is the flexibility of providing sleeping comfort for both infants and toddlers. Aside from putting this in a crib, it can be an organic toddler crib because of the natural materials used. You can use this from the moment your baby was born until he has learned how to walk.
Pros
Wipes clean with warm water
Antibacterial Mattress
Compactness
Cons
The foam that consists of the central part of this mattress is enhanced by soybean oil. Greenguard Gold certified this as it can provide a healthy environment for bedtime. It's extra firm yet lightweight in six inches of thickness.
It's also high density which makes it durable and it won't sag for continue use until your baby becomes a toddler. It has the exact firmness to support the tender body of an infant. The two layers are hypoallergenic are cushioned comfort for both infants and toddlers.
It has a pearl-embossed cover with airflow technology. It's breathable for the comfort of a sleeping child. It is lock stitched and water-resistant so cleaning will be done in the convenience of wiping. You can use warm water and mild soap. It's a simple way to make stain or dirt go away in an instant.
The cleaning process of this hypoallergenic mattress is simple, so you no need to put more energy to clean this mattress and also the price of this mattress is low. It perfectly fits your budget.
It was tested in the laboratory for water or air permeability. You won't doubt that it would put your baby to sleep quickly. It has also passed the flammability test as well as the absence of any harmful chemicals.
It's lightweight so you can change sheets with ease and you have the option of two sides that are in white and printed. It has a square cut corner so it can fit well in the crib. Then you can turn it as a nest crib mattress for your toddler.
Parents must be aware that the sheet is not too tight or loose over the crib for safety reasons.
It only has 80 springs which are a relatively low number for an innerspring mattress. Other than, it is one of our best crib mattress, which is available on the market.
HOW WOULD YOU KNOW IT'S AN ORGANIC MATERIAL?
Aside from the latest trend on food, organic is also used for non-food materials for production. These materials came from living things.
HOW WOULD YOU FIND A REAL ORGANIC CRIB MATTRESS?
 The mattress should be certified based on the following criteria:
The number of organic materials utilized in production.
Some unwanted chemicals shouldn't be found in the products.
The importance is given to supply chain sustainability.
The labor practice of the workforce in the manufacturing process.
Six certifications would guide you in getting the real organic mattress.
Global Organic Textile Standard – The made-with-organic product should be 70% made of organic fibers and only 10% of synthetic fibers. While 'organic' should carry 90% of natural fibers. It also checks harmful substances that can be found in the product.
Global Organic Latex Standard – The raw materials used in the mattress should be 95% organic. It thoroughly checks the procedures done in the supply chain.
Organic Content Standard – The process they apply is to check if the material is natural or not. It also examines the operations of the supply chain.
Standard 100 by OEKO-TEX – Test is conducted to see whether harmful substances are added or not. It has an online service for you to verify certification from them.
GreenGuard Certification – Products are tested for levels of VOCs (Volatile Organic Compounds) that can damage the respiratory system.
CertiPUR-US – This is the certification for checking harmful substances like phthalates, ozone depleters, certain flame retardants, and VOCs that can be found in the foam used in the mattress.
WHAT ARE THE IMPORTANT FACTORS THAT YOU NEED TO LOOK FOR?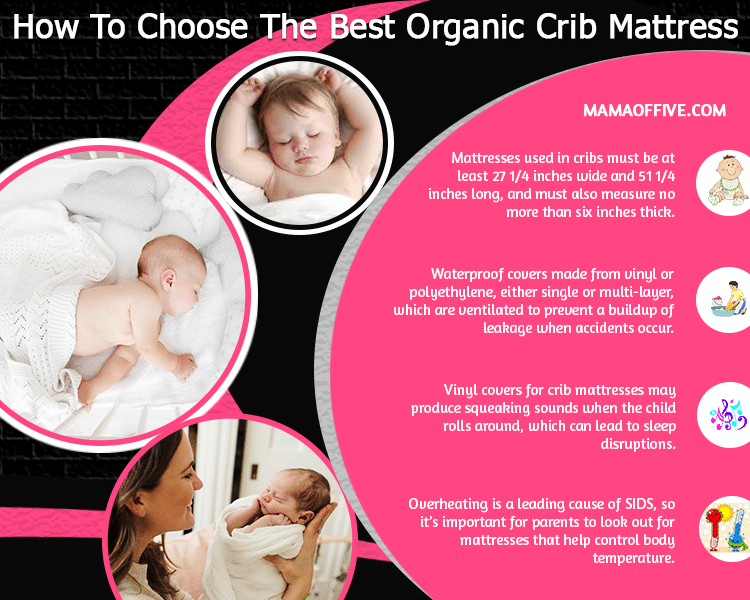 1.FIRMNESS
Baby's fragile body is still in the process of development and growth, and a firm mattress will provide adequate support. It's also a sign of durability. It won't be likely to sag either shrink in a matter of time.
Some babies roll over on their sleep, firm surface won't put them at risk of suffocation. You would know that you can rely on the mattress' firmness by pressing your hand on it and it won't leave a mark.
Mattress with dual firmness is also useful as you can still use it until your baby has become a toddler. Firm side for the infants and softer side for the toddlers because they can handle that kind of texture. 
2.WEIGHT
This consideration is for the part of the parent. If the mattress is heavy, changing sheets or flipping it would be strenuous. It can strain your lower back. Foam mattress should ideally be between the weight of 9 to 13 pounds. Some may be super light for 6 pounds. Ones with coil spring can weigh between 15 to 25 pounds. 
3.SIZE
The mattress should fit the crib. You can base it on the standard size but to be sure, you can check the size first before purchasing. If there's a big gap, some body parts of your baby might be trapped in it. To avoid accidents, confirm the size, and you might also want to get a mattress with square edges. This design can minimize the gap. 
4.WATERPROOF
Who doesn't want to be relieved of extra work? The waterproof surface can bear liquid substances like spit, vomit, or diaper blowouts. It would be nice if it's also removable. Cleaning is easy.
It's essential to maintain the cleanliness of the mattress to stop mildew or mold growth.
5.COMFORT
Breathable material is another thing to consider in buying an organic mattress. Keeping your child cool while asleep should be observed. Sweating can cause rashes if not disrupt the child's sleep.
For cold winter days, organic wool crib mattress can provide warmth. The crib will be one cozy bed for your little one.
Pediatricians recommend getting an organic crib mattress. Organic and natural materials don't only guarantee safe and healthy sleeping environment for your baby, but it can be beneficial for parents too. Your sleep won't be interrupted by cries of discomfort. You can also get a good rest because you have peace of mind.
High-quality products can cost you a significant amount of money, so does an organic crib mattress. It's a better option than getting a cure for your baby's health problem.
Disclaimer: If you purchase any products in this post, we may receive a small commission. We promote only the products which we test and recommend. Read our affiliate disclaimer here.