Weaning your baby can be one of the most exciting times, especially for a new parent who hasn't had the opportunity to do it before. Watching a child sitting up and being independent with food and self feeding is one of the most wonderful things to watch, whether it is your first child or your fifth.
Your baby will seem far more independent sitting in a booster seat the the table, next to their parents.
I found that my 1 year old baby decided he no longer wanted to sit in a high chair and wanted to join us at the dining table. He felt independent and wanted to join the grown ups. 
What I needed was a kitchen booster chair for him that we could place on any dining chair, portable, hard wearing and most of all, easy to clean. 
Here are the top 10 Best Booster Seats for Eating.
Best Overall Toddler Booster Seat
(MamaOfFive #1 Choice)
 5/5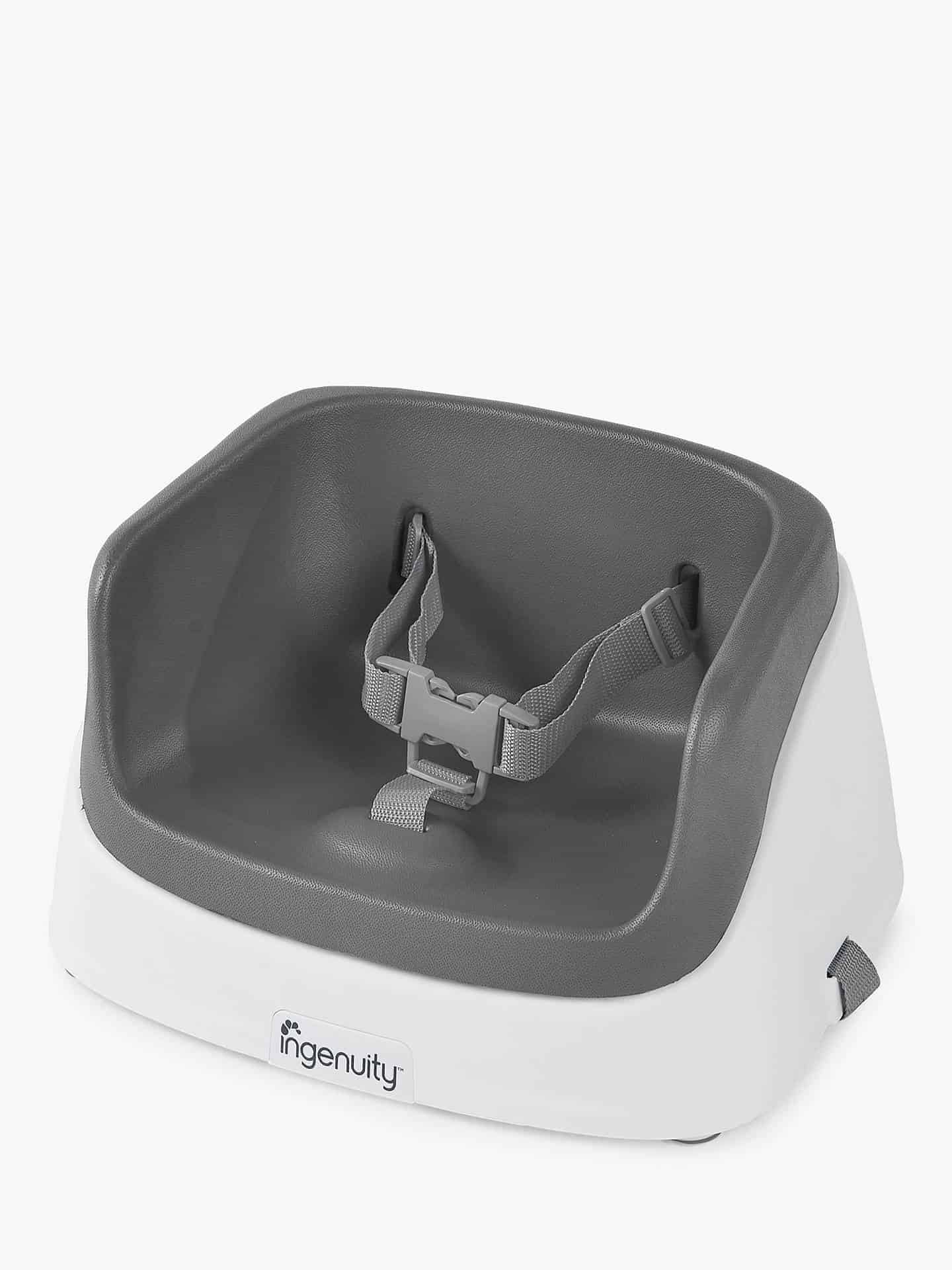 Easy to clean
Variable height options​​
Small and portable
Fit on all type of chairs
When babies first learn to eat they make A LOT of mess. It is therefore imperative that the booster chair you choose for your toddler is easy to clean. A booster seat is necessary so your little one can grow and feel involved as well as being able to keep the kitchen and chair clean.
The tray must always be removable for hygiene reasons so it can be cleaned and sanitized properly.
All booster seats are portable which is a huge benefit in regards to transporting them wherever you feel fit.
You can even take it to the restaurants with you instead of using one there. 
We have even been able to take it to them campervan with us.
Toddlers can eat at the dining table while seated on a booster seat and they'll be secure with their legs fitting underneath the tray and with a strap around them.  
This then becomes a 'seat for big kids' so they feel part of the family at meal times which in my opinion is so important for your toddlers development. 
Here is my  list of the best child booster seats available. 
Table: Top 10 BEST TODDLER BOOSTER SEAT FOR EATING
BEST TODDLER BOOSTER SEAT FOR EATING – 10 Products Reviewed
#1. INGENUITY SMARTCLEAN TODDLER BOOSTER SEAT
Giving your child the freedom to eat by themselves is okay, even though it could result in a huge mess.
Every parent has to tolerate the process of exploring and learning.
Your baby might be sitting by themselves from the age of 6 months old,  so saying goodbye to a high chair is anticipated.
Your child can start using a feeding booster seat like this one.
It is available in modern slate and neutral to fit any house interior.
Pros
Variable height options
Great for smaller home
It is portable and safe
List Item
Cons
Suitable for older children only
The outcome of every child's meal is food everywhere. Saucy foods such as pasta and rice are the worst offenders.
So this is designed as a dining booster seat that makes cleaning a breeze for parents.
The insert foam is removable for the reason that some toddlers just won't need it anymore.
If it does get messy, it doesn't take long to clean it up again. All you have to do is give it a quick wipe over.
The seat parts are fabricated for essential functionality.
Aside from the ease of cleaning this seat, comfort is also a top priority.
The four inches of foam adds height, which means the child has ample support and can reach the table nicely. 
It comes with a three-point harness that can be connected to the booster seat and the dining chair, keeping your baby safe. 
This pattern is for a secure fit.
We all know that it isn't just the seat that can get messy, but the straps also. No need to worry though, as they can be put in the wash with the rest of your laundry. 
The rubber feet found at the bottom are to minimize movement and prevent sliding off the chair.
 The booster chair is attached with three-point harness safety, which gives enough security to your baby. So you don't have to worry about falling out. And it is also available in four different colors.
This booster won't only work at  the dining table, but you can take it outside with you on trips. Although, it isn't foldable, which shouldn't be a problem either as it is only 3lb in weight. 
It is hugely convenient when you're in a restaurant or on a trip because you don't have to wait for a high chair to become available when you are out. 
If you're a parent who is worried that your child can't sit safely without the harness, you will surely want to buy this seat.
Saving time on cleaning a portable booster chair was of utmost importance to me. I didn't want one that got messy and stayed messy. One that was easy to wipe down and look clean again was a priority. 
Dealing with 7 of us around a dinner table meant that after safety, this was one of the most important factors when choosing an infant booster seat.

It doesn't have the eating table, so you have to make some arrangement for it. Then the foam insert is not ideally fitted into the chair.
Previous
Next
#2. OXO TOT NEST BOOSTER SEAT WITH STRAPS
If you want to turn your dining table into an infant dining table, this baby booster seat will do the trick for you. This is better than having a high chair for your baby. The structure of this seat will let your little one have meals together with the whole family.
Pros
Easy to wipe down
Straps secure the child
Stay seat comfortable for long periods
Cons
Doesn't have an eating tray
The appearance is sleek, in a simple design.
There are four color options which are Gray, Taupe, Navy, and Green.  
The entire seat is covered with a soft cushion. Your little one will love the overwhelming comfort.
The surface is also tear and stain-resistant, perfect for when things spill. 
Keeping this clean is so easy that you can use a cloth or wipes to clean any stain or dirt.
Specific adjustments can be made on this seat to keep your baby relaxed and sage with it's three-point harness and the two side release buckle which are adjustable. 
It won't loosen even if they wiggle a lot.
It is available in three different colors so you can choose it as per your preference. Then the cleaning process is also so simple. You don't have to put more effort for the cleaning process.
There are chair straps at the back and bottom to fasten the seat well.
These straps are adjustable to fit any kind of chair.
Toddlers may not need these so you can put them in the compartment under the seat.
It has non-slip feet for stability, and it won't scratch the chair's surface.
It has a built-in handle in case you want to use it in different places such as restaurants. Even though this is great, it is a bit bulkier, so weighs more. 
It's no wonder that it contains weight as it has a far amount of padding for infants.
You may also find that the straps are not lengthy as this seat is mainly intended for babies as young as nine months. This means that unfortunately, your baby can't grow into a toddler and still use it. 

The price of this booster seat is a bit high for some parents, but it offers enough features for its price. And also it doesn't have the tray.
Previous
Next
#3. FISHER PRICE HEALTHY CARE BOOSTER SEAT
Your little one can enjoy meal time with the whole family and friends.
When the whole family goes out for parties, events, and trips that children want to participate in too, this is the best booster seat with a table for this purpose. 
When your baby is transitioning to becoming a toddler, they may hate the idea of being in a baby highchair. This booster will make them feel like a big kid! 
You may welcome the idea that he can be comfortable in a booster seat.
Pros
Removable tray
Cup holder available
Three height adjustments
Cons
Completely plastic no cushioning
This booster seat with a tray is easy to clean.
The feeding tray snaps on, and it's together with a cup holder. So, with one click, you're able to remove the tray and give it a wash or put it in the dishwasher. 
It has no crevices, so food bits and spillage won't get stuck. Cleaning won't be difficult whether you're at home or dining at a restaurant. 
This booster seat is completely portable and can be folded so it is compact enough to carry. It can also fit on different types of chairs. 
You only need to secure the shoulder strap to keep your baby in place without slipping off the seat. It's the same strap that you need to hold onto when you're carrying it. 
It comes with three height adjustments and three-point safety harness, which gives enough security for your growing baby. Its food tray is dishwasher safe so super easy to clean
It has a 3-point harness that strengthens the safety system. It's also to keep pace with the baby's growth. Parents can also raise the leg divider for a more secure fit. Security measures shouldn't be missed as the children who can use this seat need detailed supervision.
This seat has a plus factor for its tray as it's near to your baby, and it can prevent food pieces from falling. You can rely on how the baby can securely fit in this even though it is not cushioned. You won't worry about it as your child listens and learns from the behavior of adults around them during mealtimes. 
The entire body of this seat made of very lightweight plastic. So the cleaning process is simple.
Previous
Next
#4. MUNCHKIN PROTECT BOOSTER CHAIR COVER
Getting a booster seat for your child means you can give him a chance to be independent during meals.
When it comes to mess made at dinner time. Some food pieces or liquid splatter only need to be wiped out with the help of a damp cloth.
This is a great seat that fits on all different types of chair.
Pros
Easy to clean & wash
Fits on all booster chairs
Secure the booster sheet
Cons
The thought of your child making a mess on someone else's furniture could fill you with dread. My family seems to love velour and fabric which is NOT ideal for a toddler learning to eat.
Some high chairs and booster seats don't just stay at home, but they also go with the family for outdoor trips. It would be much worse if the chair that you don't own could get a stain that couldn't be removed.
To save yourself from this embarrassment and maybe a large bill for replacing a fabric chair, getting a chair cover would make you confident in avoiding these kinds of situations.
After it's been used for your baby's meal, you can throw it in the washing machine ready for your next outing.
These are all made possible because it is composed of grime guard material.
It made of grime guard fabric which ensures the durability of the booster seat, and it is scratch-resistant. You don't have to worry about cleaning the chair with this cover. 
It's made to provide security for your child.
It has a traction pad with extra grip to pin the seat on the chair well.
It has special flaps around it to hold everything in the correct place.
This feature foresees that the straps tend to wear off from the sides of the chair. It prevents this situation from happening as those straps put the baby securely in place.
The size of this cover is 18″ x 18″. Having this one and putting it down before you place your booster seat on the dining chair won't be a struggle.
You can gain a lot from protecting furniture from any damage.
This booster seat also has a drawback. It doesn't have the straps, so you have to need an actual booster seat.
Previous
Next
#5. CHICCO POCKET SNACK BOOSTER SEAT
When you start weaning a child you really don't want to go back to spoon feeding, especially if you are out and about.
Children love being outdoors and discovering new places and new tastes. Taking a chair like this one when meeting up with your friends for coffee is ideal. 
Although its name is the Snack Chair, this one is not only for snacks, but it's also formed as a booster seat dining.
Pros
Push-button fold
Rubber feet avoids slipping
Three removable tray positions
Cons
A little difficult to clean
The reason why it's called a snack booster seat is due to the ease of push-button fold and the convenience of storing this.
It's fantastic for taking out because it's portable once folded.
The carry strap on the shoulder means it's easy to carry both the chair and your toddler.
You're able to take this chair on outings with you as well, instead of having the worry of taking a bulky pushchair. This seat is also ideal if you are going on holiday and need something light and portable. 
The legs of this seat are foldable giving way to three different height positions.
It is made of metal. It can adapt to the height of your child, and you can continue to use this as a toddler booster chair.
The tray has the same characteristic. It's structured to conform with different sizes and heights, but this is probably best suited to children who can sit well by themselves.
This portable booster seat allows you to adjust the seat at three different positions and also has three tray positions. This sturdy metal leg construction comes with rubber feet which helps to prevent the seat from slipping.
It has a three-point harness like any good seat should have.
There are markings on its feet to stop the seat from slipping.
The back and bottom straps keep your child safe.
The seat is spacious for your child's comfort, and it has a capacity of 50 pounds.
For the maintenance of this booster seat, it's advisable not to submerge it in the water. Otherwise, you can wipe it over with a damp cloth and anti-bacterial spray or mild soap. 
It's also good if you know that this seat matches chairs with a width of 14 inches or less and the backrest is 12 inches high.
It would make your toddler feel like they're really sitting on the same chair as you.
It attached with three-point safety harness system. However, it can't come off. So the cleaning process is slightly more tricky for you.
Previous
Next
#6. FISHER PRICE SPACE SAVER HIGH CHAIR (LUMINOSITY)
Using this high chair booster seat is one way of maximizing space when you have a small dining area.
It takes up less space than a high chair as you can attach it to a chair and you can even remove its seatback.
It's also compact so you're able to take it on outings with you, wherever you decide to go. 
It has a Fastfinder Link, a part of it where you can hang bibs, towels or toys within reach whenever you're on the go.
Pros
Great space tray
Cushion is washable
Has Additional height
Cons
This booster high chair's surface consists of polyester and enough padding to make your child comfortable.
The nanotech seat pad is stain and spill resistant, and machine washable.
It goes with Luminosity fashion seat pad to make it look pretty, or you can even purchase other pads with different prints.
For its safety function, it has a 5-point restraint system, or you could adjust it to 3-point to follow your baby's size.
The height and how far it reclines can be adjusted too. It is capable of supporting changes so it can be used with any child and follow your baby through the stages of growth.
You can remove the back seat so it can be one of the booster chairs for toddlers at the table as it can carry up to fifty pounds of weight.
By using this seat, you don't have to need an additional high chair for your baby. And it comes with five-point safety harness which ensures the safety of your baby.
The tray is also removable for laid-back eating time and perfect for easy cleaning.
You can wash it in the dishwasher as it's dishwasher safe then you slip it back when it's time to feed your child.
You don't have to buy another booster seat for a good while in this case.
It would save space in your dining area and you won't be able to notice it when you put it away for storage. 
It's also nice that it's portable to be taken outside, and you have options in changing the seat pad that can reflect your child's personality.
This booster seat is a bit heavy, so carrying it around can be slightly tricky. Other than that , it is one of the best seats on our list.
Previous
Next
#7. THE FIRST YEARS ON THE GO BOOSTER SEAT
Carrying a booster seat has never been so easy.
This booster seat is perfect for the table, especially at family and friends gatherings. 
As a parent, you'll be happy to carry something that won't be so heavy and bulky. 
Pros
Portable
Lightweight
Three-point harness
Cons
Not suitable for everyday use
The unique attribute of this booster seat is its transformation into a lunch box. 
It's hard to tell that you're carrying a booster seat. It's remarkably lightweight as it is only a mere pound in weight.
It also has a carry handle.
Its compact nature induces a self-inflating system.
When it's time for your baby to sit, you only have to pull the valve so it can inflate itself to show its whole structure.
You don't have to follow many steps to set this up, making it really easy to assemble and make comfortable for your baby. 
Pressing the air out flatten this thing so you can put it back to its compact state whenever it's time to leave or to store it.
It is one of the lightest and compact boosters on our list, and it weighs only one pound, so you can easily handle this seat without any strain.
The self inflating process can also adjust the height up to 4 inches.
The adjustable belt built into a T-restraint is added on the seat to hold your baby securely.
It can carry children starting at the age of 9 months and has a capacity of 50 pounds. But with its structure, it is more appropriate for those who can sit upright.
The seat is wholly made of fabric so the dirt can stick on it, which is a bit of a negative. 
It is however wipeable. It inflates like a balloon, so it's no wonder that parts can't be detached.
Other concerns in using this one are with the seat and straps. Since the seat is inflated, there's a tendency to wobble.
It won't stay stable or flat as it is. The weight of the child will make a side shrink.
Some may find that the harness straps are flimsy due to the structure of the seat. 
The primary issue that we've found in this booster seat is its tray which is tough remove by one hand. And you cannot use this seat for your newborns.
Previous
Next
#8. FISHER-PRICE SPACESAVER HIGH CHAIR, MULTICOLOR
Wouldn't  you just love the idea of having one single chair that can be used from day one until your baby becomes a toddler? 
This 3-in-1 booster seat caters for the needs of your child in different growth stages.
This is also a great space saver if you live in a small apartment.
You won't need to worry about your child taking more space because of a bigger chair.
Pros
Adjustable
Handy tray
Reasonable price
Cons
Straps have to be very tight to make it sturdy
It's made of good aesthetics, so it appears and feels like it's high quality.
This is a seat for comfort too.
The three in one title represents the three functions for the changes in the growth phase.
Bottle-fed infants should be given much-needed comfort and support. So there's a plush head to support the body and make feeding time comfortable.
This chair can also be reclined to provide a cradle design for your child.
The plush head can be removed when you want to use this as a toddler booster seat for the dining table.
Your child can sit upright unassisted at this stage of his life.
This toddler eating chair has calf and foot support that can be adjusted in three positions depending on the size of your child. 
You can slide the foot support while the calf support pivots.
Infant high chair and toddler booster in one: Customize with 2 height adjustments and 3 recline positions
The seat pad is machine washable, and the tray is dishwasher safe. its plush head and body support help to keep your baby both safe and comfortable.
The unique function of this chair is it can rotate sideways, which means your child doesn't only face forward when joining you at the dining table.
This is helpful when you are spoon feeding your child.
This dining booster chair has numerous reclining positions. 
You might struggle in some aspects with the tray.
It can take time to figure out how to lock it when you have to start the meal.
The size of this chair is too big, and it is not perfect for small babies. It occupies more space to store, and you can't push this chair under the table. 
#9. SKIP HOP BOOSTER SEAT
The design of this toddler seat for the dining table is by far the most adorable.
This seat looks basic but it's much more than it seems. Kids love the design and to be fed in them. 
Pros
Comfortable
Easy to assemble
Removable harness
Cons
This cushioned booster seat is capable of giving comfort to your child during his booster using days.
A year-old child can start using this one with the adjustable chair straps.
It also has a removable three-point harness that might not be needed by a three-year-old toddler and up.
It can be removed when they can manage to sit alone unaided.
This seat has a playful image, but the design is also streamlined.
To safeguard your child from any accidents, it has non-skid feet as well as adjustable chair straps.
It can be used during mealtime, taken out to restaurants and even used while having a picnic. 
You can quickly move this chair from one place to another due to its lightweight. Then the installation process also simple you can easily install this seat by yourself.
This toddler eating chair only weighs four ounces so perfect for parents who want to use it when taking out the baby.
It is portable and comes with a carrying handle on it.
You don't need to fold or click any buttons to attain the compact size.
Your child can be on the dining table at a level height so they can see the food. There's no need to ask for a high chair in restaurants.
This booster seat can make up for the shortness of the child's own height when reaching  the dinner table. 
This chair doesn't have a tray, so it needs to be  pulled up to a table for eating. It is not an ideal choice for a newborns but more suited to a one year old child.
Previous
Next
So, the question for most parents is, 'When is the right time to get a booster seat?'
The ideal time to buy a booster seat totally depends on your child.
My daughter was already sitting unaided by 4 months, my son however, was closer to 7 months.
The main consideration would be if the child is able to support his back and can sit in an upright position.
Parents should ensure that there are straps and harnesses that can securely fit the baby on the chair.
Here are the detailed steps in order when you connect your booster seat to a chair.
The following are safety instructions to ensure your baby is safe from falling or slipping;
Check if the chair is firm enough. It is essential as it is the base of the booster seat. Once the base is sturdy, tipping over can be counteracted.
You can put the chair cover so you won't stain furniture. It also contributes non-slide properly, so the booster seat always stays in place.
Make sure to tighten the straps well so it won't loosen up and make the booster seat fall, also be aware not to leave the baby unstrapped. There are dual straps on which one would be wrapped behind the chair, and the other will be over your child's lap or on the area above it.
The harness system is also applicable for younger ones but a lap belt for toddlers.
When you're little one struggles and tries to get out of the chair, it won't easily be tipped over. The chair remains rigid, unlike the high chair. But still, safety precautions must be observed to avoid any accidents. Parents have to keep the following guidelines in mind.
Only use a booster seat for children who can sit in an upright position without assistance.
Make sure that you only attach the seat to a sturdy chair. You should avoid plastic, lightweight, or garden chairs.
Double-check the seat is attached securely with the chair. You can do this by lifting the booster to make sure they are both secured to one another
Belt restraints  can strengthen the safety of your baby. A crotch guard is also useful to avoid slipping, and it would work well with younger babies. 
Don't put the booster seat next to a wall or some other things.
The seat may topple over when the child kicks the wall.
What are the essential features of booster seat for eating?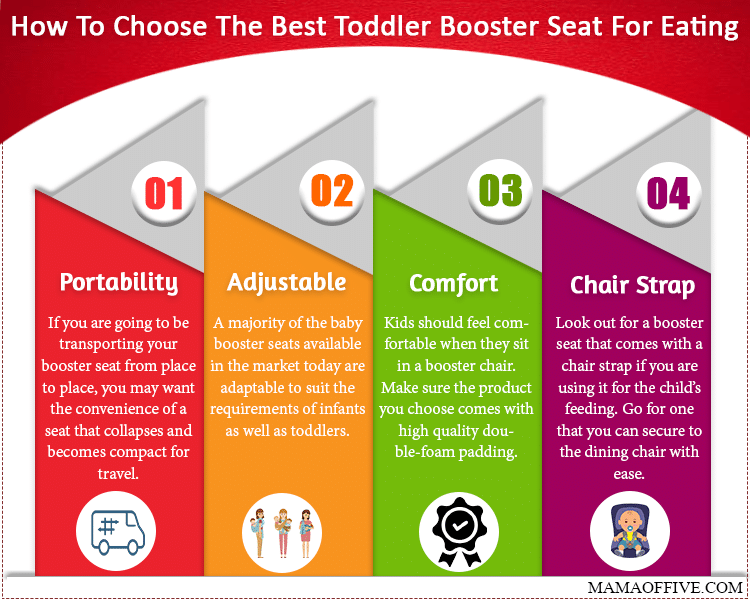 Aside from safety, parents would want to know more details about the tray and the position of their child on the seat.
The tray is necessary for younger ones, and it can be connected to the table if both are on the same level.
It can be removed when toddlers want to use it in the kitchen as a booster, so your child can reach the food on the table.
It's an advantage when you can adjust the  sitting position so that the child can be at the same level as the dining table.
It's up to the parents to choose what's the best booster seat that is perfect for their babies.
They can all provide the similar benefits, and even some have unique features that might be appealing to some.
Cleaning will always be important, as a dining table gets wiped up after every meal.
All of them can be portable, and they can be fixed on every sturdy chair.
When it's time for your baby to move from high chair to booster seat with his eating habits, it's recommended you get one for him. It's not only for his safety, but it can also decrease your parenting tasks.
Disclaimer: If you purchase any products in this post, we may receive a small commission. We promote only the products which we test and recommend. Read our affiliate disclaimer here.