Finding a pediatrician for your baby is one of the most important tasks you need to do and preferably before the baby arrives.
Some people suggest that you should start looking for one as early as the second trimester of your pregnancy so you will have enough time to shortlist and choose the best one for you and your little one.
How to make choosing a pediatrician more effective?
Having a list of questions to ask a pediatrician before the baby is born and an early head start can help you find the best match with ease because you have more time to go through all pediatricians you are considering and you leave nothing to chance.
Not sure where to look for pediatricians? You can always get recommendations from fellow mommies!
Ask your mommy bffs!
As an Amazon Associate I earn from qualifying purchases. The links below may be affiliate links. Please read my disclosure policy for more information.
You can also ask for referrals from your midwife or doctor. It's best that you get referrals from people who already know you because they can point you to the direction of someone who they think is best for you.
I think this is much better compared to relying on Google searches and trusting testimonials from people you don't know.
Things to Consider Before Choosing a Pediatrician
Location – The doctor's office should in close proximity to your home. Also check traffic conditions especially during rush hours and availability of public transport in case you can't drive.
Wait time – Also double check how long is the average wait time. You can always call the secretary or ask other moms who take their babies there. You do not want a pediatrician that's always overbooked. There's a big chance that the check-up will be done in a hurry.
Cleanliness – This should be a no-brainer. You would want a clean and sanitary place to bring your child to. Also check for baby proofing! This is very important because you'll never know!
Let's say you have your list ready but you're not sure what questions to ask to help you identify the best doctor for your newborn.
I have prepared a list of questions that you should ask a pediatrician you're considering, during an interview, and during your subsequent visits for when you've finally decided on one.
Got a pen and paper ready?
Related: Essential oils for baby congestion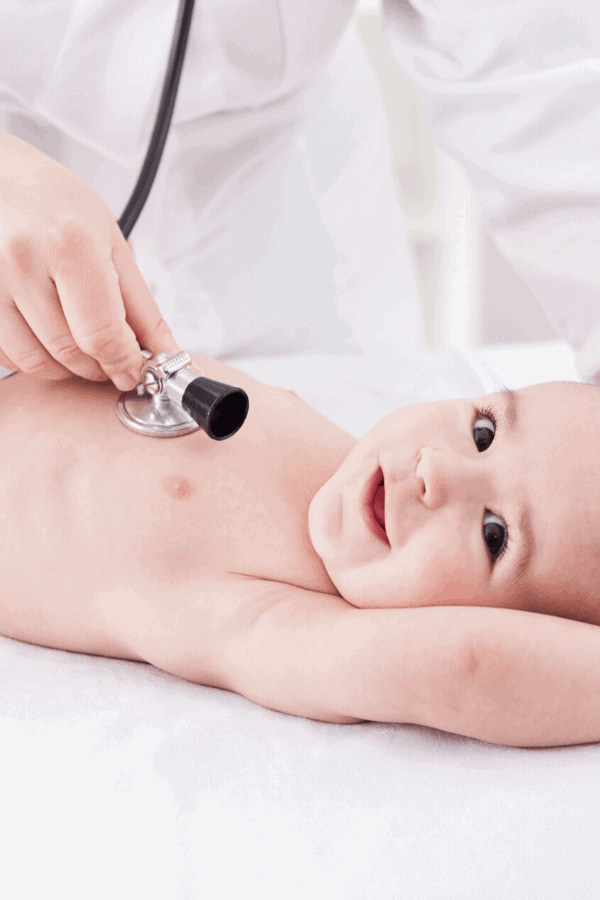 What Questions to Ask the Pediatrician You're Considering
Do you accept my insurance? – before you ask anything else, this should be the first question you should verify especially if you have insurance and plan on using it.
It would be a waste of time and to go through the nines only to find out later on that the doctor you've identified does not accept your insurance.
You can verify this by just simply calling the doctor's office.
If you are satisfied with the physical location of the clinic and the pediatrician accepts your insurance, the next stage is the meet and greet.
It is still very important that you prepare your questions to ask the pediatrician during the interview, so you don't leave any important issue to guessing games.
Related:
What Questions to Ask the Pediatrician at Meet and Greet
Don't worry about having a lot of questions, it is best that everything is clear to you so that you know what to expect.
In any case, pediatrician are used to being asked these questions and they actually love it when the moms are inquisitive and hands-on.
This tells him/her that you know what you and your baby need and he/she can address those needs accordingly.
1. Where did you attend medical school and how long have you been in practice? Do you have sub-specialties?
2. Who covers in case you are away like on vacation, and we need a checkup?
3. Is your first meeting with my baby going to be at the hospital after I gave birth or during the baby's first visit at your clinic?
4. What is the best way to communicate with you? Can I email or text?
5. Can I call you for non-emergency but somewhat urgent baby related questions?
6. What are your clinic hours, and will you be able to see us outside of office hours or weekends if necessary? How are emergencies handled during off hours?
7. Do you have separate rooms in the clinic for cases of communicable disease or are all checkups done in the same room?
8. If my baby needs to be admitted, which hospital should we go?
9. If there are lab tests required, are they done in the clinic or do we need to go somewhere else?
10. Do you entertain walk-ins or same day appointments for urgent issues?
11. How far in advance should the well-baby appointments need to be scheduled? How do you handle re-scheduling requests?
12. Can you tell me more about your policies for insurance as well as billings and payment policies?
Related: 5 Reasons to Buy an Organic Crib Mattress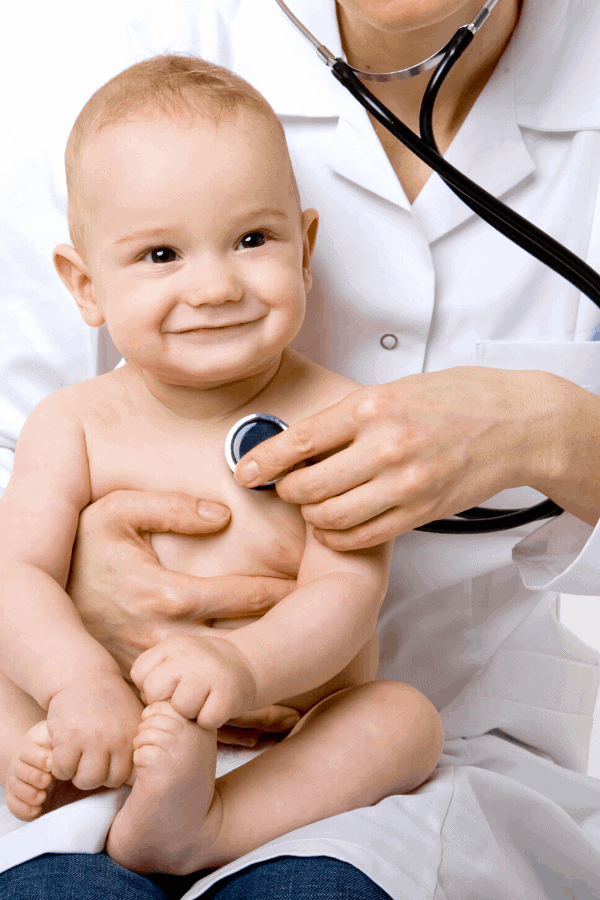 Other Important Questions to ask a Pediatrician During Interview
• What are your views on vaccines, alternative medicine, antibiotics, circumcision, bottle feeding, sleep training, and infant nutrition? – You can also add questions that have cultural/religious backgrounds that may be applicable to you and the baby.
• Would you be able to provide suggestions and recommendations for other issues like social and psychological issues and development?
• Once you've completed the interview and you've gotten all the answers to your questions, it's now time to assess by asking yourself these questions.
• Were you comfortable with the doctor during the interview?
• Did he or she explained or answered your questions in a way that's easy for you to understand?
• Did he or she take the time to answer all of your questions satisfactorily? Did he/she take the time to clarify or explain medical jargons you may not be familiar with?
• Was the pediatrician patient and seem to have your child's best interest?
• Were you attended to within an acceptable time frame or did you have to wait for a long time before seeing the doctor?
If all these questions were answered with a resounding YES, then you may just have found the best pediatrician for your newborn.
Next stage will be your baby's first visit to his/her pediatrician and subsequent wellness checkups.
In all of these stages, it is important that you and the doctor continue to be on the same page and you can help ensure this by making a list of questions to ask the pediatrician during the visits.
Below are recommended questions you can ask during the first visit, second, fourth and sixth visits to the clinic.
OF course, feel free to add questions that aren't here but relevant to your baby's case.
Related: 5 Things to Know Before You Choose a Baby Carrier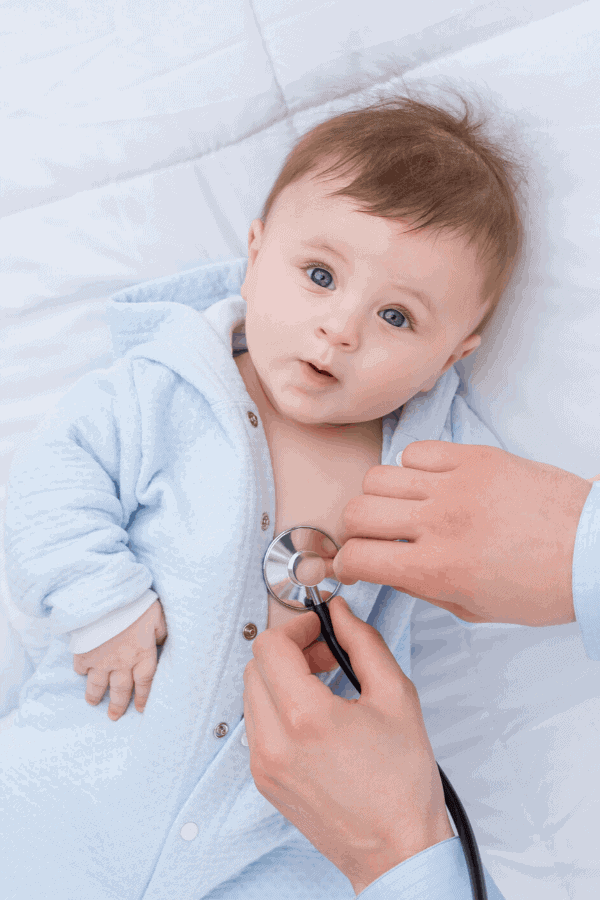 What Questions to Ask the Pediatrician at First Visit
1. How much should I feed my baby? Or Am I feeding my baby enough?
2. Would you recommend that I see a lactation expert? If so, who can you recommend?
3. What is a normal sleeping pattern for newborns?
4. Is may baby's poop and pee patterns normal?
5. Can you go over the vaccines in detail and how can I make it easier for my baby after the shots?
6. Can you check and make sure my baby's belly button is healing okay?
7. Can you give me tips on how to properly bathe my baby?
8. What are the medical benefits and downsides of circumcision (if you have a baby boy and considering circumcision)?
Related: How long to use infant car seats?
Questions to Ask the Pediatrician at 2-month visit
1. What milestones should we expect to see at 2 months?
2. Is my baby's poop and pee pattern okay?
3. Is his/her weight within normal range?
4. How often should my baby feed?
5. When is my baby' next immunization schedule and what are the side effects that we should expect?
6. When will my baby sleep through the night?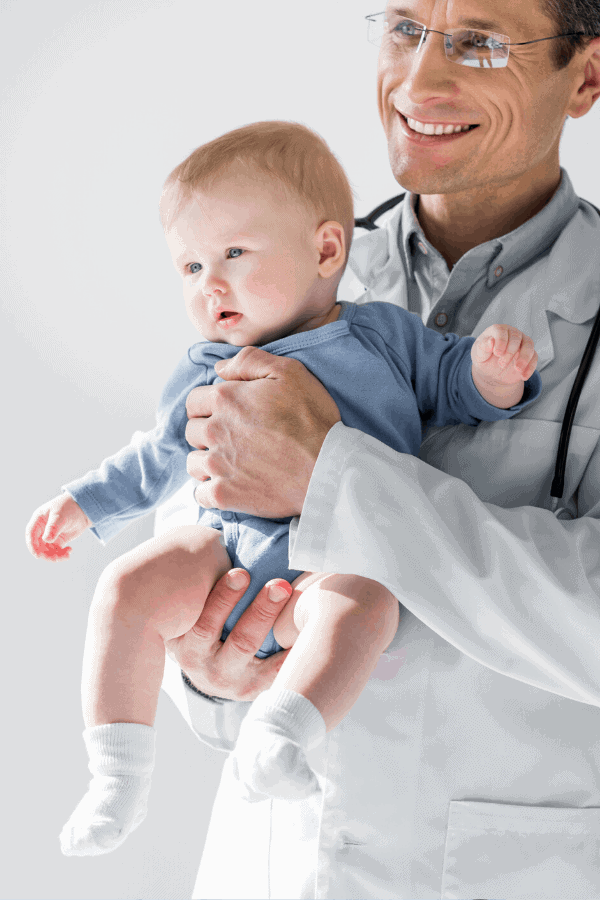 You May Like: 7 ways to use a baby play table
Questions to Ask the Pediatrician at 4-month visit
1. Is my baby reaching his/her developmental milestones?
2. What to expect after his 4th-month vaccines? How can I make it better for the baby?
3. When should I start sleep training?
4. Should I stop my baby from sucking his/her thumb?
5. When can I move him/her to a crib?
6. What toys are safe at this stage?
7. Should I stop swaddling him/her now?
8. When will my baby start teething and what should I do to lessen the discomfort?
Related: Best Baby Activity Table
Questions to Ask the Pediatrician at 6-month visit
1. Is my baby gaining enough weight?
2. What solid foods can I give my baby?
3. What food should I avoid giving my baby?
4. What baby-proofing tips can you suggest?
5. How's my baby in his/her developmental milestones?
6. When should my baby have his/her first dental check-up?
7. When is the next round of immunizations?
Also, make sure to raise anything about your baby that worries you! Your doctor can't give you advice if he/she doesn't know so ask away!
Asking questions during clinic visits is a great way to clear out any doubts you have in the back of your mind.
When it comes to your baby's health, nothing should be left to second guesses.
Also, by listing down all your questions, worries, and anything you are unsure of, ensures that you have a productive visit to the pediatrician.
This ultimately allows the pediatrician to give you proper advice and guidance based on your child's conditions and needs.