Carrying your precious one in your belly for 9 months is a beautiful experience, but we cannot deny the changes that will occur with our bodies during pregnancy.
Best Overall Pregnancy Shoe
(MamaOfFive #1 Choice)
 5/5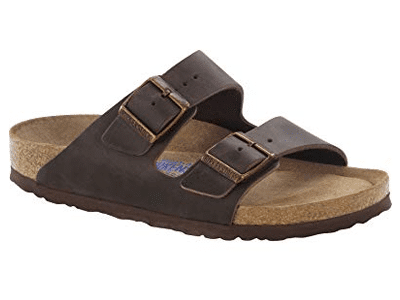 EVA sole
Lightweight
Flat design
Adjustable strap
There will be an increase in your weight – add that to the weight of the baby, you'll find there is additional pressure on your entire body. The extra weight will put a lot more pressure on your legs, joints, and feet. The arch height of your feet will decrease – meaning it will flatten to touch the ground, this change will cause for more rolled inwards footsteps called plantar fasciitis. With that, your center of gravity will shift as well.
It is known that ¾ of pregnant women suffer from swollen feet and research says that these changes can be permanent. It is better to address these changes immediately and adjust accordingly to make the process a little better.
The changes in your body can be uncomfortable and difficult. That is why we are here to give you a comprehensive guide to taking care of your feet during your pregnancy. It is time to switch out your regular shoes to maternity shoes that will suit your pregnant feet better. But you don't have to sacrifice your stylish shoes to old boring ones because you can still achieve comfortability in style.
Here are our top ten options so you could better decide on what best shoes for pregnancy you can choose:
Table: Top 10 Best Shoes for Swollen Pregnancy Feet
Best Shoes for swollen pregnant feet – 10 Products Reviewed
#1. Birkenstock Unisex Arizona SFB
Birkenstock, a brand that undoubtedly you have heard once before. The Birkenstock Unisex Arizona SFB is one of their exceptional sandals that pregnant women with swollen feet will appreciate.
Pros
Lightweight
EVA sole
Flat design
Cons
Not good to wear when wet
The Birkenstock Arizona provides a soft shoe profile during pregnancy. This sandal has a soft footbed which means that on top of the eight layers there is an extra foam added for maximum comfort.
The Birkenstock Arizona has classic two-strap, which comes with a different type of colors and leathers, it is suitable for travel time.
The layers that this sandal has, is equipped for shock-absorbing as well as moisture absorbance. This Birkenstock is surely worth the investment as you can wear it even after your pregnancy is over.
#2. Vionic Women's Tide II Toe Post Sandal
The Vionic Women's Tide II Toe Post Sandal is one of the best sandals for pregnancy. The design for this sandal is specifically for those who have feet problems.
Pros
Minimalistic design
Soft upper straps
Flexible EVA midsole
Cons
There is a guarantee that it will give you ample support for your feet. Specifically, plantar fasciitis, as mentioned in our introduction pregnant women may experience.
The upper portion of the Vionic sandal fits for swollen feet so that you can wear this sandal without worry comfort.
The quality can power through rain, dirt and other tough terrains. The strong and durable material will guarantee you years of use.
If you need something to wear around the house or just to run errands, the Vionic Women's Tide II Post Sandal will surely give you the best support for your swollen feet. It will also give your feet a lot more room to breathe as you go.
#3. Skechers Performance Women's Walking Shoe
Another famous brand that produces great shoes is Skechers. From the brand itself, you will be able to trust the quality that it will deliver. Skechers Performance Walking Shoe is one of the best sneakers for pregnancy.
Pros
Durable
Breathable Design
Extemely comfortable
Cons
During your pregnancy, it is recommended to have a little exercise and walk often to alleviate the swelling. You will need great quality sneakers and this pair will offer you just that.
With this easy slip-on shoe, you won't have the extra hassle of tying your shoelaces. Just easily slide into this and out you go. The design has GOimpulse sensors that claim to improve your stride as you walk on any terrain and path.
The insole padding of the Skechers shoes made by the trademark GOGA mat technology, which is excellent for all weather conditions.
You will be guaranteed of smoothness and ease for your feet all around. The toe area is wide so that they will accommodate swollen feet. The cushioning and footbed will give adequate relief for feet. 
You also don't need to worry about bad odors for your feet as the insoles are equipped with anti-microbial properties eliminating any odor as you go. It is also lightweight, ensuring you that this will give better support and comfortability while you are on your feet. This shoe has high ratings from other customers as well.
#4. Dansko Women's Professional Mule
Dansko is a brand that is widely popular for nurses because of its all-day comfortability. If you're still at work and in need of comfortable shoes, the Dansko Women's Professional Mule will be a great choice for you. It is designed to reduce feet fatigue from long hours of standing or walking.
Pros
Super comfort
Durable material
Wide heel for stability
Cons
Every structure of this shoe is crafted to support as well as supply extreme convenience. The arch support is orthopedically recommended for all-day support while the in-step is padded to lessen the stress and impact while you are on your feet.
The Dansko women shoe is very durable, and the leathers come with a variety of colors and patterns.
The footbed is memory foam so is breathable and has temperature control to keep your feet dry and free from sweat. You will also be safe and secure as these also feature anti-skid and will keep you steady from slipping.
The shoes mainly designed for medium to high arches people, so that is not suitable for the low arches people.
#5. TOMS Women's Classics
Following on with the popular label, Toms is another wonderful brand that has a range of great shoes both for women and men. Toms is also known for its vegan and charitable work that will guarantee that your purchase will also be a meaningful one.
Pros
Breathable Material
Comfortable shoes
Multiple colour choices
Cons
These TOMS Women's Classic Shoes are bang for a buck. Not only is it comfortable, but it is one of the trendier styles as well. The footbed is molded for maximum support and comfortability for your feet. It also gives you ample room for your feet to breathe.
The elastic comes with the upper portion of the sandal. It is allowed to all size of the foot to wear, and it provides the softest and comfortable walking.
This is another slip-on style that will be easy for you to put on and off. Even after your pregnancy, you will want to keep wearing your Toms as they are great with anything that you would want to wear. If you prefer a more closed shoe for every day, these Toms Women's Classic will suit your lifestyle and give you stylish and comfortable shoes.
After continuous use of weeks or months, the skin of this TOMS Women's Classics shoe has a chance to falls off.
Related: The Hyperemesis Gravidarum diet that got me through my fifth pregnancy
#6. Vionic Women's Spark Minna Ballet Flat
Another footwear from Vionic made it on our list. We trust Vionic with their footwear as they aim for maximum support for feet and specially made shoes for those who may have feet issues.
Pros
Biomedical design
EVA Footbed
Very stylish
Cons
Their Spark Minna Ballet Flat is lightweight and is made with leather that is soft and flexible. Vionic made it easy and comfortable for women to put this on as they feature an elastic top for a snug fit on your feet. The insoles have arch support and ample heel cushioning.
Its soft sole with the quality material makes this as the suitable shoe also for people who have plantar fasciitis.
You will be able to wear this for work and for something as simple as running errands. With these flats, you will be able to style with jeans or an even more formal attire. Not only will you benefit from its style, but you will also have maximum comfort during long hours of being on your feet.
We could see that after a few months of regular use, it started stretching out for some users. But yes, it is not possible for all.
#7. Vionic Women's Active Sneaker
Following the Vionic streak, the Vionic Women's Active Sneaker is another one to look out for. This sneaker is podiatrist-designed and has a layer of breathable mesh.
Pros
Man-made
Breathable material
Rubber sole
Cons
The arch support will relieve you from foot pain as you go on about your day. If you want to go walking, hiking or to have a little exercise, these sneakers will do you well.
Though it looks like heavy build, it has a lightweight design that you can use it for walking also.
These sneakers will not break your bank. With this affordable Vionic Sneakers, you will experience lightweight and breezy wear. It comes with sizes that will fit your changing feet and hug the contours of your feet for maximum comfort and stability.
The shoe size is small and not wide enough so long feet people can't be comfortable with this.
#8. Orthofeet Comfort Plantar Fasciitis Shoes
Orthofeet designs especially for people with feet problems. One of the more innovative shoes on this list, the Orthofeet Comfort Plantar Fasciitis Shoes feature a lot of biochemically engineered designs that guarantee maximum support for the feet.
Pros
Decrease heel pressure
Comfortable shoe
Softer steps
Cons
You will have the guarantee of well-fitted shoes for your swollen feet with these sneakers. The Orthofeet Comfort Plantar Fasciitis Shoes function to support every area of your foot. The soles have multiple layers for anti-microbial, odor control & extra cushioning for extra support & comfortability.
Orthofeet comfort is one of fine pair of shoes for those who struggled with Hammer toe.
These shoes also have an Ortho Cushion System that targets to have less stress on joints and have better foot motion as you go. You will also find better stability with its air cushioning that will soften your footsteps and will add a spring effect as you walk. This ergonomically designed shoe will leave you with a painless foot journey.
It is so hard and uncomfortable for most of the customers to use this shoe at the beginning.
#9. Clarks Women's Malia Poplar A Boot
Since Clark's is another reputable brand that offers a wide range of great footwear, they deserve a spot on our list. For fall and wintertime, the Clark's Women's Malia Poplar A Boot is a great boots option for pregnant women.
Pros
Stylish boots
Rubber sole
Instep zipper
Cons
Only suitable for small foot
With the colder weather, you will be needing a lot more support and protection for your legs and feet. These boots will help you stay warm and snug in the colder days as well as keep your feet comfortable and supported.
The Ortholite shoe will protect your toes with a cushion, and it will add more safety during a pregnant time.
There's a buckle on top for you to easily cinch according to your fit. It has a lightweight outsole that absorbs steps to lighten the impact as you go. There is a soft texture inside to keep you nice and warm. With an easy zip-up a down to wear it on and off. The insoles have adequate support for your feet.
Go for these Clark's Women's Malia Poplar A Boot as it is cost-efficient and you will be able to use this a great deal especially during wintertime.
The Clarks comes with the 2.5-inch heel that may be discomfort during pregnancy.
#10. CLARKS Women's Slip-On Loafer
Last but not least, another great product from Clark's is the Women's Slip-On Loafer. If you are looking for a more classic and professional look, these loafers will serve you well during work and other formal events.
Pros
Easy slip-on design
Affordable price
Sculpted low heel
Cons
Not suitable for wide feet
These loafers are easy to put on and are orthopedic. You also won't need to worry about the price as it is only mid-range and will be worth the purchase.
Clarks used completely breathable materials so you can wear it for a long time without any distress due to sweat.
Lined with fabric on the inside to keep your feet comfortable. Perfect for office moms who will need adequate support for their feet and relieve them of the aches. The footbed is OrthoLite as well. You will have the guarantee of long-day wear and be relieved from foot pain.
It has the heel which is too beveled so it may be worn down unevenly which will affect the comfort.
Related: 18 of the Best Online Childbirth Classes Compared
Now that we have rounded up the top ten shoes that you could consider buying, we have a guide for you for factors, tips, and remedies that you may find useful.
Importance of Right Shoes During Pregnancy
As mentioned, there will be a lot of changes in your body during pregnancy. It is just right to be ready for the changes as you go through the pregnancy.
Back Pain
When there is no adequate support for your feet when you walk, this can lead to sciatica and spine disorders. That is why it is imperative to have the proper footwear to prevent these conditions. High heels are not recommended when you are pregnant as this can cause a lot of strain on your feet as well as your lower back.
Circulation of Blood
Shoes that are tight or narrow around your toes can be uncomfortable. This is why it is important as well that you have enough space for your feet to breathe in shoes that you will choose. During pregnancy, the blood circulation slows down causing blood pools in veins. The blood vessels expand and lump more on your skin surface which is varicose veins.
Ligament Sprain and Trauma
The levels of relaxing hormones increases, which also boosts the flexibility of collagen. This is important during delivery as the collagen will help to loosen ligaments of your pelvis. This change will increase the risk of the sprain to your ligaments.
Joint Pains
With ill-fitted shoes during pregnancy, there will be joint paints, especially around the knees. The increase in weight will affect your joints that is why it is important to have shoes that have great shock absorption. Look for shoes that have ample cushioning and hugs the arches of your feet for support.
With that said, we want to help you out with choosing the right shoes for you during pregnancy. We have tried and tested these shoes to better understand their features and how it will benefit mothers out there. There is quite a list of trusted brands that guarantee generous support for your swollen feet during pregnancy.
Factors to Consider While Choosing the Best Shoes for Pregnancy
With choosing the right shoes for your pregnancy, it is important to take note of the features of these shoes. It is best to be aware that you will need to be adjusted with the orthotic support that these shoes will offer.
Whether you prefer a certain type of shoe or not, there are a lot of things you should consider to have a better idea of what features you should look out for.
Brands
If you are particular about the label of shoes, we have listed quite a few brands that are popular and reliable. Opt for the brand you prefer and trust. The brands that we have on this list are guaranteed high quality and are well-known for great reason.
Ease of Use
Putting your shoes on with your growing belly will be a difficult task in the coming months. So a pair of easy to put on footwear will give you greater convenience. Choose footwear that is easy to slide on and off.
Slip-on is a great option as you can easily wear them in and out fast.
Sneakers will be a great partner for you when you need a little exercise to alleviate your pains during pregnancy. Although shoelaces can be cumbersome as it is hard to bend over to tie them, it is still important to look out for great sneakers that you will be able to utilize.
Fit & Adjustability
It is important to order half a size or even one to two sizes up to guarantee the fit of your shoe. During your pregnancy, your feet will swell a lot more and you will be needing the extra room to still be comfortable. Look for shoes that have great arch support as this will help in preventing foot aches.
Style
Your preference will be important, as long as it does not compromise the comfort that the shoe will bring. From sandals, slip-on, sneakers, flats, and boots, there will be a lot to choose from. With every type, it is important to remember the features that you should be looking out for every one of them.
Tips
Here are a few more tips on choosing the right shoes for pregnancy

Always choose 1-2 sizes up for shoes to fit you better
Choose neutral colors to fit most of your outfits
Avoid wearing too tight socks or stockings
Try as much as possible to opt for lower heels
Breathable shoes will be a lifesaver
Opt for shoes that have wide toe boxes so that your toes are not pinched in
Shoes with buckles and laces can be a hassle so try to choose shoes that do not require you to bend over as much
Tips for Different Types of Shoes
Since there are quite a few styles and types of shoes out there, we have written a guide as well on what you should expect and look out for. We have sandals, flats, boots and sneaker options. With your preference why not maximize its use and functions. Here we have discussed tips for what to consider when choosing the type of shoes you will want.
Sandals
If you opt for sandals, they are more breathable and roomy for your feet. Especially for warmer days, sandals will be the best option when you are out and about. It will let your feet breath and be airy. With the right type of sandals, you will have guaranteed ample support that will last you a long time.
Opt for sandals with elastic straps
Don't go for sandals that have designs goes over the center of your foot
Avoid sandals with buckles
Choose sandals with enough arch support
Flats
If you're more of a flats wearing kind of mom, some options will surely fit you and pamper your feet well. With flats, you can be more put together in any form of outfit you will be wearing. They are also easier to put your feet in and out.
Choose ones that are stretchable material
Adjust size at least half a size of your regular shoe size
Avoid metal or any designs that may interfere with comfortability
Boots
If you live in colder climates, you may need boots to protect your legs and feet from the cold as well. Boots may be overwhelming to choose because of the fear that it won't be comfortable. But believe us when we say some options will give great all-around support and snugness for your feet. Go for boots that are easy to wear and you will be able to put on and off in a breeze. It is also good to look at ours for boots that offer great ankle support to keep you stable.
Opt for lower heels as they are better for pregnancy
Choose elastic and adjustable buckles
Look for a calf that is wider and can be stretched
Sneakers/ Casual Shoes
For a more casual and as well as everyday fit, sneakers can be good. There are ranges of casual shoes you can choose. There are tons of casual shoes in the market that have great ankle and arch support. Sneakers can also be used when you need to exercise such as walking.
Choose wider sizes to give extra room and breathability for your feet
Better option shoes are those without laces to lessen the hassle of bending over
Remedies for Pregnant Swollen Feet
To make your pregnancy process even easier, we will provide some tips on how to alleviate swollen feet.
1 – Nutrition & Balancing Electrolytes
Be wary of your eating habits. It is best to opt for whole foods and unprocessed sea salts. The most important electrolytes to balance are potassium, magnesium, and calcium. It is important to keep the three balanced for better hydration.
Focus on foods that are high in potassium such as avocados, spinach, cabbage, celery, and bananas are good for you to add in your diet. With high-potassium food, it will maintain the ratio of salt to water in your body.
Limit your salt intake. Don't be mistaken but salt can still be good for you when taken in moderation. So pay close attention to the amount of salt that you put in. Try to avoid table salts, processed and packaged foods.
Related: 20 Amazing Pregnancy Superfoods That Actually Taste Delicious
2 – Elevate Your Feet
When you are at home, try to place your feet up and keep it above your heart. Elevating your feet will relieve the swelling of your feet if you can do it often.
3 – Drink Tons of Water
Drinking water can get rid of the excess fluids in your body. Avoid dehydrating yourself as this sends the kidney to keep water instead of getting rid of the excess.
4 – Salt Baths & Foot Massages
For a relaxing conclusion of your day, try to soak your feet in Epsom salt. With a basin with warm water and a half cup of Epsom salt, you can soak your feet for at least 15 minutes to relieve your swollen feet.
Foot massages are also beneficial for you. Arnica oil is the best option to relieve your aching and sore muscles.
5 – Exercise
With regular exercising and movement in your body, the excess water will circulate better in your body and not fill your legs and hands. Walking, yoga and swimming are some options that you can do on a daily even just for 30 minutes.
6 – Minimize Caffeine
Drinking caffeine can dehydrate you and build up liquid excess quicker. It is still okay to have your coffee but always in moderation and compensate for drinking more water as well. You can opt for tea such as chamomile and peppermint that have better beneficial components.
7 – Avoid long hours of sitting and standing
It can be cumbersome for you to avoid sitting and standing especially if you are at work. But when there's time, try to take a couple of minutes to stand and walk around when you're sitting for too long. For when you're standing, try and have a seat as well for a little while.
Related: Things you need in the third trimester
Final Words
Now that we have you covered, we wish you a successful operation and a healthy recovery in the future. This will be a great reference for new moms or even family members who plan to buy their wife or mother a new pair of comfortable shoes to help them through their pregnancy.
Decide on a pair of shoes that you will be able to enjoy even after your pregnancy. With the right shoes, this will help you even just for a little to make the 9 months a little more comfortable and bearable.
We have discussed the important reason why you should buy shoes specifically for your swollen feet during pregnancy as well as the changes that you will be experiencing and tips to reduce swelling in feet. We also listed the top 10 best options for swollen pregnant feet that guarantee you will be able to choose which you will prefer and best suit your needs. The brands such as Birkenstock, Skechers, Clarks and so on, are labels that you most probably have heard or even trust that will guarantee you of their great footwear products.
The guide to factors to consider goes hand in hand with the list as on what to look out for when choosing and purchasing the right shoes for you. We also tackle the types and remedies to help you a little for the care of your swollen feet. Tons of tips will be helpful for you as you go along to deciding on which pair you will want to buy. We understand the hardships of pregnancy and we hope we helped a little with the type of shoes you should go and get. It is important to extremely take care of yourself especially for the next few months.
So whether finding great apparel and choosing comfortable shoes to relieve some of the aches that your body is going through your pregnancy, it is best to be aware of the features and factors of production to give you the maximum comfortability and functionality that it can offer. So go ahead and treat yourself with nice comfortable shoes today!
Disclaimer: If you purchase any products in this post, we may receive a small commission. We promote only the products which we test and recommend. Read our affiliate disclaimer here.