Introducing solid foods to babies is an exciting milestone, and as a parent, you want to ensure that your little one gets the best nutrition possible.
One great way to do this is by making your homemade baby food, including purees made from fresh fruits and vegetables. Strawberry puree is a delicious and nutritious option for introducing babies to the world of solid foods.
Strawberries are packed with vitamin C, fiber, and antioxidants, making them an excellent choice for promoting healthy baby growth and development.
Making homemade strawberry puree is simple and easy, requiring only a few ingredients and minimal prep time. In this guide, we'll take you through making your homemade strawberry puree for your baby so that you can provide them with the freshest and healthiest food possible.
As an Amazon Associate, I earn from qualifying purchases. The links below may be affiliate links. Please read my disclosure policy for more information.
Items Needed:
Prep Time: 5 Minutes
Yields: 8 Ounces
Ingredients:
2 Cups Fresh Strawberries, washed and destemmed
1 Tablespoon Water
Directions:
Place the strawberries in the food processor and blend. While blending, add the water. Pause to scrape down the sides of the processor if need be. Blend until smooth.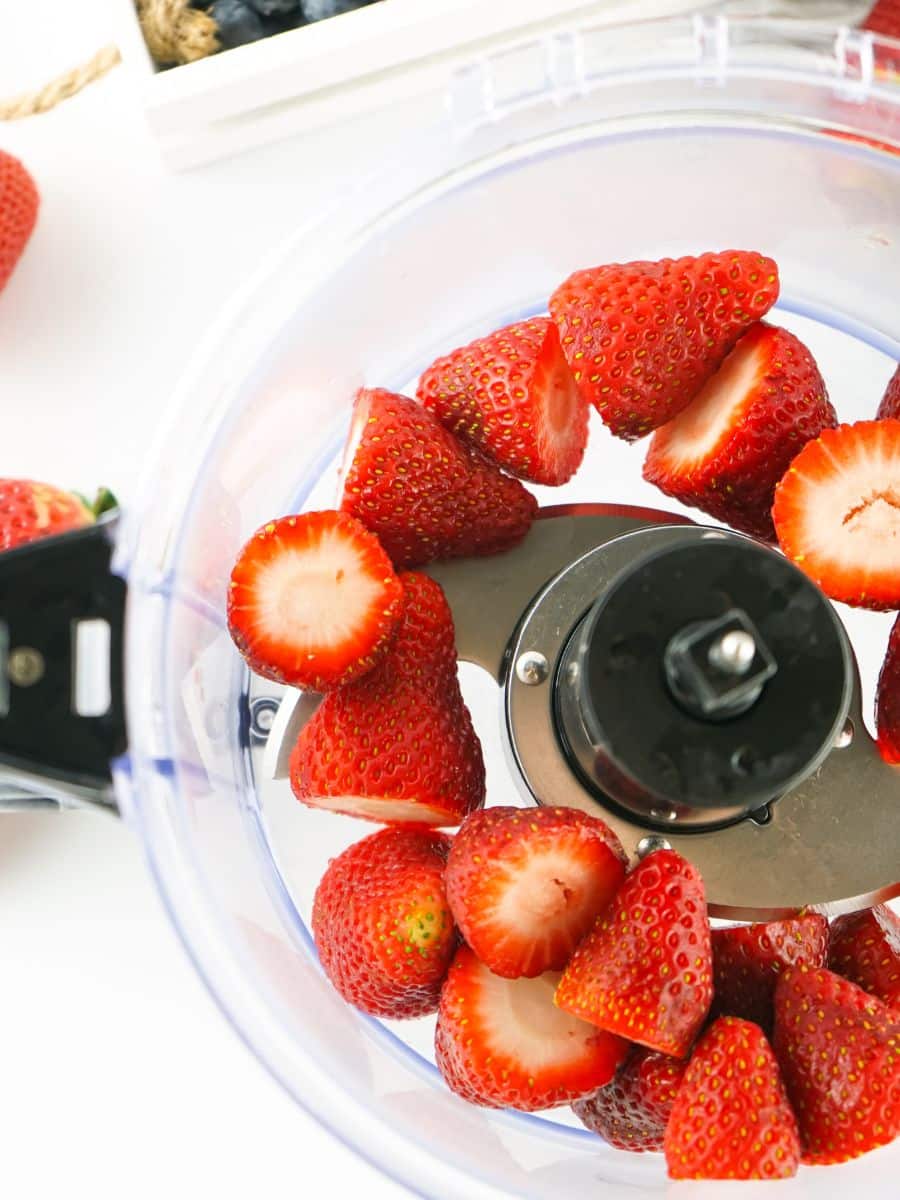 Place your sieve over the top of a medium bowl, and pour the strawberry blend into the sieve.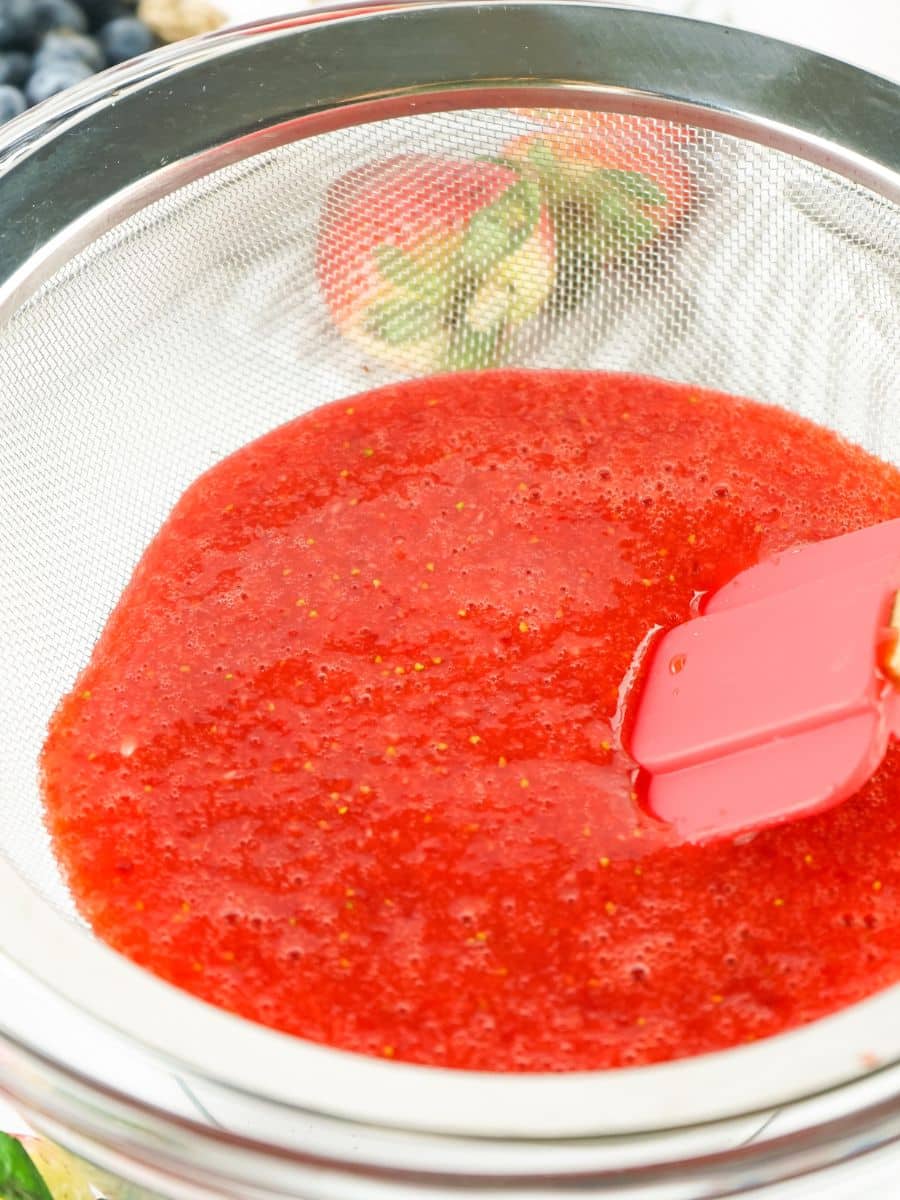 Press the strawberry mixture through the sieve using a rubber spatula until just the seeds and pulp remain.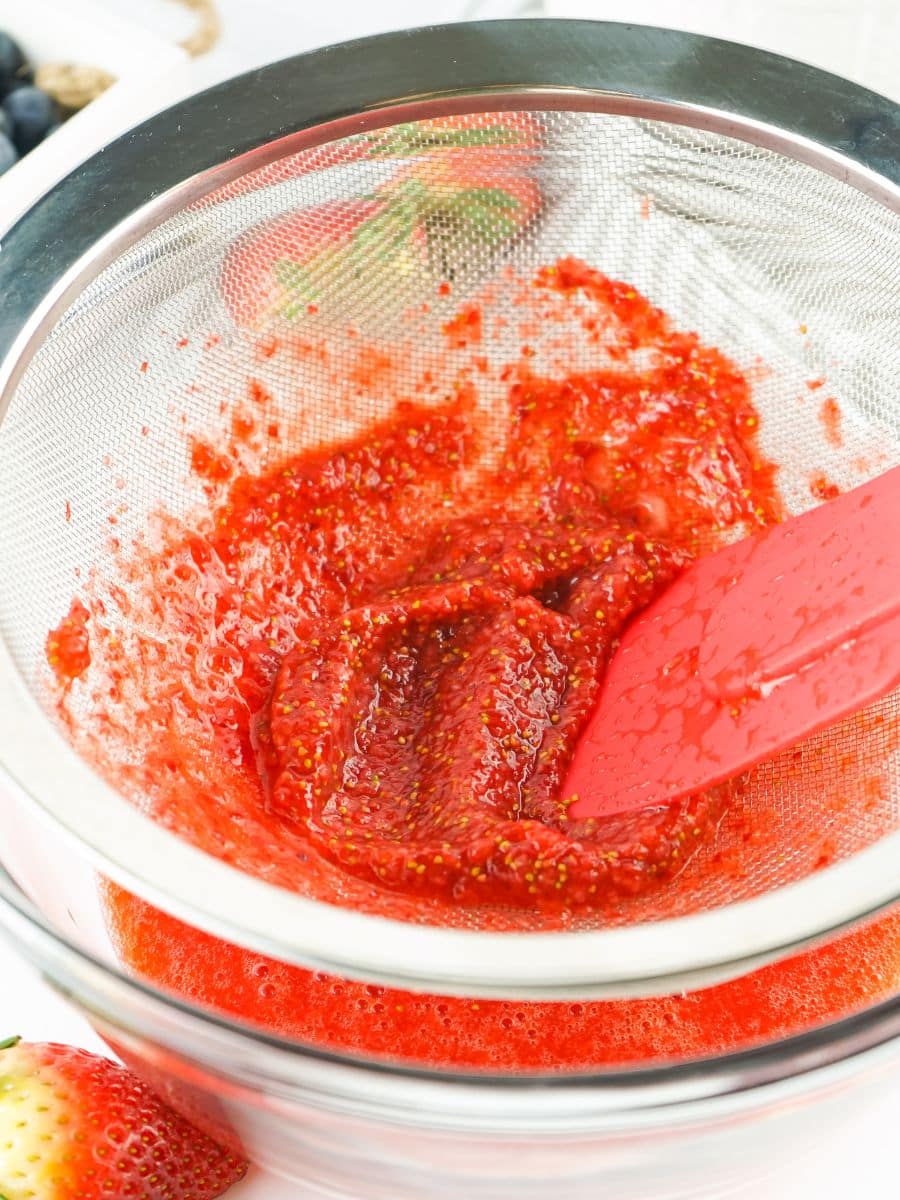 Stir the strawberry mixture in the bowl before serving or storing.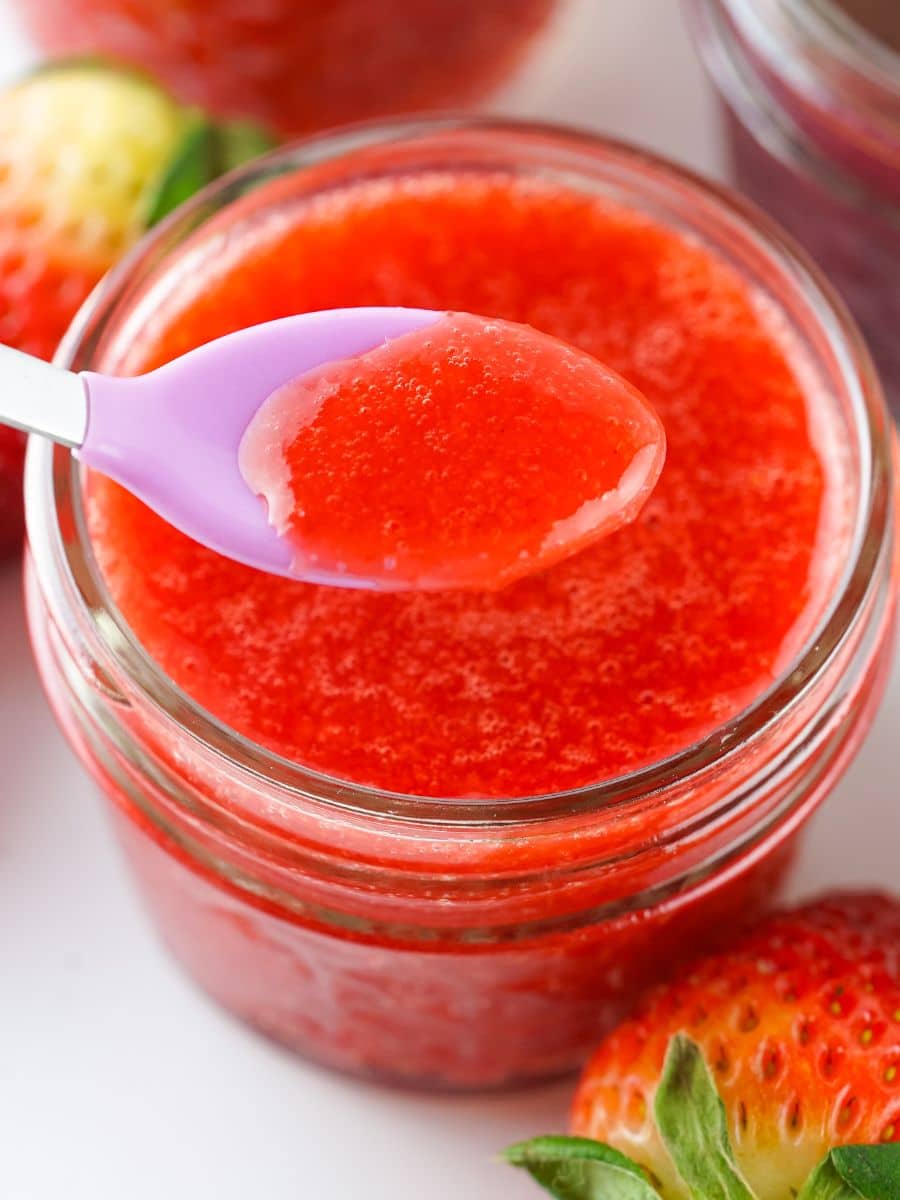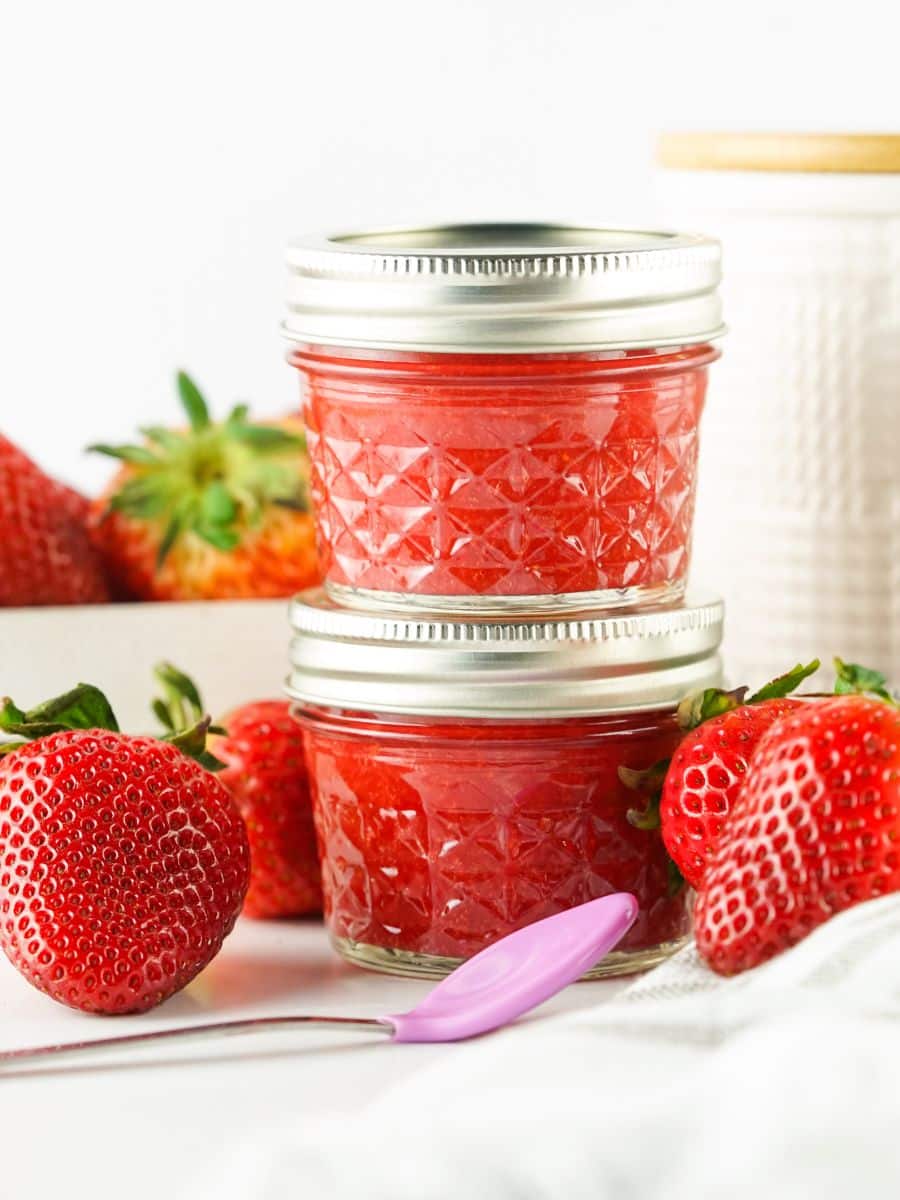 Tips for Making Strawberry Puree:
It's important to store your baby food correctly to ensure its freshness and safety for future use. A good storage option for fridge storage is a 4-ounce mason jar. However, it's crucial not to keep them in the fridge for more than 4-5 days.
VERONES Mini Mason Jars With Regular Lids, 4 oz , Ideal for Jam, Honey, Wedding Favors, Shower Favors, DIY Spice Jars, 25 PACK, Extra 20 Lids.
SET INCLUDES: Case of 25 Glass Jars with 25 Silver Lids, Free 10 Golden Lids, 10 Silver Lids and 30 Chalkboard Labels.This jelly jar set is of the highest quality and designed for your convenience.
FOOD GRADE:Each mason jar is made from food grade materials. Great for food storage.
HIGH QUALITY & FREE CHALKBOARD LABELS:Thick 4oz VERONES glass jars with food-safe, corrosion resistant lids - material meets certified safety standards. In the meantime,we are also considerate enough to send you 30pcs chalkboard labels. No worries about similar looking food like milk powder and flour. We've also added 10 golden and 10 silver lids for you to spare.
I prefer to freeze baby food in sealed baggies, laid flat for space efficiency, and it can stay fresh for up to 3 months. Alternatively, child-safe airtight containers can be used for both fridge and freezer storage.
For more safety tips, visit the link below. https://www.foodsafety.gov/people-at-risk/children-under-five.
Initially, the strawberry baby food may appear thin but thickens upon chilling. To achieve the best consistency, stir the food before serving.
While removing the pulp from the strawberry baby food is unnecessary, doing so can result in a smoother texture, which may be easier for your child to consume and adjust to.
In place of water, you can use formula or breast milk.