Whether you're new to cloth diapering or not, finding the best one for your baby can be a hit or miss.
Good if you find the perfect one on your first try because finding out later on that the cloth diaper you got for your baby is too thick, or too flimsy, or too stiff for your baby's skin, can be a reason for frustration and it's money down the drain.
Money doesn't grow on trees that's why we're making it easy for you by listing down some of the best cloth diapers in the market.
Who knew that with everything we need to learn in this parenting gig, we still have to learn how to choose the right diaper for our baby?
I thought it was as easy as going inside the supermarket, grab the first diaper you see, and you're set! Wrong! In my opinion, choosing the right diaper for your baby is a skill because you have to think of what your baby actually needs.
This includes size, your baby's skin type, is it for day use or night use? Also, you need to decide whether you will use disposable or cloth diapers for your baby.
Today though, we will talk about everything you need to know about cloth diapering, benefits and the best cloth diapers in the market for your growing baby.
Cloth diapering has been around for ages, but did you know that in the olden days moms change their baby's diaper after every few days?
I sure am glad I wasn't born in that era! Think of all the germs and bacteria! Poor babies! This was when information about bacteria wasn't still available.
Thankfully, as civilization progressed, so did the diapers. By 1800's, moms started using square linens, folded into triangles and secured with safety pins when used. Still a bit dangerous in my opinion.
So thankful that we now have safe, super absorbent, and not to mention, beautifully designed cloth diapers with practicality and convenience in mind. So, how to choose one for your baby? Let's go through some of the most trusted, highly rated as the best cloth diapers on the market today.
As an Amazon Associate I earn from qualifying purchases. The links below may be affiliate links. Please read my disclosure policy for more information.
Best Cloth Diapers for Newborn
Best Bottom Cloth Diaper Shell-Snap – Best for babies 8-35 lbs. and has front snaps that are makes it easy to put on or remove. This also has double layers of waterproof material, so your baby stays dry for a long time. Very important!
Rumparooz Newborn Cloth Diaper Cover Snap – Made of water-resistant polyester that comes in 3 sizes-in-one, so it grows with your baby! Think of the savings from not needing to buy bigger ones for a while.
It has 3 adjustable settings that will fit babies 4 – 15 lbs. They are great because you can use the covers several times before you need to wash them. Super practical!
Related: How to make baby wipes at home
bumGenius Original One-Size Pocket-Style Cloth Diaper – These are super stretchy, and the stay-dry lining is super soft and designed to wick moisture away from your baby's delicate skin. The trim fit gives it a perfect snug, yet comfortable for your baby. Has 3 snaps and fits 7-35+ lbs.
Luludew All-In-One Diaper (Newborn) – Another mom-favorite! Luludew are breathable cloth diapers with the interior made of absorbents bamboo microfiber terry and easy wipe waterproof outer layer.
You don't have to worry about leakage too because the snug leg elastics provide great protection. Beautiful patterns and designs suitable for both baby boys and girls. They offer 100% money back guarantee, so you know that it's quality product!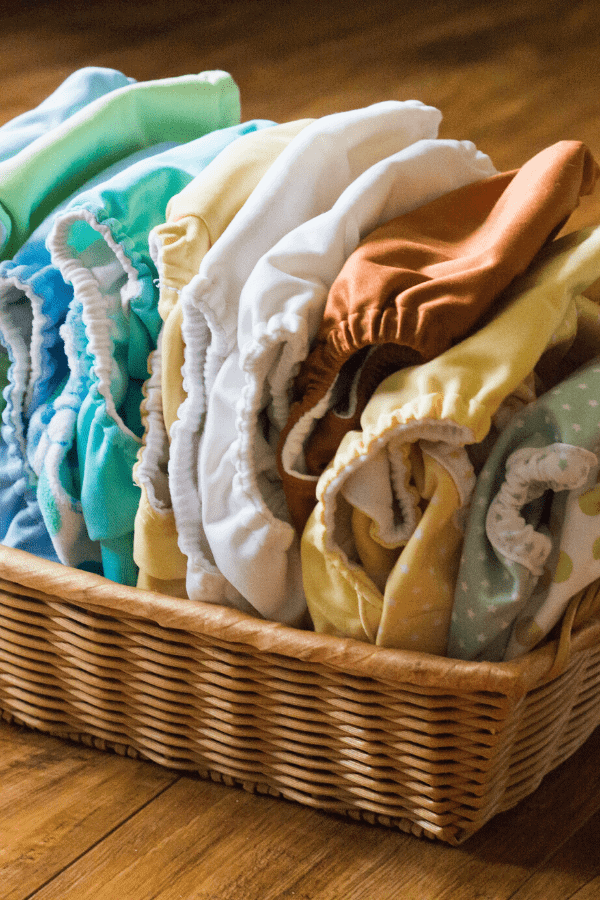 Related: Baby Shaking their head? This is when you need to worry.
Best Cloth Diapers for Toddlers
Sigzagor 3 All in One Night AIO Cloth Diapers – Absorbent with 5 layer-soaker and a leak guard, Sigzagor is perfect for toddlers 8lbs-36lbs. With extra pockets for stuffing and double leg gussets, it makes a great choice for bedtime, travel, and toddlers who are tummy sleepers because of the extra protection against leakages.
Elf Diaper Baby 7-Layer Super Absorption All-In-One Cloth Diaper – Outer layer has waterproof and breathable TPU film cloth and guaranteed no pilling. They are easy to use and machine washable. With 3 rows of snaps, the Elf diaper grows with your baby. Fits 8lbs-35lbs.
SoftBums Omni – SoftBums is clearly a favorite of many moms. It protects your baby's skin against rashes for up to 80% compared to disposables. Super long-lasting with it's industrial strength hook and loop closures. Also has huge pocket which make it easy to stuff and clean.
Best Cloth Diapers for Sensitive Skin
Smart Bottoms Smart 3.1 OS Organic All-in-one Cloth Diaper – This one has no inserts which makes it super easy to use and clean, and the inner material is 100% organic cotton which is great for sensitive skin. Inner soakers that are sewn in are also made of 100% organic cotton and super absorbent which keeps moisture away from your baby's skin. Fits 10 to 35lbs.
OsoCozy – Prefolds Unbleached Cloth Diapers – Hailed by many as the best natural diapers for babies because they are unbleached and made of pure, 100% unbleached Indian cotton that guarantees superiority in strength and softness. Perfect for baby's sensitive skin.
No Prep Organic Cloth Diaper – Perfect for new moms or those who are new to cloth diapering as No Prep Organic Cloth Diaper requires only one wash before first use. It helps reduce rashes on baby's sensitive skin with its hemp and organic interior. Don't worry about the exterior because it is durable and water resistant with its 100% PUL material.
Related: Best Tummy Time Activities for Newborns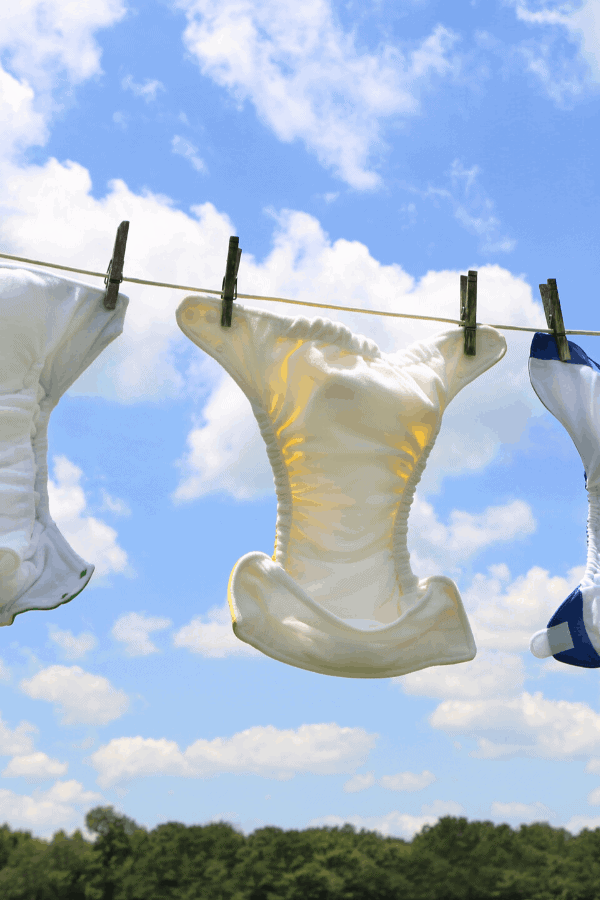 Best Cloth Diapers for Newborn Boys
Sigzagor Baby Pocket Reusable Washable Diaper for Boys – This one-size fits-all diaper can be adjusted to your baby's size for a snug fit. Outer layer is waterproof but breathable making it baby skin friendly. The microfleece inner layer makes sure that the moisture is drawn to the insert and away from your baby's skin.
Best Cloth Diapers for Potty Training
Gerber Little Girls' 3-Pack Training Pants – Made from 100% cotton, these are great for toddlers who are in potty training. Toddlers usually start asking for "big girl" underwear and this is a great option for them while in transition from baby cloth diapers to underwear. Super comfortable and suitable for sensitive skin.
Goodkids Newborn Boys Girls Breathable Cotton Training Pants – Made of 100% cotton outer layer, TUP material for middle layer and cotton for the inner layer, GoodKids Cotton Training Pants are soft to baby's skin and comes in different designs perfect for baby girls and boys. These are also reusable and easy to wash either in the washing machine or by hand.
Related: Toddler Climbing Out of Crib: Solutions and Hacks!
How to Choose the Right Cloth Diaper for your Baby
For me, there are no hard rules when it comes to buying cloth diapers for your baby. Our babies have different needs and requirements. You know your baby best and finding one that works for your baby and your family is the way to go. However, there are some factors that we can look into when buying cloth diapers:
Cost – Just because it's the most expensive one on the shelf does not always mean it's the best. A little research can go a long way. Some brands are just as good as the expensive ones and maybe you'll find something better one at a lower cost. Your family's budget should be taken into consideration when buying cloth diapers. No need to keep up with the Joneses.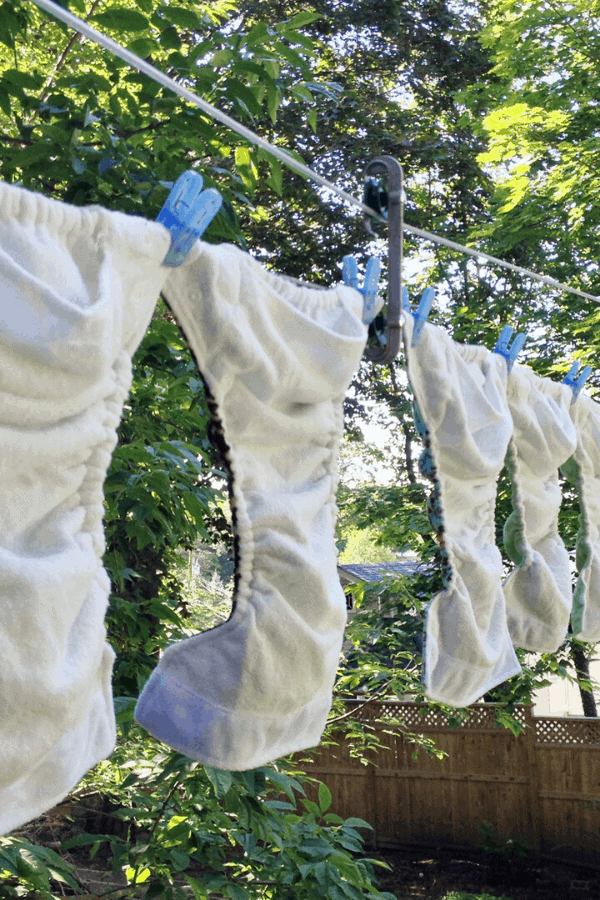 Durability – To piggyback on cost, just because it's the cheapest does not mean it's practical. Think long term. If you buy the cheapest but end up buying another set again after a few months because they got ripped already, that's not really saving you money. Choose cloth diapers that are known for their longevity and durability. Quality matters.
Related: Essential oils for baby congestion
Ease of Use – Being a mother is hard enough, we don't need to spend more time trying to figure out how to use a cloth diaper. It should be easy to use and clean, period. Find one that's easy to snap on and remove. Check if inserts can be inserted and removed with ease. Changing your baby's diaper should not be rocket science.
Fabric – Babies have sensitive skin so make sure you buy cloth diapers that are gentle and suitable for this skin type. You don't want your baby to have rashes! Choose one made of organic materials as much as possible. These are usually the most gentle and perfect for baby's skin.
Benefits of Using Cloth Diapers
Save Money – According to the National Diaper Bank Network, babies can go around $80 worth of disposable diapers per month! That's a lot of money! Compare that with buying a set of cloth diapers that you can reuse for many months. Big savings!
Help Reduce Waste and Carbon Footprint – Babies, especially newborns can go through 6 up to 10 diapers per day. If you use disposable diapers, they all end up in the landfills which isn't really good for our planet. Switching to cloth diapers can help you reduce your family's carbon footprint.
Better for Baby's Skin – Commercial Disposable diapers go through a lot of chemical processes before they end up on the shelves and these chemicals found in disposable diapers have been linked to numerous health issues. Yes, they may be easier to use but think of the chemicals coming in contact with your baby's skin.
In closing, choosing the best cloth diaper for your baby can be daunting at first especially if you look at the many choices in the market. Just focus on what your baby needs and what you think will work best for you and your baby. We hope that the list above will help you narrow down your choice.