We want our children to explore and learn as they grow. One of the best bonding experience a child and a parent can do is through teaching them how to ride a bike. There's nothing better than seeing them try and try to master bike riding. We create long-lasting memories and train them to gain a valuable skill.
With that, as parents, we should also teach them to practice safety guidelines. Starting from an early age, instructing them to wear a helmet when they are on their bike will create an excellent habit of safe bike riding.
Best Overall Toddler Helmet
(MamaOfFive #1 Choice)
 5/5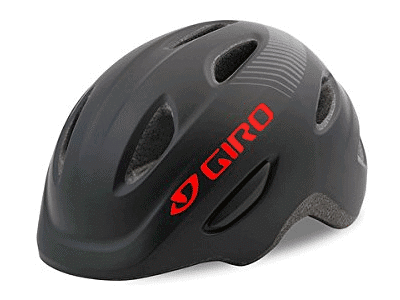 Lightweight
Built-in visor
one-size-fits-all
Attractive design
For children who are starting to learn how to ride a bike or even those who enjoy cycling, they need proper safety gears to reduce or also prevent the risk of possible injuries. With a high-quality helmet, they will have absorption of impact during a collision.
Accidents happen all the time, and it is better to be ready for such incidents. Grab the chance to lessen or even preventing more significant damages. In this article, we will talk about how essential a helmet is as well as give you options for a toddler helmet and tips on how to select the toddler bike helmet.

Importance & Benefits of a Helmet
You need to teach your child always to wear a helmet as this will cultivate a good habit for them.
A helmet will give you peace of mind that your baby has a safeguard on their head to reduce the risks of injuries to their face and head.
It has been proven time and time again that wearing a helmet reduces the chances of head injuries for children. You would not want your child to end up in a hospital for lacking safety equipment for them to wear and use.
It is also crucial that you double-check the helmet and should be in proper position and firm on their head.
Choose the right helmet with features that not only fit for present use but also grow along with your child. The right helmet will save you a lot of money and worry about the well-being of your child.
We have tried and tested a top 10 best helmets for toddlers. In this list, we talk about the features that we thoroughly loved as well some points that you might have to keep in mind about the product.
Table: Top 10 Best Toddler Helmets
Best Toddler Helmets – 10 Products Reviewed
#1. GIRO SCAMP MIPS YOUTH BIKE HELMET
The Giro Scamp Mips Youth Bike Helmet is one of the top best toddler bike helmets in the market. This helmet will give you the fundamentals that a toddler riding helmet needs to have.
The Giro Scamp has two sizes – extra small for 45 cm to 49 cm while the small fits 49 cm to 53 cm. The recommended age for use is two years old to 5 years old.
The design has a narrower frame on the back which is suited for bike use. The color options are pretty limited to four, but for either for your boy and girl, they will be able to choose what they prefer.
Pros
Comfortable to wear
Great fit and adjustable
High quality
Cons
Doesn't comes with magnetic buckle
Features We Liked
Size & Weight
The size of this helmet caters to smaller heads. Unlike other leading products, you will be able to fit the head with smaller circumferences. This helmet offers a comfortable weight on your toddler's head, which will not be bothersome throughout their use.
Adjustable Circumference
The helmet has a dial-adjust system, which enables for more effortless adjustment through twisting the knob on the back of the helmet. It will allow specificity and a better fit on your child's head.
Multi-Directional Impact Protection System (MIPS)
This helmet offers the MIPS feature, which is beneficial for maximum security. With the additional layer, MIPS absorb the impact regardless of the direction. It has a thin plastic shell on the inside that interconnects with the protective foam in the helmet.
Giro Scamp constructed with the multi-directional protection system, which is used to protect the impacts. The construction of pinch-chin guard is used to prevent your kid from the helmet buckle.
Take Note
Adjusting the chin strap can be a little challenging as it not as noticeable. The plug to fit the chin strap is on the back of the helmet; you will need to pull the plug to adjust the right length. The buckle on the Scamp is pretty standard and can pinch a child if you buckled closely.
For people in warmer climates, this helmet can get stuffy after a few hours of wear. Believe us that the MIPS feature is genuinely a high reinforcement of safety for your child, but it does tend to limit ventilation of the helmet.
Since this has the MIPS features, it is slighter expensive than the one without. But you will have the option to choose between them whatever your preference on safety is.
Due to the MIPS system, it is a more expensive one, and the chin strap doesn't get tight, so you may have to adjust it constantly.
Previous
Next
#2. BELL SIDETRACK CHILD & YOUTH BIKE HELMET
Next on our list is the Bell Sidetrack Child & Youth Bike Helmet. This toddler bike helmet is a popular option amongst parents and children. Right off the bat, the style of the helmet mimics the design of an adult mountain bike helmet. It gives you a sleek and cooler look. Besides, they have multiple color selections suitable for both young girls and boys.
This helmet has two sizes called Child and Youth. It is ranging 47 cm to 54 cm for the Child size while 50 cm – 57 cm for the Youth Size. They also provide you with a dial system to adjust the fit according to your child's fit. The weight is a standard of 310 grams and 340 grams for Child and Youth respectively. This helmet's construction type is in-mold – the outer shell and inner foam core make a sturdy piece.
Pros
Worktable price
Great head coverage
Durable
Cons
We also took note of other features that make this a great option:
Features We Liked
Expanded Coverage
Since the helmet looks like an endure lid, it also feels like one. The helmet has an elongated front face like a visor and lower panel on the back, giving you a lot more. The visor can be snapped on to increase protection against the sun and rain.
ErgoFit Dial System
The Sidetrack Helmet has two components for its adjusting system, one as a full cage adjustment and two a tri-glide, no-twist side strap sliders. What this does is it adjusts the complete inside of the helmet and not only the back. This system will allow the back and the side to change accurately on the head.
Bell sidetrack has the excellent ventilation of 15 vents, and so the kids can make the long rides during the hot days without any exhausting.
15 Ventilation Holes
The holes provide ample circulation in the helmet to prevent your child from getting too stuffy and sweaty.
MIPS Option
The Sidetrack will let you have the option of MIP Technology in case you prefer having higher safety features.
Take Note
The retention system has quite cheap quality, and since the dial is on the back, it is quite difficult for you to reach. If you also pull the adjustment close to its limit, it will be tough to grasp the dial to change it back up. This bike helmet is cheaper without that the MIPS feature but if you are willing to spend a bit more for extra protection, get the one with MIP.

It comes with big size for preschool kids, and also chin strap is a very long one, so it may be difficult to fit for smaller kids.
#3. RAZOR V17 YOUTH MULTI-SPORT HELMET
As the name suggests, the Razor V17 Youth Multi-Sport Helmet is a multi-use helmet for children that practices other vigorous activities such as skating or scooter. The variety of colors will enable your child, girl, or boy, to choose the best one that will suit them.
Pros
Easy fit
Has 17 vents
Affordable price
Cons
Doesn't fit for kids age 8 or 9
The Features That We Liked
Ergonomic Padding
The padding inside this shell is ergonomically designed to fit comfortably on your toddler's head.
17 Ventilation Holes
This helmet has 17 ventilation holes that guarantee proper airflow and excellent ventilation for your child. Having the circulation of airflow will lessen the sweating.
For this variety color as well as attractive design, Kids love it, and it comes with the 17 vents for kid's coolness also it is suitable for skating, biking and scooting.
Full Coverage
The back panel of this helmet goes all the way down your head that will give additional protection. It will also provide comfortable support.
Take Note
The Razor V17 is a cheaper option for a toddler helmet. Since being a multi-sport helmet, it does weigh a little bit more than regular helmets our there. It also does not have a visor that can limit the shield against harsh rays of the sun or rain pouring.

Only comes with the particular sizes, so not suitable for all and some helmets doesn't come with the side straps.
.
Previous
Next
#4. JOOVY NOODLE HELMET
The Joovy Noodle Helmet is the best toddler bike helmet on a budget. Although it has a lower price tag, the quality of this toddler riding helmet is exceptional.
The sizes that this fits are from 18.5 cm to 20.5 cm and designed explicitly for one-year-old up to 4 years of age. The design is sleek and well-structured to protect your child. The insides are padded foam that will keep your child comfortable. The outer shell comes with multiple simple colors that you can let your child pick and choose to their taste.
Pros
Lightweight
High quality
Best for children
Cons
The Features We Liked
14 Ventilation Holes & Bug Mesh
Especially great for warmer weather, the holes enable decent airflow for your toddler. The bug mesh keeps flying insects away from going in the helmet.
Adjustable for Maximum Comfort
The adjustable dial knob will let you tighten or loosen the straps whichever way your child will be secured and comfortable. The way that the chin straps differ is that it connects through the dial knob. It will give a lot more stabilization.
Joovy helmet meets the CPSC standards for high safety; it has the nylon straps for chin and ensures a kid's perfect protection. For more security, it has the 14 air vents with bug mesh.
Take Note
The visor is an excellent addition to this helmet, but you may find that it is quite short and does not give ample protection against the sun. For parents who are looking for a MIP feature, this does not offer the additional security element. All in all, this helmet is still indeed a value for money, and you can consider.
In Noodle may be complex to adjust the straps for your kids' heads and doesn't come with the chin guard, so maybe lack in extra comfort.
Previous
Next
#5. KALI PROTECTIVE KIDS' CHAKRA BIKE HELMET
The Kali Protective Kid's Chakra Bike Helmet is another great-looking helmet for your toddler. The shell and foam are one piece which makes an in-mold construction that is preferable with cheaper helmets. The color and design selection is wide enough that your boy or girl will be able to find a favorite among them.
Not only it exemplifies in the design, but this helmet is durable and well-made. You will notice how stable the helmet is upon using.
Pros
Has 21 air vents
Professional design
Soft and comfortable
Cons
Missing of MIPS technology
The Features We Liked
21 Ventilation Holes
One of the most ventilated helmets in this list as it offers 21 ventilation holes across the front to the back. The proper airflow in these holes will prevent your child from getting sweaty after long hours of play.
Great Shell
The inside shell is an in-mold construction that has antimicrobial pads that will keep bacteria away from this helmet.
Kali chakra helmet has an attractive design like mountain adults bike riders, so all kids like this helmet for a beautiful design. It built with the sun-protection visor system, so it protects the kids from the sun.
Dial Knob
The dial knob is easily adjustable, which you can turn one-handed. You and your child will have an effortless time to customize the size of the helmet according to their fit and comfortability. Besides, the dial knob rests near the nape of the neck of your child. Which creates a cradled-feeling as well as non-slipping of the helmet itself.
Take Note
This helmet only comes in a medium-sized best suited for older children. The straps and buckles are of a typical design that is plastic and tends to be challenging to adjust. You will not have a MIPS option as well if you are looking for extra safety protection for your child.
Kali chakra helmet has too long straps so that it may be easily loosening. This helmet does not come with the MIPS technology, and the adjustment of the straps is hard.
#6. BELL CHILD & TODDLER PRINCESS BIKE HELMET
For your little princesses, the Bell Child & Toddler Princess Bike Helmet offers a variety of creative designs that your little girl will love. You can fit your 3-year-old to a 5-year-old girl on this helmet with 18 inches to 20 inches of head size.
Pros
Colorful design
Pinch guard for extra safety
Has self adjusts
Cons
The Features We Liked
Fun Designs
This helmet has over ten options that your child can pick and choose. They also have ones with a tiara that your girl will feel like a princess while others have pictures of their favorite Disney princesses.
Self-Adjusts
This helmet will adjust accordingly and fit your daughter's head comfortably.
This helmet has an attractive princess design, so girl kids are most love this helmet than boy kids. It has four big vents, so your kids need not care about the sun.
Rear Coverage
A safety element that this Princess Helmet has is that it covers the back of their heads fully to ensure you of utmost protection for your child.
Take Note
Since this is another cheaper option, the straps are plastic, and it is not as well-made compared to other helmets. The focus on this helmet is mostly for the concept of girly designs that your daughter will surely appreciate.
The helmet size is too small so not suitable for all kids, only suits for 48-52 cm head size.
Previous
Next
#7. LAZER BOB (BABY ON BOARD) HELMET
The Lazer Bob Helmet offers one of the smallest sized helmets that are suitable for babies as young as six months. The head size ranges from 46 cm to 52 cm. The artsy designs are befitting for both girls and boys. For beginner helmet, this is a good option that you won't need to spend extra money.
Pros
High quality
Affordable price
Has CPSC 1+ certification
Cons
We also have other features that we kept in mind and took note of:
The Features We Liked
Extensive Coverage
This helmet has ample coverage on the back to ensure that your toddler's head and neck are getting enough protection as well.
Flat Back
The helmet has a flat surface on the back. The no curve feature is essential as with this will prevent unnecessary movement of your child getting pushed forward when they are on the back.
Laser Bob helmet has the replaceable pads, so your kids can feel safe, to wear this helmet. It constructed with the slide locking system, which is used to ensure the helmet in the proper position.
Comfit3 Retention System
The retention system is unique to the Lazer Bob Helmet. It is a system that will slide the tab along with the strap sliders to adjust the fit of the helmet correctly.
Take Note
The Lazer Bob Helmet has only one size and that better fits smaller or younger toddlers. The six-hole ventilation can be limiting the circulation of airflow, and you will find your child sweating a lot more.
Some children who have smaller heads have a little trouble with the retention system as there is a tendency that the helmet will come loose.
It has a low amount of vents, and so this causes the sweaty heads of your kids. This helmet is not suitable for back adjustments.
Previous
Next
#8. SCHWINN INFANT HELMET
The Schwinn Infant Helmet is another affordable option and smaller sized, best for younger babies. This helmet is excellent for parents that are not planning to use it for the long-term. Also, those who are still unsure of how well their children will want to ride a bike.
The toddler helmets for boys and girls have multiple colorful styles that can suit their preference. The head size can fit 41 cm up to 47 cm, for a 9-month-old until three years of age.
Pros
Low price
Most accurate fit
Easy adjustable
Cons
Hard side straps adjustment
This infant bike helmet has few features that stood out for us.
The Features We Liked
Lower Back Coverage
The back of your child's head has full coverage with the great coverage that this helmet provides.
All Around Padding
The interior of this helmet has 360-degree padding that gives extra comfortability and a perfect fit for your child's head.
It built with the 360 degrees of internal padding for your kid's relaxation, also has the six vents for coolness. The construction of the lower molded shell ensures more safety.
Take Note
Due to its price, it does compromise a little on its quality. It also can be a little flimsy on your child. Compared to the top helmets on this list, the Schwinn Infant Helmet only has six ventilation holes. This limitation can decrease breathability and lower airflow for your child's comfortability.
Lack in quality, because the side strap velcro glued with a shell so that the strap may split from the helmet.
Previous
Next
#9. GIRo SCAMP YOUTH BIKE HELMET
The Giro Scamp Youth Bike Helmet is the non-MIPS option for the Giro Scamp Helmet. Similarly to the previously reviewed Giro Scamp Youth Bike Helmet, this offers excellent safety and convenient features perfect for your toddler.
Pros
Has optional MIPS
Good visor system
Has pinch guard buckle
Cons
The Features We Liked
Size & Weight
The size of this helmet caters to smaller heads. For parents with babies who have small-sized heads, this will guarantee you to fit them with the best comfortability. The sizes are extra small and small, from 45 cm to 49 m and 49 cm to 53 cm respectively.
Adjustable Circumference
The helmet has a dial-adjust system, allows specificity and a better fit on your child's head. With a twist on the knob, the helmet will adjust accordingly.
It equipped with a vent at the back of the head for the ponytail, so you don't worry about that. It has a pinch guard buckle, and it helps the pain-free ride.
Better Ventilation
Since this helmet does not have the MIP feature, the breathability will be comparatively more exceptional. It will give maximum ventilation for your child.
Take Note
If you want the Giro Scamp Youth Bike Helmet at a lower price, this Scamp will do you high. The only difference that it has is that it doesn't have the MIPS function that offers maximum safety precautions for your toddler.
This helmet has limited vent holes, so not ensures the coolness. The construction of side straps may be loosened so, hard to maintain the tightness.
Previous
Next
#10. MICRO NEON DOTS HELMET
The Micro Helmet has one of the most fun designs, especially the Neon Dots option. The feature and overall elements of the Micro Helmet are pretty standard, but it is designed to suit any wheeling sport safety needs. This kids dot helmet design will suit boys and girls preferences in style and color. The helmet has two sizes small and medium that fits 45 cm to 52 cm and 52 cm to 57 cm as follows.
Pros
Sturdy design
Easy adjust
Perfect fit
Cons
The Features We Liked
Dial-Fit System
The adjustable spin dial allows you to customize the size of the helmet that will fit snuggly to your child's head. With a natural spin from left to right, the adjustment ring will alter the size smaller or larger, respectively.
Shock-Absorbing Liner
The inside shell of this helmet has a layer that will absorb any impact that may occur.
It constructed with EPS foam shell for extra safety which specially designed for scooting also equipped with the high impact protection system.
Ventilation
This helmet has large ventilation holes on the front and top of the helmet, ensuring you that your child has maximum airflow circulating to keep their head comfortable under the mask.
Take Note
This Micro Helmet is an affordable option for family's that are just starting to teach their toddlers how to ride a bike and get them accustomed to wearing a helmet. Although it is not the best quality, it offers secure adjusting system and proper security.
This helmet has heavyweight, so it can give the easy irritation to riders and do not have any protection system for the back of the head.
Previous
Next
Are you having trouble with getting your child to wear a helmet?
As mentioned earlier on, it is best to teach your child the habits of wearing a helmet early in their life. Here are a few tips that you should keep in mind when your child refuses to wear a helmet:
Let them try to understand the protection that they will benefit from it.
As a good example, you should as well put a helmet on when you go bike riding with them. Always reinforce the benefits of wearing a helmet. Getting their friends to use a helmet as well can positively influence your child.
It is vital to get them involved as well. Let your child choose the design and try on to know what is comfortable for them. With their involvement, this will create trust and a sense of responsibility. You can also praise your child when they wear helmets.
Features to Look while choosing a Toddler Helmet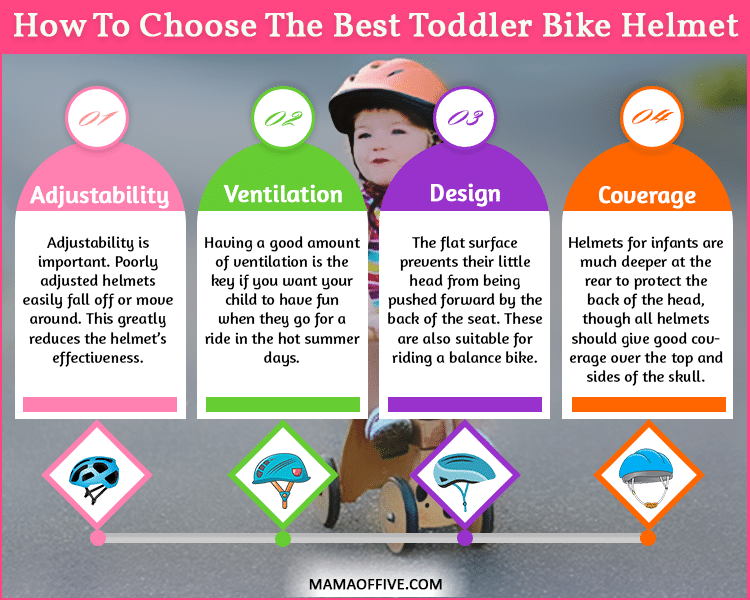 Size & Fit
First and foremost, the helmet should fit the size of your toddler's head. It is best to measure their head with a tape measure to give you an accurate reading. A better understanding of their size will let you pick the appropriate helmet. Take note of the recommended age and head size that the helmet has provided.
If the helmet does not fit right, it will ultimately defeat the purpose of having a helmet. When you measure the helmet to ensure proper fit, the space between the eyebrows and the bottom of the helmet should be the width of two fingers. It should rest snuggly on their forehead and not tilted on the back of their heads.
Another tip: make your child look upward, and you should see the edge of the helmet.
Adjustability & Comfortability
The helmet should not be moving from side to side or hanging loose on your child's head. There are toddler helmets that feature either a knob or ring as a dial-adjust system. With these types of adjustments, it makes it a lot easier for you to customize the fit that will be suitable for your child. The perfect shape for the straps should form a V below your child's ear.
Helmets that have much ventilation in them will increase breathability for your child's use. The holes will allow for a lot cooler headspace to prevent it from getting too hot and stuffy. Your child is a lot less sweaty when the helmet is well ventilated.
Construction
There are two types of assemblies for helmets, namely a soft-shell and hardshell. As the name says, a hardshell gives a better safeguard against more massive impacts while soft-shells or in-mold are a lot more lightweight.
The soft-shell is designed to integrate the inner foam and outer plastic shell to make the weight lighter. Made of more robust material, the hard shells make them more durable and have a higher resistance to impact.
Use
There are two types of use of helmets – multi-sport skater-style and standard bike helmets. The two main differences are their design. A bicycle helmet has a lot more ventilation holes in them and is lighter. That is why it is recommended best for children who are in hotter climates.
The Skater-Style Helmet is a lot heavier and has no ventilation holes in them. But they do offer a lot more coverage for the head. Your child can get more hot in these types of helmet. Although the heaviness can ensure you that the helmet will stay firm in their head, younger children who still have weaker neck muscles will struggle because of the weight.
So from the two, you can decide which better suits your child and the activity they will be doing. You can also choose which you think will best protect your child's face and head.
Multi-Directional Impact Protection System (MIPS)
A newer feature for helmets, the MIPS element makes an additional layer of protection. With helmets that have the MIPS feature, the inner plastic cage in the shell that is secured by anchors. This material absorbs impact in whatever direction it is coming from. Unlike helmets without MIPS, protection against impact is lesser without it.
Do note that MIP feature on a helmet is a lot more expensive than standard ones. They also tend to lessen the ventilation for the helmet. But if you are willing to spend a bit more to have extra security your baby, you will not regret the purchase.
Safety
Choose bike helmets that comply with CPSC. With a certification from them, you will have the assurance that the helmet is tested and has passed the safety guidelines. Make sure that the material used in the helmets is durable and sturdy as well. There are great options in the market that provide excellent absorption of high-impact collisions.
Since a helmet is for safety, you should choose ones with higher safety features and standards.
Design
Brighter colored helmets will give better visibility when on the road but still consider your child's preference so that they will enjoy wearing their helmet. Some offer a toddler bike helmet with spikes to amp up the design element and spur interest for the child.
Final Thoughts
Our top priority for our children is their safety. So choosing the right helmet for them, regardless of the price point and as long as it is high quality and guarantees maximal protection for your child will benefit you and your child in the long run.
There are tons of benefits that a helmet will give you and your child. We discussed as well the features that a helmet should have. It is vital to take note of the tips to make the helmet fit right and have a better understanding of what to look out for when purchasing a helmet. Know the measurement of your child to match with infant bike helmet sizes as well as toddler helmet fit.
With the top ten recommendations, you will surely find the best toddler helmet for your baby. Whether you are looking for the best toddler bike helmet on budget, a toddler motorcycle helmet or a toddler bike with chin guard, we have provided the information for you to be able to match what you need.
For overall best toddler helmet option go for the Giro Scamp MIPS Youth Bike Helmet as this is cost-efficient. The multiple features ensure maximum comfort and proper safety procedures for your baby.
If you want the best toddler helmet on a budget, the Joovy Noodle Helmet will do wonders for your baby even at a lower price point.
Always stay alert when it comes to teaching your child how to ride a bike. Guide them through and watch over them as they maneuver along. Safety is always the priority.
Disclaimer: If you purchase any products in this post, we may receive a small commission. We promote only the products which we test and recommend. Read our affiliate disclaimer here.