You look at your baby's face a fish with pride over how beautiful she looks. Suddenly your heart sinks when you spot a red scratch on their cheek.
How did the mark get there and what can you do to remove it?
Babies can accidentally scratch their face when they touch it. You may be worried that the scratches will turn into scars, but baby skin heals fast.
As an Amazon Associate, I earn from qualifying purchases. The links below may be affiliate links. Please read my disclosure policy for more information.
Why does my baby scratch her face?
There are several reasons why your wee one may leave those nasty-looking marks on their face.
They could be startled
Any loud noise or sudden movements can have your baby reacting. This is known as the Moro response. Your wee one will stretch out her legs and arms, arch her back and then pull everything back in again.
As the arms are brought back towards the face, scratches can occur.
This reflex action should stop 2 months after the birth.
Irritated skin
If your baby's skin becomes dry or itchy, he will want to scratch at the irritating spot.
Aggravated skin may be the result of eczema, infections, or acne. It could also be due to the baby lotion that you're using.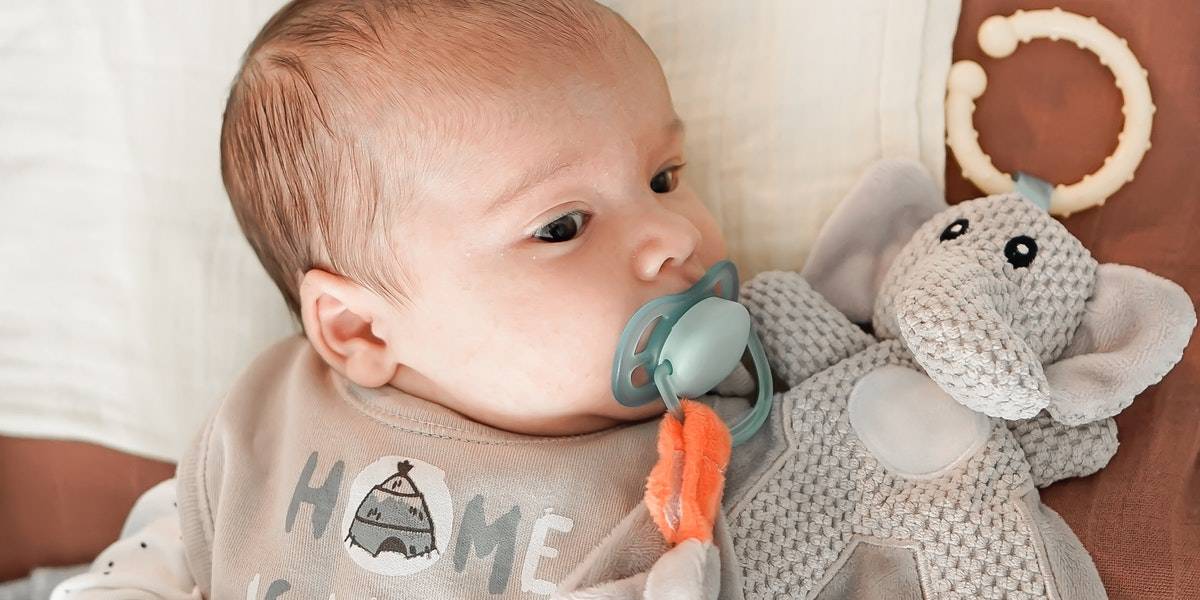 Accidental scratches
If your baby gets excited (or upset), she may wave her arms around her head. That leads to contact with the face and possible scratches.
Some babies may also react to frustration by scratching at their faces.
While sleeping, your baby may droop a hand lazily over her face. When she moves while in the Land Of Nod, those scratches could show up.
Curiosity about themselves
Your baby has spent months curled up inside a tummy. Now that they are born, they want to learn about this world they have entered and about themselves.
Babies are tactile learners. They need to touch, feel, look, hear, smell, and taste. As part of that process, they will place their hands on their face to sense what it's like. A by-product of such self-inspection can be facial scratches.
Stop the scratches
You want your baby's face looking picture perfect at all times. You never know when that special moment that you want to photograph or video will occur.
Thankfully there is a range of methods available to help you. Here is how your wee one can have a scratch-free face.
Trim the nails
The natural thinness of a baby's nails can make them sharp. You want to keep the nails short.
Electric nail trimmers
These act like nail files for your baby. Gently take your baby's hand, extend a finger and then file away the sharp edges of the nail.
They are relatively affordable. Cherish has a great machine available for under $30.
Things to consider when buying such a machine are:
how loud it is. Remember babies react to noise.
the number of pads available. The more the better so that you can still tend to your wee one's nails as she grows.
do you want a rechargeable device or one that runs on batteries?
the ergonomic design for both you and your baby. You want it to feel comfortable to use.
Another option is to use emery boards. Rhoost has a pack of double-sided boards to keep your baby's nails in a safe shape.
Scissors
Don't be afraid to trim your baby's nails several days after they have been born. Their nails grow quickly and that can lead to scratches.
The best time to cut the nails is while your baby is having a bath, or just after bath time. Nails are softer at this time.
When cutting the nail, press the pad of the fingertip away from the nail.
Follow the curve of the nail and remove any corners
For toenails, cut straight.
Your nail scissors need to be sharp and designed to protect your baby. Frida has a great pair of scissors which has a rounded tip and blades that cut cleanly.
Put on some mittens
Little mittens on babies' hands look so cute. But it's more than aesthetic value (or keeping tiny hands warm) that they offer. Sharp fingernails are kept under wraps.
Don't be tempted to buy the first pair of mittens that you see. You have to think about:
How well the material breathes. A cotton blend is a way to go as it is a highly breathable fabric.
Futureproofing. Babies grow incredibly fast. You don't want to buy a new pair of mittens every other week. Look to buy some that will provide comfort now but also can fit your wee one several months later.
Fastenings. You don't want the mittens to fall off. If that happened, a tiny hand with sharp nails is free to mark your baby's face. Look at how the mittens are secured to your wee one. Elastic, rubber, or velcro fastenings is the best way to go.
Wrap up the baby
At times you want to have bonding time with your baby. To feel then close to your chest and have your bundle of joy listening to the soothing beat of your heart.
Swaddling cloths allow you to have that special moment while keeping little arms at bay. You don't want your baby flailing their limbs and inadvertently scratching their face.
Here is how you can wrap your baby in the cloth:
Place the cloth onto a flat surface. You want it to be diamond-shaped.
Take the top corner and fold it down.
Place your baby in the center of the cloth.
Fold the left side over your baby's left arm and chest. Then tuck in the material under his right side.
Take the bottom corner of the cloth and then fold it over your baby. Tuck it into the top of the first fold.
Grab the right side of the cloth and wrap it across your baby. Tuck it into the left side.
Have the cloth loose enough so that your baby can move his legs freely. There should be a three-finger space between the cloth n your baby's chest. Then everything is nice and comfortable.
Keep the skin moist
If the scratching is caused by dry skin, use a baby lotion to provide moisture. Get a lotion that doesn't contain any chemicals as these could trigger a reaction.
Healthline recommends either Pipette Baby Lotion or Earth Mama Sweet Orange Baby Lotion as top picks for organic options.
Why is the skin irritated?
If the scratching is due to skin irritation, you need to put on your detective hat to discover the cause.
Is it due to pollen in the air? Maybe there isn't enough moisture within the baby's environment.
Think about the diet. Did the symptoms appear after you started some new food?
Keep a detailed record of everything that you think may be contributing factors to the skin reaction.
Then you can talk with your pediatrician.
If the skin issue is something hereditary, then the best thing you can do is follow the advice of your doctor for treatment.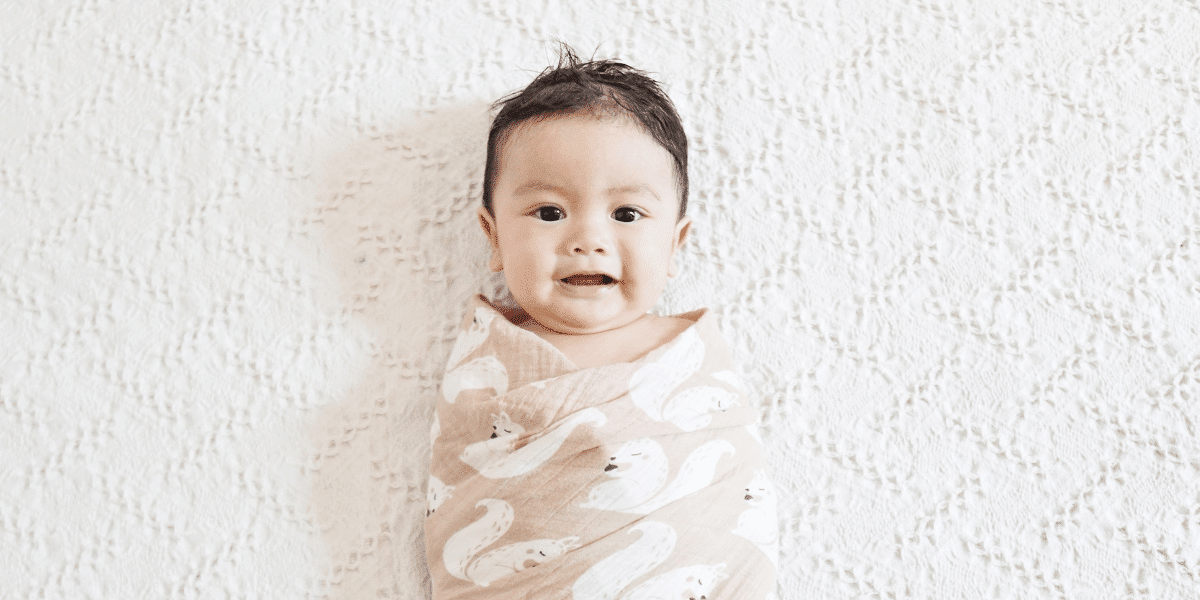 Treating the scratches
No matter how hard you try, scratches may happen. When they do, treating them is easy.
Clean the area with water (you could also use a baby wipe). Add some antiseptic cream to the spot. Gently dry the area and apply a moisturizer.
You can cover the area with a band-aid, or leave it. The scratch will soon be gone after several days.
Will there be scarring?
Parents worry that the scratches will leave scars. However, as we mentioned the marks will self-heal.
Yet, if you are concerned, you can use a cream or ointment.
Vaseline is one option. It acts to remove any dirt and grime from the wound. Vaseline also provides moisture to the skin which helps speed up the healing process.
An all-rounder ointment is Aquaphor's skin protectant. It takes care of dry skin, while soothing and healing those scratches on your baby's face.
This may sound totally "out there", but breast milk is becoming a popular choice for healing scratches. Research shows that it has a wide range of benefits, such as treating cuts and other marks.
Conclusion
A scratch on your baby's face can cause you some concern. But you can treat the mark with cream or ointment.
Trimming the nails of your baby can reduce the chance of the marks reappearing. Slipping little hands into a pair of mittens also works.
You don't need to worry about scarring. The scratches will disappear after a few days.
That is the amazing power of your baby's inbuilt healing power.
.