Giving birth to a new baby can be an exciting but stressful time.
There are many ways that you will need to prepare yourself for the arrival of your baby, and one of those ways is to get your postpartum essentials in order.
Having all your ducks in a row will ensure a smooth transition from pregnancy to postpartum.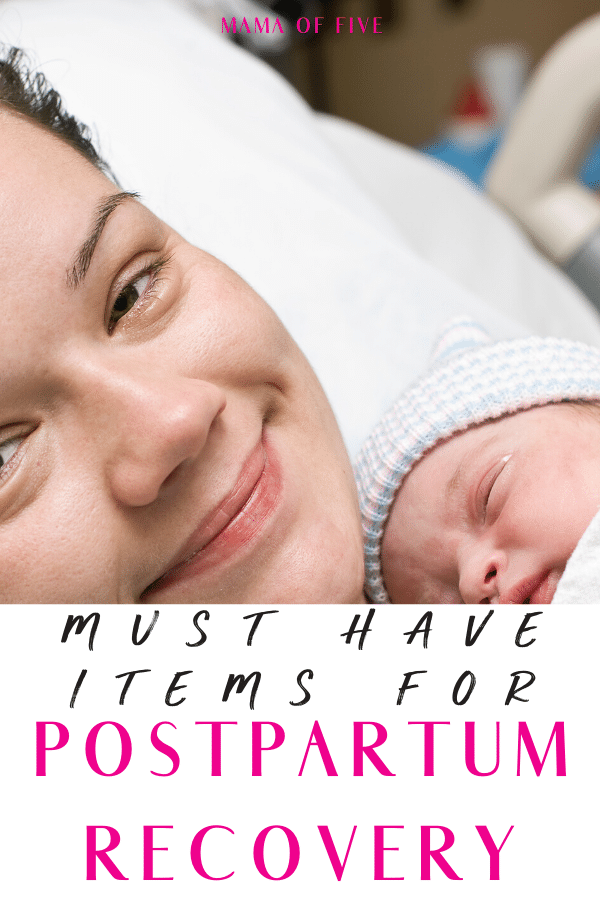 As an Amazon Associate I earn from qualifying purchases. The links below may be affiliate links. Please read my disclosure policy for more information.
What are postpartum essentials?
Postpartum essentials are the things you will need once you have given birth. These are usually packed in a duffle bag, called a "hospital bag," in preparation for the day of delivery.
These essentials can vary depending on your needs, but postpartum essentials are usually comfort and care items.
Many factors in your delivery will dictate what postpartum essentials you need.
These factors can be where you give birth (hospital vs. home), how you give birth (vaginal or cesarean), and when you give birth (weather, etc.).
There are baby essentials that should be in your hospital bag like your baby's coming home outfit and their baby book, but what about your postpartum essentials?
Related: How To Prepare For A Labor Induction
What Are Postpartum Essentials?
Postpartum essentials are what you pack in your hospital bag when you are going to give birth.
They are typically self-care items and comfort items. Some women pack things to entertain them during delivery, like books, music, or games.
There are also baby items in the bag, such as a special blanket or outfit.
When packing your postpartum essentials, it is essential to think about your upcoming birth.
Will you be delivering vaginally or cesarean? Will you be going to a birth center or a hospital? Will you have a water birth?
These are all things to consider when packing your hospital bag with your postpartum essentials.
Some things that you can pack in your hospital bag for your postpartum essentials are:
You May Like: How to heal quickly postpartum. Using a Padsicle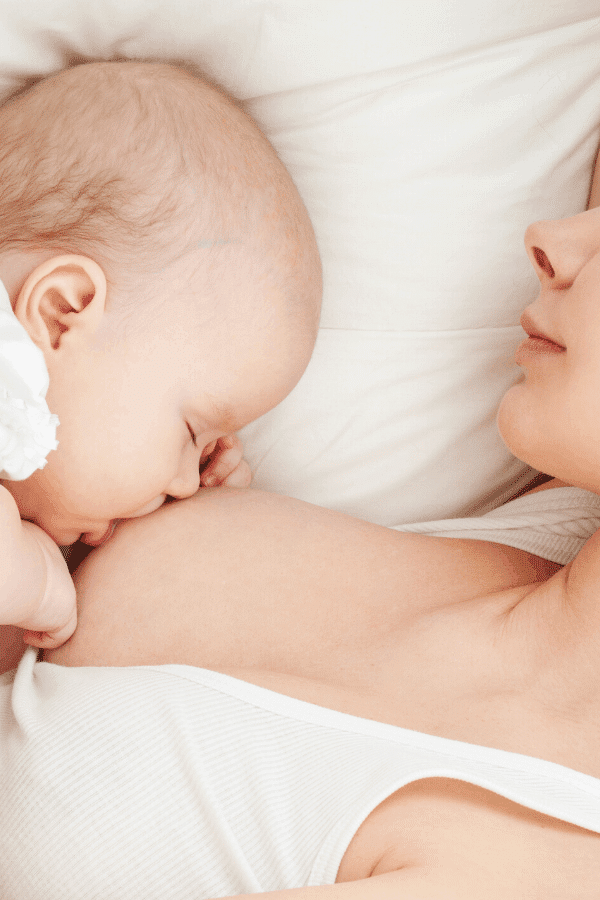 Quick Postpartum Checklist:
This should be comfortable and with no underwire. Your breasts are going to be sore and tender, so comfort is ideal.
Bring nursing pads and be sure to get the nursing pads that have a plastic lining on the back to prevent leaking.
Having a comfortable robe to sleep and nurse in is better than the paper hospital gown. 
The hospital may provide these, but the ones they have are big and bulky. You will be more comfortable with your preferred brand.
This is a water squirt bottle that you use to squirt on your vagina after urinating, to prevent pain and clean yourself. The hospital usually provides one, but you may need to bring you
Instant cold therapy instant first aid ice packs built into the pad that delivers the recommended 20-minute therapy window. No freezer necessary. Absorbent maternity maxi pad absorbs 260g of liquid beyond the cold therapy period.
This is a nipple cream that is safe for your baby and can help treat cracked and dry nipples.
INCLUDES: Peri Bottle, 4 Underwear, 4 Instant Ice Maxi Padsicles, Witch Hazel Pad Liners(24ct pack), Perineal Healing Foam, toiletry bag, caddy
NEW MOM MUST-HAVES: This prep kit includes everything mama needs to be prepared for labor and delivery, and postnatal overnight recovery after birth
The award-winning Boppy Original Pillow provides your arms and back relief by lifting your baby to a more ergonomic position when breastfeeding or bottle feeding.
VERSATILE USES FOR 0-12 MONTHS, EASY CARE, MACHINE WASHABLE
These yoga pants in assorted styles are the perfect fit for lounging and everyday wear. Bootcut, Skinny, and Straight leg Style pants for petite, small, medium, tall and plus size.
Related: The Best online Birthing Class- My Honest Review
You May also need:
• A few changes of clothes – There will be bodily fluids; lots of them. So bring a change of clothes or two, just in case.
• Music for relaxation – You will spend a day or two in a hospital room recovering. Bringing along a nice playlist of music might make your time more enjoyable.
• Slippers and comfortable socks – The hospital will provide basic slipper socks if you have nothing, but you would be more comfortable in your socks and a pair of slippers to wear while you are walking the halls to regain your strength.
• Lotion and soap – The first shower after you give birth is extremely therapeutic, and having some body lotion to put on will make you feel clean and ready to be a new mommy.
• A pillow – The hospital will provide pillows, but they are likely not that comfortable, so bring your own.
When you give birth, you will feel exhausted for several days or even weeks, so you must try to find comfort during that time.
Having a cesarean is major surgery so your recovery time will be far longer and much more intense than a vaginal delivery. This means that you will have some different needs.
You May Like:
What Postpartum Essentials Do I Need For A C-Section?
Your needs will differ as a result of having a cesarean section, or a "c-section."
The surgery itself is major abdominal surgery, so while you have just given birth to a baby, you will also be recovering from major surgery that some compare to being hit with a car.

You will be bed-bound for a couple of days and the pain after the operation can be intense.
Here are some postpartum essentials you can bring with you to your c-section to plan ahead:
• A pack of high waisted underwear – Your incision will likely be along your bikini line, which is where a lot of underwear sits.

So you will want to have high waisted underwear that rests on your belly and not on your incision because that will be painful and very uncomfortable.
• A pillow to help you nurse with an incision – Bring an extra pillow. This can help you nurse with an incision. Also, when you need to cough, press the pillow firmly against your incision at the same time and push. This will prevent you from having pain from coughing.
• Pants or pajama bottoms with a stretchy waist – You may want to wear a nightgown while you are in the hospital but pants when you go home.
Jeans can irritate an incision and they can be challenging to put on because your body is still adjusting back to normal, so they likely won't even fit. Bring along a pair of comfortable sweatpants or pajama bottoms with a drawstring.
Related: HOW TO TAKE A POSTPARTUM SITZ BATH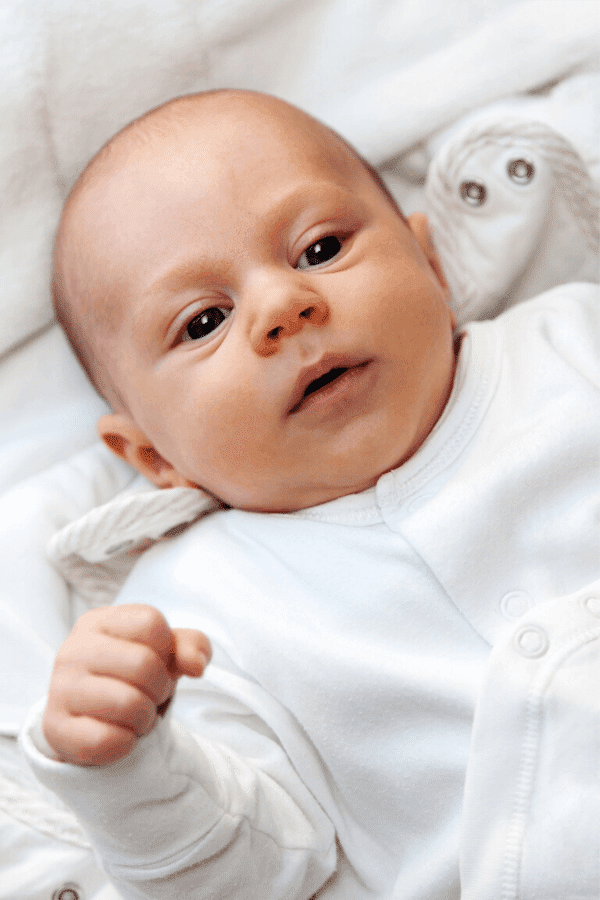 What Postpartum Essentials Do I Need For A Water Birth?
If you are going to a delivery center or hospital that offers a water birth option, you may want to bring some extra things with you to prepare for the birth. Some of these things are:
• A bikini bathing suit top – You may want to wear a top while you give birth. Some wear a bikini top while others wear a nursing bra.
• Extra clothes – This should be obvious, but a water birth can be messy, so don't be surprised if you need to change your clothes.
• A waterproof or water-resistant camera – You may be tempted to just take pictures with your phone, but there is the chance that it could fall in the water.
You can buy a waterproof one-time-use camera to use so you don't ruin your phone and you still get your up close and personal pictures.
Having a home water birth should be a delightful experience; however, there is a potential for an emergency.
So part of the postpartum essentials for a water birth at home would be having a back-up emergency plan set up and possibly even having a hospital bag packed just in case.
Related: Contractions Vs Braxton Hicks. How to tell the difference.
What Postpartum Essentials Do I Need For My Baby?
When you give birth, you will want to have a bag packed with your postpartum essentials, ready to go.
While you should pack your essentials, you should also pack your baby's. You may want to bring along these things for your baby once you give birth:
• Pack of sleepers – There will be a lot of diaper changes, spit-up, and milk spills, so having several changes of clothes is a good idea.
• Burp rags – These are an essential baby item unless you want to walk around with baby spit-up on your shoulder.
• Blankets – The hospital room may be drafty, so having a couple of blankets packed can help keep your new baby warm.
• Baby book and ink for footprint – Most hospitals will do this for you after the birth, you just have to bring it with you and ask one of the nurses.
• Socks – Little feet get cold easily, so it's always a good idea to have plenty of socks to keep them warm if their clothes don't come with booties.
• Nursing pillow -Bring a "u" shaped nursing pillows that can help you comfortably nurse your baby.
Most hospitals provide diapers, wipes, and formula while you are in the hospital, but not all, so you should call and check before you go.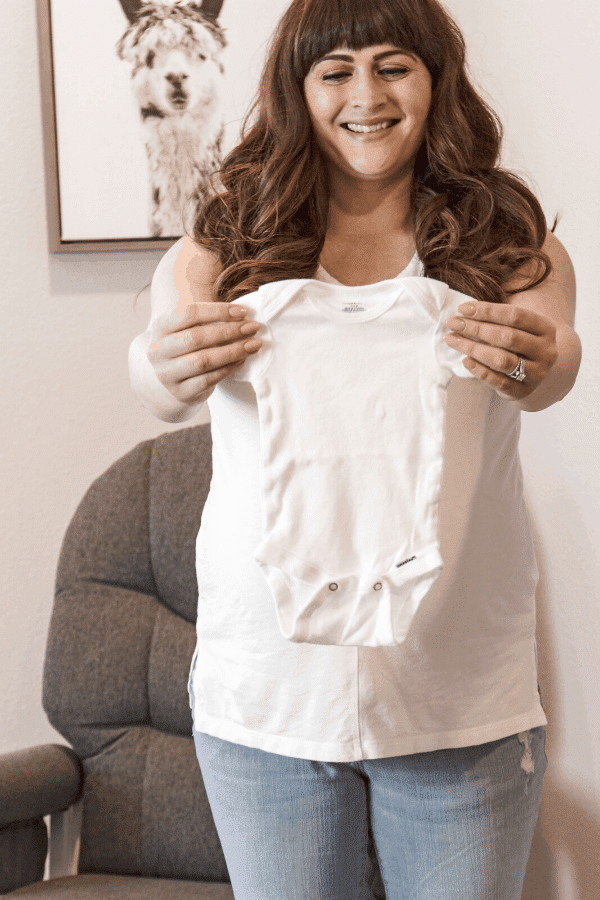 Have you read: Epidurals in Labor. All Your Questions Answered.
What Postpartum Essentials Does The Hospital Provide?
The hospital will provide your medications and medical needs, but they also may provide some hygiene needs. You can always bring your own, but the hospital will likely offer one-time-use:
• Toothbrush
• Toothpaste
• Comb
• Bar soap
• Shampoo
• Maxi Pads
• Disposable underwear
• Gel deodorant
What Else Do I Need To Do To Prepare For Birth?
Aside from packing your postpartum essentials in your hospital bag, you should also have a few things ready to go or arranged.
If you have other children, you should have an on-call babysitter that can come over at a moment's notice. You should arrange to have someone feed your animals while you are gone and get your mail.
You should also have phone numbers handy so that you can announce the birth.
If your delivery was unexpected and your house is messy, see if a friend or family member will do some cleaning for you before you go home.
Having a new baby is fun and exciting, but it's even better when you are prepared with a plan and a hospital bag full of postpartum essentials.