Whether you are a new mum or you are nesting in preparation for your new arrival, having a freezer full of meals will be a great help when you are busy looking after your baby.
Preparing meals in batches for freezings is a good way to manage your time effectively so that when you are feeling tired or overwhelmed with looking after your baby you can quickly defrost and heat meals.
As an Amazon Associate, I earn from qualifying purchases. The links below may be affiliate links. Please read my disclosure policy for more information.
Good nutrition for new Moms
Throughout your pregnancy, you are likely to have tried to eat as much nutritious food as possible. Including fruits and vegetables, calcium-rich foods, and high-protein content food.
When it comes to the post-natal period, good nutrition is equally as important but it may be more difficult to achieve when you are so busy.
You can buy pre-natal and post-natal supplements that can help you get the vitamins and minerals you need but good quality nutritious food is the best way to look after you and your baby.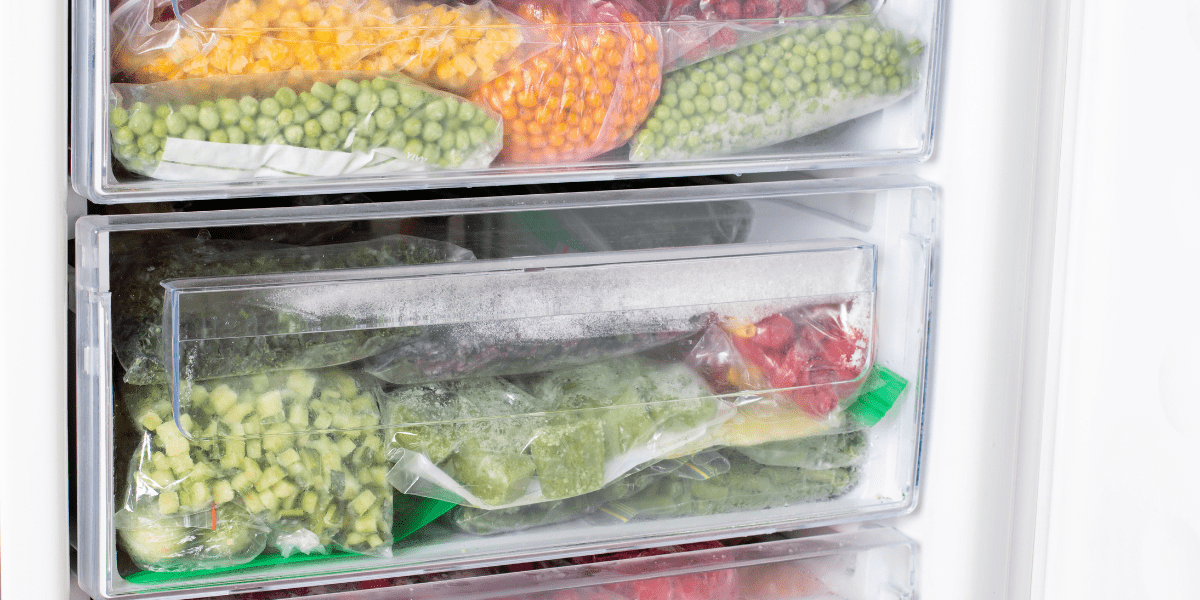 The best foods new Moms
Pregnancy and childbirth put a strain on the body so it is important to eat foods that can give you the nutrients that it needs. Some moms will want to try and get back to their pre-pregnancy body straight away but you should go easy on yourself and focus on good nutrition as opposed to quick weight loss.
Every new mom will need nutrient-rich food but for moms who are breastfeeding, you will want to be even more mindful of your nutrition.
The below foods are especially good for new moms:
Salmon and other fatty fish—contains and fat called DHA which passes through to your breastmilk and helps your baby develop a strong nervous system.
Fruits and vegetables—for good sources of vitamins and to help keep you hydrated
Wholegrains—for slow-release energy and good digestion
High-protein foods such as lean meat and natural yogurt—to help your body recover from giving birth and for building strength
Dairy products such as milk and cheese—for a calcium boost that will help grow red blood cells that are depleted during childbirth
Foods new moms should avoid
Caffeine—you can enjoy a small amount of caffeine but no more than three cups per day as it can pass into your breastmilk and make the baby irritable and unable to sleep
Alcohol—while some research says small qualities of alcohol is safe when breastfeeding you should follow official guidelines to keep the baby safe and allow you to stay in control when looking after your baby
Too much processed food—too much fatty, sugary and over-processed food can make you feel sluggish and can be low in nutrients
Preparing meals for when you become a mom
In the early days of looking after your newborn, looking after yourself is something that could easily be forgotten about. With all of your time and energy being out into you our baby, you may find that you do not have time to cook and eat as healthily as you would like.
With this in mind, it is a great practice to get ahead of the game and prepare nutritious meals for yourself before your baby arrives.
This can also be done by a parent or a family member at your home or theirs.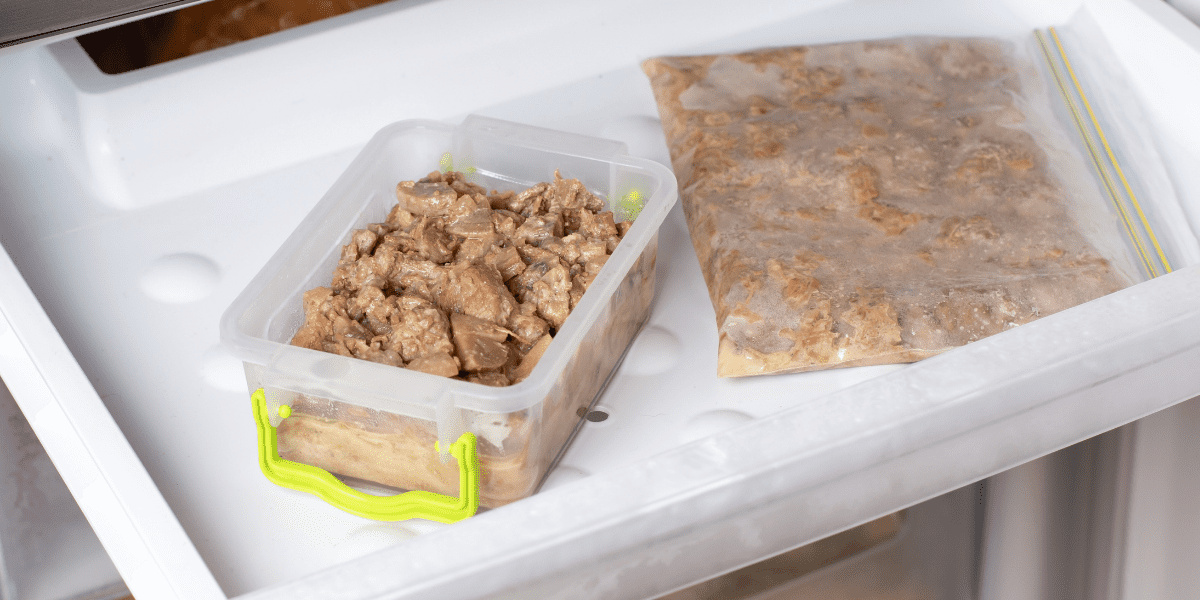 Great foods for freezing
If you are meal planning and are thinking of foods that freeze well, here is a list of ideas:
Tomato-based pasts sauces
Ratatouille
Chili
Lasagne
Curries
Stews
Casseroles
Cakes
Muffins
Food that does not freeze well
Some foods, unfortunately, do not freeze as well and can spoil in the freezing and defrosting process. These foods include:
Creamy sauces
Cucumber and other heavy
Cooked pasta
Cooked rice
Fried foods
Cake frostings
Boiled eggs
12 tasty meals for new moms
With the recommendations for great ingredients for new moms and good foods to freeze, you can think up lots of different meal ideas.
If you are looking for inspiration, here are 12 tasty meals to satisfy new moms.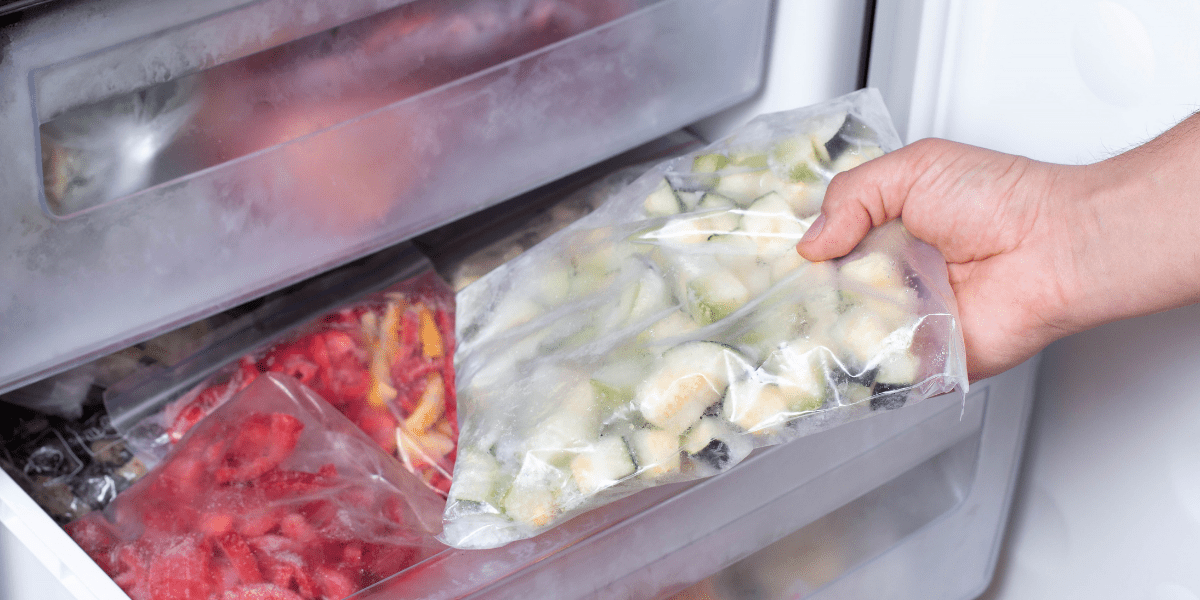 The turmeric in this fragrant chicken curry is good for any remaining inflammation as a result of childbirth.
It also contains ginger, which is great for anti-sickness, garlic which helps cardiovascular health, and chili which helps elevate endorphins, which can run low due to low mood after your first give birth.
Arguably, the best comfort food that always tastes better the next day! You can make a large batch of ragu and white sauce and put several lasagnas together in foil trays ready to freeze and use when ready.
As lasagne lays flat in your freezer it does not take up as much space as some freezable meals and you can pile several on top of one and another, depending on the size of your freezer.
This tasty fish pie is packed full of protein, vitamin B-12, vitamin D, omega oils, and pure comfort. A very nutritious meal to help moms stay healthy and will be something that the whole family can enjoy.
A quick and tasty vegetarian meal that can be made in your crockpot or slow cooker. Simply throw all of the ingredients in the pot and leave it while you get on with looking after your baby and getting some rest.
The high fiber content in this dish is great for new moms who may struggle to digest food and go to the toilet easily within the first few weeks of giving birth.
You can add extra chili for an endorphin boost if your mood is low, which is very normal as your hormones adjust to being a new mom.
Protein-rich and containing lots of vegetables, this chicken dish is a family favorite that ticks all of the boxes when it comes to vitamins and minerals. It can be served with lots of extra vegetables for an additional vitamin B boost.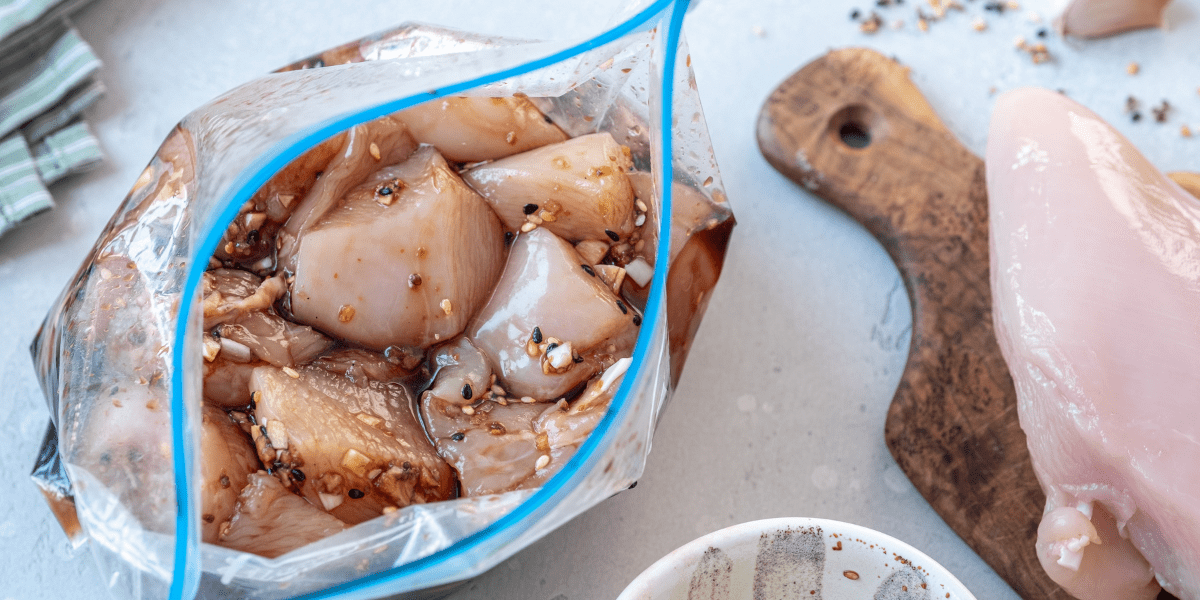 Making a large batch of soup is quick and easy—you can even buy ready-chopped vegetables to give yourself even less of a hard time.
It can be frozen in small batches to be taken out each morning and it will be defrosted and ready to eat for a wholesome lunch.
Vegetarians can leave out the bacon and you can add different toppings, such as cheese, croutons, and herbs at the end.
Rich in iron from the beef and vitamins from the vegetables, this crockpot recipe is something that can quickly be put together in the morning to cook all day and freeze in batches at night.
This family favorite is easy to make and will freeze better than if you were to try to freeze a cream sauce on its own.
You can easily remove the chicken if you want a veggie meal or add your meat of choice if you still want a good protein-rich meal.
A great mid-week dinner to comfort you after a busy day.
On cold nights there is nothing more heartwarming than a bean stew.
This hearty stew is rich in protein and fiber to aid growth and digestion and it is also high in iron, which some new moms need if iron levels are low.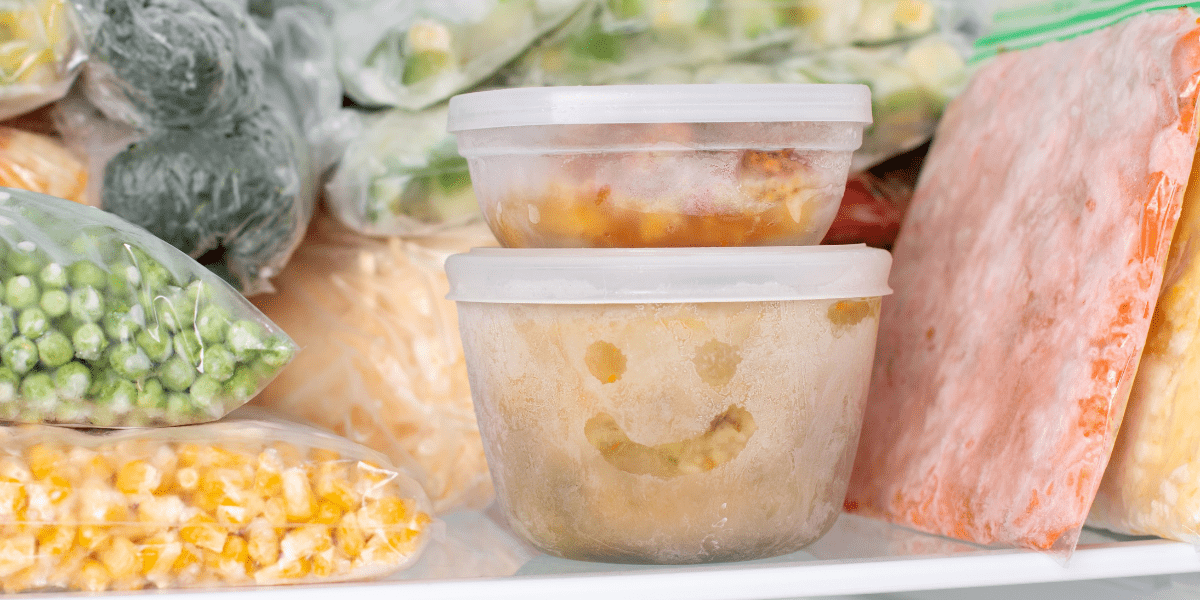 Rather than order takeout pizzas yes you can get ahead of the game and make batches of pizza dough for freezing.
Simply take out to thaw, add your favorite toppings, and pop in the oven to heat through.
Easy, tasty, and much healthier than restaurants pizza.
Making a batch of muffins when the baby is asleep one morning is a fun thing for you to do and will leave you with a batch to freeze for days when the thought of baking is a dream.
You can freeze the muffins individually or in small batches.
They can be eaten once thawed or warmed up slightly in the oven to enjoy with a hot drink.
The oats in the recipe are high in protein and offer slow-release energy, the blueberries contain infection-beating antioxidants and the banana are rich in magnesium.
New moms need a lot more energy than normal, especially when breastfeeding, This means that some sweet treats are essential and this tasty pudding is something nice to finish your evening meal.
These are just a few mom-friendly freezable dishes that you and your family can enjoy.
Most savory dishes can be freshened up by adding fresh herbs on top and serving with steamed vegetables or a crispy salad.
Puddings can feel like they have just been prepared with the addition of cream or custard.