If you're wondering whether breast milk stains clothing, the answer is yes. But the good news is, it's easily avoidable and easily rectifiable. As breast milk is technically an animal-based product, it contains high protein enzymes that can be stubborn to remove from clothing – but not impossible.
As an Amazon Associate, I earn from qualifying purchases. The links below may be affiliate links. Please read my disclosure policy for more information.
Why Does Breast Milk Stain Clothing?
Breast milk contains protein and fat, which can cause stubborn and thick stains to your bra and shirt. Because of these enzymes, the result is often grease-like stains on fabric, even after a high temperature wash.
Unfortunately, any liquids that contain human or animal compounds (blood, urine, vomit, faeces, etc) are harder to remove from fabric because of the high protein content.
How to Remove Breast Milk Stains From Clothes
However careful you are, a lactating woman is likely to have a mishap. Don't panic! It's totally normal and there are ways to get breast milk out of clothing.
Here's what you'll need:
The method:
Gently scrape any milk residue from the fabric before you begin.
Pre-treat the stain with stain remover. Always check clothing tags first to make sure they are suitable for stain remover.
Scrub tough stains with your soft-bristled brush. Be careful using the brush on any delicate fabrics, such as lace.
Soak your stained clothes in cold water. This prevents protein-based stains from setting.
Wash your clothes with a laundry detergent that contains enzymes good for breaking down protein stains. Try to use laundry detergents with the fewest chemicals and allergens, particularly for your baby's clothes, to protect your baby's delicate skin. Your normal wash cycle should be enough to get out most breast milk stains.
Especially stubborn stains may require several treatments and a couple of washes before you're completely satisfied. Tough stains may need additional soaking and another couple of washes, so don't be disheartened if the first attempt isn't successful. Repeat the process until the stain has completely gone.
Dry your items in the sun. The sun acts as a natural bleacher, so if possible put your items out on the line. If you live in a colder climate, let your clothes sit near a window for a few hours after drying them as the ultraviolet rays will still reach the fabric and act accordingly.
If your clothing has colors and prints on it, you may want to limit the time in the sun or turn them inside out while drying to avoid fading.
If you plan to throw your garments in the dryer, be sure to check for any remnants of the stain first. If there are still hints of the stain, the heat from the dryer will do more harm than good.
How To Prevent Breast Milk Stains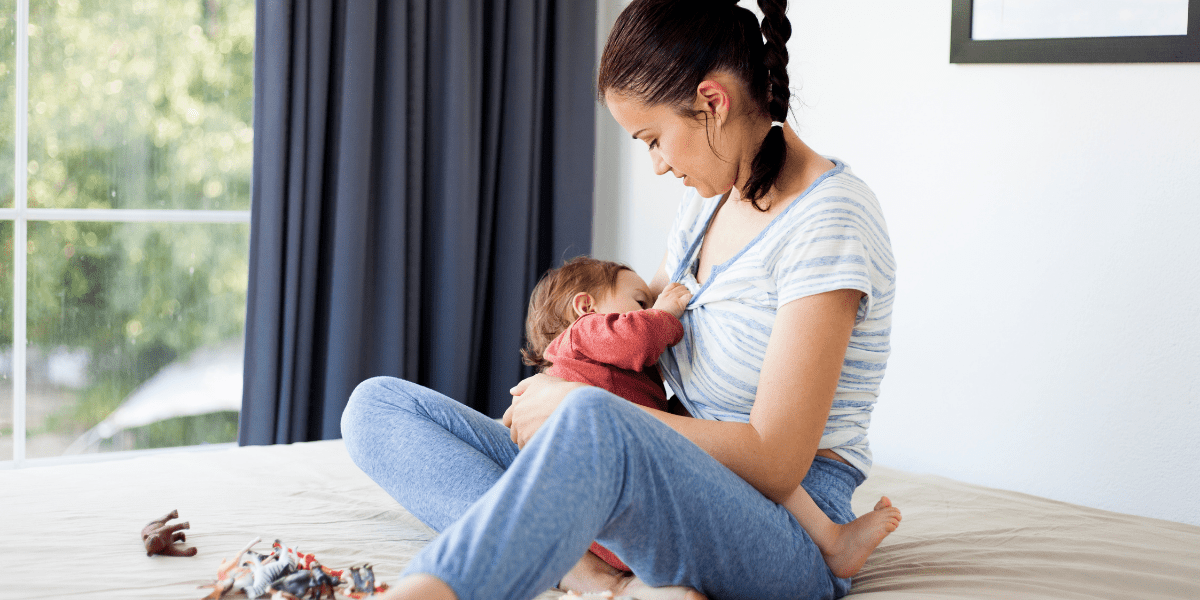 Occasionally, it will happen – particularly when you're asleep. But here's what to do to avoid those pesky breast milk stains:
Use nursing pads to protect your clothing from leaks. These can be great things to request guests to provide during a baby shower.
Clean up any fresh breast milk stains as quickly as you can before the milk can set in. This is when having stain removal wipes comes in handy – just remember to take them with you on days out.
Cover any nursing items you use, like a nursing pillow, with an old towel or pillowcase that you don't mind staining.
Use cold water on any accidental stain as soon as you can — this keeps greasiness from setting, which is the hard part of the stain to remove.
Keep burp cloths handy when you're nursing to protect clothing – again, remember to take spares with you when you leave the house.
Try to wear older clothing you don't value as much or that doesn't require dry-cleaning while nursing. This means if there is an accident you can't rectify immediately, it'll be older clothing that takes the hit!
How Do I Get Breast Milk Stains Out of Carpets & Upholstery?
The same rule applies as above. Try to tend to the stain as quickly as possible to prevent permanent staining.
Here's what else to do:
Mop up any liquid with a paper towel.
Use a solution of cold water and liquid dish soap to rub at the stain. Remember that cold water keeps protein and fat stains from setting in.
Keep blotting the area with paper towels to avoid water marks.
Rinse the area with plain water to prevent the soap solution from leaving a mark behind.
Repeat if necessary.
Does Baby Formula Stain Clothes?
Baby formula will have a similar staining effect to breast milk because it contains similar protein compounds that, if left too long, will create a grease-like patch on fabric, even after it's been in the machine.
If you have a formula-related mishap, the steps mentioned above should be able to successfully remove the stain.
Can I Use Bleach on Breast Milk Stains?
If you've tried the above steps and you're still noticing some staining, a gentle approach with a color-safe bleach can be effective.
If you're using the bleach on your baby's clothing or blankets, it is recommended to thoroughly wash the item several times after you've applied the bleach to avoid any irritation to their sensitive skin.
Stain Removers to Remove Breast Milk Stains
Here are some of the best stain removing products you can get at the store:
Home Remedy Stain Removers for Breast Milk Stains
If you don't have any stain remover handy (or you wish to avoid their chemicals) and you need to treat a breast milk spillage pronto, these typical household items you may have lying around will help:
Lemon juice: 100% real lemon juice is a natural bleaching solution due to its acidic content, particularly when sunlight is added to the equation. This can be a great option if the stain is on your baby's white clothing that you don't wish to use chemicals on.
Hydrogen peroxide: Hydrogen peroxide is a popular household bleaching product and it also combats even the toughest of stains. It's inexpensive too and can be used for other cleaning situations.
Baking powder. Baking powder has long since been a popular household item used in cleaning, and will work to oxidize breast milk stains, providing you spring to action quickly and don't let the milk sit too long.
How to Remove Old Milk Stains From Clothing
Depending on exactly how old the milk stain is, it may be very difficult to fully lift a breast milk stain that isn't fresh. This method may work, but it may take several attempts:
Using a soft-scrub brush, rub the stain with a mixture of 2 cups of cold water, 1 tablespoon of dish-washing liquid and 1 tablespoon of baking soda.
Rinse with cold water.
Repeat as needed.
If the stain persists, take the garment to a dry cleaner or to a laundry professional for advice.
Breast Milk Stains: Top Tips
If the stain is not treated properly, the milk proteins can cause stains that appear months or even years later, especially if you store your baby's clothes in an airtight plastic container.
Enzymes attack stains by digesting the proteins, so an enzyme-based stain remover will likely be your best bet.
Let your clothing dry out in the sun as it'll help lighten the stain.
Consider using Buncha Farmers Stain Stick. This all-natural, environmentally-friendly stain remover is made with coconut oil and borax. You can rub the stick directly on the stain or make a spray by grating it into hot water. This is a great chemical-free option which may serve to prevent your baby experiencing skin irritation if the stain is on his/her clothing or bedding.
Conclusion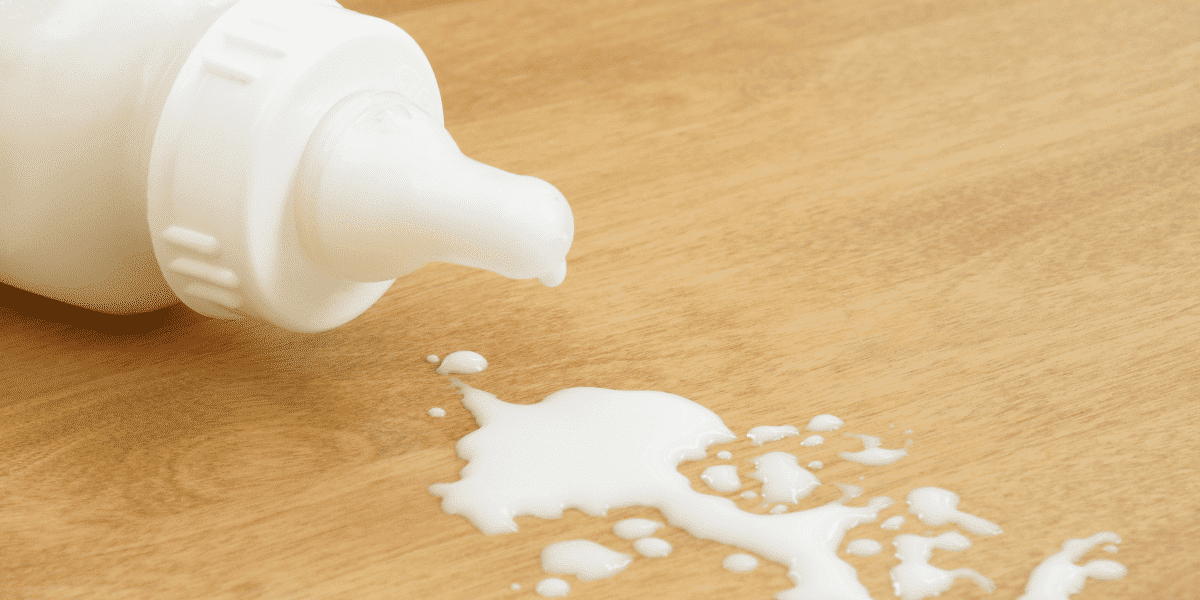 Breast milk or formula stains can be a pain in the proverbial for many moms and are almost impossible to completely avoid.
However, by adhering to the above advice and remaining careful and vigilant about preventing the stains to begin with will help you on the road to stain-free success!
Just remember the basics:
Avoid nice clothing, bedding, or towels during the nursing period.
Try and tackle the stain as soon as possible. The longer you leave it, the harder it will be to remove.
Use natural products if the item in question will come into contact with your baby's sensitive skin.
Cold water prevents stains from setting.
Avoid the dryer if you still see remnants of the stain.
Don't be hard on yourself – you're doing your best!