Are you looking for a simple and easy all in one worksheet Pack to teach and keep your preschooler busy in a fun and educational way?
I designed these worksheets, to keep my little ones active and away from the screens when I was heavily pregnant.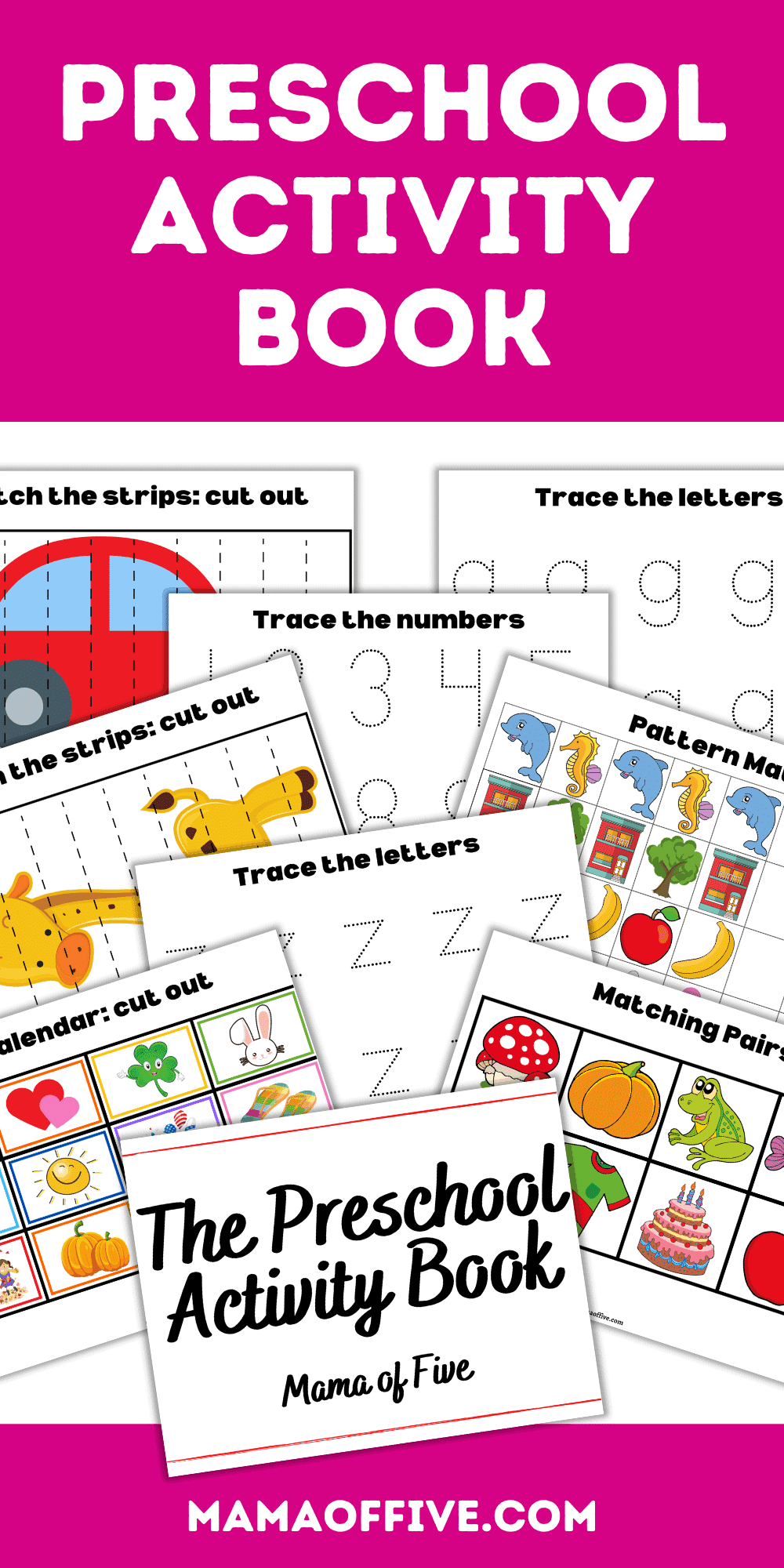 They worked an absolute treat and I kept on making them in advance to use when I knew I would be breastfeeding.

These worksheets are super helpful to keep my little ones busy so I can get to do all the things I need to.
This big preschool workbook is packed with 93 pages of coloring and activity sheets your child will love.
These sheets are perfect to keep your little ones entertained on long road trips, on a plane or even when you just have a mountain of chores to complete around the house.
As an Amazon Associate I earn from qualifying purchases. The links below may be affiliate links. Please read my disclosure policy for more information.
The preschool worksheets include:
Alphabet tracing sheet
All the letters of the alphabet in capital letters as well as smaller cases to get plenty of practice in.
You can either print the pages out or you can Laminate them and use dry-wipe markers to use over and over again.
Shapes worksheets
The shape worksheets are bright and colorful and make a wonderful matching game for your child. You can use this as a cutting and gluing activity or laminate and attach velcro buttons to be used over and over.
This one was my son's absolute favorite. He would spend so much time just sticking the shapes on and from this learned the skill of putting puzzles together.
Preschool coloring worksheets
No pack would be complete without a few coloring sheets. I found these tripod pencils the best when getting my kids used to coloring and staying within the lines.
Number tracing sheet
Trace the numbers with chunky crayons, Tripod pens or pencils or laminate and use with colorful dry wipe markers.
Big or small sheets
A great way to start teaching the concept of big and small to a preschooler is by using these worksheets.
This hands-on activity makes it a fun way to learn and tell the difference. These sheets can be used as they are or laminated to be used over and over again.
Matching Pairs
A great way to teach matching or a game that you can play with your child encouraging turn taking.
Odd one out
A fantastic way for your child to recognize which thing is the odd one out.
How many
A great way to get your child counting out loud and then writing the number, practicing writing the numbers.
Pattern match
These colorful worksheets help your child with logic, and reasoning with cute illustrations.
Days of the week & Months of the year & calendar:
The Activity Book also contains a handy set of labels for days of the week and months of the year. These sheets are a brilliant way to get the children to actively remember what the day and month is. There is also a cute calendar to match with corresponding pictures.
How to use:
Download and print The Preschool Activity Book.
Laminate (optional, but highly recommended).
Cut out the pieces on the pages with 'cut pages' in the title.
Use a ring binder to create a folder.
Your child will add the items and pieces to the correct match.