KETO DIET HANDBOOK
lOSE WEIGHT, NOT MILK
DOES THE FOLLOWING RESONATE WITH

Are you desperately trying to lose weight after having a baby? 
Have you lost all confidence in your appearance after giving birth? 
Are you frustrated that none of your pre-pregnancy clothes don't fit anymore?
Trust me I know exactly how you feel. After having a pregnancy where I was suffering from hyperemesis gravidarum (extreme morning sickness) I literally felt I was starved.
I ate for after I had given birth and nothing was able to curb those cravings for junk. I ate and ate until one day I saw a picture of myself.
That was when it dawned on me that I couldn't recognize myself.
I had slowly gained weight but after my fifth child, I knew something had to change.
The only thing I cared about other than being able to lose weight was my milk supply. After breastfeeding my other 4 kids I knew it was something I wanted. What I didn't know was how my body would respond.
I struggled to find much information online about how Keto could work for a breastfeeding mom so I decided to do it for myself.
I committed to the diet and made sure I kept an eye on my milk supply and watched my baby's cues to see if he was still hungry.
Following a relatively strict Keto diet, I managed to lose over 50lbs in baby weight in 6 months.
Forget pre-pregnancy…. I was back to my college weight within 6 months WITHOUT exercise and without tanking my milk supply.
My baby was gaining weight beautifully and I was losing it so fast.
InTRODUCING: THE ULTIMATE GUIDE
TO THE KETO DIET WHILE BREASTFEEDING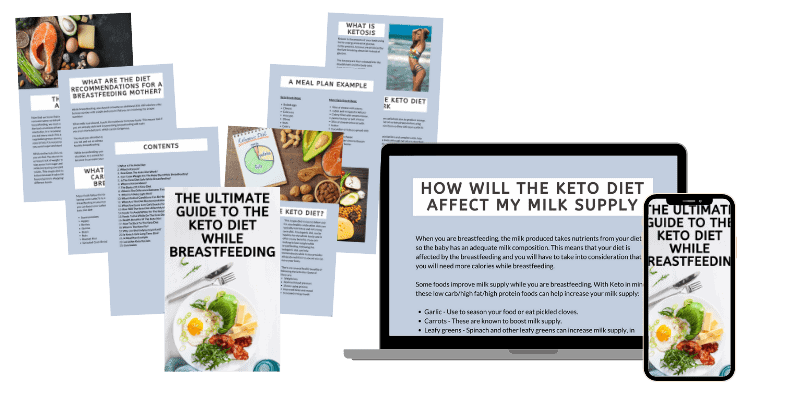 If you are breastfeeding and starting keto, then I can't recommend this book enough. I have to pump at work and when I started keto my supply tanked I struggled and could barely pump 4oz. But then I read this book and it changed everything. I was losing weight and I was pumping so much milk in the day. Mom and baby are very happy.
Raz Parker
In this Keto Breastfeeding handbook you will get:
All the basics of the Keto Diet
Difference between keto and keto light
Diet recommendations for a breastfeeding mom
How will keto affect your milk supply
The importance of Electrolytes for a nursing mother on keto
Foods to avoid when you are breastfeeding on a Keto Diet
Foods to eat when you are breastfeeding on the ketogenic diet
Health benefits of being on the keto diet
Top Tips on how you can stick to the keto diet when you are breastfeeding
Meal plans
Keto Lactation recipes
Frequently asked questions when you are breastfeeding on the keto diet
I've lost all the weight I needed to…..Now what?
Conclusion
If I can do it with 5 kids you have totally got this mama! You will find that once you get started and you physically feel better and less hungry it will be worth the hard work
This handbook is all you need to get started on the diet. It's an easy diet to follow and soon becomes a way of life. I wish you all the best on your keto breastfeeding journey and hope you are as successful as I was.