A glider recliner is a luxury that is worth every penny, especially when you start to equip and design your nursery. I don't know how I survived without it when I breastfed my first baby. 
I used a glider recliner not only in the last few months of pregnancy when sleeping was incredibly difficult, but well into my breastfeeding journey.
My nursery glider recliner was compatible and easy enough to move into many different rooms in my house. During my pregnancy, I moved it into the lounge for more comfort. 
Then, when it came to having restless nights, I had it in my bedroom to sleep on. 
Once my baby's were born, I brought it into the nursery to breastfeed. That's where it stayed until I was done breastfeeding and then I'd move it into the lounge for visitors to experience the comfort.
Best Overall Nursery Glider Recliner
(MamaOfFive #1 Choice)
 5/5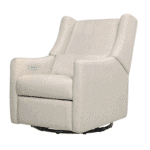 Wingback Style
USB Charging Port
Hidden Push-button
270° Swivel Motion
You can have a glider, recliner, and swivel chair together in one piece. Having more than one function will give you greater benefits. There are reasons why a nursery glider recliner is essential for a mom. You could purchase a white nursery chair that seems immaculate, but a glider and recliner will be more helpful.
Below is a list of the top glider recliner chairs that you can choose from to add to your desired room.

OUR TOP PICKS


IMAGE


MODEL


OUR RATING


CHECK PRICE


Babyletto Kiwi Electronic Power Recliner and Swivel Glider
5 / 5
Delta Children Gavin Nursery Glider Swivel Recliner
4.8 / 5
Baby Relax Mikayla Swivel Glider Recliner Chair
4.7 / 5
Baby Relax Mikayla Upholstered Swivel Gliding Recliner
4.5 / 5
Pulaski Harmony Swivel Gliders
4.5 / 5
Christopher Knight Home Jamie Rocking Glider Recliner
4.3 / 5
Delta Children Harper Glider Swivel Rocker Chair
4 / 5
Baby Relax Mikayla Swivel Gliding Recliner
3.9 / 5
Naomi Home Odelia Swivel Rocker Recliner Black/Microfiber
3.7 / 5
Babyletto Madison Swivel Glider
3.5 / 5
Best Nursery Glider Recliner – 10 Products Reviewed
#1. BABYLETTO KIWI ELECTRONIC POWER RECLINER AND SWIVEL GLIDER
Waking up in the early hours to attend to your baby's needs can be a struggle. You'll be feeling exhausted and somewhat delusional. You might feel as if you need to do something just to keep your eyes open.
Pros
Swivels 270 degrees
Modern wingback style
Quiet reclining mechanism
Cons
Must be plugged in to recline
The unique attribute of this modern nursery glider recliner is the USB charging port. You can charge and use your gadget while putting your baby to sleep, which can become a necessity when trying to stay awake.
It has a modern wingback style with a button control panel that is hidden on the right armrest. This style can be set into a recliner or a glider.
The recliner and glider are for parents to be able to situate themselves comfortably. It glides back and forth even if it's in an upright position.
The softness of its polyester fabric surface and the lumbers are additions for relaxation. It can comfort your tired muscles while fulfilling your parental duty.
You only need to do three easy steps for the recliner to reach its best potential. You have to sit first, kick the footrest so you're able to put your feet up, then you can lean once it has reclined.
It is equipped with wingback technology so that your child can blend it into your living room as they grow. And it's easy to recline and get back up this recliner with just the push of a button.
The reclining mechanism is quiet so it won't disturb your baby from their feeding slumber. The swivel function is up to 270 degrees on its metal base, so you're able to reach for something near you without standing.
There's no need to assemble this reclining glider chair with the dimension of 32 x 30 x 32 inches. No matter what height you are and if you're under 300 pounds, which is the maximum weight capacity, you can sit back and relax as well!
The upholstery doesn't contain flame retardant chemicals, and you can easily clean this with a cloth, which is perfect for those milk spills.
Get ready for a whole new experience in your nursery. You can find that parenting will always let you find time to relax in a recliner that has enough space for you to stretch your muscles, and can bear your weight. The capacity and comfort it provides to parents with different builds have made it one of the best gliders on the market.
When setting the recliner footrest, the metal from the mechanism is more likely to be trapped in the metal base of the chair.
Previous
Next
#2. DELTA GAVIN NURSERY GLIDER SWIVEL RECLINER
No matter how tired you are, you will always long to be with your children at the end of a busy day. If you have a newborn, you will do late-night feeding. If your child is a toddler, then you might read bedtime stories as part of your routine, or you could still be getting up in the middle of the night. You can feel carefree in a glider recliner chair while your child is happily on your lap or in bed.
Pros
Sturdy metal base
360° swivel mechanism
Stain and water-repellent fabric
Cons
It promotes comfort as LiveSmart fabric by Culp mantles the entire surface. This durable fabric is moisture-repellent, so you'll have fewer worries in keeping it clean, especially with those milk droplets! Durable steel supports the sturdy frame, so you don't have to worry about it breaking after a certain amount of time. All these components make the whole piece last. 
It reclines and glides in two positions. You can have it in an upright position or you may also choose to have it in full recline position, which means you can prop up your legs. This chair allows you to select the position that you find most comfortable. The rocking movements and 360-degree swivel are soothing to the senses of parent and baby as it doesn't create noise.
The LiveSmart cloth is upholstered with this glider recliner, allowing it to wipe out leaks. That means you can easily clean up any messes or spiles without struggles.
The LiveSmart cloth is upholstered with this glider recliner, allowing it to wipe out leaks. That means you can easily clean up any messes or spiles without struggles.
Once you want to recline it, you can pull the tab which is easily accessible on the outer area of the armrest. The seat cushion has an embedded spring coil for comfort and durability that you can count on for a long time.
It does need to be assembled by the user. It is 30 inches in length, 35.5 inches in width and 41 inches in height. The maximum weight capacity is 250 pounds. There are two color options which are Beige and Grey.
It can be hard work for both mom and dad to look after a baby as well as possibly going to work. We all need a rest sometimes and this recliner will allow you to relax while you spend time with your little ones. Spending time with your family doesn't mean you have to exert much effort.

The chair is quiet when rocking, but it sounds a little louder when you push the foot rest. As well it squeaks while rocking the chair.
Previous
Next
#3. BABY RELAX MIKAYLA SWIVEL GLIDER RECLINER CHAIR (GRAY LINEN)
Parenting is done with lots of tender love and care. The consequence is it may take a toll on some parents. Nursing mothers may experience tiredness and poor posture as you want to securely hold their babies in their arms. Adding a nursery recliner chair to your baby's room will relieve you of some of your difficulties.
Pros
Square silhouette
Supportive spring core foam
Enclosed ball bearing mechanism
Cons
Can't recline and glide simultaneously
You and your baby can both be in comfort with this glider recliner chair due to its supportive design that you can lay your arms and hands-on while your baby stays secure in your arms. That's what any mother wants when feeding their baby or putting them to sleep.
The right posture matters, so the three functions of reclining, gliding, and swiveling come simple. It has a ball-bearing mechanism for a smooth glide and 360-degree swivel. You can move to all sides when you're on the chair if you want to. 
To recline the chair, all you have to do is press a button and prop your legs up on the footrest if you want. It also has reliable back support and the seat is filled with foam and spring to add extra support.
This nursery chair has a soft ball bearing mechanism, and the spindle movement is attached to the bottom of the glider and to a smaller reach.
The shape of this chair is a square silhouette with white buttons for pillow-like feel. You can pick from the offered neutral colors of gray microfiber, gray linen, and mocha microfiber. The cleaning process is quite manageable on this linen-based chair. Babies do dribble and there can be the odd milk spill but the upholstery is spill-resistant so you can carry on without a worry.
Space is generous from the dimensions of 30 x 37 x 41.75 inches. This attribute will let you change position with ease. Parents who are tall will also feel the comfort this chair gives. 
After giving birth, mothers have to regain strength, but they also have to take care of their babies. The gliding, swiveling, and reclining of this chair is a functional addition to the nursery. This makes it a more comfortable place for you and your baby to relax.

Baby Relax does not come with compact wings, so you cannot rest your head sideways and it may require more effort to keep its footrest right.
Previous
Next
#4.BABY RELAX MIKAYLA SWIVEL GLIDER RECLINER CHAIR (MOCHA MICROFIBER)
Newborn babies need to be given a lot of attention. Mothers are not only obliged, but they love to be near them. Giving birth is a grueling process.
The baby is not the only one who needs to sleep for their growth, but mothers do too, for their own recovery. Rest is essential, especially with the night wake ups and the early mornings.
Pros
Effortless assembly
Foam filled cushions
Support springs for comfort
Cons
The presence of this chair will ease out the hurdles of the early stage of motherhood. This chair can work with mothers who breastfeed their baby. The track arm on this elegant trim upholstery can support your arms around your precious baby.
This chair has a foam cushioned seat with the support of spring and microfiber material which can be a surrogate bed for mothers who need to be at peace while taking care of their child. The enclosed ball bearing system makes gliding and swiveling free from any irregularities.
You and your baby will have a quiet time together. To boost the comfort it provides, to get the recline position, you have to push a button. This means you're able to lay your legs on the footrest as well, if desired.
The gliding and spiraling movements of this recliner chair make it easy for a baby to fall asleep and move easily. Older adults can sit and lean back comfortably with neck and head support.
The swivel function can be moved 360 degrees in total. If you do find that you need to move to either side, then you can do it swiftly without interrupting your baby's sleep. 
The length of this product is 30 inches while the width is 37 inches and the height measures 41.75 inches. This chair would only require easy clean up as it is spill-resistant. You don't have to panic if any liquids spill  and it lands on the chair's surface.
With the supportive track arm, comfort, and three positions, it can make nursing time soothing for you and your baby. The glide will make your baby feel more at peace while you can take advantage of the reclining seat and swiveling for things that might seem out of reach.
This recliner chair is not suitable for older ones (Grandma/Grandpa) more than the legs on the recliner go down if you haven't skipped leg day in a really long time.
Previous
Next
#5. PULASKI HARMONEY SWIVEL GLIDER (GREY)
Having a swivel glider is to cater for both yours and your baby's comfort. The weight from the users may apply a lot of pressure on the seat, so if the material is not sturdy enough, it would be a hindrance in serving its purpose. Parents ought to be comfortable on the glider, but with some parts turned into shrinkage, parents won't find it to be useful at all.
Pros
Drop-in pocketed coils
Smooth gliding mechanism
Soft upholstery and padding
Cons
Leg stability could be better
As your child gets older, you can still use this chair, especially if you have ample space in the house. This modern glider chair supports the idea of minimalism out of its sleek design.
The surface and structure will surely give you and your baby comfort. The upholstery is padded and soft. Not only is it just a softcover, but it has been generously added so it will be an oasis of relaxation.
The arms, back, and seat are equally padded. Pocketed coils also constitute the seat to prevent it from sagging, keeping the structure and comfort regardless of how many uses it's had.
The frame feature is on the contemporary side. It has fine details, and arm edges are tailored precisely. The product measures 32in x 34.5in x 40inches. The back of the chair works well with people who have a taller frame and is available in shades of Gray and Beige.
Designed for the modern look of the modern frame, this share track features arms and beautifully piped details. So it gives a bright look and a great deal of comfort.
It has a parachute reclining mechanism that causes this recliner chair to glide and swivel around the scope of 360 degrees in silence. It's between the arm and seat, so it's concealed, but it can be easily accessed. There's also a footrest to rest your legs after a long day of rushing around. 
It is easy to assemble, and takes approximately 30 minutes, so you're not wasting an entire day. Cleaning doesn't demand much effort with this material, so the maintenance is a benefit.
The versatility of this glider stands out. Buyers love its style, and it looks like the usual chair. When your child outgrows this glider, you can move it out of the nursery to have an additional chair for visitors.
Due to heavy use, the metal support of this restoration chair has a great chance of breaking down quickly, and it will take the welder to fix the base.
Previous
Next
#6. GREAT DEAL FURNITURE 306919 JAMIE ROCKING GLIDER RECLINER
Being picky in choosing the right glider for you is fine. You sought comfort not only for yourself but for your baby too. You can make unnecessary movements when you're not comfortable. The consequence is it may disturb your baby's sleep and it isn't ideal for you. So having a glider rocking chair should include other important features.
Pros
Simple to install and use
Traditional design & look
Subtle and pleasant rocking
Cons
This glider from GDF may seem an overstuffed chair. Its look promises comfort that is hard to resist when you have tired muscles, but you still need to cope with your parental responsibilities. The cover is made from polyester and the frame is built from Plywood and Larchwood.
You have to like something that can be easily cleaned, especially when you sit on it for a while, you can get sweaty. It's not a good sign if the seat would absorb it, and it would make you feel sticky. Discomfort comes in the picture.
Polyester fiber comes in handy for you to wipe clean. Another useful factor is that it won't accumulate bad smell from any substance. The maintenance is not that demanding.
Once you engulf yourself into its softness, it will rock in a way that will give you contentment while indulging into its comfort. Your baby will drowned in sleepiness at the same time. It will glide and recline for you to put your legs on the footrest.
Traditional in design and large enough to expand expansively, its subtle and pleasant rocking functionality will bring you a fresh change.
It has enough space to put yourself and your baby in. It is 39 inches high, 36.75 inches deep and 38.75 inches wide.
This rocking chair provides comfort and convenience in the simplest way possible. You can arrange it together with other furniture in your living room. It requires you to assemble which doesn't take much effort or time. 
It comes in the neutral colors of Gray and Black. When you want to see the next episode of your favorite series, you might as well attend to your baby's needs on this rocking chair.
Delta Children Harper Glider is the only recliner can swivel in all directions with the super smooth comfort. Its seat cushion comes with pocket coil spring construction for long-lasting comfort and support.
Previous
Next
#7. DELTA CHILDREN HARPER GLIDER SWIVEL ROCK CHAIR
It's a fact that babies can be more sensitive to noise than adults. An ideal nursery rocker should be almost mute. Making your baby stop crying can be a hard task at times and when you know that your baby is trying to express themselves but you're unable to know exactly what's wrong, it can become frustrating. Parents would like to buy things that can adapt well to the nature of the young ones.
Pros
Classy and stylish design
Chair swivels 350-degrees
Strong frame and steel mechanisms
Cons
This rocker with a lovely tailored seat, doesn't have to be for nurseries only. It would also bring vitality to any room you desire as it blooms with style.
It has a durable metal mechanism that guarantees quiet rocking movements. It glides back and forth to soothe you and your baby. It is suitable for all kinds of arrangements, whether it be storytelling, feeding, or your customized way of spending time with your child. It can all be done in this chair. You can put away all of your worries and enjoy the time together.
It also swivels up to 360 degrees. The construction of this chair is made for comfort with button tufts and rolled armrests. It also has a pocketed coil spring in the seat cushion for support as well as comfort. It's easy to eliminate dirt from it so maintenance can be taken care of easily as well.
Delta Children Harper Glider is the only recliner can swivel in all directions with the super smooth comfort. Its seat cushion comes with pocket coil spring construction for long-lasting comfort and support.
This chair needs to be assembled upon its arrival. The seat is six inches thick, which is an advantage to the one who'll occupy the chair. The dimension is on the measurements of 32 inches length, 33.5 inches width and 35.5 inches height. You can choose from the shades of Charcoal, Blush, and Flax.
Style and comfort come together with this rocking chair. However, it might be small for those who have a taller frame. But you can't deny it's versatility to be a baby room rocking chair or living room furniture.
If the swivel rocker glider is aggressively handled by the user or a person who weighs more than the weight specified by the manufacturer, it is likely to break easily within a few days.
Previous
Next
#8. BABY RELAX MIKAYLA SWIVEL GLIDER RECLINER CHAIR (GRAY MICROFIBER)
It is the last Mikayla swivel glider in this list and they do all have the same features, but the only difference is the material used for the surface.
 It's a battle between linen and microfiber. Linen is a robust textile made from absorbent flax fibers, but it can be dried quickly. Microfiber is a human-made material that is used on furniture for easy cleaning. The one that is made of linen took third place and the first among the other two Mikayla gliders. People tend to prefer natural materials than aesthetic ones.
Pros
Easy to assemble
Spill-resistant material
Comfortable reclining positions
Cons
Back of the glider will only recline
If you want cleaning to be a breeze for you, pick microfiber!
Like the other gliders, it promotes good posture which provides comfort. It can also release tension from your body. Parents don't have a regular sleep when they have a baby, so they struggle to get a rest from time to time. With the supportive design of its track arm, the baby is safe in your arms while you take a rest without being asleep.
The ball-bearing mechanism that fuels the function of gliding and swiveling is dependable. You can activate it in just a push of a button. If you don't approve of the old school glider, this one will please you. It's very quiet so won't disturb you or your baby. 
The ball bearing mechanism is used in this glider thus it provides smooth, and swivel motion which secure the surround the base of the glider chair.
The square backseat has tuft buttons to soothe your back which you'll need as you will spend much time on this chair. A long period of being in the same position can cause muscle pain. You may feel better in a spacious chair like this as you can manage to tilt your posture.
The total measurement of this is 41.75 x 30 x 37 in inches. A spring coil inside the seat supports the construction for a sturdy chair.
This nursery glider chair can also blend into the space of the living room. You also have to think about your health. Take time in resting with your baby on this chair.
You cannot use recliner and glider movement simultaneously. Perhaps this method provides security, but not all people need this kind of single feature.
Previous
Next
#9. NAOMI HOME ODELIA SWIVEL ROCKER RECLINER
Aside from comfort, sturdy nature is required by parents when getting a baby glider. It's great when a chair is comfortable, but when it's not sturdy, unexpected things can happen any second. The glider can bring some problems while you are attending to your baby's needs and you don't want to be caught off guard. 
Pros
Comfortable cushions
Fabrics are easy to clean
Roomy comfortable design
Cons
Glider mechanism may develop a squeak
If you're looking for a cheap rocking chair for nursery, this is the one for you. In fact, it is almost half the price of an expensive one. 
All of the parts are constructed in a sturdy frame, and it only requires little tweaks to assemble them. It is also a chair of comfort with its plush cushions and padded arms. You will be in the correct posture and feel a laid back feeling. It can also swivel to 360 degrees. To appease your body's needs, you can recline it to 135 degrees.
It includes a padded footrest that is adjustable so it can be perfect for you. The footrest goes with the recline position when you want to straighten your whole body. Who needs a glider chair and ottoman if you can have a rocker with a footrest?
The microfiber is used in this chair makes to feel super-soft and gives extra comfort to the user. Thus both mom and baby can feel secure and smooth.
You can choose from five colors of Light Blue, Navy, Mocha, Grey and Black. The material used is microfiber so dirt won't cling on to it. The backrest is in the design of a square silhouette with four tuft buttons on it so it looks expensive.
You can also place this chair in your living room because the appearance says it all, and some color choices are not so neutral. You will find comfort from this soft to touch rocker without spending too much money.
The recliner comes under a manual control so it may feel little difficult to install and use at the time of beginning.
Previous
Next
#10. BABYLETTO MADISON SWIVEL GLIDER
Babyletto is a company that supports a healthy indoor environment. GreenGuardGol certified all of its products. They are all low-emitting harmful chemicals and safe for children, including this one. 
Pros
High quality fabric
Great for small spaces
Bit different than rockers
Cons
Not comfortable for prolonged periods
Having a glider enables you to do a number of parental duties like feeding, putting your child to sleep, bedtime storytelling, or other activities. You can take advantage of the time being bound in the glider to relax. So comfort is definitely a requirement. This glider is made up of microsuede which is kind of microfiber and soft like genuine suede leather, but it is not prone to damage.
Since the whole upholstery is free of any harmful chemicals, you'll feel safe. There is a small footprint feature on the metal base which can play a role of being a space saver. It would work well for you when your nursery doesn't have much room to spare.
It will have gentle movements when you're in a gliding motion. Peaceful moments with your child are priceless, and you can also swivel it to 360 degrees without any distractions.
This glider is made of water-resistant and stain-resistant material, so you can use it anywhere. Due to the material used in this product it can be easily cleaned.
You can choose from the color varieties of Slate, Navy Blue, Ecru, and Mocha. It can also carry up to 300 pounds of weight.
Though it has an excellent maximum weight capacity, the short backrest is not very efficient or adequate if you're taller. This glider can't be reclined, and the footrest is not provided. Some may prefer a glider chair with ottoman as resting out your legs is another way to relieve tension.
All in all, this is the chair you may want if you prefer products made with safe materials. Parents tend to be conscious of what they use for their children. If you need something that can save space, this glider would be of help to you.
The chair constructed with a low back technique so that it doesn't offer any back support to the user. This is the major and important drawback of this gliding recliner.
Previous
Next
GUIDE IN GETTING A GLIDER
When choosing the glider that you and your baby can be comfortable, you have to know how parts should work.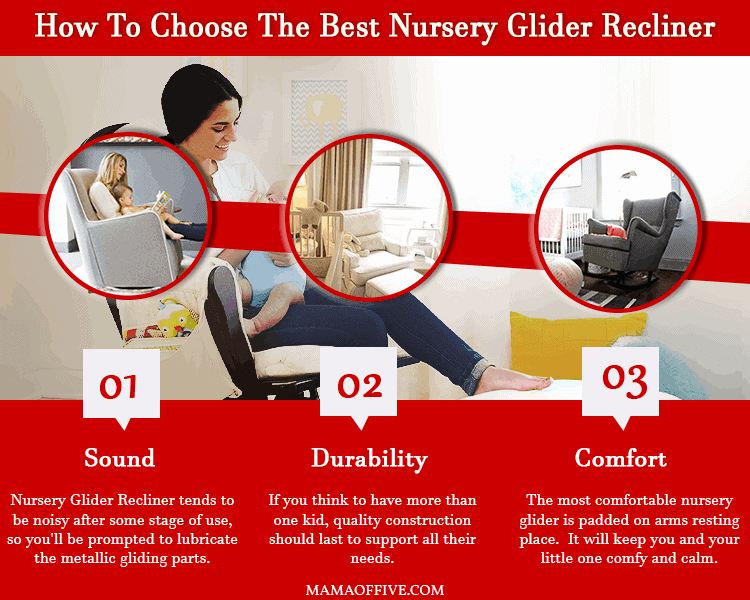 1.Back or Lumbar Support
Parents should feel comfortable in a glider and the chair should be high enough to give the right support to your back. If the chair isn't high enough, the parent might be uncomfortable when sitting in it. 
The recline position won't even be possible if that is the case. This would definitely matter, especially to couples who have a significant height difference.
An extended period of being in a glider can strain your back. This possible consequence applies to breastfeeding moms. If it has lumbar support, it's the best nursing chair for mothers!
2.Gliding Mechanism
You must check the gliding mechanism as it would be the cause of noises if it's not designed to move smoothly. Some added a unique device to prevent motion sickness for first-timers. Once you get used to it, you may find it useful.
Gliding has many benefits. It comes in unison with swiveling and reclining functions. Once the gliding mechanism works perfectly, these two functions will operate in the same manner. It provides additional lumbar support. It has lulling motion to help get your baby off to sleep. 
3.Footrest
It's the part that lets you stretch and adjust your position on the chair. It is connected with the reclining system. This is better than having an ottoman because you don't need to stand and carry it to a specific area to make sure you'll be in the right position. You can use your feet, kick it, or some chairs might even come with a button to press. 
The recline position and footrest must be mutual to each other. It would be great if the footrest has an adjustment option.
4.Material
The material used for the base is something to be considered as it can affect many factors. First, maintenance and cleaning shouldn't require much effort. It's also nice that a particular material can keep itself tidy despite the substances from the surroundings.
5.Seat
It doesn't only need to be cushioned so that it will be soft like a feather. It should be sturdy and would usually be with spring coil. The spring coil acts as a support to prevent the surface from shrinking. You will lose all of the benefits that you can get from the glider once the seat is not in its proper form.
6.Armrest
Finding a glider with the perfect armrest might be difficult. You don't want it too high or too low, something perfect for you to be comfortable in. It's a matter of safety for your baby because they're inside your arms. 
Getting a glider will depend on your needs and budget. The price of this chair can range from being affordable to expensive. Once your baby grows, you may not need it in the nursery. You can get a durable one which you can use past breastfeeding. 
The glider is not only for babies' feeding and sleeping time. It's also for parents to take a rest while in their parental duty. They have to regain strength when possible. They must stay fit for the sake of their baby.
A glider can be the best nursing chair. Feeding a baby goes hand in hand in putting him to sleep. With the smooth glide, it can take care of a newborn and help them to sleep.
Disclaimer: If you purchase any products in this post, we may receive a small commission. We promote only the products which we test and recommend. Read our affiliate disclaimer here.